Internet of Medical Things (IoMT) Industry Overview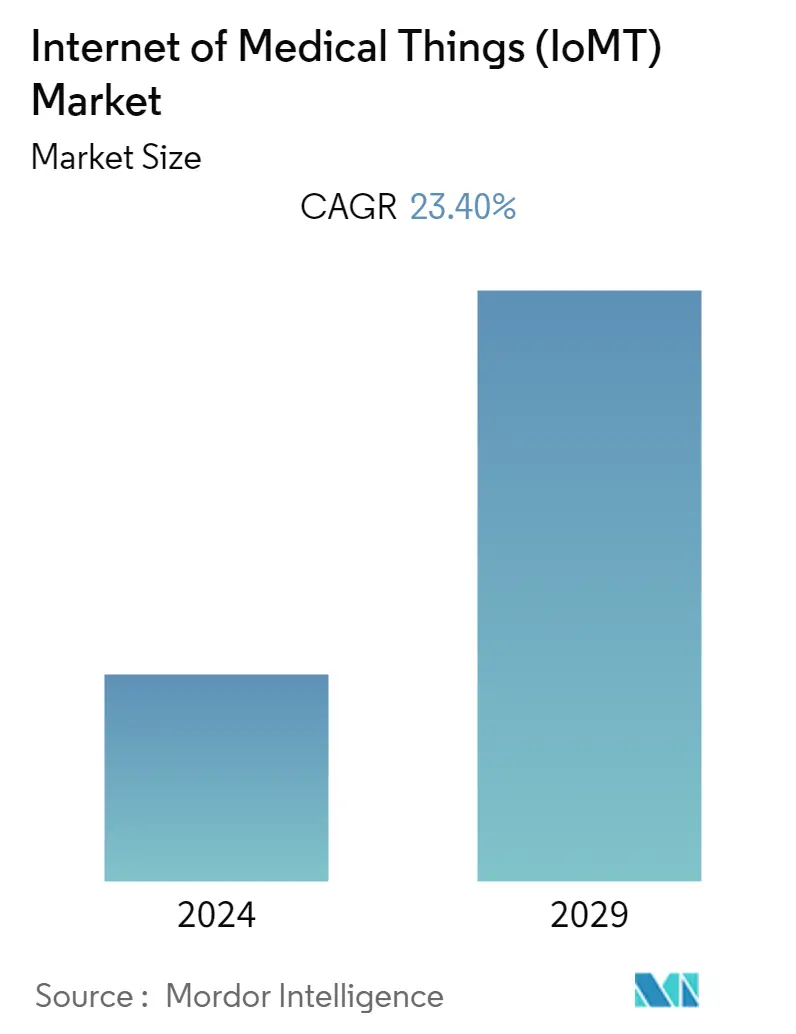 Study Period:
2018 - 2028
Fastest Growing Market:
Asia-Pacific
Largest Market:
North America
CAGR:
23.4 %

Major Players

*Disclaimer: Major Players sorted in no particular order
Need a report that reflects how COVID-19 has impacted this market and its growth?
Internet of Medical Things (IoMT) Market Analysis
The "Internet of Medical Things" (IoMT) market is anticipated to register a CAGR of 23.4% over the forecast period. The increasing need for cost reduction in medicinal delivery and the increasing penetration of connected devices are some of the significant factors influencing the growth of the IoMT market. The need to improve healthcare outcomes, as well as the evolution of high-speed networking technologies, are particularly promising areas of market advancement in IoMT devices.However, the need for proper IoT technology skills across healthcare organizations is anticipated to obstruct the market growth of the IoMT market.

With several advantages like enhanced patient safety, reduced medical errors, seamless transfer of electronic health records (EHR), better disease management, remote monitoring of chronic diseases, and improved drug management, IoT medical devices have the potential to transform healthcare and improve patient outcomes while, at the same time, helping to reduce costs and make better-informed care decisions with more speed and ease.
The increasing penetration of connected devices is a factor that drives the market. Connected medical devices can connect to the internet through WiFi, Bluetooth, or radio transmission. These medical devices have digital capabilities beyond their essential function of diagnosing, treating, curing, or preventing disease, allowing them to integrate with and connect to other networks and systems. The IoMT combines data (patient information or performance data), people (patients, clinicians, and caregivers), and processes (healthcare delivery and patient support) with the help of connected medical devices and mobile medical applications.
The benefit of IoMT is that it provides fewer mistakes and accurate diagnoses at a lower cost, thereby improving healthcare outcomes that drive the market. With the Internet of Things and mobile apps, patients can send their health information to their doctors, which helps doctors keep an eye on chronic diseases.
The cost of interoperability and connectivity solutions for different medical devices is considerably high. Moreover, IT support and maintenance services, which include modifying and upgrading software per changing user requirements and maintaining an efficient IT infrastructure, represent a recurring expenditure. This accounts for a large share of the total cost of ownership. Also, post-sale custom interface development for device integration requires additional verification and validation to ensure solution accuracy and completeness. This further increases the total cost of ownership for healthcare providers. As a result of the high costs involved, small healthcare facilities, especially in emerging countries, are reluctant to replace their legacy systems with advanced IoT-enabled devices.
Following COVID-19, the healthcare industry saw an increased demand for healthcare solutions for critical patient treatment and monitoring. To improve the efficiency of doctors and other coroners, hospitals and local governments increased their investments in new devices and IoMT technology. The demand for IoMT is thus expected to rise following COVID-19, as is the rate of technology adoption during the forecast period, due to the healthcare industry's reliance on connected devices.
Internet of Medical Things (IoMT) Industry Segments
The Internet of Medical Things (IoMT), a subset of the Internet of Things (IoT) technologies, consists of interconnected medical and healthcare information technology devices and applications. IoMT devices transmit data over a secure network to connect doctors, patients, and medical devices such as diagnostic equipment, hospital equipment, and wearable technology.
IoMT, also known as healthcare IoT, uses automation, sensors, and machine-based intelligence, similar to general IoT devices, to reduce reliance on human intervention during routine healthcare procedures and routine monitoring operations. IoMT reduces the need for unnecessary doctor's office and hospital visits by giving patients and providers better access to a patient's health information.
The Internet of Medical Things (IoMT) Market is segmented by Devices (Wearable Devices, Stationary Devices, Implantable Devices), Products (Vital Signs Monitoring Devices, Implantable Cardiac Devices, Respiratory Devices, Imaging Systems), End Users (Hospitals, Clinics), and Geography (North America, Europe, Asia Pacific, South America, Middle East, and Africa). The market sizes and forecasts are provided in terms of value (USD million) for all the above segments.
By Device Type
Wearable Devices
Stationary Devices
Implantable Devices
Other Device Types
By Product Type
Vital Signs Monitoring Devices
Implantable Cardiac Devices
Respiratory Devices
Anaesthetic Machines
Imaging Systems
Ventilators
Other Products
By End Users
Hospitals
Clinics

Other End Users
Nursing Homes
Long-Term Care Centers
Home Care Settings
Geography
North America
Europe
Asia-Pacific
Latin America
Middle East and Africa
Internet of Medical Things (IoMT) Market Trends
Increasing Penetration of Connected Devices
Technological advancements in healthcare information technologies have led to significant transformations in the healthcare sector. The IoMT is a system of several medical devices connected to a network and exchanging health data without needing human-to-human interaction. These systems and devices are connected to the internet, allowing remote patient monitoring and diagnosis. Additionally, the advantages of IoMT are that it helps in a better understanding of patient health and that delivering value-based care to patients is beneficial to patients, payers, and providers.
IoT Medical tools and devices used in healthcare organizations are revolutionizing medical care in unique ways. Connected devices such as glucose monitors, ECG monitors, pulse oximeters, and blood pressure monitors are positioned close to a patient's body and ensure enhanced customer satisfaction by providing round-the-clock medical assistance and services.
Cisco estimates that more than 50,000 million devices will be connected to the internet worldwide in another five to six years. Around 30% of these connected devices are estimated to be deployed in the medical field. The only challenge for manufacturers in adopting connected medical devices is demonstrating how they can benefit value-based care.
The internet market for medical things is experiencing significant growth due to several market variables and trends. Growth is stimulated by expanding relationships between key players and end users and introducing new goods. For instance, LifeQ and CONNEQT Inc. announced a partnership agreement to provide health insights for wearable device users the previous year. This band offers an additional fingertip sensor and complements the heart-health-focused offering of the band.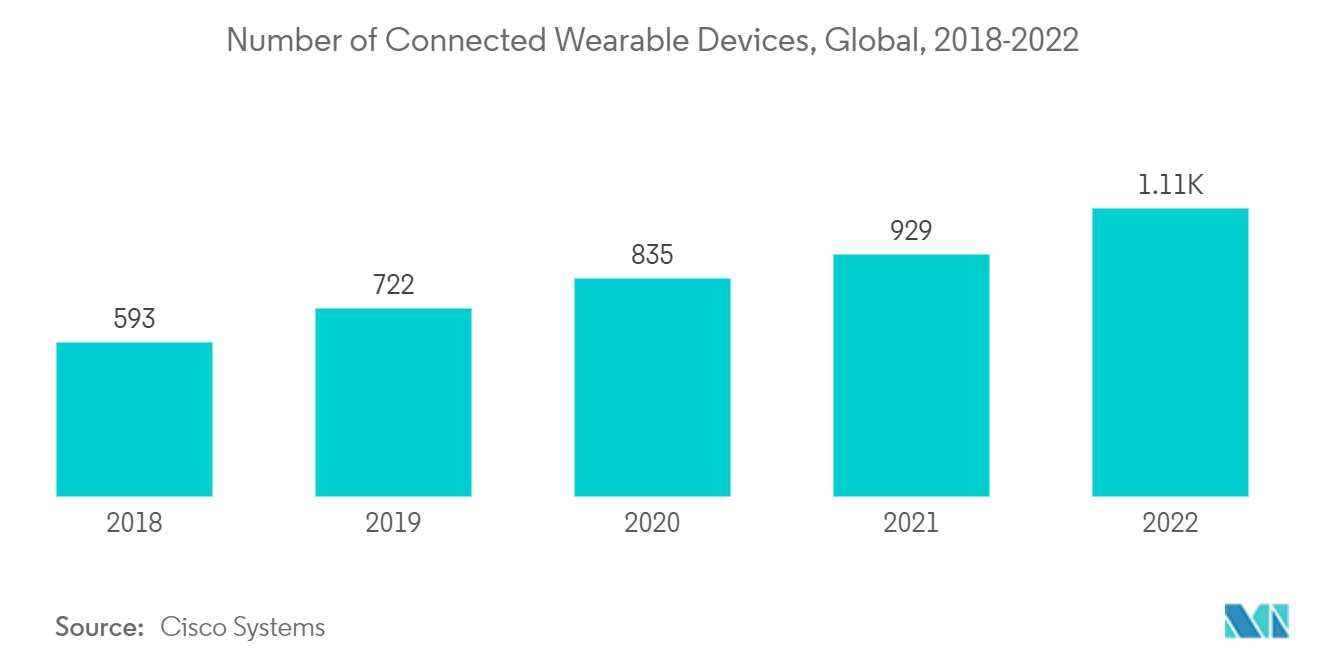 To understand key trends, Download Sample Report
North America is the Major Market for IoMT Devices
North America is expected to hold the largest share of the IoT medical devices market during the forecast period, owing to the growth of interest in self-health management among patients and the increasing prevalence of chronic diseases. The rising number of smartphone users, increased adoption of 5G technology, and the need to address rising healthcare costs are expected to drive market growth in the coming years.
Furthermore, other factors like the increasing adoption of healthcare IT solutions, the presence of key players, and the availability of sophisticated infrastructure also play a crucial role in this region's significant share. For instance, Aledade Inc., a Maryland-based American company with headquarters in the United States, is a healthcare IT company that collaborates with primary care practices to improve patient health outcomes. Through risk-taking contracts with all types of payers, Aledade ACOs have helped achieve better health outcomes for over a million patients, with remarkable growth in Medicare Advantage.
The North American Internet of Medical Things (IoMT) market has developed due to technological advancements and increased accessibility to personal healthcare. On the other hand, the need for more infrastructure facilities and trained specialists in the hospital and medical sectors has hindered the market's expansion. The demand for connected devices in the healthcare sector is expected to create various opportunities for the North American Internet of Medical Things (IoMT) market. This would keep the future of the market strong and advanced.
Increasing demand for medical devices due to the growing prevalence of several lifestyle diseases creates enormous opportunities for manufacturers of medical wellness devices. Major market players use collaborative approaches to distribute and manufacture products across various markets. Demand has significantly increased from young individuals and athletes. Injured athletes primarily require customized mobility care, orthotics, braces, and support products, and IoMT is the market leader in this area.
Hence, technological advancements can lead to the development of new and advanced devices, thus driving sales of thermometers, pulse oximeters, diabetes monitors, and other products. Such diverse customization and an increased focus on meeting patient needs make brands more attractive, eventually transforming into a larger market share in this region.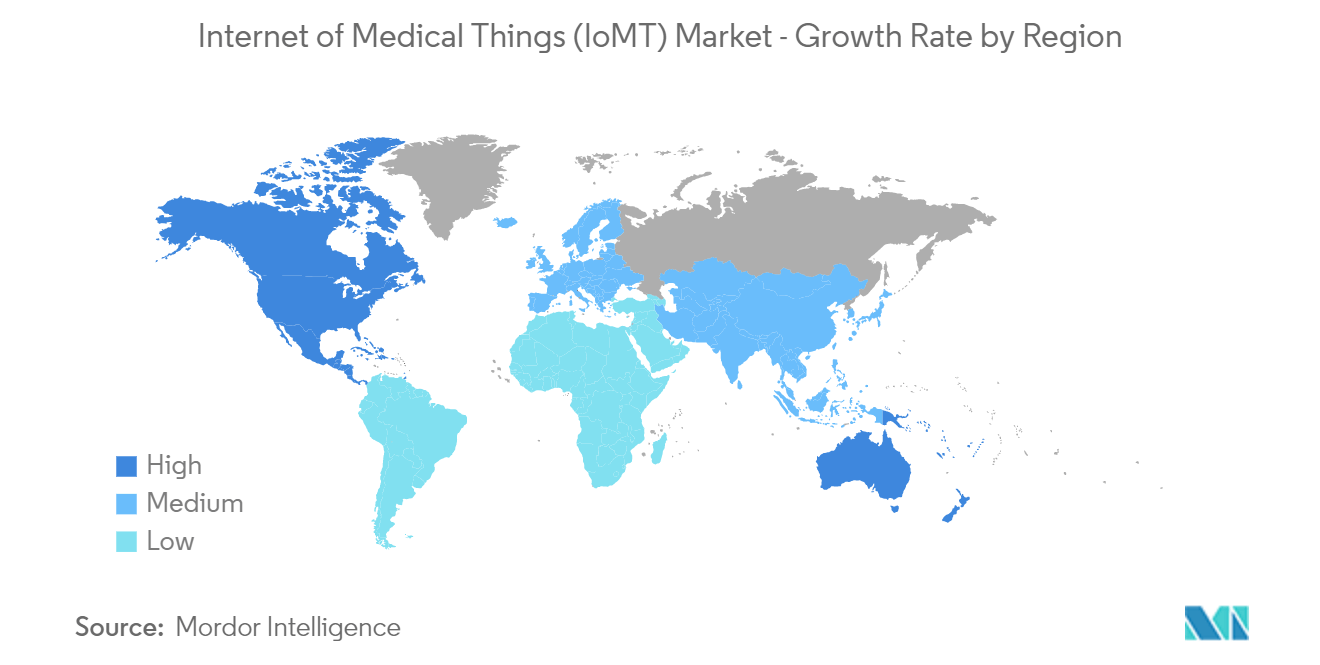 To understand geography trends, Download Sample Report
Internet of Medical Things (IoMT) Market Competitor Analysis
Key players currently dominate the IoT market with their technological expertise, and the global market for IoT is expected to be consolidated. GE Healthcare, Koninklijke Philips N.V., Medtronic plc, Cisco Systems, Inc., IBM Corporation, Siemens AG, Welch Allyn, Inc., Boston Scientific Corporation, Johnson & Johnson Services, Inc., and Biotronik are some of the major players present in the current market. However, the majority of these players are engaged in competitive strategic developments such as partnership, deployment of new product innovation and launch, and market expansion in order to gain a global market leadership position.
In June 2022, PatientBond, the consumer science-driven patient engagement SaaS provider, collaborated with Zyter, Inc., a digital health and IoT-enablement platform. According to the terms of the agreement, Zyter will now be able to use PatientBond's exclusive healthcare consumer psychographic insights and dynamic workflows to improve patient engagement through personalized care plans and patient communications.
Moreover, with seamless integration with health systems, healthcare providers and payers can use Zyter's digital healthcare platform for AI-based risk stratification of patients using patients' physiological and clinical data for better health insights and analytics, patient engagement and access for an omnichannel experience, population health management for chronic condition management using care plans, care pathways, and care assessments, and order and prescribe devices for continuous monitoring.
In January 2022, Hill Rom launched digital and physical assessment innovations to advance connected care. The innovations built into the new PanOptic Plus and MacroView Plus technologies are complete game changers in the quest to help improve patient outcomes through routine physical exams. These devices are highly advanced tools designed to help clinicians make earlier and more accurate diagnoses of ear and eye conditions that may provide more options for effective treatment.
Moreover, following a successful launch in the United States in May 2022, these products are now available in the European Union, the United Kingdom, the Middle East, and Africa. Due to regulatory and registration requirements, individual country launch dates may vary. These devices will be available in Japan, Australia, New Zealand, Mexico, Colombia, and Brazil later this year.
Healthnet Global, a subsidiary of Apollo Hospitals, launched Automated in February 2022. Automated is an innovative in-patient room automation system that can monitor a patient's breathing rate, heart rate, and other clinical parameters from a distance.
In February 2022, Zyter Inc., a digital health and IoT-enablement platform, and Qualcomm collaborated to develop applications and a dashboard for 5G private networks. The goal of the collaboration is to help show how 5G private networks work by providing network management services, a user interface/dashboard, and three initial production-ready applications, such as autonomous mobile robots (AMRs), LiDAR-based analytics, and AI-based cameras.
Furthermore, current public 5G and Wi-Fi networks lack the bandwidth, low latency, flexibility, security control, and network management capabilities that modern organizations require, impeding the digital transformation of factories, warehouses, hospitals, airports, and even rural areas. any industry seeking to adopt cutting-edge applications that require higher performance, lower latency, greater flexibility, improved security, and superior network management features that current public 5G and Wi-Fi networks cannot provide.
Internet of Medical Things (IoMT) Market Top Players
GE Healthcare

Koninklijke Philips N.V.

Medtronic plc

Cisco Systems, Inc.

IBM Corporation
*Disclaimer: Major Players sorted in no particular order
Internet of Medical Things (IoMT) Market Recent Developments
September 2022: Wipro GE Healthcare launches an AI-powered cath lab called Optima IGS320. It improves imaging vision to facilitate intelligence and accurate healthcare delivery. Social gantry movement allows for flexibility during surgeries, further lightening the load and increasing the attention of the doctors.
May 2022: Nuance, a division of Microsoft, has joined forces with The Health Management Academy (the Academy) to launch the AI Collaborative, an industry group focused on advancing healthcare through artificial intelligence and machine learning. The AI Collaborative accelerates innovation in precision medicine, drug development, clinical decision support, and other promising use cases throughout the whole healthcare ecosystem while addressing physician fatigue, patient engagement, and the financial viability of the health system.
March 2022: Microsoft Corp. announced advancements in cloud technologies for healthcare and life sciences, including the general availability of Azure Health Data Services and updates to Microsoft Cloud for Healthcare. With the recent completion of its acquisition of Nuance Communications, Microsoft is uniquely positioned to amplify an organization's ability to help others by leveraging trusted AI to address the most pressing challenges and transform the future of healthcare for all.
March 2022: Snowflake, a data cloud company, launched the healthcare and life sciences data cloud for better patient care and business results. The Snowflake Healthcare & Life Sciences Data Cloud provides healthcare organizations with a single, integrated, and cross-cloud data platform that eliminates technical and institutional data silos. This will allow organizations to securely centralize, integrate, and exchange critical and sensitive data at scale. Snowflake ensures high data security and governance levels, and its built-in capabilities and expanded partner network help businesses meet compliance requirements and industry regulations.
Internet of Medical Things (IoMT) Market Report - Table of Contents
1. INTRODUCTION

1.1 Study Assumptions and Market Definition

1.2 Scope of the Study

2. RESEARCH METHODOLOGY

3. EXECUTIVE SUMMARY

4. MARKET DYNAMICS

4.1 Market Overview

4.2 Market Drivers

4.2.1 Increasing Need for Cost Reduction in Medicinal Delivery

4.2.2 Increasing Penetration of Connected Devices

4.2.3 Improving Healthcare Outcomes

4.2.4 Evolution of High-Speed Networking Technologies

4.3 Market Restraints

4.3.1 Lack of Proper IoT Technology Skills across Healthcare Organizations

4.3.2 High Deployment Cost of Necessary Infrastructure and Connected Medical Devices

4.4 Industry Value Chain Analysis

4.5 Industry Attractiveness - Porter's Five Forces Analysis

4.5.1 Threat of New Entrants

4.5.2 Bargaining Power of Buyers/Consumers

4.5.3 Bargaining Power of Suppliers

4.5.4 Threat of Substitute Products

4.5.5 Intensity of Competitive Rivalry

4.6 Assessment of Impact of COVID-19 on the Market

4.7 Technology Snapshot

4.7.1 Zigbee

4.7.2 Bluetooth

4.7.3 Wi-Fi

4.7.4 Other Connectivity Technology

5. MARKET SEGMENTATION

5.1 By Device Type

5.1.1 Wearable Devices

5.1.2 Stationary Devices

5.1.3 Implantable Devices

5.1.4 Other Device Types

5.2 By Product Type

5.2.1 Vital Signs Monitoring Devices

5.2.2 Implantable Cardiac Devices

5.2.3 Respiratory Devices

5.2.4 Anaesthetic Machines

5.2.5 Imaging Systems

5.2.6 Ventilators

5.2.7 Other Products

5.3 By End Users

5.3.1 Hospitals

5.3.2 Clinics

5.3.3 Other End Users

5.3.3.1 Nursing Homes

5.3.3.2 Long-Term Care Centers

5.3.3.3 Home Care Settings

5.4 Geography

5.4.1 North America

5.4.2 Europe

5.4.3 Asia-Pacific

5.4.4 Latin America

5.4.5 Middle East and Africa

6. COMPETITIVE LANDSCAPE

6.1 Company Profiles

6.1.1 GE Healthcare

6.1.2 Koninklijke Philips NV

6.1.3 Medtronic PLC

6.1.4 Cisco Systems, Inc.

6.1.5 IBM Corporation

6.1.6 Siemens AG

6.1.7 Welch Allyn, Inc.

6.1.8 Boston Scientific Corporation

6.1.9 Johnson & Johnson Services, Inc.

6.1.10 Biotronik

*List Not Exhaustive

7. INVESTMENT ANALYSIS

8. MARKET OPPORTUNITIES AND FUTURE TRENDS
**Subject to Availability
Internet of Medical Things (IoMT) Market Research FAQs
What is the study period of this market?
The Internet of Medical Things (IoMT) Market market is studied from 2018 - 2028.
What is the growth rate of Internet of Medical Things (IoMT) Market?
The Internet of Medical Things (IoMT) Market is growing at a CAGR of 23.4% over the next 5 years.
Which region has highest growth rate in Internet of Medical Things (IoMT) Market?
Asia-Pacific is growing at the highest CAGR over 2021- 2026.
Which region has largest share in Internet of Medical Things (IoMT) Market?
North America holds highest share in 2022.
Who are the key players in Internet of Medical Things (IoMT) Market?
GE Healthcare, Koninklijke Philips N.V., Medtronic plc, Cisco Systems, Inc., IBM Corporation are the major companies operating in Internet of Medical Things (IoMT) Market.
Internet of Medical Things (IoMT) Industry Reports
In-depth industry statistics and market share insights of the Internet of Medical Things (IoMT) sector for 2020, 2021, and 2022. The Internet of Medical Things (IoMT) research report provides a comprehensive outlook of the market size and an industry growth forecast for 2023 to 2028. Available to download is a free sample file of the Internet of Medical Things (IoMT) report PDF.
80%

of our clients seek made-to-order reports. How do you want us to tailor yours?