The global inhalation anesthetics market is expected to register a CAGR of 4% during the forecast period of 2018–2023.
Increasing Number of Emergency Cases
The increasing number of emergency cases, including accident cases, emergency labor, etc., all over the world, is driving the inhalation anesthetics market. Inhalation anesthetics are majorly used for accident care, where, intravenous route of administration is not an easy task in ambulatory settings. In emergency labor, rapid sequence induction of general anesthesia is performed with intubation of the trachea. This method of administration is the standard of care for patients requiring emergency cesarean section because of severe fetal distress in the absence of preexisting regional anesthesia. Rapid sequence induction requires an intravenous route for drug administration. In few instances, intravenous access may not be available, and severity of fetal distress may mandate delivery before access can be obtained.
Increasing geriatric population prone to chronic diseases, growing demand for a lesser duration of hospitalization, and increasing accessibility to health services are some of the other factors contributing to the growth of the market.
Side Effects of Inhaler Anesthesia Drugs
Inhaler anesthesia drugs that are currently available in the market impose many side effects upon consumption. For instance, Sevoflurane causes nephrotoxicity, seizures, and post-operative complications. Isoflurane is associated with an intermediate risk for respiratory, circulatory stimulation, and hepatotoxicity. Desflurane is associated with a higher risk of respiratory irritation and circulatory stimulation than other anesthetic agents. A recent research study on the effects of total intravenous anesthesia and inhalation anesthesia in free flap surgery of head and neck reported that the total intravenous anesthesia was associated with significantly fewer pulmonary complications in patients, who received free flap reconstruction. Due to these side effects, there is a lower adoption rate in case of inhaler anesthetics in certain surgical procedures, which in turn, is hindering the market.
Additionally, generic competition for almost all of the halogenated agents and recent patent expiries are also restraining the inhalation anesthetics market growth.
United States to be the Largest Market
The global inhalation anesthetics market is segmented by type and geography. By geography, it is segmented into North America, Europe, Asia-Pacific, the Middle East & Africa, and South America.
The United States inhalation anesthesia market accounted for the largest regional share in 2017. Increasing number of plastic surgeries along with rising prevalence of the chronic lower respiratory disease will fuel adoption of inhalation anesthesia.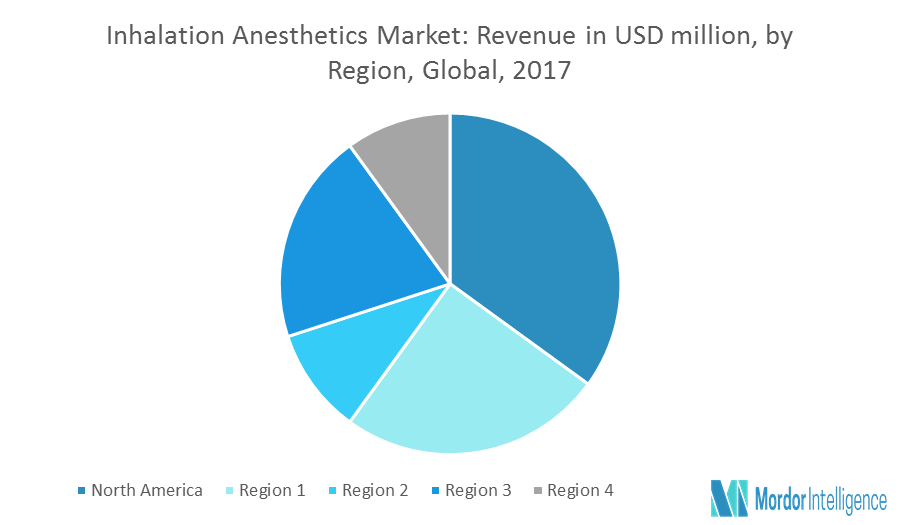 Key players are Baxter, AbbVie, Inc., Piramal Healthcare, and Lunan Pharmaceuticals Co., Ltd, among others.
Reasons to Purchase The Report
Market analysis for the global inhalation anesthetics market, with region-specific assessments and competition analysis on a global and regional scale.
Analyzing various perspectives of the industry with the help of Porter's Five Forces Analysis.
Identify the treatment type that is expected to dominate the market.
Identify the regions that are expected to witness the fastest growth during the forecast period.
Identify the latest developments, market shares and strategies employed by the major market players.
3-month analyst support along with the Market Estimate sheet (in Excel).
Customization of the Report
This report can be customized to meet your requirements. Please connect with our representative, who will ensure you get a report that suits your needs.
1. Introduction
1.1 Market Definition
2. Research Methodology
3. Executive Summary
4. Key Inferences
5. Market Overview
5.1 Current Market Scenario
5.2 Porter's Five Forces Analysis
5.2.1 Bargaining Power of Suppliers
5.2.2 Bargaining Power of Consumers
5.2.3 Threat of New Entrants
5.2.4 Threat of Substitute Products and Services
5.2.5 Competitive Rivalry within the Industry
6. Drivers, Restraints, Opportunities, and Challenges Analysis (DROC)
6.1 Drivers
6.1.1 Increasing Geriatric Population Prone to Chronic Diseases
6.1.2 Increasing Number of Emergency Cases
6.1.3 Growing Demand for Lesser Duration in Hospitalization
6.1.4 Increasing Accessibility to Health Services and Surgeries
6.2 Restraints
6.2.1 Generic Competition for Almost all of the Halogenated Agents
6.2.2 Recent Patent Expiries
6.2.3 Side Effects of Inhaler Anesthesia Drugs
6.3 Opportunities
6.4 Key Challenges
7. Market Segmentation
7.1 By Type
7.1.1 Nitrous Oxide
7.1.2 Halogenated Agents
7.1.2.1 Halothane (Fluothane®)
7.1.2.2 Enflurane (Ethrane®)
7.1.2.3 Isoflurane (Forane®)
7.1.2.4 Desflurane (Suprane®)
7.1.2.5 Sevoflurane (Ultane®)
7.1.2.6 Others
7.2 By Geography
7.2.1 North America
7.2.1.1 United States
7.2.1.2 Canada
7.2.1.3 Mexico
7.2.1.4 Rest of North America
7.2.2 Europe
7.2.2.1 France
7.2.2.2 United Kingdom
7.2.2.3 Germany
7.2.2.4 Italy
7.2.2.5 Spain
7.2.2.6 Rest of Europe
7.2.3 Asia-Pacific
7.2.3.1 India
7.2.3.2 China
7.2.3.3 Japan
7.2.3.4 Australia
7.2.3.5 South Korea
7.2.3.6 Rest of Asia-Pacific
7.2.4 Middle East & Africa
7.2.4.1 GCC
7.2.4.2 South Africa
7.2.4.3 Rest of the Middle East & Africa
7.2.5 South America
7.2.5.1 Brazil
7.2.5.2 Argentina
7.2.5.3 Rest of South America
8. Competitive Landscape
8.1 Mergers & Acquisition Analysis
8.2 Agreements, Collaborations, and Partnerships
8.3 New Products Launches
9. Key Players
9.1 AbbVie, Inc.
9.2 Baxter
9.3 Lunan Pharmaceuticals Co. Ltd
9.4 Piramal Healthcare
*List not Exhaustive
10. Future of the Market
11. Disclaimer