The global industrial & institutional cleaning chemicals market is expected to register a CAGR of around 5% during the forecast period, 2018 to 2023. North America accounted for the largest market in 2017. Asia-Pacific is expected to register the fastest growth during the forecast period.
Rising Demand from Healthcare Industry
Hospitals and other healthcare institutions are placing immense efforts to prevent the occurrence of Healthcare Associated Infections (HAIs) and other infectious diseases. HAIs, which are highly caused by rapidly developing strains of multidrug-resistant organisms, can lead to serious illness to both patients and workers there. HAIs have led to numerous deaths and increased morbidity among patients. More than 175,000 deaths occur every year in industrialized countries, due to HAIs. More than 60% of the global HAIs are owing to different pathogens carried by medical implants and devices. Cross-infection among patients has also increased the prevalence of HAIs. Hence, the usage of cleaning and disinfecting products has become mandatory in the healthcare industry.
General Purpose Cleaners – The Largest Product Type
General purpose cleaners are the largest segment in the industrial & institutional cleaning chemicals market. The products in this segment are mainly used as ware-wash, floor cleaners, etc. at hospitals, hotels, and offices, among others. The awareness of contagious diseases is one of the driving factors of these products. But, the harmful side effects associated with these chemicals are restraining the growth of the market. The majority of the chemicals used in these products are biocides and surfactants. The United States of America is the leading market shareholder of this segment, followed by the Western European countries. Asia-Pacific region is showing steady growth, owing to its growing population.
North America Dominated the Market
North America region was the largest market for industrial & institutional cleaning chemicals. United States accounted for the major share of the consumption in the region. U.S. government has taken the initiatives by signing the law of the ACA in March 2010, to rejuvenate the healthcare sector with a goal of "make health care more affordable, accessible and of a higher quality." The initiatives taken by government boosted the healthcare sector in U.S. both in inbound and outbound fronts. Major policy changes and investment flexibility created a public private partnership in healthcare sector. This, in turn, resulted in increased quality standards in healthcare sector on both hospitals and clinical level. Growing consumer awareness and market competitiveness is anticipated to carry this trend further during the forecast period. This in turn, is anticipated to propel the industrial & institutional cleaning chemicals market in United States.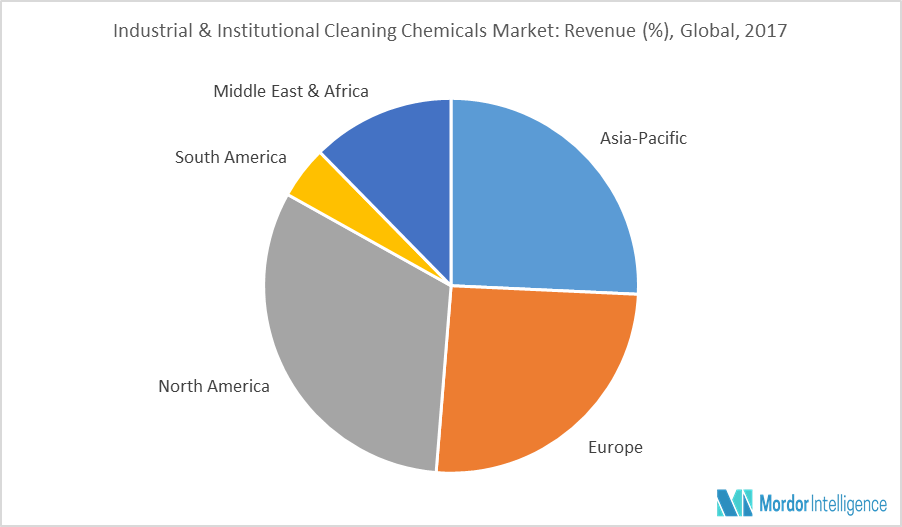 Major Players: Procter & Gamble, Henkel AG & Co. KGaA, BASF SE, Clariant, Stepan Company, 3M, and Reckitt Benckiser Group plc., amongst others.
Reasons to Purchase this Report
The rising demand from healthcare industry is expected to drive the market
Analyzing various perspectives of the market with the help of Porter's five forces analysis
Raw material and market type that is expected to dominate the market
Region that is expected to witness fastest growth during the forecast period
Identifying the latest developments, market shares and strategies employed by the major market players
3-month analyst support, along with the Market Estimate sheet in excel
Customization of the Report
This report can be customized to meet your requirements. Please connect with our representative, who will ensure you to get a report that suits your needs
1. Introduction
1.1 Research Phases
1.2 Study Deliverables
1.3 Scope of the Report
2. Executive Summary
3. Market Insights
3.1 Industry Value Chain Analysis
3.2 Industry Attractiveness – Porter's Five Forces Analysis
3.2.1 Bargaining Power of Suppliers
3.2.2 Bargaining Power of Buyers
3.2.3 Threat of New Entrants
3.2.4 Threat of Substitute Products and Services
3.2.5 Degree of Competition
4. Market Dynamics
4.1 Drivers
4.1.1 Growing Demand from Developing Countries
4.1.2 Rising Demand from the Healthcare Industry
4.1.3 Increasing Demand from Food Industry Owing to Foodborne Illness
4.2 Restraints
4.2.1 Health Hazards Caused by Cleaning Chemicals
4.3 Opportunities
4.3.1 Emerging Use of Bio-based Cleaning Chemicals
5. Market Segmentation and Analysis (Market Size, Growth, and Forecast)
5.1 By Raw Material
5.1.1 Chlor-alkali
5.1.1.1 Caustic Soda
5.1.1.2 Soda Ash
5.1.1.3 Chlorine
5.1.2 Surfactants
5.1.2.1 Nonionic
5.1.2.2 Anionic
5.1.2.3 Cationic
5.1.2.4 Amphoteric
5.1.3 Solvents
5.1.3.1 Alcohols
5.1.3.2 Hydrocarbons
5.1.3.3 Chlorinated
5.1.3.4 Ethers
5.1.4 Phosphates
5.1.5 Biocides
5.1.6 Others
5.2 By Product Type
5.2.1 General Purpose Cleaners
5.2.2 Disinfectants & Sanitizers
5.2.3 Laundry Care Products
5.2.4 Vehicle Wash Products
5.3 By Application
5.3.1 Commercial
5.3.1.1 Food service
5.3.1.2 Retail
5.3.1.3 Laundry and Dry-cleaning
5.3.1.4 Healthcare
5.3.1.5 Car washes
5.3.1.6 Offices, Hotels & Lodging
5.3.2 Manufacturing
5.3.2.1 Food & Beverage Processing
5.3.2.2 Fabricated Metal Products
5.3.2.3 Electronic Components
5.3.2.4 Others
6. Regional Market Analysis (Market Size, Growth, and Forecast)
6.1 Asia-Pacific
6.1.1 China
6.1.2 India
6.1.3 Japan
6.1.4 South Korea
6.1.5 Rest of Asia-Pacific
6.2 North America
6.2.1 United States
6.2.2 Canada
6.2.3 Rest of North America
6.3 Europe
6.3.1 Germany
6.3.2 United Kingdom
6.3.3 Italy
6.3.4 France
6.3.5 Rest of Europe
6.4 South America
6.4.1 Brazil
6.4.2 Argentina
6.4.3 Rest of South America
6.5 Middle East & Africa
6.5.1 Saudi Arabia
6.5.2 South Africa
6.5.3 Rest of Middle East & Africa
7. Competitive Landscape
7.1 Mergers & Acquisitions, Joint Ventures, Collaborations and Agreements
7.2 Market Share Analysis**
7.3 Strategies Adopted by Leading Players
8. Company Profiles (Overview, Financials**, Products & Services, Recent Developments, and Analyst View)
8.1 3M
8.2 Akzo Nobel N.V.
8.3 Albemarle Corporation
8.4 BASF SE
8.5 Clariant
8.6 Croda International Plc
8.7 DowDuPont
8.8 Eastman Chemical Company
8.9 Henkel AG & Co. KGaA
8.10 Huntsman International LLC
8.11 National Chemical Laboratory (NCL)
8.12 Procter & Gamble
8.13 Reckitt Benckiser Group plc
8.14 Solvay
8.15 Spartan Chemical Company, Inc.
8.16 Stepan Company
8.17 W.M. Barr & Co.
8.18 Westlake Chemical Corporation
*(List Not Exhaustive)
9. Disclaimer
**Subject to availability on public domain