Market Insights
The India snack bar market is expected to reach USD 185 million by 2023, witnessing a double-digit CAGR, during the forecast period. The India snack bar sale has recorded a historic CAGR of 20.1%, during the past five years. Snack bar is still a niche category in India, which accounts for less than 1% of the global snack bar market.
The cereal and granola bar segment is the fastest-growing, after the energy bar segment, in India. Rising health & wellness trend among the population, increased purchasing power, and indulgence are the various factors that fuel the snack bar market growth. Expanding distribution channel in Tier I cities is further accelerating the growth of the snack bar market. Competition from the savory and snack market and breakfast cereals is the major restraint for the market.
Energy Bar in High Demand
Energy bar sale in India is expected to grow at a faster rate, of 25%, over the forecast period. Energy bar includes sports nutrition bars and snack bars designated to meet both daily and sports nutrition needs. Growing demand for energy-boosting functional products among young population is driving the market. Energy bar is a perfect combination of nutrition and taste, which is fueling the market growth. Consumers are likely to spend more on healthy snack products driven by the changing lifestyles and dietary intake. Consumers are increasingly becoming health conscious when it comes to a bite between meals, featuring healthy benefits with convenience and nutritional component, while on-the-go snacking fueled the nutrition bar market. Health & wellness is the key trend driving the energy bar consumption pattern. Granola and muesli bar is the second largest category, followed by other cereal bars.
Convenience stores led the sales, with a share of more than 50% in the distribution channel segment. Expanding retail chain in the country offers a potential growth opportunity to the market. Online retail grew faster at a rate of 28% during 2012-2017. Supermarket/hypermarket is the second largest retail channel in India, which is growing at a faster pace, offering a growth opportunity for nutritional bar sale.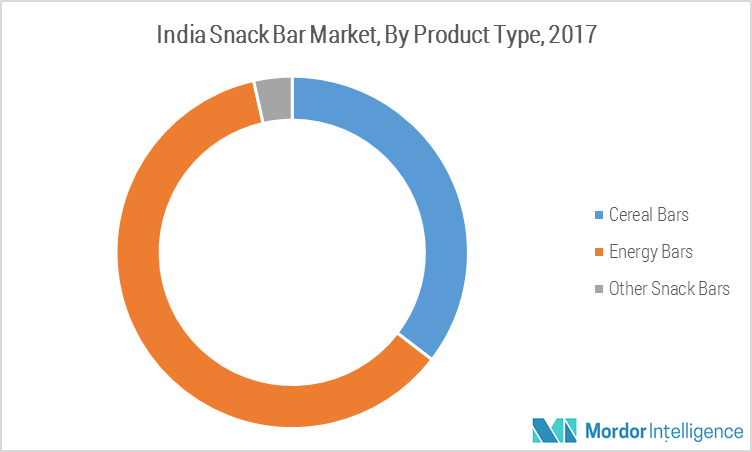 Key Developments
November 2017- Russian companies planned to expand in the Indian snack bar market. For instance, BioFoodLab's Snack bar, which sells its snack bar in 14 countries in Europe and Asia, targeted India as its new market distribution
There is growing competition in the India snack bar market, with a large number of International players entering the market. Rite Bite, Nature Valley, and Alpen are the top brands in the market. Product launch in different flavors, such as the popular chocolate flavor, targeting athletes, women, and diabetic people is the primary strategy adopted by the market players. Companies introducing hybrid product mix of snack bar and biscuit is the key challenge for the market. For example, Danone India that launched Protinex Bytes, has targeted to capture the healthy snack market. Many biscuit players, such as Britannia, are planning to enter the cereal bar market.
Major Players: Naturell (India) Pvt Ltd, Nestlé SA, Nature's bounty co., Kellogg NA Co., and General Mills Inc., among others.
Reasons to Purchase the Report
Analyzing outlook of the market with the recent trends and Porter's five forces analysis
Market dynamics, along with growth opportunities of the market in the years to come
Market segmentation analysis, including qualitative and quantitative research incorporating the impact of economic and non-economic aspects
Country-level analysis integrating the demand and supply forces that are influencing the growth of the market
Market value (USD million) and volume (million kg) data for each segment and sub-segment
Distribution channel sales analysis, by value
Competitive landscape involving the market share of major players, along with the new product launch and strategies adopted by players in the past five years
Comprehensive company profiles covering the product offerings, key financial information, recent developments, SWOT analysis, and strategies employed by the major market players

3-month analyst support, along with the Market Estimate sheet in excel
Customization of the Report
This report can be customized to meet your requirements. Please connect with our analyst, who will ensure you get a report that suits your needs
1. Introduction
1.1 Key Deliverables of the Study
1.2 Study Assumptions
1.3 Scope of the Market
2. Research Approach and Methodology
2.1 Introduction
2.2 Research Design
2.3 Study Timelines
2.4 Study Phases
2.4.1 Secondary Research
2.4.2 Discussion Guide
2.4.3 Market Engineering and Econometric Modelling
2.4.4 Expert Validation
3. Market Overview
3.1 Market Trends
3.2 Market Dynamics
3.2.1 Drivers
3.2.1.1 Changing Lifestyle, Indulgence, and Consumer Interest for Healthier Products
3.2.1.2 Rising Demand for On-the-go and Smaller Portion Snacking
3.2.1.3 Increased per Capita Income and Working Population
3.2.2 Restraints
3.2.2.1 Health Concern, due to Artificial Additives and Calories
3.2.2.2 Increased Competition from Baked Food and Breakfast Cereal Markets
3.2.3 Opportunities
3.2.3.1 Growing Retail Distribution Channel
3.2.4 Porter's Five Forces Analysis
3.2.4.1 Bargaining Power of Suppliers
3.2.4.2 Bargaining Power of Buyers
3.2.4.3 Threat of New Entrants
3.2.4.4 Threat of Substitute Products and Services
3.2.4.5 Degree of Competition
4. Market Segmentation
4.1 By Product Type
4.1.1 Cereal Bar
4.1.1.1 Granola/Muesli Bars
4.1.1.2 Other Cereal Bars
4.1.2 Energy Bar
4.1.3 Other Snack Bar
4.2 By Distribution Channel
4.2.1 Convenience Stores
4.2.2 Specialist Retailers
4.2.3 Supermarkets and Hypermarkets
4.2.4 Online Retail
4.2.5 Variety Stores
4.2.6 Other Distribution Channels
5. Competitive Landscape
5.1 Market Share Analysis
5.2 Strategy Adopted by Key Players
5.3 Most Active Companies in the Past Five Years
6. List of Company Profiles
6.1 Overview
6.2 Products & Services
6.3 Financials
6.4 Key Developments
6.5 Strategies Adopted
6.6 SWOT Analysis of Major Five Players
7. Companies Covered
7.1 General Mills, Inc.
7.2 The Kellogg Company
7.3 Bright Lifecare Pvt. Ltd (MuscleBlaze)
7.4 Xterra Nutrition
7.5 Yogabars (Sproutlife Foods)
7.6 Labrada Nutrition (Muscle Pro Nutrition)
7.7 Nutrition, Inc. (Pureprotein)
7.8 Naturell ( India ) Pvt. Ltd
7.9 Supreme Protein
7.10 My Nutrition Supplements Pvt. Ltd (MET-Rx)
7.11 Pervine Foods, LLC
7.12 QuestNutrition LLC
8. Appendix
8.1 Disclaimer
8.2 Sources
LIST OF TABLES
1: Snack Bar Market Revenue, By Distribution Channel, India, 2015-2023
2: Snack Bar Market: Revenue in USD million, by Product Type , India, 2015-2023
3: Snack Bar Market: Revenue in USD million, by Cereal Bar , India, 2015-2023
4: Snack Bar Market: Revenue in USD million, by Granola/Muesli Bars , India, 2015-2023
5: Snack Bar Market: Revenue in USD million, by Other Cereal Bars , India, 2015-2023
6: Snack Bar Market: Revenue in USD million, by Energy Bars , India, 2015-2023
7: Snack Bar Market: Revenue in USD million, by Other Snack Bars , India, 2015-2023
8: Snack Bar Market: Volume in million Kg, by Product Type, India, 2015-2023
9: Snack Bar Market: Volume in million Kg, by Cereal Bar, India, 2015-2023
10: Snack Bar Market: Volume in million Kg, by Granola/Muesli Bars, India, 2015-2023
11: Snack Bar Market: Volume in million Kg, by Other Cereal Bars, India,2015-2023
12: Snack Bar Market: Volume in million Kg, by Energy Bars, India,2015-2023
13: Snack Bar Market: Volume in million Kg, by Other Snack Bars, India, 2015-2023