Market Snapshot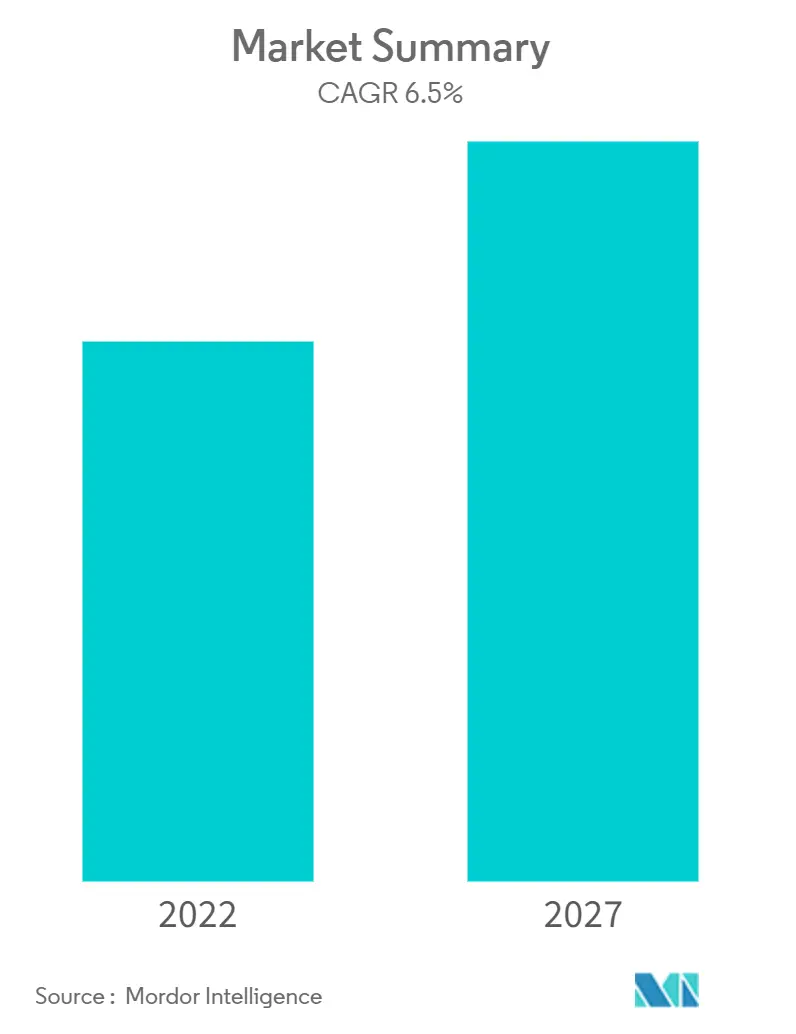 Study Period:
2019-2027
Base Year:
2021
Fastest Growing Market:
Asia-Pacific
Largest Market:
North America
CAGR:

>

6.5 %
Market Overview
The Hydrogen generation market is expected to rise at a CAGR of approximately 6.5% during the forecast period of 2022-2027. Like many other industries, the Hydrogen generation industry has been dramatically hit by COVID 19 pandemic. Covid 19 has caused substantial obstacles to global supply chains in addition to repeated nationwide curfews and shutdowns to hamper or even halt the movement of raw materials and completed goods, causing manufacturers to suffer. Factors such as the Increased government regulations for desulphurization, greenhouse gas emissions, and encouraging the production and consumption of hydrogen are likely to drive the Hydrogen generation market during the forecast period. However, high capital costs of hydrogen energy storage are expected to restrain the Hydrogen generation market.
The Steam Methane Reforming technology segment is expected to dominate the hydrogen market over the forecast period.
Green and blue hydrogen are the most cost-effective and in-demand hydrogen generation technologies; hence they meet emission regulations while simultaneously reducing carbon dioxide emissions and are likely to provide ample opportunities for the market's growth.
Asia-Pacific is the fastest-growing market during the forecast period due to the rising hydrogen demand from countries like China and India.
Scope of the Report
The Hydrogen generation market report includes:
Source
Blue hydrogen
Green hydrogen
Grey Hydrogen
Technology
Steam Methane Reforming (SMR)
Coal Gasification
Others
Application
Oil Refining
Chemical Processing
Iron & Steel Production
Others
Geography
North America
Europe
Middle East & Africa
Asia- Pacific
South America
Key Market Trends
Blue Hydrogen Segment Expected to see Significant Growth
Blue hydrogen is made by combining natural gas with heated steam in the steam reforming process. Natural gas is used to produce blue hydrogen, a low-carbon fuel. It is used to power vehicles, generate energy, and heat buildings, among other things.
The CO2 created in blue hydrogen does not escape into the atmosphere. Instead, CO2 is caught and stored separately at the production site. Carbon capture and storage (CCS) is a technique that aids in reducing carbon emissions into the atmosphere. As a result, it is more environmentally benign than grey hydrogen, although blue hydrogen increases the cost of carbon storage.
The blue hydrogen market is expected to be driven by the growing use of hydrogen in fuel cell-powered automobiles. Fuel cells are an environmentally friendly mode of transportation that can replace fossil fuels. Furthermore, governments from all over the world support the usage of fuel cell vehicles to minimize greenhouse gas emissions. Subsidies and tax breaks are offered, and more money is being invested in developing infrastructure for fuel cell vehicles. As a result, the increased use of hydrogen in the vehicle industry is expected to drive demand for blue hydrogen over the forecast period.
In January 2022, according to IEA, there are at least 50 blue hydrogen projects in the works around the world, with capacity expected to grow more than tenfold by 2030. And one such project is a joint venture between Equinor and Engie to produce low-carbon hydrogen at a large scale and competitive cost levels. They will use a process known as auto thermal reforming (ATR), which allows for decarbonization rates above 95%.
Hence, owing to the above points, the Blue hydrogen segment is likely to see significant growth in the Hydrogen generation market during the forecast period.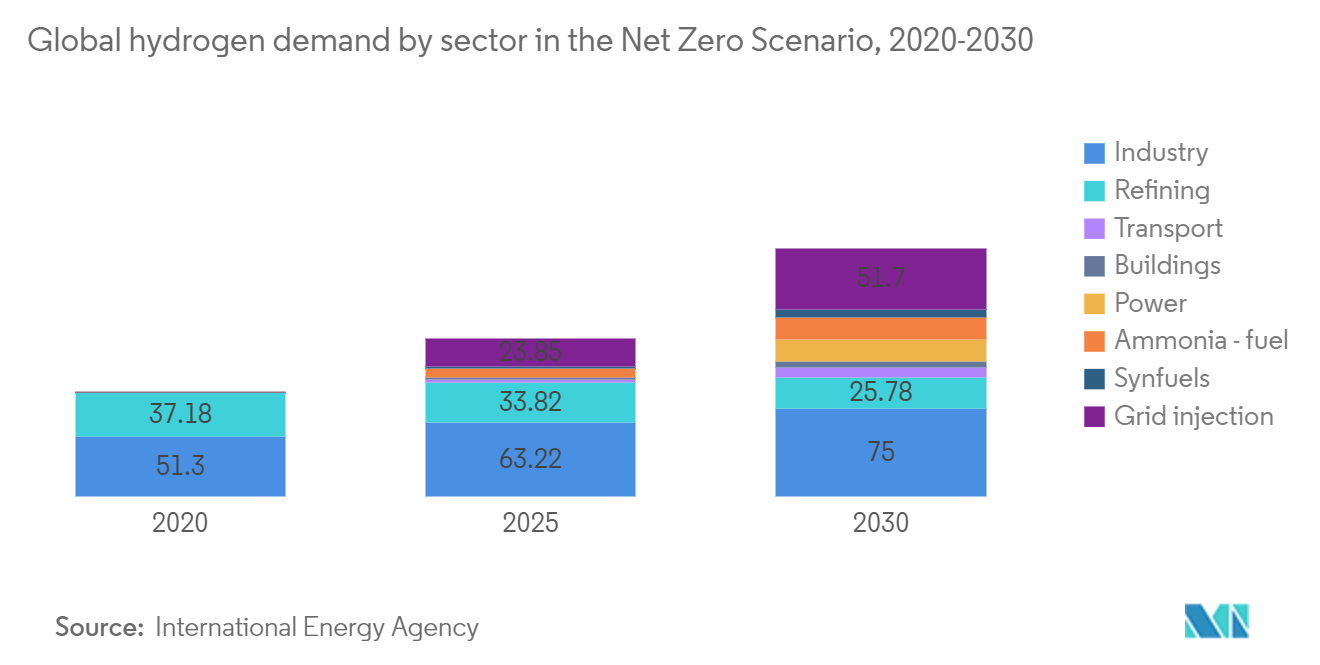 To understand key trends, Download Sample Report
Asia Pacific Region Fastest Growing Market
The Asia- Pacific region is the fastest-growing market due to the rising hydrogen demand for power generation in China and India. Furthermore, increased government measures to promote clean and green energy in countries such as India, Japan, and Australia are encouraging market growth.
The rapid development of numerous sectors in various economies such as South Korea, China, Japan, and India demonstrated a robust economic development that aided the growth of the hydrogen generating industry in this region. The increasing demand for fuel cell-powered electric vehicles in the area is mainly responsible for the region's appealing growth. Aside from that, power generation via renewable energies is expanding in the region.
China is the most significant and fastest-growing market for hydrogen generation. In recent years, the country's oil and gas and manufacturing industries have experienced tremendous expansion.
According to National Development and Reform Commission (NDRC) and energy regulator National Energy Administration (NEA), By 2025, China plans to manufacture 100,000-200,000 metric tonnes of green hydrogen from renewable sources per year, reducing CO2 emissions by 1-2 million metric tonnes per year.
The factors mentioned above are likely to grow the Hydrogen market in the Asia Pacific region in the forecasted period.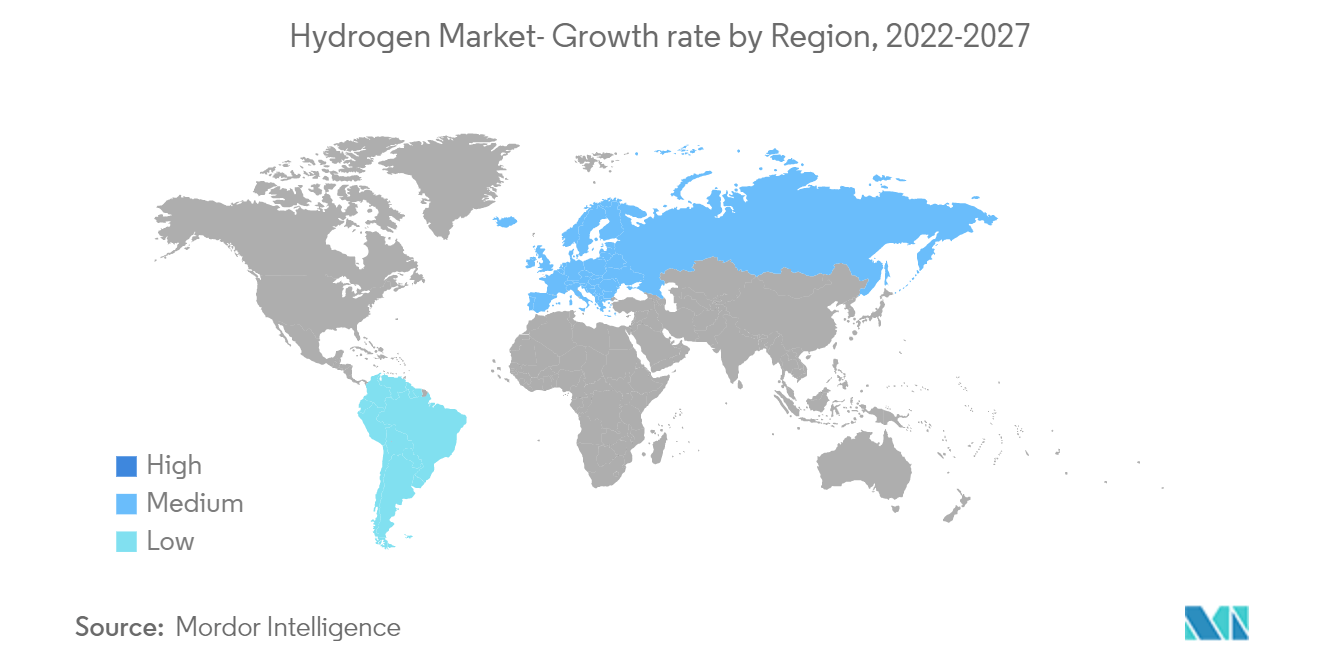 To understand geography trends, Download Sample Report
Competitive Landscape
The Hydrogen generation market is moderately fragmented. Some of the key players in this market are ITM Power plc, Linde plc, Engie SA, The Messer Group GmbH, and Air Liquide S.A.
Major Players
*Disclaimer: Major Players are sorted alphabetically
Recent Development
In April 2022, Masdar and Hassan Allam signed an agreement to establish green hydrogen production plants in Egypt's Suez Canal Economic Zone and along the Mediterranean coast, with 4 gigawatts (GW) of electrolyzer capacity and 480,000 tonnes of green hydrogen per year by 2030.
In March 2021, Brookfield Renewable Partners and Plug Power, Inc. announced a joint venture to build a hydrogen facility in the United States in March 2021. To reduce carbon emissions, this plant seeks to produce roughly 15 metric tonnes of liquid hydrogen per day from 100% renewable resources.
In July 2020, A strategic partnership agreement was inked by Air Products and ThyssenKrupp Uhde Chlorine Engineers (SCA). The two businesses will work together exclusively in important locations to build green hydrogen projects, using their complementary technical, engineering, and project execution strengths.
Table of Contents
1. INTRODUCTION

1.1 Scope of the Study

1.2 Market Definition

1.3 Study Assumptions

2. EXECUTIVE SUMMARY

3. RESEARCH METHODOLOGY

4. MARKET OVERVIEW

4.1 Introduction

4.2 Market Size and Demand Forecast in USD billion, till 2027

4.3 Recent Trends and Developments

4.4 Government Policies and Regulations

4.5 Market Dynamics

4.5.1 Drivers

4.5.2 Restraints

4.6 Supply Chain Analysis

4.7 Porter's Five Forces Analysis

4.7.1 Bargaining Power of Suppliers

4.7.2 Bargaining Power of Consumers

4.7.3 Threat of New Entrants

4.7.4 Threat of Substitutes Products and Services

4.7.5 Intensity of Competitive Rivalry

5. MARKET SEGMENTATION

5.1 Source

5.1.1 Blue hydrogen

5.1.2 Green hydrogen

5.1.3 Grey Hydrogen

5.2 Technology

5.2.1 Steam Methane Reforming (SMR)

5.2.2 Coal Gasification

5.2.3 Others

5.3 Application

5.3.1 Oil Refining

5.3.2 Chemical Processing

5.3.3 Iron & Steel Production

5.3.4 Others

5.4 Geography

5.4.1 North America

5.4.2 Europe

5.4.3 Middle East & Africa

5.4.4 Asia- Pacific

5.4.5 South America

6. COMPETITIVE LANDSCAPE

6.1 Mergers, Acquisitions, Collaboration and Joint Ventures

6.2 Strategies Adopted by Key Players

6.3 Company Profiles

6.3.1 Linde plc

6.3.2 Air Liquide

6.3.3 Messer Group GmbH

6.3.4 ITM Power plc

6.3.5 Engie SA

6.3.6 Cummins

6.3.7 Air Products & Chemicals

6.3.8 Fuel Cell Energy

6.3.9 Taiyo Nippon

6.3.10 McPhy Energy

6.3.11 Enapter

*List Not Exhaustive

7. MARKET OPPORTUNITIES AND FUTURE TRENDS
Market Definition
Vehicle Types

- Passenger Vehicles, Commercial Vehicles and Motorcycles are the vehicle types considered under the automotive lubricants market.

Product Types

- For the purpose of this study, lubricant products such as engine oils, transmission oils, greases and hydraulic fluids are taken into consideration.

Service Refill

- Service refill is the primary factor considered while accounting the lubricant consumption for each of the vehicle segments, under the study.

Factory Fill

- First lubricant fill-ups for newly produced vehicles are considered.
Research Methodology
Mordor Intelligence follows a four-step methodology in all our reports.
Step-1: Identify Key Variables:

The quantifiable key variables (industry and extraneous) pertaining to the specific product segment and country are selected from a group of relevant variables & factors based on desk research & literature review; along with primary expert inputs. These variables are further confirmed through regression modeling (wherever required).

Step-2: Build a Market Model:

In order to build a robust forecasting methodology, the variables and factors identified in Step-1 are tested against available historical market numbers. Through an iterative process, the variables required for market forecast are set and the model is built on the basis of these variables.

Step-3: Validate and Finalize:

In this important step, all market numbers, variables and analyst calls are validated through an extensive network of primary research experts from the market studied. The respondents are selected across levels and functions to generate a holistic picture of the market studied.

Step-4: Research Outputs:

Syndicated Reports, Custom Consulting Assignments, Databases & Subscription Platforms
80%

of our clients seek made-to-order reports. How do you want us to tailor yours?