Market Snapshot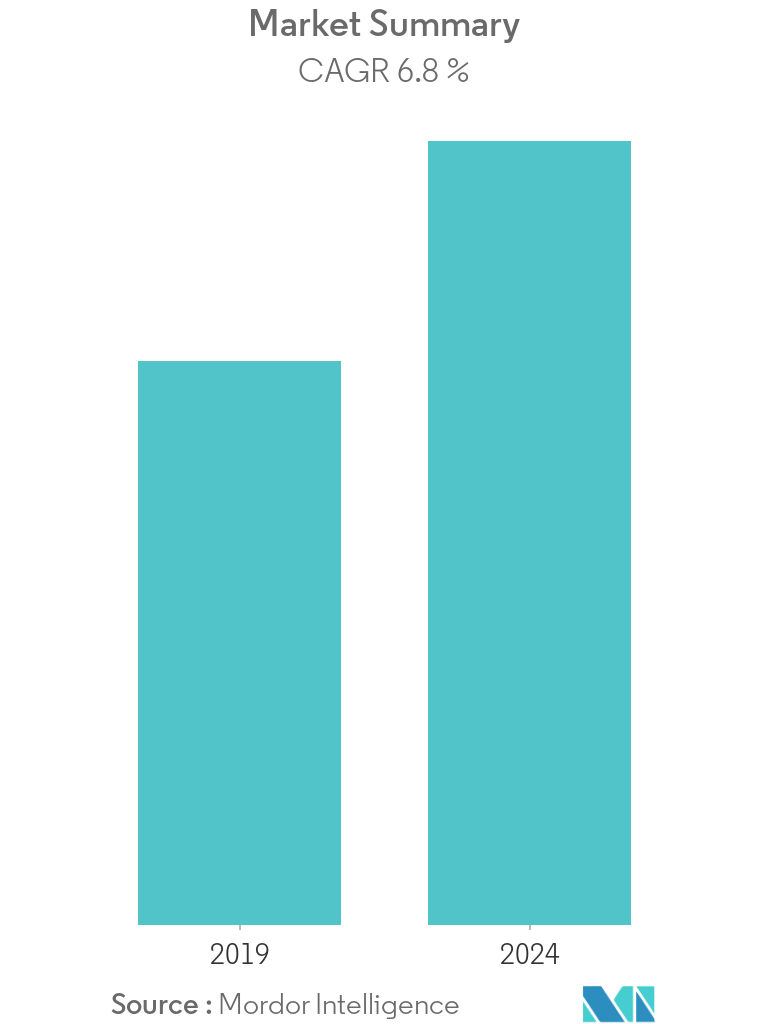 Fastest Growing Market:
North America
Largest Market:
Asia Pacific
Key Players:
80%

of our clients seek made-to-order reports. How do you want us to tailor yours?
Glyphosate Market
The global glyphosate market is projected to reach USD 12.54 billion by 2024, with a CAGR of 6.8% over the forecast period, 2019-2024. With the area under herbicide-tolerant crops increasing and with more and more countries approving herbicide-tolerance technology for crops, the market is expected to grow inorganically with rapid farmer adoption. Concerns with respect to the environmental hazards remain in developed markets, but the market is not expected to slow down, on account of the lack of availability of efficient alternatives to glyphosate.
Scope of the Report
Glyphosate is one of the most commonly used herbicides. It is classified as a post-emergent, non-selective, systemic herbicide, capable of killing weeds which have green foliage. Usage on herbicide-tolerant crops, in zero tillage applications, usage on perennial crops constitute the major agricultural applications of the herbicide while it is also used in non-agricultural operations such as home-based weed control, industrial weed control, municipal weed control, etc. The market is also segmented by different crop types as well as by geography.
Application
Herbicide Tolerant Crop Applications
Zero Tillage Applications
Perennial Crop Applications
Non-Agricultural Applications
Crop Type
Grains and Cereals
Pulses and Oilseeds
Fruits and Vegetables
Commercial Crops
Plantation Crops
Other Crop Types
Geography

North America
United States
Canada
Mexico
Rest of North America

Europe
Germany
United Kingdom
Spain
Russia
Italy
Rest of Europe

Asia Pacific
China
India
Japan
Australia
Rest of Asia Pacific

South America
Brazil
Argentina
Rest of South America

Africa
South Africa
Rest of Africa
Key Market Trends
Approvals for Herbicide-Tolerant Crop Hybrids Essential to Drive Inorganic Growth
Herbicide-Tolerant crop hybrids are genetically engineered hybrids where the crops are tolerant to non-selective herbicides such as glyphosate. Since glyphosate is the most efficient herbicide which helps in complete control of weeds, irrespective of species and physiology, most of the research and development activities are targeted at glyphosate tolerance. Bayer Cropscience, which completed the acquisition of Monsanto Company in 2018 holds the patent for RoundUp-Ready hybrids in crops such as soybean, corn, and cotton, with Roundup-Ready Soybeans holding a large share of the acreage in the United States, Brazil, and Argentina. The adoption of herbicide-tolerance technology at the farmer-level is expected to be rapid, but the long-pending approval backlog with the government agencies in India and countries of the European Union are stalling the growth spurt that could aid the inorganic growth in the global glyphosate market.
To understand key trends, Download Sample Report
Asia-Pacific and North America Equally Attractive Regional Markets
The Asia-Pacific region and the North American Region present equally attractive opportunities for companies operating in the glyphosate herbicide market. On account of the increasing levels of penetration of herbicide-tolerant hybrids, the North American region is expected to remain as one of the fastest-growing regions. It is estimated that almost 56% of the glyphosate usage in the United States is for herbicide-tolerant crops.
In the Asia-Pacific region, the growth in the market is expected to be more organic in nature. The region has the highest arable land in the world with the highest crop diversity. Increased adoption of advanced agricultural practices such as zero-tillage is expected to deliver growth to the glyphosate herbicide market in the region. Although China has provided approval to grow herbicide-tolerant hybrids, the constraint remains with respect to India, which is yet to provide approvals for any genetically modified hybrid in food crops.
To understand geography trends, Download Sample Report
Competitive Landscape
In the global glyphosate market, companies are not only competing in terms of product quality and product promotion, but are also focusing on strategic moves to acquire greater market shares. New product launches, expansions, innovations, and partnerships are the major strategies adopted by the leading companies in the glyphosate herbicide market. Bayer CropScience AG, with its acquisition of Monsanto Company, holds the pole position in the market, while the off-patent nature of glyphosate means that there are a host of generic crop protection chemical manufacturers that vie for a share in this highly competitive market. At a global level, the market is fairly fragmented due to this effect.
Major Players
* Complete list of players covered available in the table of contents below
Table of Contents
1. INTRODUCTION

1.1 Study Deliverables

1.2 Study Assumptions

1.3 Scope of the Study

2. RESEARCH METHODOLOGY

3. EXECUTIVE SUMMARY

4. MARKET DYNAMICS

4.1 Market Overview

4.2 Introduction to Market Drivers and Restraints

4.3 Market Drivers

4.4 Market Restraints

4.5 Industry Attractiveness - Porter's Five Force Analysis

4.5.1 Bargaining Power of Suppliers

4.5.2 Bargaining Power of Buyers

4.5.3 Threat of New Entrants

4.5.4 Threat of Substitute Products

4.5.5 Intensity of Competitive Rivalry

5. MARKET SEGMENTATION

5.1 Application

5.1.1 Herbicide Tolerant Crop Applications

5.1.2 Zero Tillage Applications

5.1.3 Perennial Crop Applications

5.1.4 Non-Agricultural Applications

5.2 Crop Type

5.2.1 Grains and Cereals

5.2.2 Pulses and Oilseeds

5.2.3 Fruits and Vegetables

5.2.4 Commercial Crops

5.2.5 Plantation Crops

5.2.6 Other Crop Types

5.3 Geography

5.3.1 North America

5.3.1.1 United States

5.3.1.2 Canada

5.3.1.3 Mexico

5.3.1.4 Rest of North America

5.3.2 Europe

5.3.2.1 Germany

5.3.2.2 United Kingdom

5.3.2.3 Spain

5.3.2.4 Russia

5.3.2.5 Italy

5.3.2.6 Rest of Europe

5.3.3 Asia Pacific

5.3.3.1 China

5.3.3.2 India

5.3.3.3 Japan

5.3.3.4 Australia

5.3.3.5 Rest of Asia Pacific

5.3.4 South America

5.3.4.1 Brazil

5.3.4.2 Argentina

5.3.4.3 Rest of South America

5.3.5 Africa

5.3.5.1 South Africa

5.3.5.2 Rest of Africa

6. COMPETITIVE LANDSCAPE

6.1 Most Adopted Competitor Strategies

6.2 Market Share Analysis

6.3 Company Profiles

6.3.1 Adama Agricultural Solutions Ltd

6.3.2 BASF SE

6.3.3 Bayer Cropscience AG

6.3.4 UPL Limited

6.3.5 Corteva Agriscience

6.3.6 Zhejiang Xinan Chemical Industrial Group Company Ltd

6.3.7 Nufarm Limited

6.3.8 Excel Crop Care Limited

6.3.9 Jiangsu Good Harvest-Weien Agrochemical Company

6.3.10 American Vanguard Corporation

6.3.11 King Quenson Industry Group

6.3.12 Nantong Jiangshan Agrochemical & Chemicals Co. Ltd

7. MARKET OPPORTUNITIES AND FUTURE TRENDS
80%

of our clients seek made-to-order reports. How do you want us to tailor yours?