Variable Refrigerant Flow (VRF) Market Size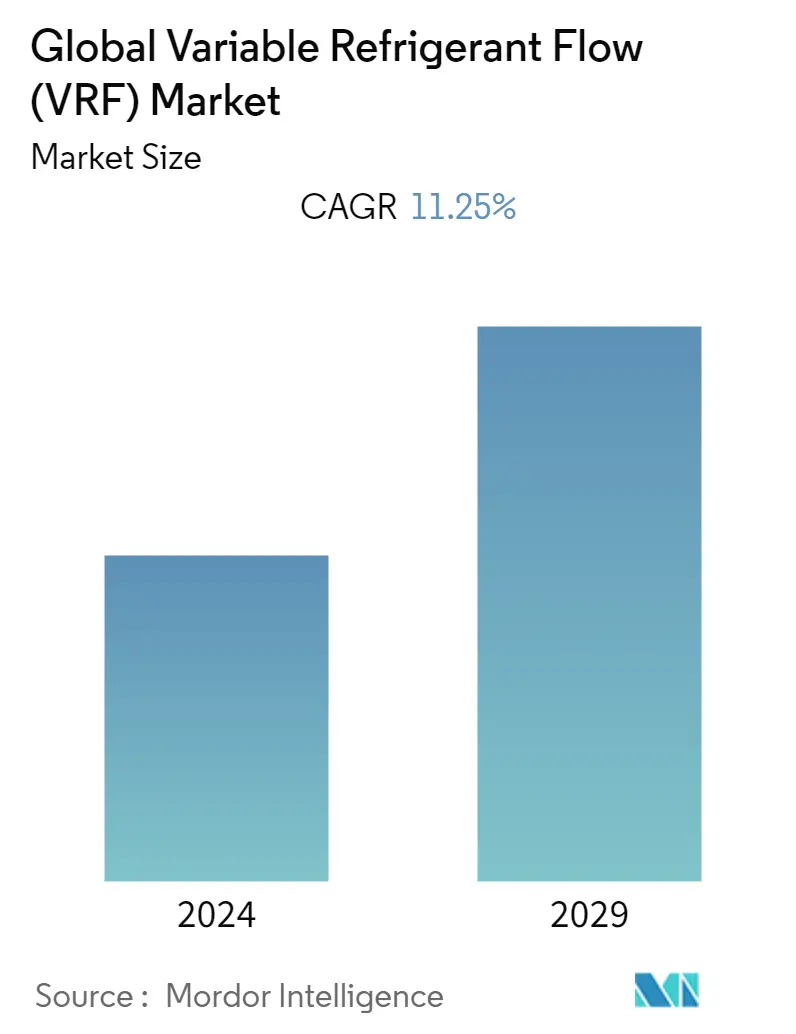 Study Period
2018 - 2028
Base Year For Estimation
2022
CAGR
11.25 %
Fastest Growing Market
Asia-Pacific
Largest Market
Europe
Market Concentration
Medium

Major Players

*Disclaimer: Major Players sorted in no particular order
Need a report that reflects how COVID-19 has impacted this market and its growth?
Variable Refrigerant Flow (VRF) Market Analysis
The Global Variable Refrigerant Flow (VRF) market are expected to register a CAGR of 11.25 % over the forecast period (2022 - 2027). VRF systems offer unique controls for each housing unit; as a result, these systems are very energy-efficient and have a low operating expense. Because of this, more and more building owners and managers are installing VRF air conditioning systems. VRF systems are increasingly the go-to option for flats and communal housing because to their extended product life under adverse conditions, strong air-conditioning performance, and superior servicing.
VRF systems offer simultaneous heating and cooling services, accurate temperature control, and high energy efficiency. These benefits give these systems a competitive edge over conventional methods and are the main drivers of industry expansion. The expanding construction industry, loosening regulations in the real estate and construction sectors, significant potential for energy savings, and low and simple maintenance needs of VRF systems are all major factors propelling the market for VRF systems.
For instance, According to Eurostat, Construction output in European Union increased 3%, in April of 2022 over the same month in the previous year. Furthermore, The production value of the construction industry in European countries in 2020 varied drastically per country. That year, Germany had recorded the largest production value at roughly EUR 379 billion, followed by France at EUR 303 billion. In 2020, the annual turnover of the EU-27 countries amounted to almost EUR 1.7 trillion.
Environmental concerns regarding global warming and ozone depletion have led over time to the development of evolving global and regional regulations, which have had significant implications for refrigerants across applications. Manufacturers and end-users who purchase, design, install, and service equipment air conditioning and refrigeration equipment should consult their specific country's current regulations, codes, and standards to aid with refrigerant selection for each intended use.
The United Nations Environment Program - Division of Technology, Industry, and Economics (UNEP DTIE) OzonAction Branch assists countries in complying with their commitments under the Montreal Protocol on Substances that Deplete the Ozone Layer, especially those related to the phase-out of hydrochlorofluorocarbons (HCFCs). The substitutes to HCFCs include the climate and ozone-friendly alternatives such as natural refrigerants - ammonia, hydrocarbons, and carbon dioxide; and lower global warming potential (GWP) HFCs, both saturated HFCs and unsaturated HFCs (HFOs).
With the outbreak of COVID-19, industrial companies are expressing concerns about the environmental impact of the services and products they buy and are willing to pay more for more environmentally and health-friendly options than others. Smart HVAC systems are expected to have significant demand. Technology gives end-users more control, from self-regulation to sensors to remote temperature adjustment to integrating energy controls. The HVAC systems deal with varied load conditions depending on the occupancy rate in the buildings due to irregular attendance. Rationalizing square foot occupancy per employee and evolving office space usage patterns will be necessary.
Variable Refrigerant Flow (VRF) Market Trends
This section covers the major market trends shaping the Variable Refrigerant Flow (VRF) Market according to our research experts:
Residential Segments Plays a Prominent role in Market Growth
Air supply VRF is widely used in Asia and Europe and is well-liked worldwide. It is quickly gaining market share in North America's residential and commercial sectors. The use of VRF in Passive House projects or other projects looking to reduce their site's reliance on fossil fuels is a growing trend. Due to the current push for complete electrification by numerous municipalities, cities, and even states, the latter is a particularly hot topic. Building electrification aims to convert all energy uses to electricity alone as the power system becomes more environmentally friendly and less dependent on fossil fuels. By using an air source heat pump rather than a gas-driven furnace or boiler, VRF can help achieve this goal.
According to US census Bureau, Between 2002 and 2021, public residential building investment in the US increased dramatically in value. Over USD 9 billion were spent on residential construction projects by the public sector in 2021, a minor decline from 2020. The highest rise occurred in 2020, when public residential spending increased to USD 9.19 billion from USD 6.89 billion, representing a significant increase. Over the next few years, it's anticipated that the total cost of newly built homes in the US will rise.
To meet the demands of the customer, the firms are developing new products. For Instance,in February 2022, In order to maintain its pace and sharpen its emphasis on clients in the light commercial HVAC segment, Carrier China has introduced the new XCT8 variable refrigerant flow (VRF) series. The new XCT8 series is produced in Carrier's Nanhai, Foshan factory with an unwavering dedication to quality, technology, and energy efficiency in order to satisfy the needs of Chinese and international customers. The new XCT8 direct current frequency conversion VRF systems close gaps in some earlier generation models and surpass China's GB 21454-2008 national energy efficiency standard for multi-connected air conditioner heat pump units.
The government policies in the developments of the housing projects will significantly create opportunity for the VRF Market to grow. For instance, in March 2022, Al Hamra, a developer in Ras Al Khaimah, announced an AED1 billion (UDS 272 million) residential project as part of a broader recovery in the UAE's housing market. Falcon Island will be created within Al Hamra Village, a residential neighborhood with a mall, a yacht club, and hotels. The new project is being launched as the UAE's housing market continues to recover from the coronavirus-induced slump. New government efforts such as residency for distant workers and pensioners and the expansion of the 10-year golden visa program have boosted the market.
Moreover, the Smart City initiative that the government launched has been pushing the construction sector strongly. The South Korean infrastructure ministry has previously announced a consortium of South Korean construction companies to build an eco-friendly USD 4 billion residential city in Kuwait. Primarily led by Posco A&C and Hyundai Architects and Engineers Associates Co., the consortium would be building a smart city that is environment-friendly, well-organized, and connected.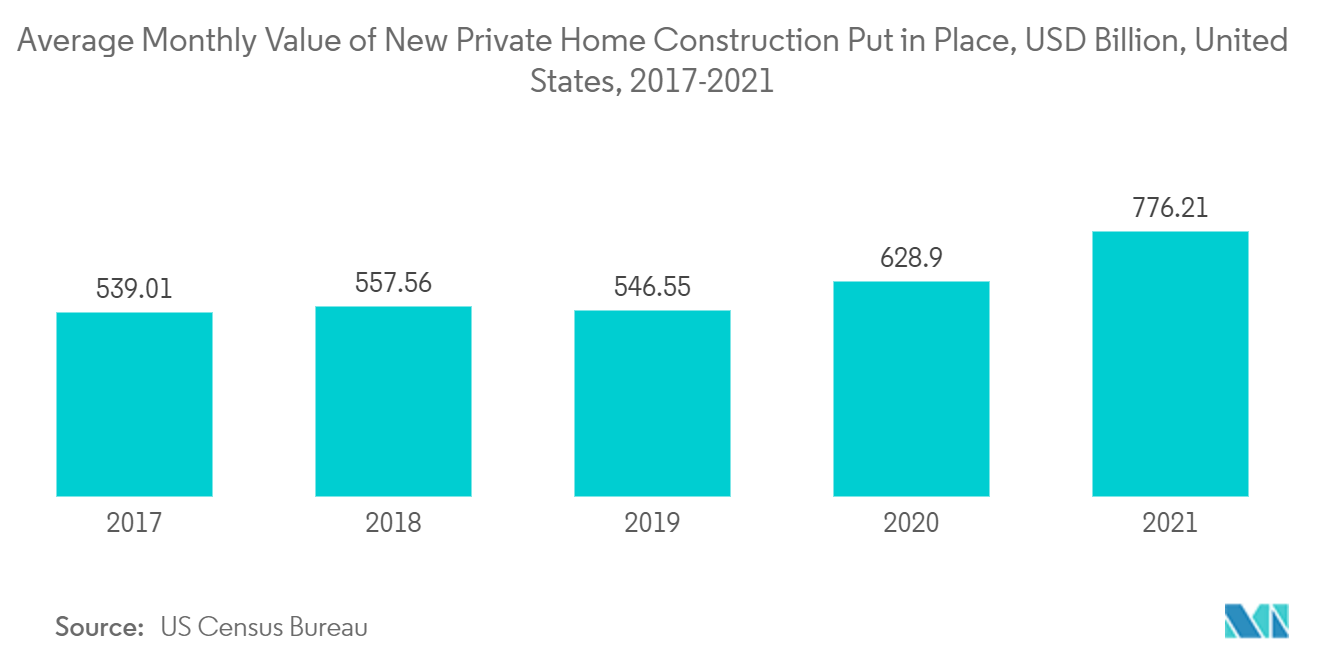 To understand key trends, Download Sample Report
Europe Holds the Prominent Share of the Market
Most commercial structures, from little stores and cafes to big office complexes and public areas, use VRF systems. VRF zoning ensures that energy is only used to cool, or heat occupied offices. Due to their quiet indoor units and ability to maintain precise temperature control, VRF systems guarantee the most comfortable and productive work environment.
To expand their presence and capture a wide market share, the companies are launching and making available in Europe. For instance, in February 2021, Carrier introduced its XCT7 VRF air conditioning system in Europe. The range includes sizes from 4 to 26hp in single- and dual-fan, side discharge, top discharge, and full discharge heat recovery heat pump units. To achieve 104 horsepower with up to 64 indoor units per outside system, up to four outdoor units can be coupled. Twelve indoor units are offered, including round-way, 1-, 2-, and 4-way cassettes. Innovative features include a centrifugal oil separator that improves refrigerant distribution balance, a black-coated fin technology that increases corrosion resistance, anti-liquid shock compressor technology that lowers the failure rate from liquid shock, and a 10-stage oil return technology that ensures a smooth supply of lubricant.
Furthermore, In July 2021, The new DVM S2 Variable Refrigerant Flow (VRF) outdoor air conditioning unit from Samsung Electronics will be released globally. It combines with interior units to deliver the company's patented WindFree Cooling anywhere without the pain of direct cold air flow indoors. The outdoor-installed technology of Samsung's sixth-generation Digital Variable Multi air conditioner, model number DVM S2, allows for greater versatility and functionality. It allows connection with 64 Samsung interior air conditioning units to provide the best comfort possible without unwelcome cold breezes. In Europe, DVM S2 is now offered and works with Samsung's 1Way, 4Way, 4Way 600600, and wall-mounted variants.
To meet the demands of the customers the firms in the region are providing different products so that they can enhance their market share. For example, In addition to providing a large capacity range of up to 270 kW in a single central system, Bosch VRF Air Conditioning Systems also employs a modular design approach with space-saving outside units, fashionable indoor units, and sophisticated controls. This high-efficiency product line is appropriate for air-conditioning facilities, including hotels, businesses, hospitals, restaurants, villas, and schools. The advantages of a VRF system include connecting to building management systems and providing individual room control and centralized control.
The COVID-19 epidemic significantly negatively impacted the VRF systems business, just like it did in any other industry. On the one hand, procuring the raw materials and components needed to produce VRF Systems, delivering finished goods, and luring workers out of quarantines were all issues that VRF system makers had to deal with. However, the market growth has been positively impacted by increasing automation in various manufacturing organizations and integrating the Building Automation System (BAS) for schedules and alarms.
Moreover, With affluent countries like the United Kingdom, France, Germany, Denmark, Switzerland, Luxembourg, Belgium, and other Scandinavian countries EU has one of the highest per capita income and GDP in the world. According to IMF, the European Union Gross Domestic Product in 2020 was USD 15,167 billion and is expected to reach USD 21,183 billion by 2026. The region's per capita income is also high, with seven European countries being in the top seven in the world. This allows the European citizens to spend higher on building automation and smart integration of the living space which will drive the studied market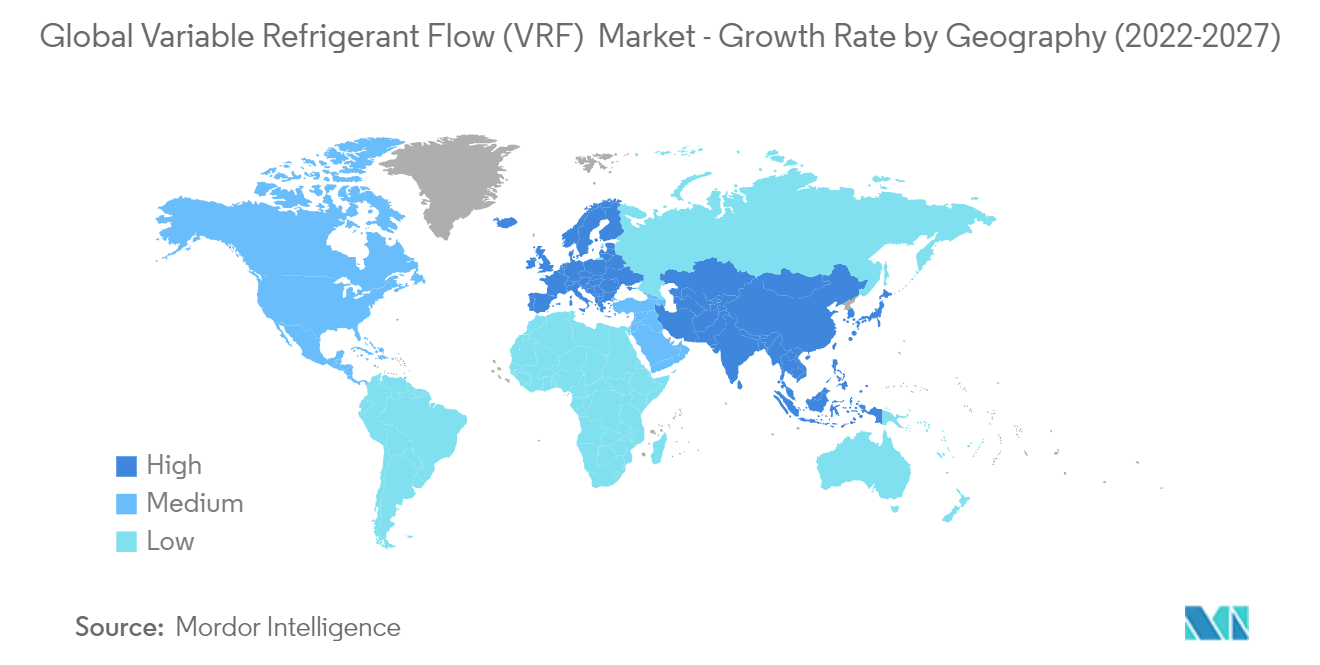 To understand geography trends, Download Sample Report
Variable Refrigerant Flow (VRF) Industry Overview
The Global Variable Refrigerant Flow (VRF) market is moderately consolidated, with the presence of a few major companies. The companies are continuously investing in making strategic partnerships and product developments to gain more market share. Some of the recent developments in the market are:
April 2022 - With the introduction of its brand-new DVM S2 Variable Refrigerant Flow (VRF) outdoor air conditioning unit, Samsung has expanded its AC product line. Together with the interior AC units, the VRF unit provides cooling. WindFree technology, according to the business, "eliminates severe cold draughts and disperses air through 23,000 micro holes at a speed of 0.15 m/s that aids in producing a still air environment." Between 8HP and 34HP in heat pump and cooling-only variants, the new DVM S2 lineup will be offered in a variety of capacities.
February 2022 - The variable refrigerant flow (VRF) and light commercial HVAC joint venture between Carrier and Toshiba Carrier Corporation (TCC) have signed a legally binding agreement to buy out Toshiba Corporation's ownership stake. Carrier Global Corporation provides healthy, safe, sustainable, and intelligent building and cold chain solutions. As well as expanding its global VRF product platform with cutting-edge and distinctive technology and the inclusion of a known brand to its portfolio, the anticipated purchase will boost Carrier's position in one of the fastest-growing HVAC categories.
Variable Refrigerant Flow (VRF) Market Leaders
Daikin

Carrier

Mitsubishi Electric

Midea Group

Johnson Electric
*Disclaimer: Major Players sorted in no particular order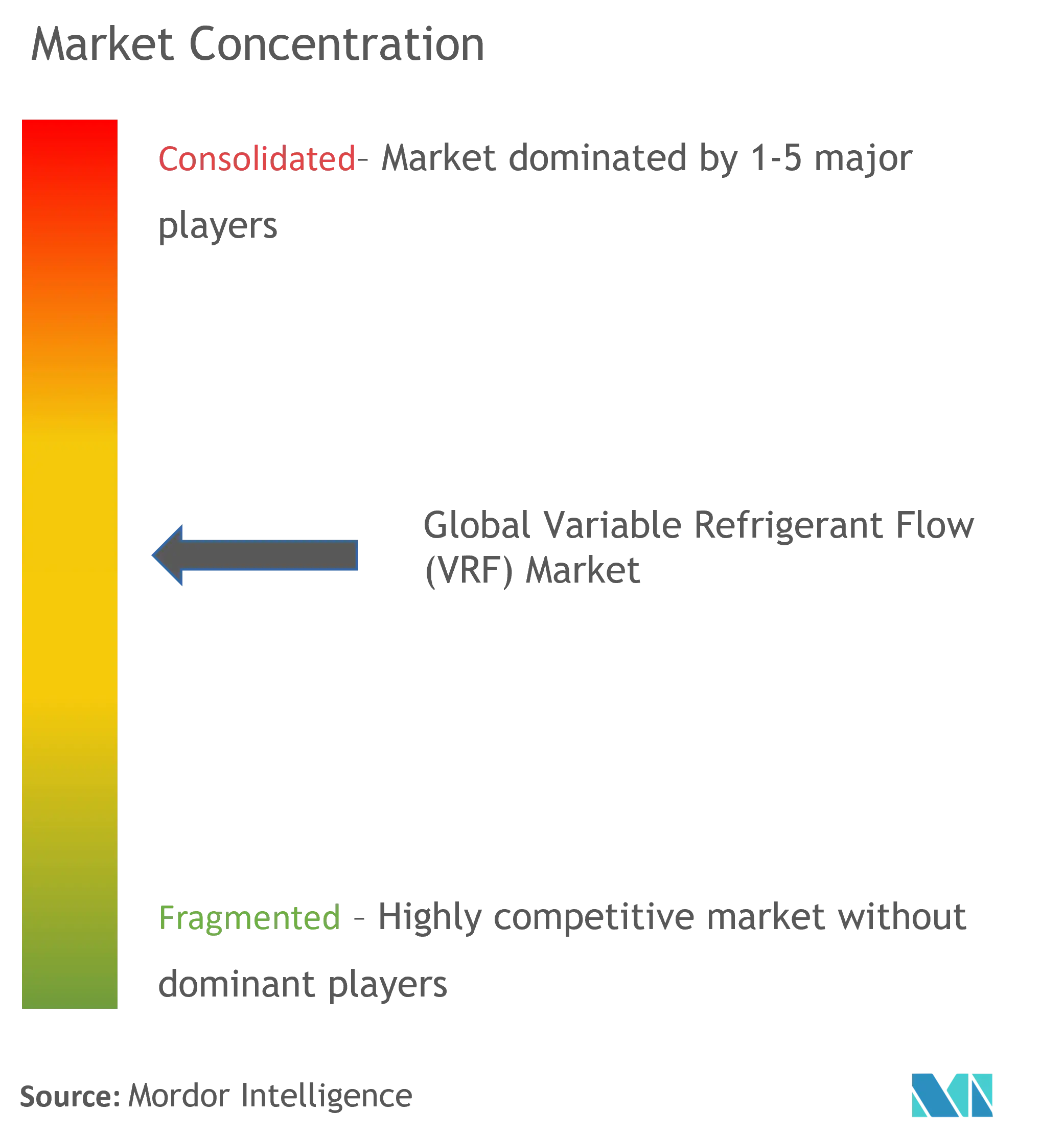 Variable Refrigerant Flow (VRF) Market News
May 2022 - To start producing its VRV air conditioning systems for the Turkish and Middle Eastern markets, Daikin Europe invested EUR13 million in its Turkish factory. According to the company, the choice was made by the company's goal of producing close to the market to reduce supply lead times and increase responsiveness to demand. Daikin's factory in Ostend, Belgium, which previously made VRV systems for Turkey and the Middle East, is now producing more heat pumps for the European heating markets
Variable Refrigerant Flow (VRF) Market Report - Table of Contents
1. INTRODUCTION

1.1 Study Assumptions and Market Definition

1.2 Scope of the Study

2. RESEARCH METHODOLOGY

3. EXECUTIVE SUMMARY

4. MARKET INSIGHTS

4.1 Market Overview

4.2 Industry Attractiveness - Porter's Five Forces Analysis

4.2.1 Bargaining Power of Suppliers

4.2.2 Bargaining Power of Buyers

4.2.3 Threat of New Entrants

4.2.4 Intensity of Competitive Rivalry

4.2.5 Threat of Substitutes

4.3 Value Chain Analysis

4.4 Assessment of Impact of COVID-19 on the Market

5. MARKET DYNAMICS

5.1 Market Drivers

5.1.1 Attractive Economic & Environmental Benefits of HVAC VRF Systems to Foster Growth

5.1.2 VRF systems have a high potential for energy savings and need little to no maintenance

5.2 Market Restraints

5.2.1 High Initial Costs

5.2.2 Growing Competition to Limit Margin

6. MARKET SEGMENTATION

6.1 By Component

6.1.1 Outdoor Units

6.1.2 Indoor Units

6.2 By End User

6.2.1 Industrial

6.2.2 Commercial

6.2.3 Residential

6.3 By Geography

6.3.1 North America

6.3.2 Europe

6.3.3 Asia Pacific

6.3.4 Rest of the World

7. COMPETITIVE LANDSCAPE

7.1 Company Profiles

7.1.1 Daikin

7.1.2 Carrier

7.1.3 Mitsubishi Electric

7.1.4 Midea Group

7.1.5 Johnson Electric

7.1.6 LG Electronics

7.1.7 Fujitsu

7.1.8 Lennox

7.1.9 Panasonic

7.1.10 Samsung Electronics

*List Not Exhaustive

8. VENDOR POSITIONING ANALYSIS

9. INVESTMENT ANALYSIS

10. FUTURE OF THE MARKET
Variable Refrigerant Flow (VRF) Industry Segmentation
Variable refrigerant flow system is built on a technology that allows to control the amount of refrigerant that is provided to the fan coil units located across the building.
The study tracks the market based on the revenues generated by different vendors operating in the variable refrigerant flow market. The market study excludes drilldown breakup of the regional shares for the countries. The scope is limited to the classification of VRF by component used across the end user sector present in different geographies.
By Component
Outdoor Units
Indoor Units
By End User
Industrial
Commercial
Residential
By Geography
North America
Europe
Asia Pacific
Rest of the World
Variable Refrigerant Flow (VRF) Market Research FAQs
What is the current Global Variable Refrigerant Flow (VRF) Market size?
The Global Variable Refrigerant Flow (VRF) Market is projected to register a CAGR of 11.25% during the forecast period (2023-2028).
Who are the key players in Global Variable Refrigerant Flow (VRF) Market?
Daikin, Carrier, Mitsubishi Electric, Midea Group and Johnson Electric are the major companies operating in the Global Variable Refrigerant Flow (VRF) Market.
Which is the fastest growing region in Global Variable Refrigerant Flow (VRF) Market?
Asia-Pacific is estimated to grow at the highest CAGR over the forecast period (2023-2028).
Which region has the biggest share in Global Variable Refrigerant Flow (VRF) Market?
In 2023, the Europe accounts for the largest market share in the Global Variable Refrigerant Flow (VRF) Market.
Global Variable Refrigerant Flow (VRF) Industry Report
Statistics for the 2023 Global Variable Refrigerant Flow (VRF) market share, size and revenue growth rate, created by Mordor Intelligence™ Industry Reports. Global Variable Refrigerant Flow (VRF) analysis includes a market forecast outlook to 2028 and historical overview. Get a sample of this industry analysis as a free report PDF download.
Global Variable Refrigerant Flow (VRF) Report Snapshots
80%

of our clients seek made-to-order reports. How do you want us to tailor yours?