The global polyolefin catalyst market was valued at USD 1,807.93 million in 2017. Asia-Pacific is set to lead the market with a larger share owing to the presence of a great number of chemical companies in the region. Film application accounts for the largest share and is also the fastest growing segment.
Expansion of Polymer Resin Production to Propel Growth
Polyolefin is used widely for numerous applications, like injection molding, blow molding, etc., across various end-user industries, which include electrical & electronics, automotive, construction, and medical and consumer. In addition to this, the rising number of vehicles around the globe, particularly in the Asia-Pacific region, has also increased the demand for polymer resins.
Increased use of plastics as a substitute for glass and metal products, development of new products, and increased sophistication in plastic processing methods are some of the major factors that have led to the expansion of polymer and resin production in these industries. Many countries in the Asia-Pacific region, particularly China and India, are expanding their polymer resin production to reduce the dependency on import.
Film Application Accounts for the Largest Share
Films and sheets are manufactured by either cast film or blown film extrusion technology. In cast film extrusion, hot plastic is extruded through a flat, slit die onto a polished chill roll, where it is quenched, pulled to a second set of rolls to cool the other side, and then wound. In blown film extrusion, a tube of molten polymer is extruded through a die and inflated to several times its initial diameter to form a thin film bubble. The bubble is then collapsed and used as a lay-flat film.
Polyolefin films are majorly used in industries, like packaging, agriculture, and construction. Continuous growth of these industries has made films the largest and fastest-growing segment in the application segmentation.
Major companies producing polyolefin films are Sealed Air Corporation, PMC Group, Inc., Asmaco Industries Limited, Yorkshire Packaging Systems, and Vijay Packaging System, among others.
China - Largest and Fastest Growing Market in Asia-Pacific
China is a major producer and consumer of polyolefin in the world. The demand for polypropylene reached approximately 23.7 million in 2017, which indicates a higher demand as compared to the previous year's demand, by around 1.2 million. The country experienced a surge in the import and domestic production of polyethylene in the first half of 2017.
With the increasing demand for polyolefin, the country is expected to witness expansion in production capacity to meet the domestic demand.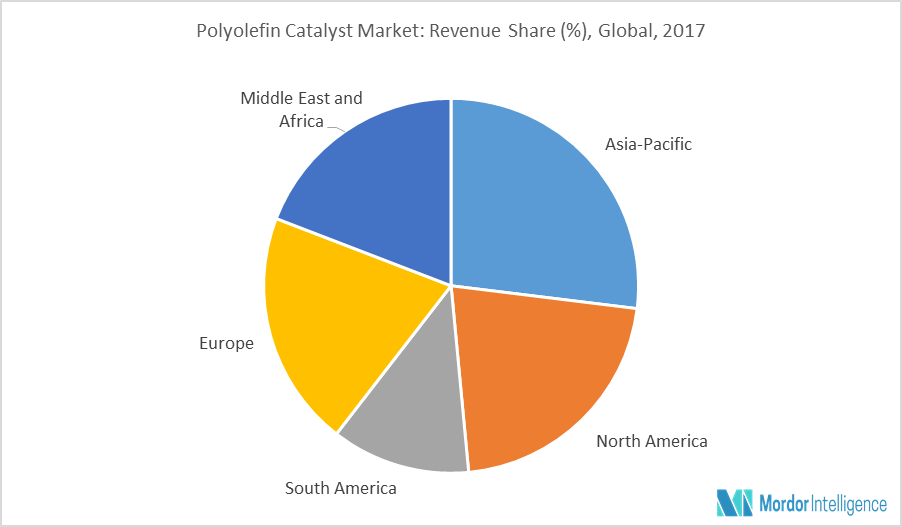 Notable Developments in the Market
October 2017: Clariant scrapped the USD 20 billion merger between Clariant and Huntsman.
Major players in the market are Dow Chemical Company, WR Grace, Sinopec, and Albemarle Corporation, among others.
Reasons to Purchase the Report
To understand the impact of increasingly stringent regulations on the market.
Analyzing various perspectives of the market with the help of Porter's Five Forces Analysis.
To understand the dominating technology in the market.
Identify the countries expected to witness the fastest growth during the forecast period.
Identify the latest developments, market shares, and strategies employed by the major market players.
3-month analyst support along with the Market Estimate sheet (in Excel).
Customization of the Report
This report can be customized to meet your requirements. Please connect with our representative, who will ensure you to get a report that suits your needs.
1. Introduction
1.1 Scope of the Report
1.2 Research Phases
1.3 Study Deliverables
2. Executive Summary
3. Market Insights
3.1 Industry Value Chain Analysis
3.2 Industry Attractiveness – Porter's Five Forces Analysis
3.2.1 Bargaining Power of Suppliers
3.2.2 Bargaining Power of Consumers
3.2.3 Threat of New Entrants
3.2.4 Threat of Substitute Products and Services
3.2.5 Degree of Competition
4. Market Dynamics
4.1 Drivers
4.1.1 Expansion of Polymer Resin Production
4.1.2 Increasing Refinery Market Output in Africa, The Middle East, and Asia-Pacific
4.2 Restraints
4.2.1 Fluctuating Prices of Raw Material
4.2.2 Strict Surveillance of Phthalate-based Catalyst
4.3 Opportunities
4.3.1 Consistent Technological Advancements Catering to the Growing Demand
4.3.2 Others
5. Market Segmentation and Analysis
5.1 By Application
5.1.1 Injection Molding
5.1.2 Blow Molding
5.1.3 Film
5.1.4 Fiber
5.1.5 Others
6. Regional Market Analysis
6.1 North America
6.1.1 United States
6.1.2 Canada
6.1.3 Mexico
6.1.4 Rest of North America
6.2 Europe
6.2.1 Germany
6.2.2 United Kingdom
6.2.3 Italy
6.2.4 France
6.2.5 Spain
6.2.6 Russia
6.2.7 Rest of Europe
6.3 Asia-Pacific
6.3.1 China
6.3.2 India
6.3.3 Japan
6.3.4 South Korea
6.3.5 ASEAN Countries
6.3.6 Rest of Asia-Pacific
6.4 South America
6.4.1 Brazil
6.4.2 Argentina
6.4.3 Rest of South America
6.5 Middle East & Africa
6.5.1 Saudi Arabia
6.5.2 United Arab Emirates
6.5.3 South Africa
6.5.4 Rest of Middle East & Africa
7. Competitive Landscape
7.1 Mergers & Acquisitions, Joint Ventures, Collaborations, and Agreements
7.2 Market Share Analysis**
7.3 Strategies Adopted by Leading Players
8. Company Profiles (Overview, Financials**, Products & Services, Recent Developments, and Analyst View)
8.1 Akzo Nobel
8.2 Albemarle Corporation
8.3 Chicago Bridge & Iron Company N.V.
8.4 China Petrochemical Corporation (Sinopec)
8.5 Clariant AG
8.6 Dorf-ketal Chemicals India Private Limited
8.7 DowDuPont, Inc.
8.8 Evonik Industries AG
8.9 Haldor Topsoe
8.10 Honeywell
8.11 Ineos Technologies Limited
8.12 Johnson Matthey
8.13 Lyondellbasell Industries Holdings B.V.
8.14 Mitsui Chemicals, Inc.
8.15 Nova Chemicals Corporation
8.16 Toho Titanium Co., Ltd
8.17 W. R. Grace & Co
8.18 Zeochem
8.19 Zeolyst International
*List not Exhaustive
9. Future of the Market
10. Disclaimer
**Subject to Availability of Public Domain