Lithium-ion batteries are the most used batteries today. However, it poses challenges, such as long recharge time, high costs, short cycle life times, and safety. Li-sulfur and Li-air batteries deliver much higher specific capacities than that of commercialized layered oxide cathode materials in Li-ion batteries. Unlike Li-ion batteries being operated via intercalation chemistry, these newly developed systems show the reaction mechanism of conversion chemistry, and this enables delivering higher reversible capacities.
Lithium-sulfur batteries are attractive candidates for post-Li-ion battery systems, offering both superior theoretical capacities, and thus, high energy densities. However, their practical application is hampered by several severe challenges. Battery modeling and simulation helps manufacturers analyze operating conditions and design parameters for batteries and other electrochemical systems, and processes to understand how they affect battery life and performance.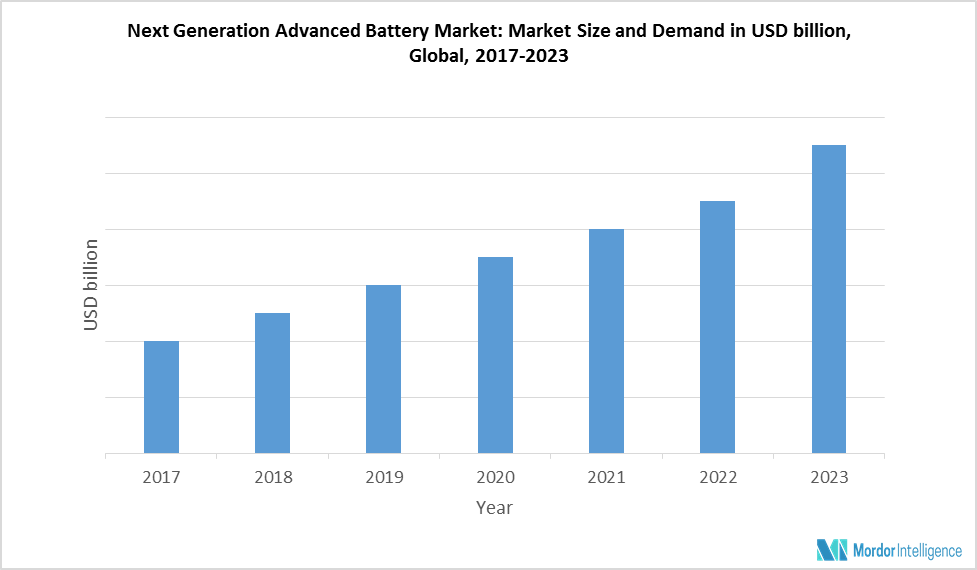 The Growth in Electronic Gadgets and Electric Vehicles will drive the Market
The emerging market for electronic gadgets and progress in electric vehicles provides huge potential for next-generation advanced batteries. The next generation of portable electronic devices, which could revolutionize the smart communication access and control in very large domain of applications are required to be unbreakable and bendable. Consequently, the components of such products as the display, the electronic circuit board, and also the embedded power source have to offer flexible and resistant structure.
Lithium cells are known to suffer from safety and lifetime issues upon abuse, particularly overcharge/over discharge, following which energetic venting, ignition, and even explosion can occur. Current protection methods of using electronic controls add significant weight and volume to the pack. The use of internal shutdown mechanisms reduces the usable capacity and adds to the burden of the remaining cells in parallel circuits. With the growing demand of EV and grid storage, the existing Li-ion battery market worldwide is expected to grow rapidly by 2020.
Asia-Pacific to show Rapid Growth
The growing demand for portable devices, such as mobile phones, portable chargers, watch and clock batteries, and cameras, is boosting the demand for lithium batteries on a global scale. Global investment in the battery supply chain and the need for cheaper batteries is being driven by the emergence of the Electric Vehicle (EV). This growing market has been pioneered by Tesla in recent years, but the larger catalyst for global mass market uptake of EV technology is China, where government subsidies are in place for both passenger EV vehicles and commercial EV's (buses and small trucks). The increase in battery capacity of China is primarily done to meet the overwhelming demand from the EV market. The local battery suppliers are aggressively expanding their capacities. Global battery manufacturers, like Panasonic, LG, and Samsung, have all announced capacity expansion plans in China, in the coming years.
Key Developments in the Market
February 2018: Boeing invested in Next-generation Battery Technology, which represents Boeing HorizonX Ventures' first step into the energy storage market.
Major Players: Mitsubishi Hitachi Power Systems Limited, Thermax Ltd, Amec Foster Wheeler, Babcock & Wilcox Enterprises Inc., Ducon Technologies Inc., General Electric, Fujian Longking Co. Ltd, Siemens AG, Gea Bischoff, Hamon Corporation, Esco International, Horiba Ltd, Calgon Carbon Corporation, Pure Air Solutions, Tri-mer, Andritz Ag, among others.
Reasons to Purchase this Report
Identify the drivers, restraints, and opportunity possessed by the next generation advanced battery market with in-depth analysis
Analyze the various perspectives of the market with the help of Porter's five forces analysis
Identify the largest, fastest growing, and significant regions during the forecast period with in-depth analysis
Identify the latest developments, market shares, and strategies employed by the major market players
3 months analyst support, along with the Market Estimate sheet (in excel)
Customization of the Report
This report can be customized to meet your requirements. Please connect with our representative, who will ensure you to get a report that suits your needs.