The global multi-axis sensor market was valued at USD 0.39 billion in 2017 and is expected to reach a value of USD 1.41 billion by 2023 at a CAGR of 23.52 % over the forecast period (2018 - 2023). The regions considered in the report include North America, Europe, Asia-Pacific, and Rest of the World.
Multi-axis sensors can quantify forces in six axes by measuring in x, y, z, moments, and directions. These sensors help in determining vector load in terms of directional coordinates. They are preferred to the multiple single-axis sensors as they are smaller, cheaper along with the simpler connections. The advancements in technology enabling effective components at a lighter and smaller size, swift rise of unmanned vehicles in both the defense and civil applications and the increasing applications based on motion sensing are driving the multi-axis sensor market. However, complexity in integrating them within existing systems is restraining their adoption. Nevertheless, a high-performance sensor fusion to improve the accuracy of multi-axis sensor systems in order to enable new emerging and highly-demanding applications, such as indoor navigation and location-based services like IoT, indoor navigation, and location-based services, are expected to offer a significant growth potential to the market.
Increasing Applications Based on Motion Sensing Driving the Market Growth
The integration of multiple sensor outputs bring motion sensing systems to the level of accuracy required for the most demanding applications, such as enhanced gesture recognition, gaming, augmented reality, indoor navigation, and localization-based services. In addressing these requirements, motion sensors are turning into multi-axis sensors. Technological developments have led to a considerable reduction in the size of motion sensors which has played a major role in the growth of the market. The reduction in size and the penetration of MEMS technology into the motion sensor industry has enabled applications of motion sensing in the field of consumer electronics, automotive, aerospace & defense, healthcare, and many more. In industries such as mobile devices, automotive, and healthcare, where there is a growing necessity for smaller form factor for sensors with improved performance, MEMS-based multi-axis sensors have proven to be the perfect solution. Sensors, such as accelerometers, gyroscopes, and magnetometers, are used in smartphones, tablets, and notebook computers are generating demand for multi-axis sensors in motion sensing applications.
Incorporation of MEMS Sensors in Consumer Electronics Segment Accounts for a Significant Shar
Benefited by the introduction of micro electro mechanical systems (MEMS) into consumer electronic devices, like smartphones and tablets, the worldwide MEMS market has entered the high growth phase. MEMS often encompass accelerometers, gyroscopes, and microphones. While high-end smartphones and tablets continue as primary markets for multi-axis sensors, wearables, gaming, navigation, imaging, and virtual reality headsets are rapidly growing. MEMS sensors are also quickly becoming an expected feature in portable and handheld consumer electronics devices, given the number of ways it can enhance usability. For instance, the ability to sense tilt, rotation, and gestures is becoming a standard feature of gaming peripherals. Portable devices are using MEMS to determine in which direction to display text and images so that users can view them from the right angle. Multi-axis MEMS sensors are hence adopted in consumer electronics to fulfill these requirements.
North American Region Dominates the Market
Owing to its technologically advanced industries and propelling consumer electronics industry, North America dominates the market. The US accounts for the major share in the North American market owing to the increasing smartphone and gaming consoles penetration in the country.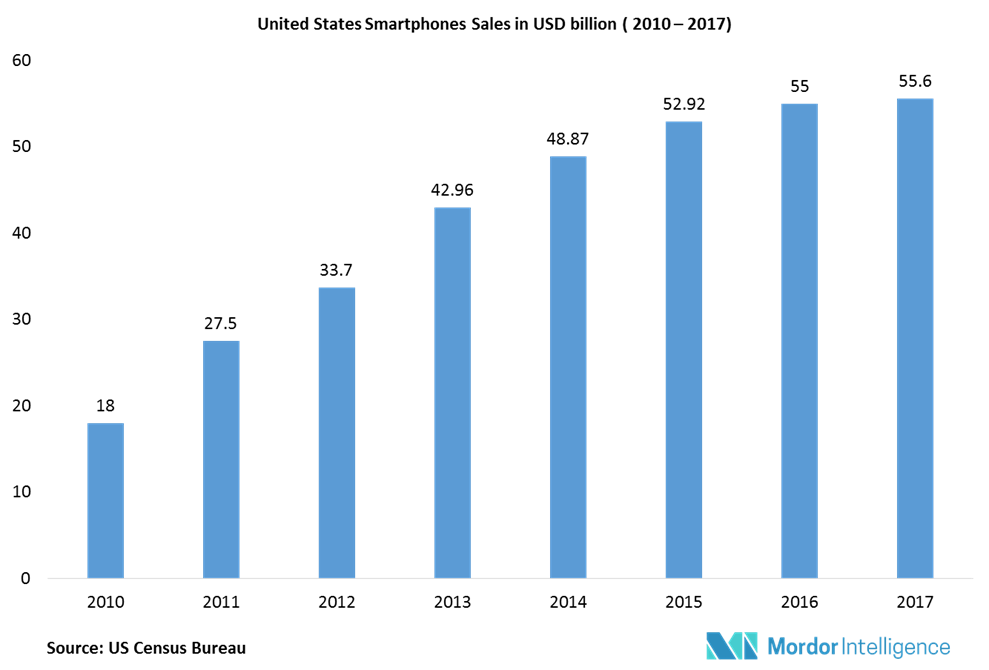 Moreover, the increasing investments in the defense sector are also creating a need for gyroscopes and IMUs (Inertial Measurement Unit). Also, high-performance inertial sensors and systems is a dynamic market segment, as an ever-increasing number of platforms require stabilization, guidance, or navigation functions. Thus, with the increased defense spending, the technological developments can lead to innovations in various sensors.
Key Developments in the Market
December 2017 – InvenSense, a TDK Group company, had released the world's first seven-axis motion tracking device which combined accelerometer, gyroscope, and pressure sensor. The company launched ICM-20789 seven-axis combo sensor dedicated to mainly drones and flying toys as well as smart watches, wearables, and activity monitoring.
Major Players: MEMSIC Inc., Aeron Systems, Trimble Navigation Ltd, Systron Donner Inertial, Lord MicroStrain, and Vectornav Technologies, among others.
Reasons to Purchase this Report
Impact of growth of MEMS technology on the market
Analyzing various perspectives of the market with the help of Porter's five forces analysis
Regional analysis of the market
Identify the latest developments, market shares, and strategies employed by the major market players
3-month analyst support, along with the Market Estimate sheet (in Excel)
Customization of the Report
This report can be customized to meet your requirements. Please connect with our representative, who will ensure you get a report that suits your needs.
1. Introduction
1.1 Scope of the Study
1.2 Executive Summary
2. Research Approach and Methodology
2.1 Key Deliverables of the Study
2.2 Study Assumptions
2.3 Analysis Methodology
2.4 Research Phases
3. Market Insights
3.1 Market Overview
3.2 Industry Attractiveness – Porter's Five Forces Analysis
3.2.1 Bargaining Power of Suppliers
3.2.2 Bargaining Power of Consumers
3.2.3 Threat of New Entrants
3.2.4 Threat of Substitute Products or Services
3.2.5 Competitive Rivalry among Existing Competitors
3.3 Industry Value Chain Analysis
4. Market Dynamics
4.1 Market Drivers
4.1.1 Technological Advancements giving Rise to Innovative Products
4.1.2 Increasing Applications Based on Motion Sensing
4.2 Market Restraints
4.2.1 Complex Nature of Integration in Existing Systems and Need for Ancillary Components
5. Technology Snapshot
6. Global Multi-Axis Sensor Market Segmentation
6.1 By Type
6.1.1 MEMS Gyroscopes
6.1.2 MEMS Accelerometers
6.1.3 Digital Compass
6.1.4 Motion Sensor Combos
6.1.5 Others
6.2 By Application
6.2.1 Consumer Electronics
6.2.2 Automotive
6.2.3 Aerospace & Defense
6.2.4 Medical & Healthcare
6.2.5 Industrial
6.2.6 Others
6.3 By Region
6.3.1 North America
6.3.1.1 United States
6.3.1.2 Canada
6.3.1.3 Rest of North America
6.3.2 Europe
6.3.2.1 United Kingdom
6.3.2.2 Germany
6.3.2.3 France
6.3.2.4 Rest of Europe
6.3.3 Asia-Pacific
6.3.3.1 China
6.3.3.2 India
6.3.3.3 Japan
6.3.3.4 Rest of Asia Pacific
6.3.4 Rest of the World
7. Competitive Intelligence – Company Profiles
7.1 MEMSIC Inc.
7.2 Aeron Systems
7.3 Trimble Navigation Ltd
7.4 Systron Donner Inertial
7.5 Lord MicroStrain
7.6 Vectornav Technologies
7.7 L3 Communications
7.8 Honeywell International Inc.
7.9 Moog Inc.
7.10 HBM Inc.
7.11 Interface Inc.
7.12 Jewell Instruments LLC
7.13 STMicroelectronics
7.14 Parker Hannifin
*List is not Exhaustive
8. Investment Analysis
9. Future Outlook of Multi-Axis Sensors Market
10. Disclaimer