3D Sensor Industry Overview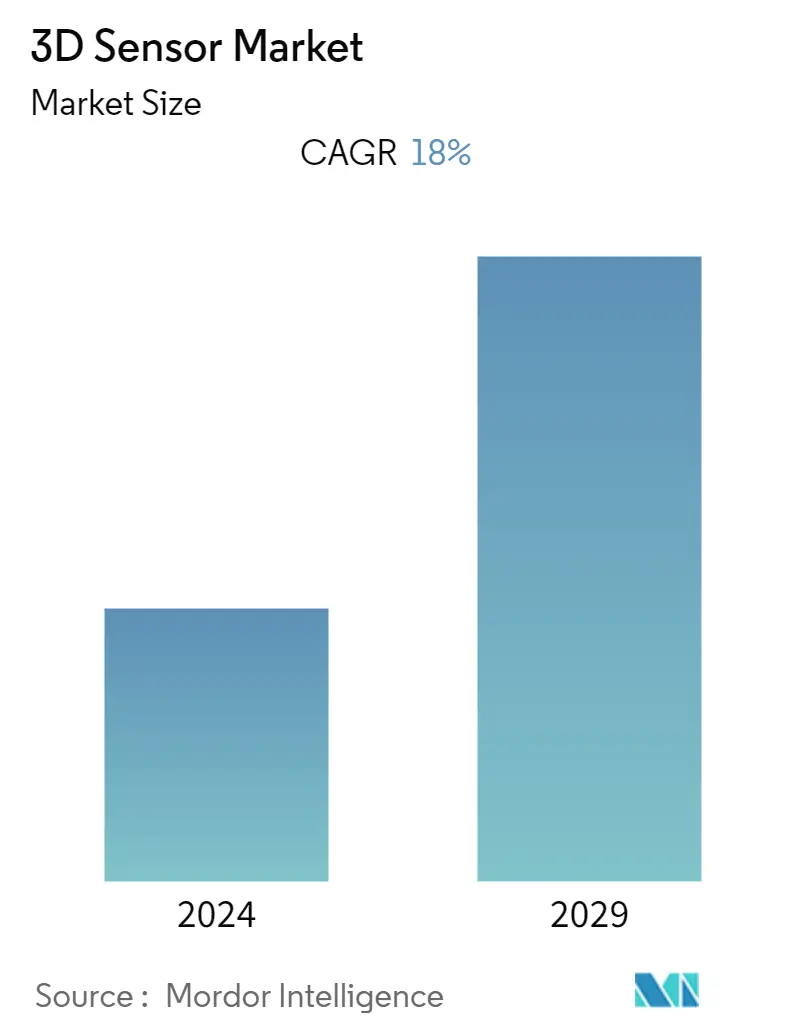 Study Period:
2018 - 2028
Fastest Growing Market:
Asia-Pacific
Largest Market:
North America
CAGR:
18 %

Major Players

*Disclaimer: Major Players sorted in no particular order
Need a report that reflects how COVID-19 has impacted this market and its growth?
3D Sensor Market Analysis
The 3D Sensor Market is expected to register a CAGR of 18% over the forecast period. The increasing adoption of 3D technology in various industry verticals has developed real-time sensors that can gauge shapes. Instruments that were once bulky are now miniaturized due to advanced technologies. Additionally, rapid technological advancements open up a plethora of new applications across different industry verticals where these sensors can be used.
Increasing sensor compatibility with the Internet of Things platform is gradually becoming a prerequisite for promoting remote monitoring and control. The IoT-connected appliances have opened massive opportunities for sensors in several industrial, medical, consumer electronics, automobile, applications etc. According to Cisco's Annual Internet Report, by 2023, there will be nearly 30 billion network-connected devices and connections, up from 18.4 billion in 2018. By 2023, IoT devices will make up 50% (14.7 billion) of all networked devices, up from 33% (6.1 billion) in 2018. Such an increase in IoT devices would drive the growth of the studied market.
Moreover, governments' initiatives for smart homes and buildings are helping the adoption of 3D sensors faster. Recently, councils in Leeds, Suttons, and Richmond advanced IoT technology in homes to better support residents and make services more efficient. Further, in July 2022, Senet, Inc., and Iota Communications, Inc., a data analytics software, low power, vast area network (LPWAN) wireless communication company, announced a partnership to deliver LoRaWANthrough 915 MHz unlicensed spectrum and IotaComm's800 MHz FCC-licensed spectrum network connectivity, for facilitating the adoption of smart infrastructure 3D sensors.
Increasing demand for consumer electronics is expected to provide opportunities to increase the company's revenue. Further, the global demand for smartphones has been witnessing an upsurge owing to several factors, such as increasing disposable income, the advent of 5G, and the development of telecom infrastructure. For instance, according to Ericsson, the number of smartphone subscriptions worldwide amounted to 6,259 million recently and is expected to reach 7,690 million in 2027.
Recently, TDK Corporation announced the addition of the HAR 3927 to its Micronas direct-angle Hall-effect sensor family. This product employs proprietary 3D HAL pixel-cell technology and addresses the demand for ISO 26262-compliant development. The sensor includes a ratiometric analog output and a digital SENT interface by SAE J2716 rev. Such developments will further drive market growth.
Further, in May 2022, Infineon and pmdtechnologies collaborated to create 3D depth-sensing technology for Magic Leap 2, allowing for advanced cutting-edge industrial and medical applications. The IRS2877C Time-of-Flight imager captures the physical environment around the user and assists the device in understanding and eventually interacting with it.
Furthermore, the industry 4.0 revolution, in which machines are becoming more intelligent and intuitive, is increasing the need for the industrial applications of sensors. According to the IFR forecasts, global adoption is expected to increase significantly to 518,000 industrial robots operational across factories all around the globe by 2024. The positive growth trajectory of the industrial robots market is expected to drive the demand for sensors during the same period.
Several types of research regarding biosensors focusing on increasing efficiency and accuracy and tackling limitations are expected to spearhead the adoption of biosensors. For instance, in August 2022, a new study from the University of Chicago's Pritzker School of Molecular Engineering showed that a flexible, stretchable computing chip worn directly on the skin could collect and analyze health data in real-time using artificial intelligence (AI). The device, a neuromorphic computing chip, utilizes semiconductors and electrochemical transistors to collect data from biosensors touching the skin. Unlike other wearables like smartwatches, which leave a small gap between the user's skin and the device, the chip is designed to be worn directly to improve sensor accuracy and data collection. Also, in July 2022, researchers from the School of Science at IUPUI reported that they were working to create a new biosensor that could meet future COVID-19 testing requirements for speed and efficiency.
The COVID-19 outbreak had an enormous impact on the studied market. Many end-user enterprises were impacted, including those in electronics manufacturing. A large part of manufacturing includes work on the factory floor, where people are in close contact as they collaborate to boost productivity. Additionally, manufacturing services has been a historically slow industry when adapting to change. Tasks such as product assembly, prototype development, and risk assessment are sensitive workflows that need in-depth planning. For such reasons, manufacturers had to make significant adjustments during this COVID-19 period.
3D Sensor Industry Segments
3D Sensor is a depth-sensing technology that improves camera facial and objects recognition. The procedure of capturing a real-world object's length, width, and height with greater clarity and detail than is possible with a variety of different technologies. The studied market is segmented by product, such as Position Sensor, Image Sensor, Temperature Sensor, and Accelerometer Sensor, other technologies like Ultrasound, Structured Light, and Time of Flight, various End-user Vertical such as Consumer Electronics, Automotive, Healthcare, and multiple geographies. The market sizes and forecasts are provided in terms of value (USD million) for all the above segments.
The impact of COVID-19 on the market and impacted segments are also covered under the scope of the study. Further, the disruption of the factors affecting the market's expansion in the near future has been covered in the study regarding drivers and restraints.
By Product
Position Sensor
Image Sensor
Temperature Sensor
Accelerometer Sensor
Other Products
By Technology
Ultrasound
Structured Light
Time of Flight
Other Technologies
By End User Vertical
Consumer Electronics
Automotive
Healthcare
Other End User Verticals
By Geography

North America
United States
Canada

Europe
United Kingdom
Germany
France
Rest of Europe

Asia-Pacific
China
Japan
India
Rest of the Asia-Pacific

Middle East & Africa
3D Sensor Market Trends
This section covers the major market trends shaping the 3D Sensor Market according to our research experts:
Automotive to Hold Significant Share
3D Sensors are widely used in the automotive industry to monitor various aspects of a car, including its temperature, coolant system, oil pressure, and vehicle speed. The rising demand for safer and cleaner vehicles drives the need for 3D sensors in the automotive industry. For instance, sensors provide information regarding clean and effective fuel combustion in the engine, which helps in significantly reducing exhaust emissions values and fuel consumption.
According to IBEF, India could be a shared mobility leader by 2030, opening up electric and autonomous vehicle opportunities. Further, in April 2022, Tata Motors announced plans to invest INR 24,000 crores (USD 3.08 billion) in its passenger vehicle business over the next five years. In addition, according to CAAM, in April 2022, around 210,000 commercial motorcars and 996,000 passenger vehicles were produced in China. Such investment in automobiles will further drive market growth.
Further, according to the American Automotive Policy Council, automakers and their suppliers are America's largest manufacturing sector, responsible for ~3% of America's GDP. Over the past five years alone, the FCA US, Ford, and General Motors have announced their investments of around USD 35 billion in their US assembly, engine, and transmission plants, R&D labs, administrative offices, and other infrastructure connecting and supporting them.
The market is also getting increasingly competitive, with various established and new players developing and launching more unique products in the automation market. For instance, in July 2022, Universal Robots unveiled a new 20 kg payload cobot to help machines in heavy lifting. The launch of these more potent, faster, and more capable cobots aims at accelerating the company's expansion in high-growth segments, including healthcare, consumer electronics, etc., meeting the rising demand for automation across numerous industries.
Furthermore, the car and automotive sector is one area that is likely to be affected significantly by the 3D modeling market, consequently boosting the 3D sensor market. Additionally, a lot of technological advancements are carried out by various vendors in the market. Recently, Yokohama Rubber and Zenrin started the practical testing of a sensor attached to the inner surface of a tire as part of a pilot study investigating road surface and tread wear measurement using an IoT-enabled road surface-sensing system.
Further, in June 2022, Sentronics announced a partnership with HORIBA UK to launch the next-generation Ultrasonic Fuel Consumption Measurement Sensor, the HORIBA RealFlow: Powered by Sentronics, for the automotive industry. Featuring the latest patented technology in ultrasonic fuel flow sensing, the HORIBA RealFlow offers accurate under-bonnet installation and real-time measurement of fuel consumption for automotive validation and verification of test applications. With an improved flow measurement accuracy of ±0.5% over an expanded turndown range of 1000:1, it offers optimum performance compared to its predecessor.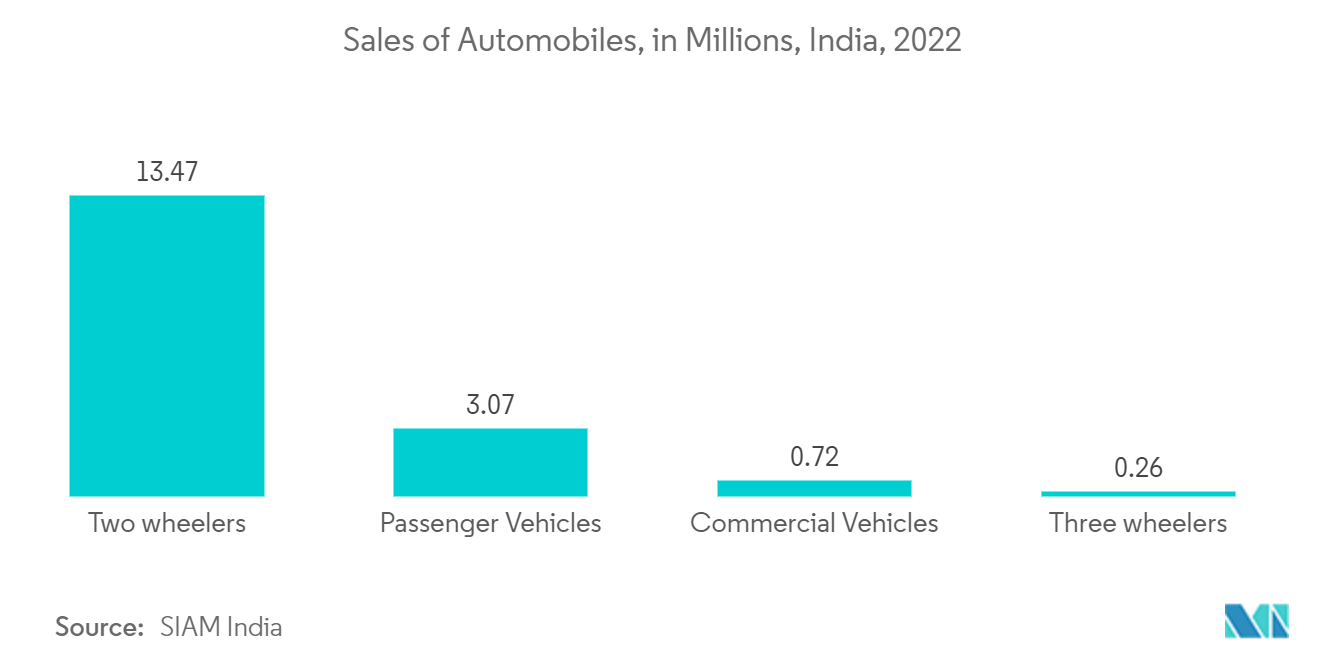 To understand key trends, Download Sample Report
North America to Hold Significant Market Share
In North America, the United States is expected to be the largest growing market, owing to the great demand from consumer electronics and automotive sectors, employing 3D sensors for multiple applications in their domains.
With the increasing adoption of smartphone devices in the US, the demand for sensors is expected to increase simultaneously in the market. According to the US Census Bureau and Consumer Technology Association, the sales of smartphones in the US reached USD 74.7 billion in 2022 compared to USD 73 billion in 2021. With the increasing adoption of smartphones in the market, the demand for 3D sensors is also expected to increase at the same speed.
Recently, Qualcomm launched its second-generation 3D Sonic Sensor under-display fingerprint reader. The new scanner would offer a 77% larger fingerprint reader area and 50% faster than its first-gen scanner, featured in Samsung's Galaxy S20 and Note20 models.
Moreover, Apple's product, iPhone, plays a significant role in increasing the demand for smartphones in the United States. For instance, in September 2022, Apple unveiled the iPhone 14 and iPhone 14 Plus in California. A unique, larger 6.7-inch size joins the popular 6.1-inch design, with a new dual-camera system, Crash Detection, a smartphone industry-first safeness service with Emergency SOS via satellite, and multiple helpful battery life on iPhone. Similarly, a trend of people keen on trying innovative technology is rising in Canada.
Also, consumers today prefer enhanced image quality, such as laptops and Ultra HD or 4K television sets. This is, further expected to drive the 3D sensor market. In addition, the fast adoption of new technology in this region, such as self-driving cars, is expected to drive the demand for 3D sensors in the automotive sector.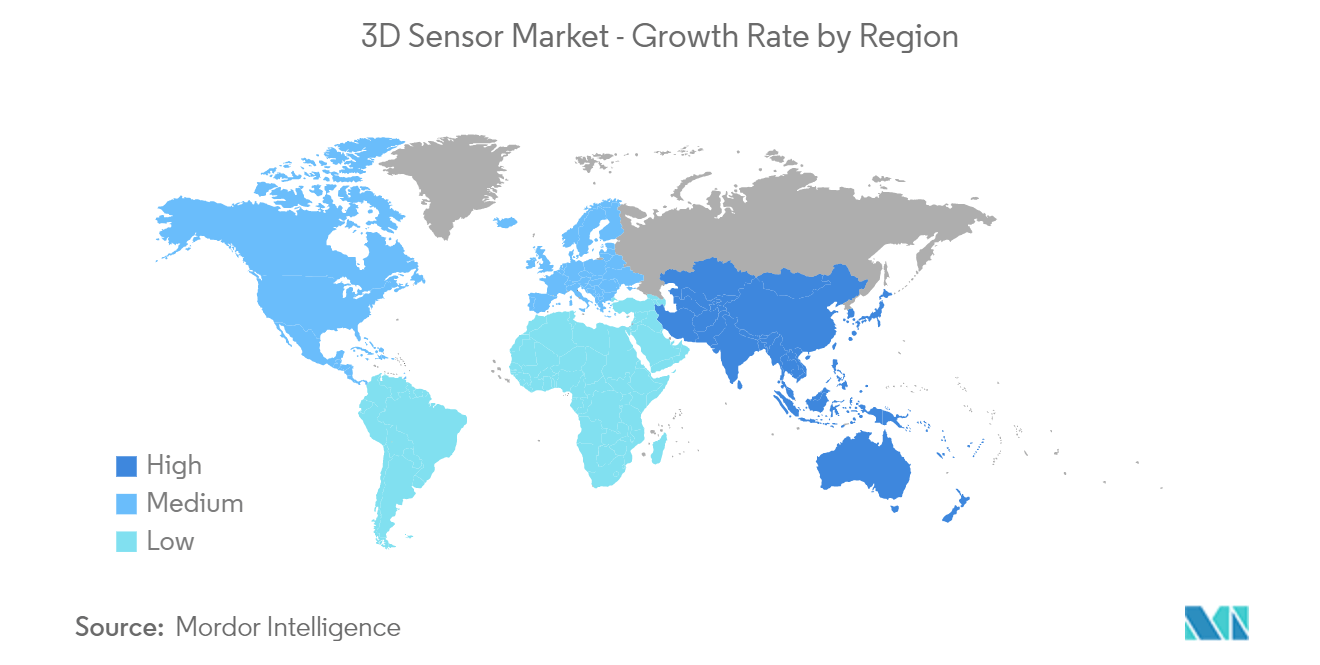 To understand geography trends, Download Sample Report
3D Sensor Market Competitor Analysis
The 3D sensor market is moderately competitive. However, with increased innovations and sustainable products, to maintain their position in the global market, many companies are increasing their market presence by securing new contracts by tapping new markets.
In September 2022, Ouster, Inc., a leading manufacturer of high-resolution digital lidar sensors, released a 3D industrial lidar sensor suite for high-volume material handling applications. The industrial line of high-resolution OS0 and OS1 sensors is designed to meet the needs of forklifts, port equipment, and autonomous mobile robot (AMR) manufacturers while remaining affordable for high-volume production fleets. According to the company, its industrial sensor suite's 3D capabilities outperform legacy 2D laser scanners by providing superior resolution, range, and field of view without increasing system cost or complexity.
In June 2022, ST introduced the first 3D sensor with meta-optics. The direct time-of-flight sensor is a depth sensor used in smartphones, virtual reality headsets, and robotics. Meta-optics can replace existing complex and multi-element lenses; they collect more light, perform multiple functions in a single layer, and enable new forms of sensing in smartphones and other devices while taking up less space.
3D Sensor Market Top Players
Intel Corporation

Sick AG

Infineon Technologies AG

Panasonic Corporation

Cognex Corporation
*Disclaimer: Major Players sorted in no particular order
3D Sensor Market Recent Developments
August 2022 : ams OSRAM, a global leader in optical solutions, announced the release of a 2.2Mpixel global shutter visible and near-infrared (NIR) image sensor with the low-power characteristics and small size required in the latest 2D and 3D sensing systems for virtual reality (VR) headsets, smart glasses, drones, and other consumer and industrial applications.
July 2022 : Toposens, a Munich-based high-tech startup, launched its first commercial Toposens 3D COLLISION AVOIDANCE SYSTEM for mobile robots based on the company's proprietary Toposens 3D ultrasonic echolocation technology. Following more than seven years of R&D and product commercialization represents a significant milestone for the company.
April 2022 : Panasonic unveiled the LUMIX GH6, the latest flagship model in the LUMIX G Series, a stunning digital mirrorless camera based on the Micro Four Thirds system standard. With advanced processing technology and innovative features, the LUMIX GH6 provides outstanding mobility and high video performance, making it an ideal partner for the global content creator community.
3D Sensor Market Report - Table of Contents
1. INTRODUCTION

1.1 Study Deliverables

1.2 Study Assumptions

1.3 Scope of the Study

2. RESEARCH METHODOLOGY

3. EXECUTIVE SUMMARY

4. MARKET DYNAMICS

4.1 Market Overview

4.2 Introduction to Market Drivers and Restraints

4.3 Market Drivers

4.3.1 Rising Demand for 3D-enabled Devices in Consumer Electronics

4.3.2 Increasing Use of 3D Sensing Technology in Gaming Applications

4.3.3 Integration of Optical and Electronic Components in Miniaturized Electronics Devices

4.4 Market Restraints

4.4.1 High Cost Required for the Maintenance of these Devices

4.4.2 Integration With Interfaces in Different Devices

4.5 Industry Value Chain Analysis

4.6 Industry Attractiveness - Porter's Five Forces Analysis

4.6.1 Bargaining Power of Suppliers

4.6.2 Bargaining Power of Consumers

4.6.3 Threat of New Entrants

4.6.4 Threat of Substitute Products

4.6.5 Intensity of Competitive Rivalry

5. MARKET SEGMENTATION

5.1 By Product

5.1.1 Position Sensor

5.1.2 Image Sensor

5.1.3 Temperature Sensor

5.1.4 Accelerometer Sensor

5.1.5 Other Products

5.2 By Technology

5.2.1 Ultrasound

5.2.2 Structured Light

5.2.3 Time of Flight

5.2.4 Other Technologies

5.3 By End User Vertical

5.3.1 Consumer Electronics

5.3.2 Automotive

5.3.3 Healthcare

5.3.4 Other End User Verticals

5.4 By Geography

5.4.1 North America

5.4.1.1 United States

5.4.1.2 Canada

5.4.2 Europe

5.4.2.1 United Kingdom

5.4.2.2 Germany

5.4.2.3 France

5.4.2.4 Rest of Europe

5.4.3 Asia-Pacific

5.4.3.1 China

5.4.3.2 Japan

5.4.3.3 India

5.4.3.4 Rest of the Asia-Pacific

5.4.4 Latin America

5.4.4.1 Mexico

5.4.5 Middle East & Africa

6. COMPETITIVE LANDSCAPE

6.1 Company Profiles

6.1.1 Intel Corporation

6.1.2 Occipital Inc.

6.1.3 SoftKinetic SA

6.1.4 Sick AG

6.1.5 LMI Technologies

6.1.6 Infineon Technologies AG

6.1.7 XYZ Interactive Technologies

6.1.8 OmniVision Technologies

6.1.9 Panasonic Corporation

6.1.10 Cognex Corporation

*List Not Exhaustive

7. MARKET OPPORTUNITIES AND FUTURE TRENDS

8. INVESTMENT ANALYSIS
3D Sensor Market Research FAQs
What is the study period of this market?
The 3D Sensor Market is studied from 2018 - 2028.
What is the growth rate of 3D Sensor Market?
The 3D Sensor Market is growing at a CAGR of 18% over the next 5 years.
Which region has highest growth rate in 3D Sensor Market?
Asia-Pacific is growing at the highest CAGR over 2018 - 2028.
Which region has largest share in 3D Sensor Market?
North America holds highest share in 2021.
Who are the key players in 3D Sensor Market?
Intel Corporation, Sick AG, Infineon Technologies AG, Panasonic Corporation, Cognex Corporation are the major companies operating in 3D Sensor Market.
3D Sensor Industry Reports
In-depth industry statistics and market share insights of the 3D Sensor sector for 2020, 2021, and 2022. The 3D Sensor research report provides a comprehensive outlook of the market size and an industry growth forecast for 2023 to 2028. Available to download is a free sample file of the 3D Sensor report PDF.
80%

of our clients seek made-to-order reports. How do you want us to tailor yours?