The chromatography resins market is expected to record a moderate CAGR during the forecast period (2018-2023). North America holds the highest market share on account of its pharmaceutical and biotechnology industries where as Asia-Pacific is expected to witness the highest growth rate.
Soaring Demand in Pharmaceutical Sector
The demand for chromatography resins in the field of monoclonal antibody production is expected to grow at a considerable rate, owing to a rise in the number of critical diseases across the world. The increasing academic and commercial R&D spending on pharmaceuticals is the main driver for the chromatography resins market. Chromatography resins are used for a wide variety of applications, such as the separation of chemical and biomolecules, for drug delivery, protein purification, and diagnostics.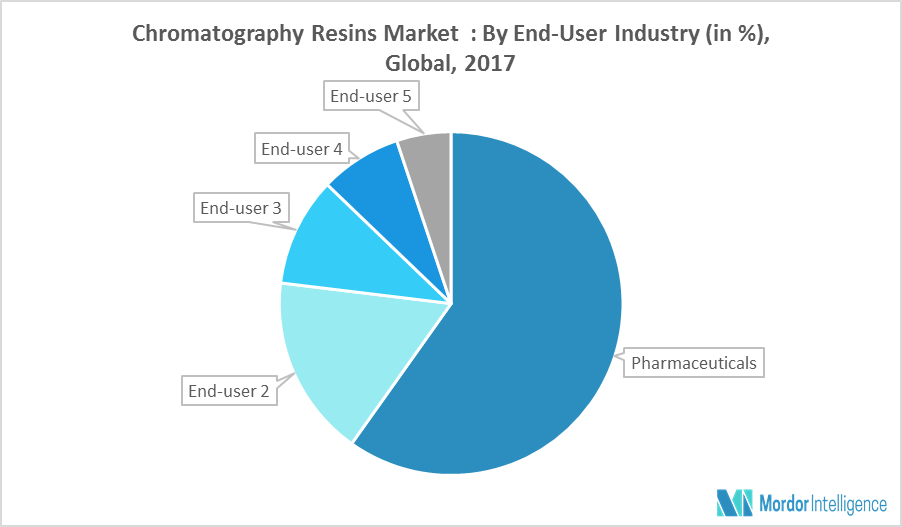 Affinity Chromatography Resins to Dominate the Market
Affinity chromatography resins are used abundantly in genomics, proteomics, and metabolomics. Affinity chromatography resins are used in protein-protein interactions, post translational modifications, and protein degradation. The coupling of reversed phase affinity chromatography with a mass spectrometry has ultimately aided in the discovery of protein biomarkers. Bio-based chromatography resins, such as agarose, dextran, and others are used extensively in immunoglobin and protein purification. Agarose accounts for the largest share of the applications in affinity chromatography resins. Affinity chromatography resins are often chosen to purify biomolecules due to their excellent specificity, ease of operation, yield and throughput.
North America Region to Lead the Market
North America holds the highest market share on account of its pharmaceutical and biotechnology industries. The presence of a large pool of manufacturers, as well as vendors of chromatography resins, in North America, is the key factor behind the growth of the regional market. The United States accounts for the highest market share in the chromatographic resins market. It is also expected to grow considerably during the forecast period, driven mainly by growing demand in pharmaceutical and biotechnology applications.
Notable Developments in the Market:
January 2018: GE Healthcare was expected to invest upto USD 350 million until 2023 into the company's bioprocessing equipment and consumables site in Uppsala, Sweden, owing to string demand for chromatography resins and equipment
November 2017: GE Healthcare acquired Puridify, and has decided to invest in the FibroSelect technology developed by Puridify, which will help to overcome limitations observed with packed bed chromatography purification.
Major Players: Thermo Fisher Scientific Inc., GE Healthcare Life Sciences, Merck KGaA, and Mitsubishi Chemical Corporation, among others.
Reasons to Purchase this Report
To understand the impact of numerous applications on the market
Analyzing various perspectives of the market with the help of Porter's five forces analysis
To understand the dominating technology in the market
Countries expected to witness the fastest growth during the forecast period
Identifying the latest developments, market shares, and strategies employed by the major market players
3-month analyst support, along with the Market Estimate sheet (in Excel)
Customization of the Report
This report can be customized to meet your requirements. Please connect with our representative, who will ensure you to get a report that suits your needs
1. Introduction
1.1 Research Phases
1.2 Study Deliverables
1.3 Scope of the Report
2. Executive Summary
3. Market Insights
3.1 Industry Value Chain Analysis
3.2 Industry Attractiveness - Porter's Five Forces Analysis
3.2.1 Bargaining Power of Suppliers
3.2.2 Bargaining Power of Consumers
3.2.3 Threat of New Entrants
3.2.4 Threat of Substitute Products and Services
3.2.5 Degree of Competition
3.3 Patent Analysis
4. Market Dynamics
4.1 Drivers
4.1.1 Increasing Academic and Commercial R&D Spending On Pharmaceuticals
4.1.2 Technological Advancements in Chromatography Resins
4.1.3 Growing Importance of Chromatography Tests in Drug Approvals
4.2 Restraints
4.2.1 Lack of Professional Expertise in Emerging Nations
4.2.2 High Costs vs. Productivity of Chromatography Systems
4.3 Opportunities
4.3.1 Investments in Emerging Economies of Asia-Pacific
4.3.2 Rising Importance of Green Chromatography
5. Market Segmentation and Analysis (Market Size, Growth, and Forecast)
5.1 By End-user Industry
5.1.1 Pharmaceuticals
5.1.1.1 Biotechnology
5.1.1.2 Drug Discovery
5.1.1.3 Drug Production
5.1.2 Water and Environmental Agencies
5.1.3 Food & Beverages
5.1.4 Others
5.2 By Origin
5.2.1 Natural-based
5.2.1.1 Agarose
5.2.1.2 Dextran
5.2.2 Synthetic-based
5.2.2.1 Silica Gel
5.2.2.2 Aluminium Oxide
5.2.2.3 Polystyrene
5.2.2.4 Others
5.3 By Technology
5.3.1 Ion Exchange Chromatography Resins
5.3.2 Affinity Chromatography Resins
5.3.3 Size Exclusion Chromatography Resins
5.3.4 Hydrophobic Interaction Chromatography Resins
5.3.5 Mixed Mode Chromatography Resins
6. Regional Market Analysis (Market Size, Growth, and Forecast)
6.1 Asia-Pacific
6.1.1 China
6.1.2 India
6.1.3 Japan
6.1.4 Rest of Asia-Pacific
6.2 North America
6.2.1 United States
6.2.2 Canada
6.2.3 Mexico
6.2.4 Rest of North America
6.3 Europe
6.3.1 Germany
6.3.2 United Kingdom
6.3.3 Italy
6.3.4 France
6.3.5 Switzerland
6.3.6 Rest of Europe
6.4 South America
6.4.1 Brazil
6.4.2 Argentina
6.4.3 Rest of South America
6.5 Rest of the World
6.5.1 South America
6.5.2 Middle East & Africa
7. Competitive Landscape
7.1 Mergers and Acquisitions, Joint Ventures, Collaborations, and Agreements
7.2 Market Share Analysis**
7.3 Strategies Adopted by Leading Players
8. Company Profiles (Overview, Financials**, Products & Services, and Recent Developments)
8.1 Affymetrix Inc.
8.2 Agilient Technologies
8.3 Avantor Performance Materials, Inc.
8.4 Bio-Rad Laboratories, Inc.
8.5 Dow Chemical Company
8.6 Ge Healthcare Life Sciences
8.7 Merck KGaA
8.8 Mitsubishi Chemical Corporation
8.9 Pall Corporation
8.10 Perkinelmer, Inc.
8.11 Purolite Corporation
8.12 Repligen
8.13 Thermo Fisher Scientific, Inc.
8.14 Tosoh Bioscience LLC
9. Disclaimer
**Subject to availability on public domain