The global floating production storage (FPS) market is in a growth phase, on account of the increased focus on the development of offshore oil & gas production. Due to the immense potential of extraction of hydrocarbons from the sea bed, the offshore production of hydrocarbon has been receiving significant thrust. FPSs find various applications, especially in fields that are too far offshore, to build an economical pipeline infrastructure.
Increasing Energy Demand – A Growth Driver
The increasing energy demand is expected to drive the floating production system market during the coming decade, as the region's new exploration activity is at an all-time high and the operators are often forced to work in much deeper waters, which require sophisticated technology and equipment. A floating production system typically consists of buoys, turret moorings, and offshore loading towers. The usage of FPS is flexible and can be transferred from location to the other, without much hassle. FPS units are designed to accumulate the hydrocarbons that are produced by the production unit of FPS. The hydrocarbons are stored in the storage unit of the system, until they are offloaded into a tanker or transferred through a pipeline. In case of FPSs, the requirement of long-distance pipeline from the processing facility is offset, which is a big boost for its adoption.
North America is Expected to Witness Significant Growth
Owing to the considerable investments planned in upstream activities pertaining to deep-water and ultra-deep water reserves of hydrocarbons, the North American region is expected to witness significant growth during the forecast period,. The improvement in oil prices has led to improved sentiments in the upstream sector in recent months, and companies operating in exploration and production are willing to invest.
Brazil to Dominate the Market's Growth
Brazil is anticipated to dominate the market's growth, on account of the widespread development of offshore exploration fields. The country is likely to witness the development of fields in the sub-salt and post-salt areas, in the deep and ultra-deep offshore areas. The National Oil Company of Brazil, Petroleo Brasileiro (Petrobras), has outlined aggressive plans for the development of the country's sub-salt hydrocarbon resources in the Santos and Campos basins, mainly through FPSs. The development of similar huge projects is expected to boost the FPS market during the forecast period.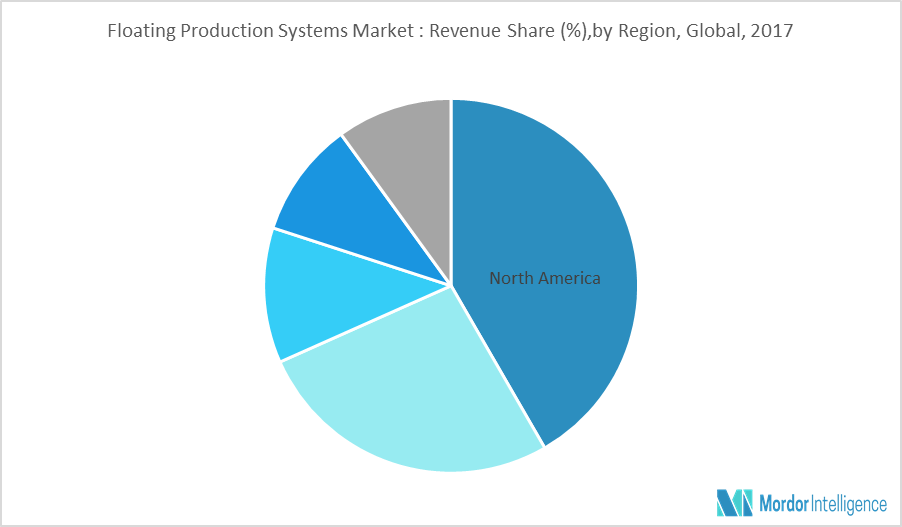 Key Developments in the Market
June 2017: SBM Offshore announced that the company was awarded contracts for the next phase of the Liza project in Guyana
Major Players: Baker Hughes Inc., Schlumberger Limited, Halliburton Company, SBM Offshore, BW Offshore, and Teekay Corporation, among others.
Reasons to Purchase this Report
Current and future FPS market outlook in the developed and emerging markets.
Analyzing various perspectives of the market, with the help of Porter's five forces analysis.
The segment that is expected to dominate the market.
The regions that are expected to witness the fastest growth during the forecast period.
Identifying the latest developments and strategies employed by the major market players.
3 months analyst support along with the Market Estimate sheet (in excel).
Customization of the Report
This report can be customized to meet your requirements. Please connect with our representative, who will ensure you get a report that suits your needs.
1. Executive Summary
2. Research Methodology
3. Market Overview
3.1 Introduction
3.2 Market Size and Demand Forecast until 2023
3.3 Recent Trends and Developments
3.4 Government Policies and Regulations
4. Market Dynamics
4.1 Drivers
4.2 Restraints
4.3 Opportunities
5. Value Chain Analysis
6. Industry Attractiveness - Porter's Five Forces Analysis
6.1 Bargaining Power of Suppliers
6.2 Bargaining Power of Consumers
6.3 Threat of New Entrants
6.4 Threat of Substitutes
6.5 Intensity of Competitive Rivalry
7. Market Segmentation and Analysis (Overview, Market Size, and Demand Forecast until 2023)
7.1 By Type
7.1.1 FPSO
7.1.2 Tension Leg Platform
7.1.3 SPAR
7.1.4 Barge
7.2 By Water Depth
7.2.1 Shallow Water
7.2.2 Deepwater and Ultra-deepwater
8. Regional Market Analysis (Overview, Market Size, and Demand Forecast until 2023)
8.1 Asia-Pacific
8.1.1 China
8.1.2 India
8.1.3 Australia
8.1.5 Rest of Asia-Pacific
8.2 North America
8.2.1 United States
8.2.2 Canada
8.2.3 Rest of North America
8.3 South America
8.3.1 Brazil
8.3.2 Argentina
8.3.3 Rest of South Africa
8.4 Europe
8.4.1 Norway
8.4.2 United Kingdom
8.4.3 Rest of Europe
8.5 Middle East & Africa
8.5.1 UAE
8.5.2 Nigeria
8.5.3 Angola
8.5.4 Rest of Middle East & Africa
9. Key Company Analysis* (Overview, Products & Services, Financials**, Recent Developments, and Analyst View)
9.1 Baker Hughes Inc.
9.2 BUMI Armada Berhad
9.3 Daewoo Shipbuilding & Marine Engineering Co. Ltd
9.4 Halliburton Company
9.5 Keppel Offshore and Marine Ltd
9.6 Malaysia Marine and Heavy Engineering SDN BHD
9.7 Mitsubishi Heavy Industries Corporation
9.8 Nabors Industries Ltd
9.9 Pipavav Defence and Offshore Engineering Company Ltd
9.1 Samsung Heavy Industries Co. Ltd
9.11 SBM Offshore
9.12 Schlumberger Limited
9.13 Technip SA
9.14 Teekay Corporation
9.15 Weatherford International
10. Competitive Landscape
10.1 Mergers & Acquisitions
10.2 Joint Ventures, Collaborations, and Agreements
10.3 Strategies Adopted by Leading Players
11. Disclaimer
*List not Exhaustive
**Subject to availability on the public domain