The global cotton seed treatment market was valued at USD 286.4 million in 2017, and it is expected to witness a CAGR of 10.9% during the forecast period 2018-2023. North America is the largest market for cotton seed treatment products, while Asia-Pacific is expected to witness the fastest growth during the forecast period.
Thrips are the largest threat to cotton cultivation, which leads to huge amount of crop losses. Severe thrips infestations can cause stunting, maturity delays, and yield losses. Because the severity of thrips cannot be predicted, insecticide seed treatments and foliar insecticide applications are mostly used to reduce the risk of their damage.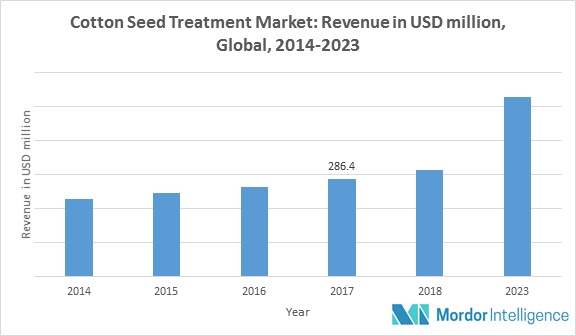 Product Launches and Bio-based Seed Treatment Techniques Lead the Way
Albaugh LLC came up with another biological product, BIO ST, which acts as fungicide, insecticide, as well as nematicide, and provides protection against early season thrips, aphids, and seedling diseases. Indigo Agriculture, a relatively new company in the seed treatment market, has introduced a new microbe-based seed treatment, which provides resistance against diseases, as well as against water scarcity stress. The new product is also expected to increase the yield of cotton. These trends are likely to enhance the market size and also drive growth in the market.
Technological Advancements for Cotton Seed Treatment
Recently, PhytoGen Trio seed treatment was introduced in the United States, which provides protection against early season diseases, insects, and nematodes, and at the same time helps in increasing the yield of cotton. Syngenta and Bayer came up with various new products for cotton seed treatment between 2016 and 2018. Bayer also introduced COPeO Prime seed treatment, which offers protection against nematodes, while Syngenta received the EPA registration for Fortenza insecticide seed treatment, which offers an increased protection against insects. Technological advancements ensure that the products are better suited to needs, and hence, are more efficient in nature, thereby instilling growth.
Major Players: Bayer Cropscience, Syngenta AG, Indigo Agriculture, DowDuPont, Adama Agricultural Solutions Ltd, Advanced Biological Marketing Inc., BASF SE, Bioworks Inc., Brettyoung Limited, Chemtura Agrosolutions, and Germains Seed Technology, among others.
Reasons to Purchase the Report
To have an understanding of the fastest-growing regions in the cotton seed treatment market and their growth trends during the forecast period
The report outlines drivers, restraints, and trends that are currently affecting the market
Analyzing various perspectives of the market with the help of Porter's five forces analysis
The report covers in-detail insights about the competitors overview, company share analysis
Identify the latest developments, market shares, and strategies employed by the major market players.
3-month analyst support, along with the market estimate sheet (in Excel)
Customization of the Report
This report can be customized to meet your requirements. Please connect with our representative, who will ensure you get a report that suits your needs.