The global compound Feed market is forecasted to register a significant CAGR of 4.76% during the forecast period.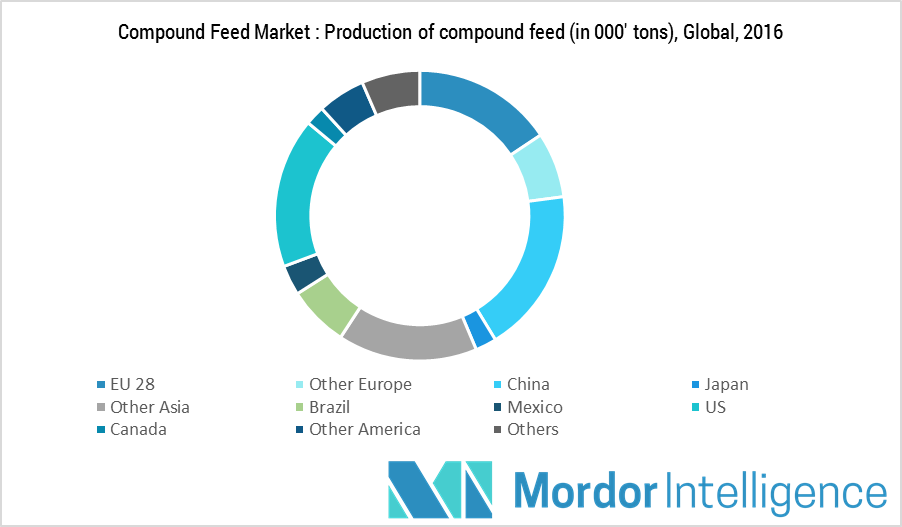 Source: International Feed Industry Federation
Growing Demand for Meat and Aquaculture Products
The Global consumption of meat products rose at a CAGR of 2.67% during the period of 2012 to 2017. The worldwide economic downturn has had a very limited effect on the global meat market, which has maintained its positive outlook. The highest growth for meat consumption is expected in the Asia-Pacific and Latin American regions because of changing diet patterns, urbanization, population, and economic growth.
Fish is low in fat, cholesterol, and carbohydrates. Although not very high in protein, fish also provides essential vitamins and amino acids. The demand for seafood is increasing rapidly, as more and more people are becoming aware of the health benefits of fish consumption.
Globally increasing population trends, are also supporting growth of the world meat and seafood market. Increasing life expectancy, limited availability of land and water resources for animal feed production, and increasing use of these resources for food and ethanol production, are increasing the demand for animal feed in the global meat industry.
Countries, such as India, China, Brazil, and Russia are among world's fastest growing economies; rise in per capita income is expected to shift dietary preferences towards protein rich diets. However, meat consumption patterns will remain significantly different in various parts of the world, because of cultural, religious, and other consumer preference factors in different countries.
Organic Feed
Increasing consumption of meat, as well as a rise in consumer awareness regarding the benefits of organic food has led to increased demand for organic feed. While the demand for organic feed is strong, there are not enough organic crops to meet the demand. Conventional feed, which includes a minute proportion of vitamins, hormones, and other additives, along with ingredients, increases yield, and minimize livestock production cost. However, more number of quality conscious consumers are demanding environmentally safe and chemical residue free meat, meat products, milk & milk products. The market for organic feed is expected to grow with the continuous expansion of organic meat and poultry market, as feed is the major input in livestock farming. Along with the meat industry, the organic dairy industry also demands organic feed. The current organic livestock farming system relies on organic crops, organic grass, and organic pastures. However, organic raw materials in feed do not ensure increased productivity of livestock. The prospect of successful organic food export industry is the major driving factor for organic livestock farming and organic feed industry, in developing countries. Exports of organic meat, from Asian and South American countries to North America and Europe, have grown steadily during the last five years. Priced at nearly twice the cost of conventional feed, organic feed is far from competitive even with organic food and products being sold at higher prices to the consumer.
Key Developments In The Market:
January 2018: The U.S. Grains Council (USGC) intended to create a Center for Feed Manufacturing in Tunisia
Major Players: Cargill Inc., Land O Lakes Purina, Alltech Inc., Archer Daniels Midland, Forfarmers, among others.
Reasons to Purchase this Report:
Provides latest insights into the Global Compound Feed Market
Gives a detailed analysis of the competitive landscape in the compound feed industry, segmented by ingredient type, supplement type, animal type, and geography
Analyses the market scenario with the help of Porter's Five Forces Analysis
Forecasts the market volume and value by assessing the impact of the market drivers and constraints
3-month analyst support, along with the Market Estimate sheet in excel
Report Customization:
This report can be customized to meet your requirements. Please connect with our analyst, who will ensure you get a report that suits your needs
1. Introduction
1.1 Research Methodology
1.2 General Study Assumptions
2. Research Methodology
2.1 Introduction
2.2 Analysis Methodology
2.3 Study Assumptions
2.4 Econometric Forecast Model
3. Executive Summary
4. Market Overview And Technology Trends
4.1 Current Market Scenario
4.2 Porter's Five Forces Analysis
4.2.1 Bargaining Power of the Suppliers
4.2.2 Bargaining Power of the Consumers
4.2.3 Threat of New Entrants
4.2.4 Threat of Substitute Products and Services
4.2.5 Competitive Rivalry within the Industry
5. Market dynamics
5.1 Drivers
5.1.1 Growing Demand for Meat and Aquaculture Products
5.1.2 Increased Awareness Regarding Quality Meat and Milk Products
5.1.3 Increased Industrial Livestock Production
5.2 Restraints
5.2.1 Rising Cost of Raw Materials
5.2.2 Government Regulations
5.3 Opportunities
5.3.1 Organic Feed
6. Global Compound Feed Market Segmentation, by Ingredient
6.1 Cereals
6.2 Fishmeal and Fish Oil
6.3 Oilseeds
6.4 Molasses
6.5 Supplements
6.6 Others
7. Global Compound Feed Market Segmentation, by Supplement
7.1 Vitamins
7.2 Amino Acids
7.3 Anti-oxidants
7.4 Enzymes
7.5 Acidifiers
7.6 Antibiotics
7.7 Prebiotics & Probiotics
7.8 Others
8. Global Compound Feed Market Segmentation, by Animal Type
8.1 Ruminant
8.2 Poultry
8.3 Swine
8.4 Aquaculture
8.5 Others
9. Global Feed Additives Market Segmentation, by Geography
9.1 North America
9.1.1 United States
9.1.2 Canada
9.1.3 Mexico
9.1.4 Rest of North America
9.2 Europe
9.2.1 Spain
9.2.2 United Kingdom
9.2.3 Germany
9.2.4 France
9.2.5 Russia
9.2.6 Rest of the Europe
9.3 Asia-Pacific
9.3.1 China
9.3.2 India
9.3.3 Japan
9.3.4 Thailand
9.3.5 Rest of the Asia-Pacific
9.4 South America
9.4.1 Brazil
9.4.2 Argentina
9.4.3 Others
9.5 Middle East & Africa
9.5.1 Saudi Arabia
9.5.2 Egypt
9.5.3 Others
9.5.4 South Africa
10. Competitive landscape
10.1 Introduction
10.2 Market Share Analysis
11. Company profiles
11.1 Charoen Pokphand
11.2 Cargill Inc.
11.3 Land O Lakes Purina
11.4 Alltech Inc.
11.5 Archer Daniels Midland
11.6 ForFarmers
11.7 DeKalb Feeds
12. Disclaimer