The global market for colorectal cancer screening has been estimated at USD 727.08 million for 2017. The market is expected to register a CAGR of 4.38% during 2018 to 2023 (the forecast period). Asia-Pacific is expected to have a substantial growth in the forecast period.
The Advent of Efficacious Genetic Tests
Genetic testing for colon cancer creates better opportunity for early diagnosis. It is highly recommended by the medical community. Screening for the mutations that cause colon cancer is only beginning to be done outside research labs. If these medical screenings are implemented, then the number of colon cancer cases found in the early stages are expected to increase. Also, gene therapies, to alter these mutations, are likely to be developed. The increasing awareness about genetic screening methods and advantages in undergoing the test—not only for early detection and treatment but also for removal of precancerous cells, which is much cheaper than chemotherapy—is driving the market.
Additionally, increase in prevalent population, potential product pipeline, and increasing cancer prevention initiatives are also fuelling global colorectal cancer screening market.
High Screening Tests Cost
Many high-income countries, including the United Kingdom and the United States, are facing challenges in providing care to an ever-increasing population of patients with cancer, due to expensive screening and treatment. Though the CRC screening tests have potential for early disease detection, they are seldom used. The high cost of these tests is hindering the market growth. The spending associated with a CRC diagnosis increases quickly, even if one has insurance. Although many private insurance plans cover the costs for colonoscopy, as a screening test, patients still might be charged for some services, which is again a burden. Not all screening test costs are covered by insurance companies, e.g., Medicare does not cover the cost of virtual colonoscopy (CT colonography, which is more expensive than colonoscopy).
In addition, inadequate healthcare access in developing countries and lack of screening guidelines in Asia-Pacific is restraining the global colorectal cancer screening market.
North America to Dominate the Market
The global colorectal cancer screening tests market is segmented into by test type, which is further segmented into Guaiac fecal occult blood test, fecal immunochemical, stool DNA, and others. By geography, it is segmented into North America, Europe, Asia-Pacific, the Middle East & Africa, and South America.
North America is dominating the colorectal cancer screening tests market, due to high incidences of colorectal cancer and rise of the geriatric population in the North American region. Colon cancer is reported to be America's second deadliest cancer with 50,000 deaths, annually, followed by lung cancer. Rising incidence of colorectal cancer is driving the market in the United States, approximately 144,000 cases of colorectal cancer were found in 2015 in the country and 160,000 new cases for colorectal cancer are expected to occur by 2020. This increase in the disease occurrence will eventually increase the demand for colorectal cancer screening procedures.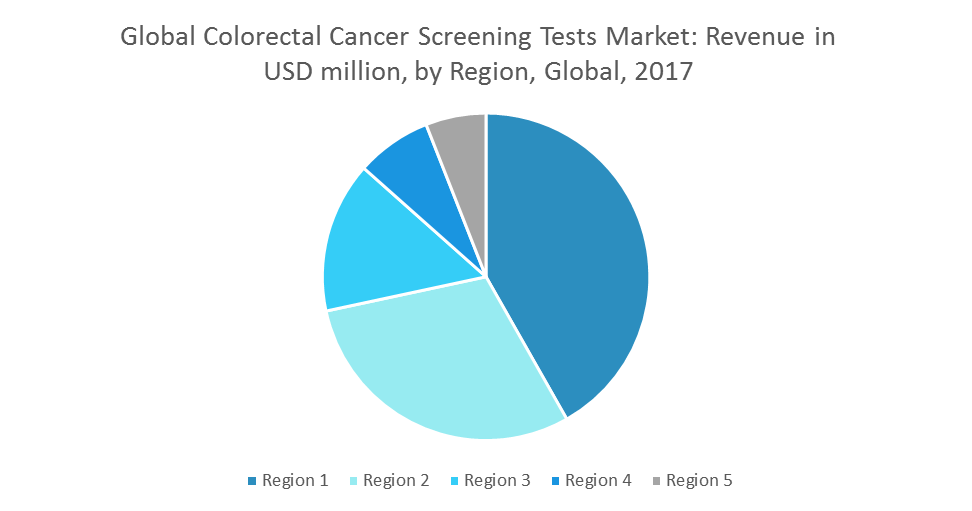 KEY DEVELOPMENTS IN THE MARKET
October 2017: Novigenix developed Colox blood test procedure for the early detection of Colorectal Cancer.
June 2017: Sysmex, an in-vitro diagnostics company, planned to acquire Oxford Gene Technology (OGT), provider of clinical genetics and diagnostics solutions.
June 2017: Vectibix used for the treatment of wild-type of RAS Metastatic Colorectal Cancer got FDA approval.
Major Players: ALERE INC, CLINICAL GENOMICS, BECKMAN COULTER, ABBOTT LABORATORIES, EXACT SCIENCES CORP., HEMOSURE, EIKEN CHEMICAL, QUIDEL CORPORATION, NOVIGENIX SA, SYSMEX CORPORATION, EPIGENOMICS AG, among others.
REASONS TO PURCHASE THIS REPORT
Current and future powered surgical instrument market outlook in the developed and emerging markets
Analyzing various perspectives of the industry with the help of Porter's five forces analysis
The treatment type that is expected to dominate the market
Regions that are expected to witness fastest growth during the forecast period
Identify the latest developments, market shares, and strategies employed by the major market players
3 months analyst support, along with the Market Estimate sheet (in excel)
CUSTOMIZATION OF THE REPORT
This report can be customized to meet your requirements. Please connect with our analyst, who will ensure you get a report that suits your needs.
1. INTRODUCTION
1.1 MARKET DEFINITION
2. RESEARCH METHODOLOGY
3. EXECUTIVE SUMMARY
4. KEY INFERENCES
5. MARKET OVERVIEW
5.1 CURRENT MARKET SCENARIO
5.2 PORTER'S FIVE FORCES ANALYSIS
5.2.1 BARGAINING POWER OF SUPPLIERS
5.2.2 BARGAINING POWER OF CONSUMERS
5.2.3 THREATS OF NEW ENTRANTS
5.2.4 THREAT OF SUBSTITUTE PRODUCT AND SERVICES
5.2.5 COMPETITIVE RIVALRY WITHIN THE INDUSTRY
6. DRIVERS, RESTRAINTS, OPPORTUNITIES AND CHALLENGES ANALYSIS (DROC)
6.1 MARKET DRIVERS
6.1.1 ADVENT OF EFFICACIOUS GENETIC TESTS
6.1.2 INCREASE IN PREVALENCE POPULATION
6.1.3 POTENTIAL PRODUCT PIPELINE
6.1.4 INCREASING CANCER PREVENTION INITIATIVES
6.2 MARKET RESTRAINTS
6.2.1 HIGH SCREENING TESTS COSTS
6.2.2 INADEQUATE HEALTHCARE ACCESS IN DEVELOPING COUNTRIES
6.2.3 LACK OF SCREENING GUIDELINES IN ASIA-PACIFIC
6.3 OPPORTUNITIES
6.4 KEY CHALLENGES
7. MARKET SEGMENTATION
7.1 SEGMENTATION BY TESTS
7.1.1 BLOOD TESTS
7.1.2 FECAL TESTS
7.1.3 COLONOSCOPY
7.1.4 FLEXIBLE SIGMOIDOSCOPY
7.2 SEGMENTATION BY GEOGRAPHY
7.2.1 NORTH AMERICA
7.2.1.1 UNITED STATES
7.2.1.2 CANADA
7.2.1.3 MEXICO
7.2.2 EUROPE
7.2.2.1 FRANCE
7.2.2.2 GERMANY
7.2.2.3 UNITED KINGDOM
7.2.2.4 ITALY
7.2.2.5 SPAIN
7.2.2.6 REST OF EUROPE
7.2.3 ASIA-PACIFIC
7.2.3.1 CHINA
7.2.3.2 JAPAN
7.2.3.3 INDIA
7.2.3.4 AUSTRALIA AND NEW ZEALAND
7.2.3.5 SOUTH KOREA
7.2.3.6 REST OF ASIA-PACIFIC
7.2.4 MIDDLE EAST & AFRICA
7.2.4.1 GCC
7.2.4.2 SOUTH AFRICA
7.2.4.3 REST OF MIDDLE EAST & AFRICA
7.2.5 SOUTH AMERICA
7.2.5.1 BRAZIL
7.2.5.2 ARGENTINA
7.2.5.3 REST OF SOUTH AMERICA
8. COMPETITIVE LANDSCAPE
8.1 MERGERS AND ACQUISITION ANALYSIS
8.2 AGREEMENTS, COLLABORATIONS & PARTNERSHIPS
8.3 NEW PRODUCTS LAUNCHES
9. COMPANY PROFILES
9.1 ALERE INC.
9.2 CLINICAL GENOMICS
9.3 BECKMAN COULTER
9.4 ABBOTT LABORATORIES
9.5 EXACT SCIENCES CORP.
9.6 HEMOSURE
9.7 EIKEN CHEMICAL
9.8 QUIDEL CORPORATION
9.9 NOVIGENIX SA
9.10 SYSMEX CORPORATION
9.11 EPIGENOMICS AG
10. FUTURE OF THE MARKET