The global breast cancer screening tests market is expected to grow during the forecast period 2018 - 2023. Breast cancer screening is carried out to detect cancer in its early stage and ensure timely treatment for the patients. The American Cancer Society states that breast cancer is the most common cancer among women, accounting for more than 1 in 8 cancer cases diagnosed in the US citizens. Breast cancer can affect different parts of the breast, such as the ducts and the lobes.
Growing Incidence of Breast Cancer Globally
Breast cancer is the most common cancer in women, in both developed and less developed countries. According to WHO, it was estimated that over 508,000 women died in 2011, due to breast cancer worldwide. Breast cancer incidence rates vary a great deal around the world. Generally, developed countries (such as the United States, England, and Australia) have higher rates than developing countries (such as Cambodia, Nepal, and Rwanda). There were 14.1 million new cancer cases, 8.2 million cancer deaths, and 32.6 million people were living with cancer in 2012, in the world over. As a result, increasing number of people are opting regular screening tests, which in turn is driving the global breast cancer screening market.
Furthermore, the increasing awareness about early detection of breast cancer and increasing government initiatives for breast cancer are also driving the market to grow.
Controversies Related to Mammography
The world is engaged in the discovery of ways to prevent breast cancer and to the control cancer rate. Mammography is popular, but is an imperfect cancer screening test. Although, there is a reduction in death from breast cancer in women who are regularly screened with mammograms every 1-2 years.However, there are many controversies associated with mammogram due to the risks involved. Over-diagnosis and over-treatment are two major risks involved with the mammography screening. These controversies related to mammography are considered as potential threats to the validity of the accepted conclusion that mammography is effective in reducing breast cancer mortality. These controversies are making a direct impact on the breast cancer screening tests market because it is reducing the adoption rate of the tests. And the other factor, like high costs of screening tests in the emerging countries, is also hindering the market growth.
North America to Dominate the Market
North America dominates the market of breast cancer screening tests. North America accounted for the highest market value in 2017. This can be due to the high incidence of breast cancer, growing awareness about early detection of breast cancer and rise in funds for breast cancer treatment by the government and also in the field of research and development. Moreover, Asia-Pacific is expected to record the highest CAGR during the forecast period.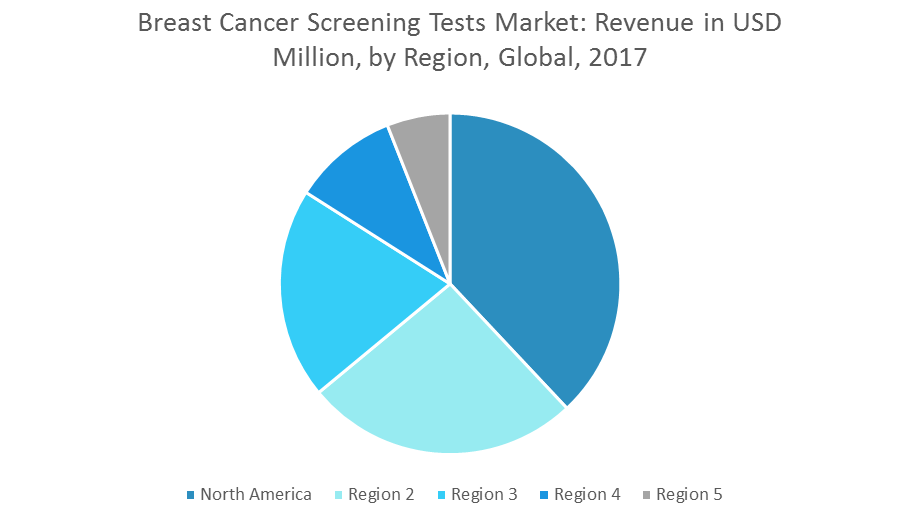 Key Developments in the Market
November 2017: Hologic, Inc. has provided all mammography systems for the Dutch Breast Cancer Screening Program in partnership with Tromp Medical.
March 2017: Hologic presented its New Breast Cancer Screening and Interventional Solutions (Affirm prone breast biopsy system).
Major Players: A&G Pharmaceutical Inc., Myriad Genetics, Agendia BV, Armune BioScience Inc., Metabolomic Technologies Inc., F. Hoffmann-La Roche AG, Siemens Ltd., Biocrates Life Sciences AG, Hologic, Inc., and Quest Diagnostics Incorporated.
Reasons to Purchase the Report
Current and future market outlook for breast cancer screening tests in the developed and emerging markets
Analyze various perspectives of the market, with the help of Porter's five forces analysis
The segment that is expected to dominate the market
Regions that are expected to witness the fastest growth, during the forecast period
Identify the latest developments, market shares, and strategies employed by the major market players.
3-month analyst support along, with the market estimate sheet in excel.
Customization of the Report
This report can be customized to meet your requirements. Please connect with our analyst, who will ensure you get a report that suits your needs.
1. Introduction
1.1 Market Definition
2. Research Methodology
3. Executive Summary
4. Key Inferences
5. Market Overview
5.1 Current Market Scenario
5.2 Porter's Five Forces Analysis
5.2.1 Bargaining Power of Suppliers
5.2.2 Bargaining Power of Consumers
5.2.3 Threat of New Entrants
5.2.4 Threat of Substitute Products and Services
5.2.5 Competitive Rivalry within the Industry
6. Drivers, Restraints, Opportunities and Challenges Analysis (DROC)
6.1 Market Drivers
6.1.1 Increasing Awareness about Early Detection of Breast Cancer
6.1.2 Growing Incidence of Breast Cancer Globally
6.1.3 Increasing Government Initiatives and Support
6.2 Market Restraints
6.2.1 Controversies Related to Mammography
6.2.2 High Cost of Screening Tests in Developing Countries
6.3 Opportunities
6.4 Key Challenges
7. Market Segmentation
7.1 Segmentation -By Tests
7.1.1 Genomic Tests
7.1.1.1 MammaPrint Test
7.1.1.2 Breast Cancer Index Test
7.1.1.3 Mammostrat Test
7.1.1.4 PAM50 test
7.1.1.5 Oncotype DX test
7.1.1.6 Others
7.1.2 Imaging Tests
7.1.2.1 Mammograms
7.1.2.2 Ultrasound
7.1.2.3 MRI
7.1.2.4 Tomography
7.1.2.5 Others
7.2 Segmentation - By Geography
7.2.1 North America
7.2.1.1 United States
7.2.1.2 Canada
7.2.1.3 Mexico
7.2.2 Europe
7.2.2.1 France
7.2.2.2 Germany
7.2.2.3 United Kingdom
7.2.2.4 Italy
7.2.2.5 Spain
7.2.2.6 Rest Of Europe
7.2.3 Asia-Pacific
7.2.3.1 China
7.2.3.2 Japan
7.2.3.3 India
7.2.3.4 Australia
7.2.3.5 New Zealand
7.2.3.6 South Korea
7.2.3.7 Rest of Asia-Pacific
7.2.4 Middle East & Africa
7.2.4.1 GCC
7.2.4.2 South Africa
7.2.4.3 Rest of Middle East & Africa
7.2.5 South America
7.2.5.1 Brazil
7.2.5.2 Argentina
7.2.5.3 Rest of South America
8. Competitive Landscape
8.1 Mergers and Acquisition Analysis
8.2 Agreements, Collaborations, and Partnerships
8.3 New Product Launches
9. Key Players
9.1 A&G Pharmaceutical Inc.
9.2 Myriad Genetics
9.3 Agendia BV
9.4 Armune BioScience Inc.
9.5 Metabolomic Technologies Inc.
9.6 F. Hoffmann-La Roche AG
9.7 Siemens Ltd.,
9.8 Biocrates Life Sciences AG
9.9 Hologic Inc.
9.10 Quest Diagnostics Incorporated
9.11 Others
10. Future of the Market