The global freeze dried food market is expected to witness an estimated CAGR of 7.01% during the forecast period. With growing urbanization and increasing population of working women, the demand for processed foods in the market has seen a remarkable boost. The expanding food processing sector and the huge demand for ready-to-eat food products among consumers have considerably increased the demand for freeze-dried products.
The major restraint for this market is the high-energy requirements of such processes, which increases the product costs. The availability of other drying techniques, such as spray drying, are impacting the market since they are relatively lower in costs as compared to freeze-drying.
Expanding Preserved Food Market
There has been a surge in the market for all forms of preserved food, owing to the trend of increasingly busy lifestyles. This, in turn, has resulted in increased demand for quick meal solutions and convenience food. Since preserved food products are easy and fast to prepare, they offer a perfect solution to this problem.
Freeze-dried Fruit Hold Largest Market Share
Freeze-dried fruit is the largest segment, by type, accounting for almost 53% share of the overall freeze-dried foods market). Most of the freeze-dried food processing is concentrated with the freeze-dried fruit segment, because of the ability of these fruits to retain most of the original taste. The texture of freeze-dried fruits is also crispy and their chips-like form appeals to many consumers.
Asia-Pacific to Dominate the Market Growth
Asia-Pacific is the fastest-growing market for freeze-dried foods, among other developing regions, globally. It accounted for 21.81% of the total market share in 2016. The market for freeze-dried foods in Asia-Pacific is growing, owing to the rising economy and changing lifestyles. The increasing workload of consumers and rising number of working women are contributing to the growth of the market. Asia-Pacific is segmented into China, India, Japan, and Australia.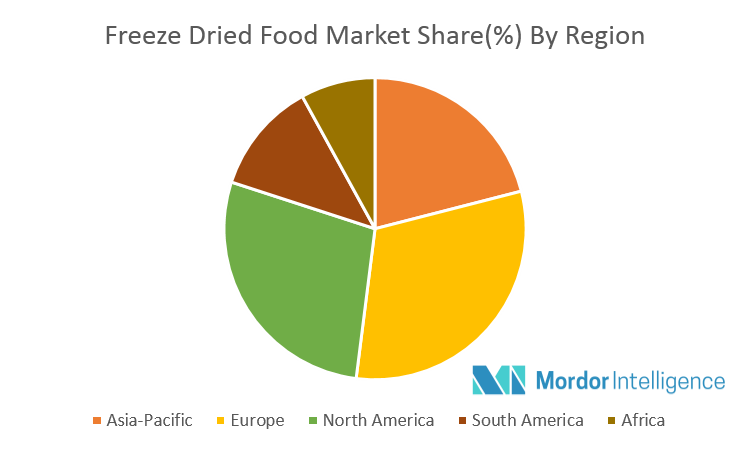 Key Developments
2017: Nestlé had acquired a majority stake in Blue Bottle Coffee, a high-end specialty coffee roaster and retailer company in Oakland, California.
2017: Unilever had signed an agreement to acquire Brazilian natural and organic food business, Mãe Terra.
Competitive Landscape
Major Players: Chaucer Freeze Dried, OFD Foods Inc., Dohler, Nestle, and Unilever, among others.
These players occupy a total market share of 59% of the global freeze-dried food market. The rest of the market is occupied by smaller players, who also has a good presence. Majority of the manufacturers focus on freeze-dried fruits, dairy, dairy culture, meat/seafood, and coffee products.
Reasons to Purchase the Report
Analyzing outlook of the market with the recent trends and Porter's five forces analysis
Market dynamics, which essentially consider factors that are impelling the present market scenario, along with growth opportunities of the market in the years to come
Market segmentation analysis, including qualitative and quantitative research incorporating the impact of economic and non-economic aspects
Regional- and country-level analysis integrating the demand and supply forces that are influencing the growth of the market
Competitive landscape involving the market share of major players, along with the key strategies adopted for development in the past five years
Comprehensive company profiles covering the product offerings, key financial information, recent developments, SWOT analysis, and strategies employed by the major market players
3-month analyst support, along with the Market Estimate sheet (in excel)
Customization of the Report
Value chain analysis
Volume of the market
Consumer behavior analysis at country level
This report can be customized to meet your requirements. Please connect with our analyst, who will ensure you get a report that suits your needs.
1. Introduction
1.1 Key Deliverables of the Study
1.2 Study Assumptions
1.3 Market Definition
2. Research Methodology
3. Market Overview
3.1 Market Dynamics
3.1.1 Drivers
3.1.1.1 Expanding Preserved Food Market
3.1.1.2 Growing Urbanization and Increased Number of Working Women
3.1.1.3 Superior Product Quality for Heat-sensitive Food Products
3.1.1.4 Convenient and Appealing Features
3.1.2 Restraints
3.1.2.1 High Manufacturing and Product Cost
3.1.2.2 Availability of Other Drying Techniques
3.1.3 Opportunities
3.1.3.1 Growing Demand of Additive-free and Natural Food Products
3.1.4 Porter's Five Forces Analysis
3.1.4.1 Bargaining Power of Suppliers
3.1.4.2 Bargaining Power of Buyers
3.1.4.3 Threat of New Entrants
3.1.4.4 Threat of Substitute Products and Services
3.1.4.5 Degree of Competition
4. Market Segmentation
4.1 By Type
4.1.1 Freeze-dried Fruit
4.1.2 Freeze-dried Vegetable
4.1.3 Freeze-dried Beverage
4.1.3.1 Freeze-dried Coffee & Tea
4.1.3.2 Others
4.1.4 Freeze-dried Dairy Products
4.1.5 Freeze-dried Meat & Seafood
4.1.6 Prepared Foods
4.2 By Geography
4.2.1 North America
4.2.1.1 United States
4.2.1.2 Canada
4.2.1.3 Mexico
4.2.1.4 Others
4.2.2 Europe
4.2.2.1 Spain
4.2.2.2 United Kingdom
4.2.2.3 France
4.2.2.4 Germany
4.2.2.5 Russia
4.2.2.6 Italy
4.2.2.7 Others
4.2.3 Asia-Pacific
4.2.3.1 China
4.2.3.2 India
4.2.3.3 Japan
4.2.3.4 Australia
4.2.3.5 Others
4.2.4 South America
4.2.4.1 Brazil
4.2.4.2 Argentina
4.2.4.3 Others
4.2.5 Africa
4.2.5.1 South Africa
4.2.5.2 Others
5. Competitive Landscape
5.1 Market Share Analysis
5.2 Most Preferred Strategic Approach: Product Launches, Acquisitions and Partnerships
6. Company Profiles
6.1 Nestle S.A.
6.2 Unilever
6.3 Kerry
6.4 Kraft Heinz
6.5 Mondelez International, Inc.
6.6 DSM
6.7 Mercer Foods
6.8 Freeze-Dry Foods
6.9 European Freeze Dry
6.10 Amalgam Foods (Nissin Foods Ltd)
6.11 Chaucer Freeze Dried
6.12 Expedition Foods
6.13 Van Drunen Farms
6.14 OFD Foods, Inc.
6.15 Ajinomoto General Foods, Inc. (AGF)
6.16 Asahi Group Company Limited
6.17 Tata Coffee Ltd
6.18 The J. M. Smucker Company
6.19 Döhler
List of Tables
Freeze Dried Food Market: Market Share, by Type, Global, 2017
Freeze Dried Food Market: Revenue in USD million, Freeze-dried Fruit, Global, 2015-2023
Freeze Dried Food Market: Revenue in USD million, Freeze-dried Vegetable, Global, 2015-2023
Freeze Dried Food Market: Revenue in USD million, Freeze-dried Beverage, Global, 2015-2023
Freeze Dried Food Market: Revenue in USD million, Freeze-dried Coffee & Tea, Global, 2015-2023
Freeze Dried Food Market: Revenue in USD million, Freeze-dried Dairy Products, Global, 2015-2023
Freeze Dried Food Market: Revenue in USD million, Freeze-dried Meat & Seafood, Global, 2015-2023
Freeze Dried Food Market: Revenue in USD million, Prepared Foods, Global, 2015-2023
Freeze Dried Food Market: Revenue in USD million, Global, 2017
Freeze Dried Food Market: Market Share (%), by Country, North America, 2017
Freeze Dried Food Market: Market Share (%), by Type, North America, 2017
Freeze Dried Food Market: Revenue in USD million, by Type, United States, 2015-2023
Freeze Dried Food Market: Revenue in USD million, by Type, Canada, 2015-2023
Freeze Dried Food Market: Revenue in USD million, by Type, Mexico, 2015-2023
Freeze Dried Food Market: Revenue in USD million, by Type, Rest of North America, 2015-2023
Freeze Dried Food Market: Market Share (%), by Country, Europe, 2017
Freeze Dried Food Market: Market Share (%), by Type, Europe, 2017
Freeze Dried Food Market: Revenue in USD million, by Type, United Kingdom, 2015-2023
Freeze Dried Food Market: Revenue in USD million, by Type, France, 2015-2023
Freeze Dried Food Market: Revenue in USD million, by Type , Germany, 2015-2023
Freeze Dried Food Market: Revenue in USD million, by Type, Italy, 2015-2023
Freeze Dried Food Market: Revenue in USD million, by Type, Rest of Europe, 2015-2023
Freeze Dried Food Market: Market Share (%), by Country, Asia-Pacific, 2017
Freeze Dried Food Market: Market Share (%), by Type, Asia-Pacific, 2017
Freeze Dried Food Market: Revenue in USD million, by Type, China, 2015-2023
Freeze Dried Food Market: Revenue in USD million, by Type, India, 2015-2023
Freeze Dried Food Market: Revenue in USD million, by Type, Japan, 2015-2023
Freeze Dried Food Market: Revenue in USD million, by Type, Australia, 2015-2023
Freeze Dried Food Market: Revenue in USD million, by Type, Rest of Asia-Pacific, 2015-2023
Freeze Dried Food Market: Market Share (%), South America, 2017
Freeze Dried Food Market: Market Share (%), by Type, South America, 2017
Freeze Dried Food Market: Revenue in USD million, by Type, Brazil, 2015-2023
Freeze Dried Food Market: Revenue in USD million, by Type, Argentina, 2015-2023
Freeze Dried Food Market: Revenue in USD million, by Type, Rest of South America, 2015-2023
Freeze Dried Food Market: Market Share (%), by Country, Africa, 2017
Freeze Dried Food Market: Market Share (%), by Type, Africa, 2017
Freeze Dried Food Market: Revenue in USD million, by Type, South Africa, 2015-2023
Freeze Dried Food Market: Revenue in USD million, by Type, Rest of Africa, 2015-2023
Freeze Dried Food Market: Strategies Adopted by Major Players, 2014 – 2017
Freeze Dried Food Market: Most Active Companies, 2014 – 2017
Freeze Dried Food Market: Market Share Analysis (%), by Company, Global, 2017
Freeze Dried Food Market: Revenue in USD million, by Type, Global, 2015-2023
Freeze Dried Food Market: Revenue in USD million, Global, 2018-2023
Freeze Dried Food Market: Revenue in USD million, North America,2015-2023
Global Freeze Dried Food Market: Revenue in USD million, by Type, North America, 2015-2023
Freeze Dried Food Market: Revenue in USD million, by Country, Europe, 2015 - 2023
Freeze Dried Food Market: Revenue in USD million, by Type, Europe, 2015 - 2023
Freeze Dried Food Market: Revenue in USD million, by Country, Asia-Pacific, 2015-2023
Freeze Dried Food Market: Revenue in USD million, by Type, Asia-Pacific 2015-2023
Freeze Dried Food Market: Revenue in USD million, by Country, South America, 2015-2023
Freeze Dried Food Market: Revenue in USD million, by Type, South America, 2015-2023
Freeze Dried Food Market: Revenue in USD million, by Country, Africa, 2015-2023
Freeze Dried Food Market: Revenue in USD million, by Type, Africa, 2015-2023
Freeze Dried Food Market: Revenue in USD million, by Country, Africa, 2015-2023