Europe HVAC Market Size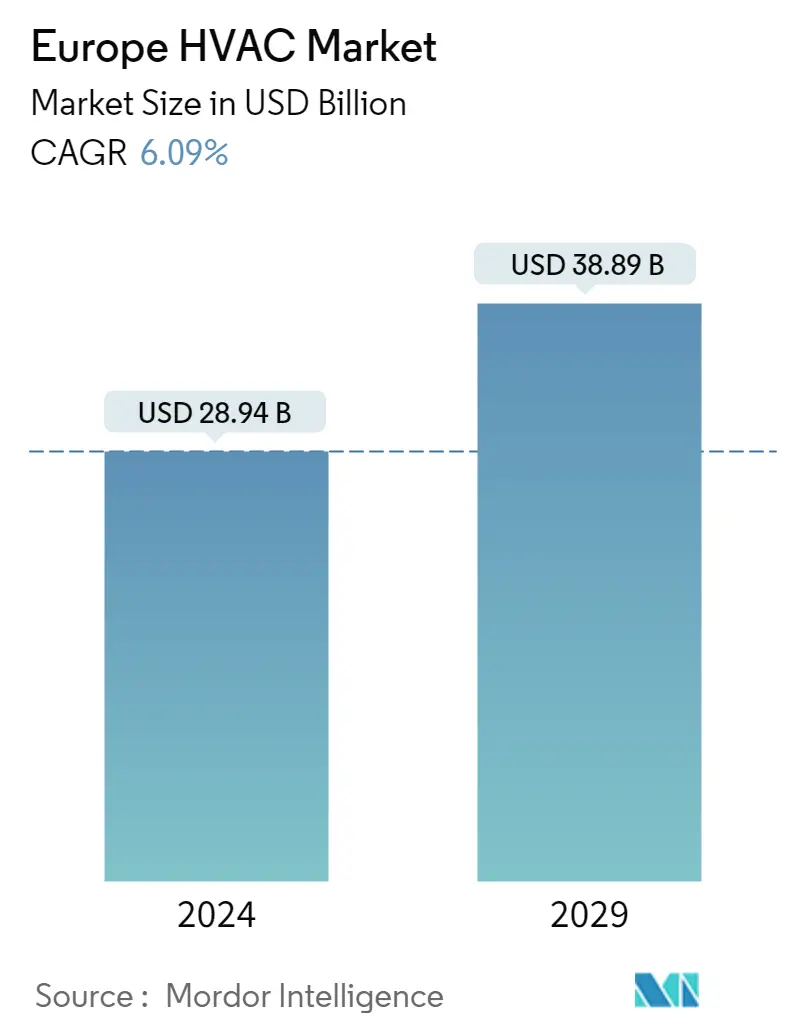 Study Period
2018 - 2028
Base Year For Estimation
2022
Market Size (2023)
USD 27.76 Billion
Market Size (2028)
USD 37.64 Billion
CAGR (2023 - 2028)
6.28 %
Market Concentration
Medium

Major Players

*Disclaimer: Major Players sorted in no particular order
Need a report that reflects how COVID-19 has impacted this market and its growth?
Europe HVAC Market Analysis
The Europe HVAC Equipment Market size is expected to grow from USD 27.76 billion in 2023 to USD 37.64 billion by 2028, at a CAGR of 6.28% during the forecast period (2023-2028).
Heating, ventilation, and air conditioning is a mechanical system that provides thermal comfort and indoor air quality while also controlling internal temperatures and regulating internal humidity. Central air conditioners, heat pumps, chillers, and packaged systems are the most common types of systems.
Heating, ventilation, and air conditioning (HVAC) systems are becoming increasingly popular throughout the EU region owing to their numerous benefits, notably power-saving techniques. The increase in demand for smart systems, as well as the integration of the Internet of Things (IoT), industrial automation systems, smart manufacturing, and Industry 4.0, is driving the growth of the European HVAC equipment market.
Furthermore, continued urbanization and population growth are essential in increasing the popularity of indoor and outdoor temperature control systems in various parts of Europe. For example, the EU Commission estimates that by January 2022, the EU's population will be 446.8 million people, 172 000 fewer than the previous year, with urban areas housing 85% of the population.
The replacement of existing equipment with better-performing equipment and supportive government regulations, such as energy-saving incentives through tax credit programs, are driving the United Kingdom HVAC equipment market over the forecast period. For example, the UK government has already set a target of installing 600,000 heat pumps per year by 2028 to reduce the country's reliance on fossil fuels and aid in the fight against global warming.
Moreover, one of the major factors driving the market in the region is several government initiatives to promote low-carbon heat sources. For example, the UK Department of Business, Energy, and Industrial Strategy awarded a EUR 54 million contract for heat network funding in July 2022, which will support the development of the scheme in London and working that use low-carbon heat sources like heat pumps and energy from waste to warm properties.
The impact of IoT and smart HVAC systems is another critical technology expected to drive the market in the future. HVAC systems can exchange data with other connected devices thanks to the Internet of Things (IoT) in HVAC technologies. Integrating smart HVAC systems into homes and commercial buildings detects when maintenance is required automatically, preventing customer annoyances that could cause problems.
Vendors are also focusing on several strategic investments, such as acquisitions, product launches, and expansions, that will drive the market in the future. Carrier, for example, introduced the AquaForce Vision 30KAV with PUREtec refrigerant in March 2022, an R1234ze chiller designed for industrial processes such as pharmaceuticals, food manufacturing, chemicals, plastics, metal industries, and other applications that require ultra-reliable cooling up to -12 degrees Celsius. This demonstrates the demand for chillers in Europe's industrial sectors.
New EC recommendations to strengthen the F-gas regulation may result in strict reductions in HFC refrigerants and bans on common AC refrigerants in April 2022, negatively impacting the European air conditioning and refrigeration industry. Starting on January 1, 2027, the European Commission wants to ban the use of HFCs with GWPs of 150 or higher in new split system air conditioners and heat pumps with rated capacities up to and including 12kW. Furthermore, beginning January 1, 2027, the recommendations intend to prohibit the use of HFCs in new split systems with power greater than 12kW.
Because of the high initial cost of HVAC equipment, some customers may be discouraged from purchasing or upgrading their systems. This is especially true for homeowners and small business owners who may have limited budgets and need help to afford the initial costs of a new system.
The COVID-19 pandemic significantly impacted the HVAC industry, as demand for systems dropped significantly during the first few months due to lockdown restrictions and businesses refraining from investing in new equipment. Many construction projects were halted around the world as a result of the pandemic. Construction activity declines in the commercial, residential, and industrial sectors temporarily dampened demand for HVAC systems.
Europe HVAC Market Trends
Air Conditioning Equipment to Hold a Significant Market Share
A significant portion of the HVAC equipment market is anticipated to be occupied by air conditioning units due to rising residential and commercial user numbers and government regulations requiring energy-efficient and environmentally friendly equipment.
According to HM Treasury, the UK government spent approximately GBP 9.6 billion on housing development in 2021/22, with GBP 7.6 billion spent on local authority housing accounting for most of this type of expenditure. This indicated increased housing development spending, expected to drive the market.
The increase in Residential and commercial construction activities in the region is also expected to fuel the market during the forecasted period. Retrofitting older buildings with air conditioning is a significant driver of the market. Ductless HVAC units are also appropriate for modern infrastructures with ductwork holes and gaps that cause air leaks. Instead of paying for costly replacements, this factor is driving the demand for ductless HVAC systems.
According to Comfy Living, there will be 84 million smart homes in Europe by 2022, with France, Germany, and the United Kingdom leading the way. Demand for ductless systems is expected to rise as smart homes grow. Ductless systems in smart homes regulate air temperature, humidity, and fresh air intake. For example, ductless mini split systems with the ENERGY STAR label use 30% less energy to cool a room than traditional air conditioners.
Moreover, the market is expected to be driven by several regional vendors' activities. For example, Fujitsu General acquired Distributor in December 2022 to expand its business in Europe. As an air conditioning solutions provider, the Group aims to deliver energy efficiency and comfort by making active upfront investments to strengthen technical support systems for ATW (air to water) and commercial air conditioners.
In addition, Johnson Controls-Hitachi introduced a new Wall Mount indoor mini-split unit in May 2022 as the latest addition to its PRIMAIRY P300 line of high-efficiency, single-zone commercial mini-split systems. This energy-efficient and cost-effective ductless heating and cooling solution is tailored to the specific requirements of small to medium-sized spaces such as shops, restaurants, and classrooms.
Several trends, from green and smart technology to automated systems, are expected to shape the future of the commercial air conditioning systems segment. The demand for ACs in residential and commercial settings is expected to rise as the COVID-19 pandemic becomes endemic and permanent WFH models gradually transition to a hybrid working model.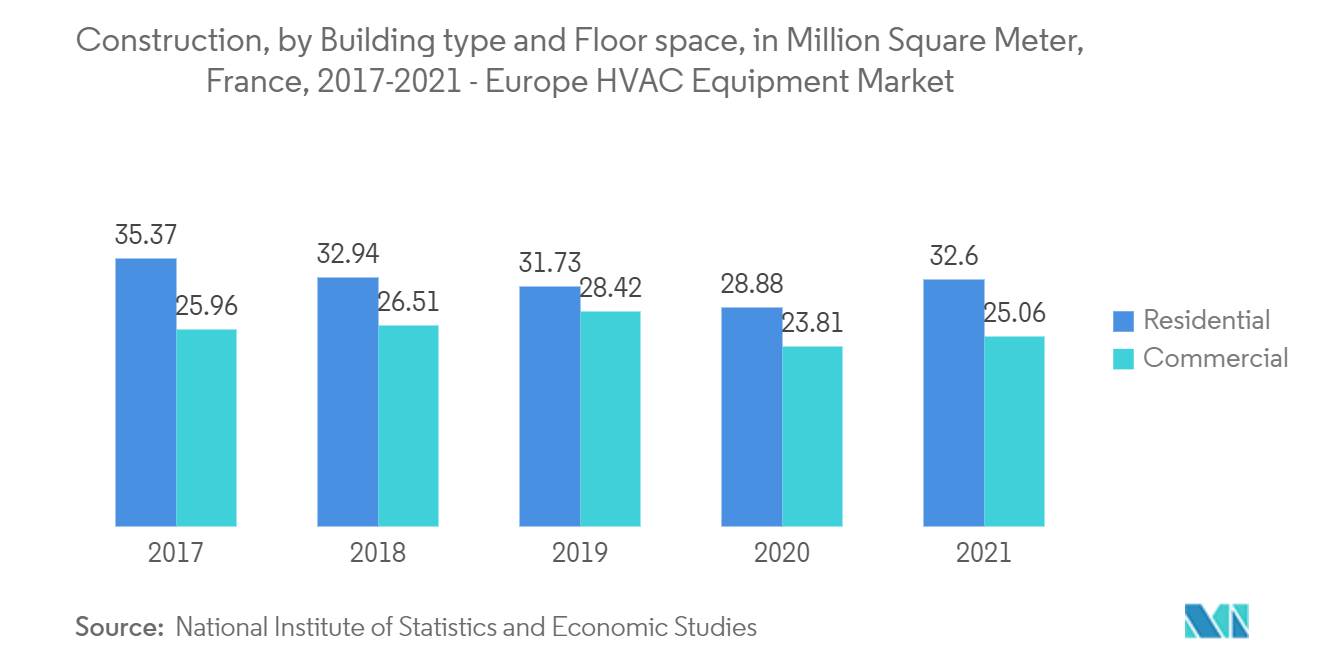 To understand key trends, Download Sample Report
Adoption of Heat Pumps to Drive the Heating Equipment Segment
Heat pumps are strategically located to benefit from the environmental sustainability drive. Furthermore, the European Union's sector integration strategy predicts that by 2030, 65% of all commercial buildings will be heated by electricity. According to the data, heat pump sales are only expected to increase as more buildings rely on them for heating and cooling.
According to EHPA, air-to-air heat pumps were the segment with the most sales in Europe in 2020, with over 670,600 units sold. In the same year, 654,700 air-to-water heat pumps were sold. On the other hand, air-to-water heat pumps were expected to be the industry segment with the highest sales volume by 2022. Over two million air-to-air heat pumps are expected to be sold in Europe by 2026.
The growing need to reduce reliance on fossil fuels and seek an energy-efficient alternative to furnaces and air conditioners is expected to drive up demand for heat pumps during the forecast period. The European Union's goal initiative to replace gas boilers with heat pumps is expected to drive demand while supporting the United Kingdom's goal to decarbonize its heating solutions. With the increased deployment of heat pumps, the UK government hopes to make this renewable energy source even more cost-effective.
For instance, in April 2022, the government of the United Kingdom launched the Boiler Upgrades Scheme, which includes a grant of up to GBP 6,000 to install heat pumps (air or ground source) in 90,000 homes across the country. Such initiatives by governments around the region are expected to drive demand for heat pumps in the market during the forecast period.
Moreover, heat pumps have a significant market share and are expected to grow in 2022 to meet rising consumer demand. According to a survey conducted by one of the UK's leading authorities, the Heat Pump Association (which controls approximately 95% of the market share of the heat pump manufacturing industry), manufacturers placed delivery orders for about 67,000 units of heat pumps in 2021.
Furthermore, the Renewable Energy Hub UK claims that using heat pumps can save consumers 52% on energy costs compared to gas boilers. High gas prices are the primary factor driving the use of Heat Pumps in the area. The government declared its goal of installing 600,000 new heat pumps per year by December 2028, and it is expected that adoption will pick up quickly to meet that goal.
Furthermore, to further reduce reliance on Russian fossil fuel exports, the French government announced in March 2022 that it would discontinue subsidies for installing new domestic gas heaters and increase support for renewable heat pump systems. Such government investment and initiatives are expected to stimulate the regional market.
Companies have been launching new and innovative products in the market in response to changing regulations in the region. For example, Cedric Francois in France developed a new core for the heat pump's new system in February 2022. The new heat pump system would replace the compressor with a small unit that contained a patented sound generator. Such unique and innovative products are expected to drive regional HVAC product demand growth.
Furthermore, Daikin Europe NV announced the expansion of its German heat pump manufacturing base in Güglingen, Germany, in October 2022 to meet the increasing demand for heat pumps in the EU region by investing in local production capacity. Such regional strategic investments are expected to drive the market during the study period.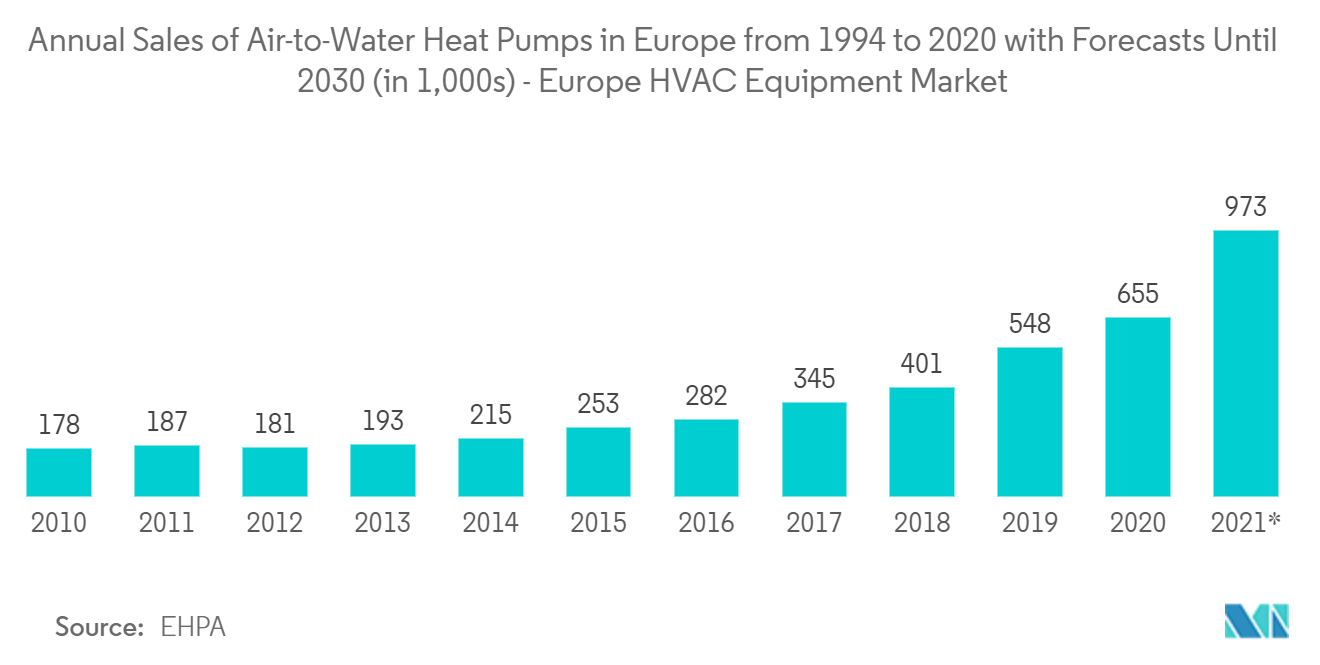 To understand geography trends, Download Sample Report
Europe HVAC Industry Overview
The Europe HVAC Equipment Market is competitive as it is home to prominent vendors that command a prominent share of the market in different segments, along with access to well-established distribution networks. With the advent of smart solutions, it is expected to become another strategic competitive point in the market. The smart building technology incorporation across commercial and industrial sectors is expected to drive connected HAVC systems in Europe and increase the competitive rivalry among the vendors in the market.
In May 2022, NIBE Industrier AB agreed to purchase 50% of the shares of the Italian company Argoclima SpA, with the remaining interest to be acquired after five years. The acquisition will significantly strengthen the company's position in the rapidly expanding Italian heat pump industry by integrating the current Argoclima lineup with the entire NIBE. Furthermore, in July 2022, NIBE expanded its product line by releasing a brand-new air source heat pump. The NIBE S2125 is designed to meet the building's heating and hot water requirements in a comprehensive system.
In April 2022, Octopus Energy invested in Northern Irish heat pump specialists Renewable Energy Devices (RED) to build thousands of heat pumps on a monthly basis. The collaboration will disrupt the market by allowing the companies to initially build quiet, highly efficient, and stylish-looking heat pumps for customers in the United Kingdom.
In February 2022, Geoclima, an Italian chiller manufacturer, established a subsidiary in the United Kingdom. The company's Geoclima HVAC UK subsidiary would distribute all Geoclima Group brands, including ClimaTech, Hecoclima, CROM, and COM40. The statement also revealed that the company would provide in-country support to its UK clients for a variety of applications, including hospitals and mission-critical environments.
Europe HVAC Market Leaders
Daikin Industries, Ltd.

ROBERT Bosch GmbH

Mitsubishi Electric Europe B.V

Alfa Laval AB

Carrier Global Corporation
*Disclaimer: Major Players sorted in no particular order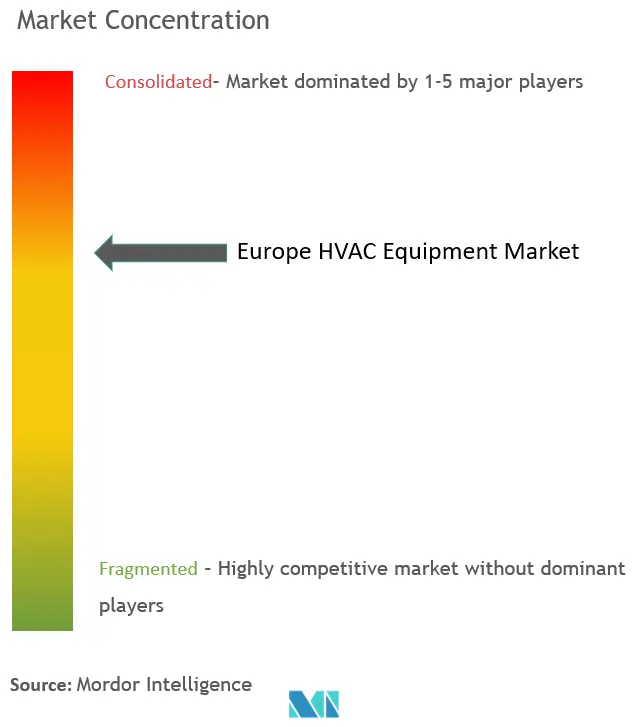 Europe HVAC Market News
Sept 2022: The UK government provided funding for 24 projects totaling GBP 15 million in order to reduce the cost and challenges associated with heat pump installation. Furthermore, it backs the government's GBP 450 million (USD 542 million) Boiler Upgrade Scheme, which aims to increase the use of heat pumps and other low-carbon heating systems by providing GBP 5,000 (USD 6,100) subsidies beginning in April 2022.
Oct 2022: Daikin Europe NV announced the expansion of its German heat pump manufacturing base in Güglingen, Germany, with the goal of meeting Europe's growing demand for heat pumps by investing in local production capacity. During the study period, such regional strategic investments are expected to drive the market.
Jun 2022: Carrier announced plans to invest USD 16 million in the construction of a Research & Development Center of Excellence for heating, cooling, and domestic water systems in Villasanta (MB), Italy. The new center will also place a strong emphasis on the development of IoT-enabled and AI-based technologies that will enable remote control of heating and cooling systems for improved energy efficiency.
Europe HVAC Market Report - Table of Contents
1. INTRODUCTION

1.1 Study Assumptions and Market Definition

1.2 Scope of the Study

2. RESEARCH METHODOLOGY

3. EXECUTIVE SUMMARY

4. MARKET INSIGHTS

4.1 Market Overview

4.2 Industry Value Chain Analysis

4.3 Industry Attractiveness: Porter's Five Forces Analysis

4.3.1 Bargaining Power of Suppliers

4.3.2 Bargaining Power of Buyers

4.3.3 Threat of New Entrants

4.3.4 Threat of Substitute Products

4.3.5 Intensity of Competitive Rivalry

4.4 Assessment of the Impact of COVID-19 on the Industry

5. MARKET DYNAMICS

5.1 Market Drivers

5.1.1 Replacement of Existing Equipment with Better Performing Ones

5.1.2 Supportive Government Regulations Including Incentives for Saving Energy Through Tax Credit Programs

5.2 Market Restraints

5.2.1 Dependence on Macro-economic Conditions

5.2.2 Growing Competition to Limit Margins

5.3 Market Opportunities

5.3.1 Emergence of IoT and Product Innovations to Aid Replacements

6. MARKET SEGMENTATION

6.1 Equipment

6.1.1 Air Conditioning/Ventilation Equipment

6.1.1.1 Type

6.1.1.1.1 Single Splits/Multi-Splits

6.1.1.1.2 VRF

6.1.1.1.3 Air Handling Units

6.1.1.1.4 Chillers

6.1.1.1.5 Fans Coils

6.1.1.1.6 Indoor Packaged And Roof Tops

6.1.1.1.7 Other Types

6.1.2 Heating Equipment

6.1.2.1 Type

6.1.2.1.1 Boilers/Radiators/Furnace and Other Heaters

6.1.2.1.2 Heat Pumps

6.2 End User

6.2.1 Residential

6.2.2 Commercial

6.2.3 Industrial

6.3 Country

6.3.1 United Kingdom

6.3.2 Italy

6.3.3 Germany

6.3.4 France

6.3.5 Spain

6.3.6 Eastern Europe

6.3.7 Benelux

6.3.8 Nordics

6.3.9 Russia

6.3.10 Turkey

6.3.11 Rest of Europe

7. COMPETITIVE LANDSCAPE

7.1 Company Profiles

7.1.1 Daikin Industries Ltd

7.1.2 ROBERT Bosch GmbH

7.1.3 Mitsubishi Electric Europe BV

7.1.4 Danfoss AS

7.1.5 Valliant Group

7.1.6 Carrier Global Corporation

7.1.7 Alfa Laval AB

7.1.8 Lennox International Inc.

7.1.9 Ariston Thermo SpA

7.1.10 BDR Thermea Group

*List Not Exhaustive

8. INVESTMENT ANALYSIS

9. MARKET OPPORTUNITIES AND FUTURE TRENDS
**Subject to Availability
Europe HVAC Industry Segmentation
HVAC equipment is an indoor and vehicular environment comfort technology that engages in providing thermal comfort and appropriate indoor air quality. It is a critical part present in various residential structures, which include single-family homes, apartment buildings, hotels, and senior living facilities; medium to large industrial and office buildings, such as skyscrapers and hospitals; vehicles, such as cars, trains, airplanes, ships, and submarines, and in marine environments, where safe and healthy building conditions are regulated, concerning temperature and humidity, using fresh air from outdoors.
The Europe HVAC Equipment Market is Segmented By Equipment (Air Conditioning/Ventilation Equipment (Single Splits/Multi-Splits (Ducted and Ductless), VRF, Air Handling Units, Chillers, Fans Coils, Indoor Packaged, and Roof Tops), Heating Equipment (Boilers/Radiators/Furnaces, and Heat Pumps)), End User (Residential, Commercial, and Industrial), and Country. The report offers the market size in value terms in USD million for all the above segments.
Equipment

Air Conditioning/Ventilation Equipment

Type
Single Splits/Multi-Splits
VRF
Air Handling Units
Chillers
Fans Coils
Indoor Packaged And Roof Tops
Other Types

Heating Equipment

Type
Boilers/Radiators/Furnace and Other Heaters
Heat Pumps
End User
Residential
Commercial
Industrial
Country
United Kingdom
Italy
Germany
France
Spain
Eastern Europe
Benelux
Nordics
Russia
Turkey
Rest of Europe
Europe HVAC Market Research FAQs
How big is the Europe HVAC Equipment Market?
The Europe HVAC Equipment Market size is expected to reach USD 27.76 billion in 2023 and grow at a CAGR of 6.28% to reach USD 37.64 billion by 2028.
What is the current Europe HVAC Equipment Market size?
In 2023, the Europe HVAC Equipment Market size is expected to reach USD 27.76 billion.
Who are the key players in Europe HVAC Equipment Market?
Daikin Industries, Ltd., ROBERT Bosch GmbH, Mitsubishi Electric Europe B.V, Alfa Laval AB and Carrier Global Corporation are the major companies operating in the Europe HVAC Equipment Market.
Europe HVAC Industry Report
Statistics for the 2023 Europe HVAC market share, size and revenue growth rate, created by Mordor Intelligence™ Industry Reports. Europe HVAC analysis includes a market forecast outlook to for 2023 to 2028 and historical overview. Get a sample of this industry analysis as a free report PDF download.
Europe HVAC Market Report Snapshots
80%

of our clients seek made-to-order reports. How do you want us to tailor yours?