The global laboratory chemicals market is expected to witness a moderate growth during the forecasted period, 2018-2023. Asia-Pacific is expected to be the fastest growing market during the forecast period.
Growing R&D Activities in the Field of Biological and Chemical Sciences in Asia-Pacific
The laboratory chemicals market is mainly driven by the growing R&D activities in the field of biological and chemical sciences. The laboratory chemicals market is growing primarily due to a significant increase in their use in basic research applications, coupled with large-scale commercial applications. An ongoing refinement and advancement of technologies, such as cell culture, recombinant DNA, and bio-therapeutics, have enhanced the scientific community's ability to identify and produce important human therapeutic agents over the years. Moreover, growing interest of the world scientific community in such chemicals is anticipated to escalate the growth of the laboratory chemicals market.
Growing Usage in Environmental Application
Laboratory chemicals are used for testing air, water, and soil under certain conditions. These chemicals help in determining pollutants, trace metal acids, toxic organics, and other impurities present in the environment. The major chemicals used for these applications include high performance liquid chromatography reagents (HPLC), ultra high-performance liquid chromatography reagents (UHPLC), mass spectrometry reagents (MS), and gas spectrometry reagents (GS). Thus, the growing usage of these chemicals are driving the demand for laboratory chemicals over the forecast period.
Asia-Pacific Region to be the Fastest Growing Market
The main reason for the growth of the laboratory chemicals market in Asia-Pacific region can be attributed to the establishment of new academic institutions across the country, especially in the areas of biological and chemical sciences. China is one of the largest pharmaceutical markets globally, owing to economic development in the country, along with the growing demand from the aging population. Thus, the growing number of patents, academic research, and increasing R&D expenditure, especially in the pharmaceutical industry, are driving the laboratory chemicals market in Asia-Pacific region during the forecast period.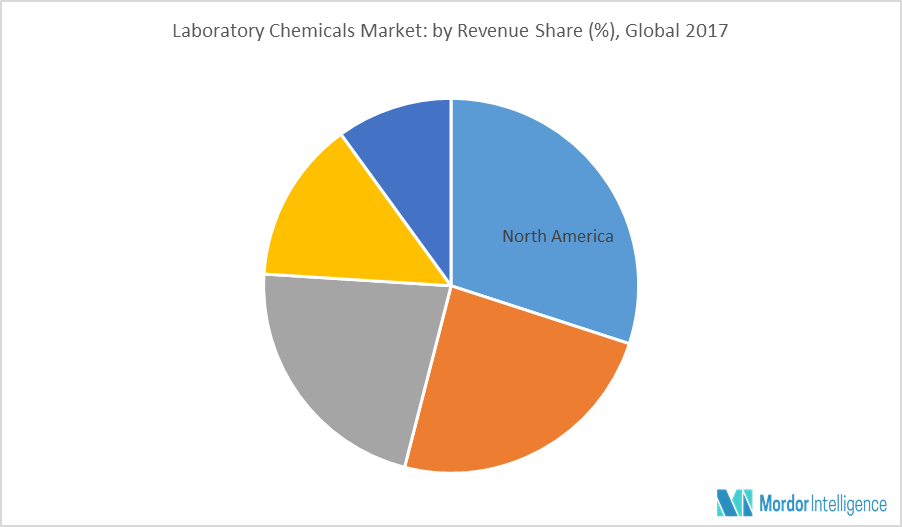 Major Players: Merck&Co.,Inc., VWR, Waters, Beckman Coulter Inc., and GE Healthcare, amongst others.
Key Developments in the Market
April 2017: MilliporeSigma collaborated with LabCentral, a biotechnology incubator, in Cambridge, Massachusetts
Reason to purchase this Report
Analyzing various perspectives of the market with the help of Porter's five forces analysis
Identifying application that is expected to dominate the market
Identifying regions that are expected to witness fastest growth during the forecast period
Identifying the latest developments, market shares, and strategies employed by the major market players
3-month analyst support, along with the Market Estimate sheet (in excel)
Customization of the Report
This report can be customized to meet your requirements. Please connect with our representative, who will ensure you to get a report that suits your needs
1. Introduction
1.1 Description
1.2 Research Methodology
1.3 Market Definition
2. Executive Summary
3. Market Insights
3.1 Current Market Scenario
3.2 Industry Value Chain Analysis
3.3 Technological Snapshot
3.3.1 Convensional
3.3.2 Upcoming
3.4 Consumer Preference Insights
3.5 PESTEL Analysis
3.6 Raw Material Analysis
3.7 Patent Analysis
3.8 Industry Attractiveness – Porter's 5 Forces Analysis
3.8.1 Bargaining Power of Suppliers
3.8.2 Bargaining Power of Buyers
3.8.3 Threat of New Entrants
3.8.4 Threat of Substitute Products
3.8.5 Degree of Competition
4. Market Dynamics
4.1 Drivers
4.1.1 Growing R&D Activities in the Field of Biological and Chemical Sciences
4.1.2 Increasing Development of New Academic Institutions Across The Asia-Pacific Region
4.1.3 Advancement in Pharmaceutical Sector Gaining New Heights
4.2 Restraints
4.2.1 Lack of Proper Funds &Iinfrastructure in Developing Economies
4.3 Opportunities
4.3.1 Advancement in Technologies Such as Cell Culture, Recombinant DNA & Bio-Therapeutics
4.3.2 Growing Research in the Field of Molecular Biology
5. Market Segmentation and Analysis
5.1 By Type
5.1.1 Molecular Biology
5.1.2 Cytokine and Chemokine Testing
5.1.3 Carbohydrate Analysis
5.1.4 Immunochemistry
5.1.5 Cell/Tissue Culture
5.1.6 Environmental Testing
5.1.7 Biochemistry
5.1.8 Others
5.2 By Application
5.2.1 Academic
5.2.2 Environmental
5.2.3 Healthcare
5.2.4 Research & Development for Life Sciences
5.2.5 Quality Control
5.2.6 Others
5.3 By End-User
5.3.1 Biotechnology
5.3.2 Academic Institutions
5.3.3 Scientific Institutions
5.3.4 Corporate Institutions
5.3.5 Others
6. Regional Analysis
6.1 Asia-Pacific
6.1.1 China
6.1.2 India
6.1.3 Japan
6.1.4 South Korea
6.1.5 Rest of Asia-Pacific
6.2 North America
6.2.1 United States
6.2.2 Canada
6.2.3 Mexico
6.2.4 Rest of North America
6.3 Europe
6.3.1 Germany
6.3.2 United Kingdom
6.3.3 Italy
6.3.4 France
6.3.5 Spain
6.3.6 Rest of Europe
6.4 South America
6.4.1 Brazil
6.4.2 Argentina
6.4.3 Rest of South America
6.5 MEA
6.5.1 Saudi Arabia
6.5.2 South Africa
6.5.3 Qatar
6.5.4 Rest of MEA
7. Future of Industry
8. Competitive Landscape
8.1 Mergers & Acquisitions
8.2 Joint Ventures, Collaborations and Agreements
8.3 Market Share Analysis
8.4 Strategies Adopted by Leading Players
9. Company Profiles
9.1 AMPAC Fine Chemicals
9.2 AppliChem GmbH
9.3 Argus Chemicals
9.4 Aurora Fine Chemicals
9.5 Avantor Performance Materials
9.6 BD Biosciences
9.7 Beckman Coulter Inc.
9.8 bioMérieux
9.9 Biosynth
9.10 CALTAG Laboratories
9.11 Chemada Fine Chemicals Company Ltd.
9.12 Chemical Centre
9.13 Dottikon Exclusive Synthesis AG
9.14 EMD Chemicals Inc.
9.15 European Fine Chemicals Group
9.16 GE Healthcare
9.17 Honeywell Riedel-de Haën
9.18 Life Technologies Corporation
9.19 Lonza Biologics Ltd.
9.20 Merck Chemicals
9.21 Meridian Life Science Inc.
9.22 Mitsubishi Rayon Co., Ltd.
9.23 Morphisto GmbH
9.24 P&R Labpak Limited
9.25 PerkinElmer Inc.
9.26 Promega Corporation
9.27 QIAGEN
9.28 R&D Systems
9.29 SAFC Biosciences Inc.
9.30 Samsung Fine Chemicals
9.31 ScienceLab
9.32 Shimadzu Biotech
9.33 Sigma-Aldrich Corp
9.34 Solumetrics
9.35 Spectrum Chemicals
9.36 Strategic Diagnostics Inc.
9.37 Synthon (Pty) Ltd.
9.38 Taizhou Yanling Fine Chemicals Co., Ltd.
9.39 Takara Bio Inc.
9.40 Thermo Fisher Scientific
9.41 Wako Pure Chemical Industries Ltd.
9.42 Waters Corp
9.43 Yiming Fine Chemicals Co., Ltd.
*(List not Exhaustive)
10. Disclaimer