The European engineering plastics market had been estimated at USD 20,015.42 million in 2017. The market is expected to register a CAGR of 3.92% during the forecast period, 2018-2023. PET dominated the European engineering plastics market, with nearly 27% share in Europe, while PEEK segment is estimated to register the fastest CAGR through the forecast period.
Growing Popularity of Bio-based PET
PET is majorly used in the packaging industry, primarily for packaging of water (bottled), food, and alcoholic beverages. It is a downstream product of crude oils, but with the growing environmental concerns, and depleting oil reserves, engineering plastic manufacturers are shifting toward the development of bio-based PET. However, the bio-based PET market is still in its growth stage and is commercially available as a partially bio-based product. The demand for engineering plastics in Europe have been at a rise, majorly owing to the increasing demand from the automotive & transportation industry. In the last two decades, the European automotive industry has perceived a lot of transformation with the digitization of vehicles. A further expected moderate growth is supported by the ongoing strengths in key economies, solid labor market, rising disposable income of people, and low interest rates.
With the growing demand for engineering plastics, companies are developing products that can be used for new applications. Engineering plastic manufacturing companies, such as BASF, DowDuPont, and Covestro, are consistently engaged in R&D activities to develop products that are eco-friendly and comply with regulations. Furthermore, they have been investing in developing new technologies to continually enhance their competitive advantage in the industry.
Germany Dominates the Market
Germany has the largest share in the market, accounting for nearly 25% of the European market share in 2017. The market for Germany is driven majorly because of the increasing demand for engineering plastics by the end-user industries, including electrical & electronics and automotive & transportation. Along with huge investments made in automotive R&D sector by companies and with government support, the presence of automotive giants in the country is propelling the growth of engineering plastics in Germany.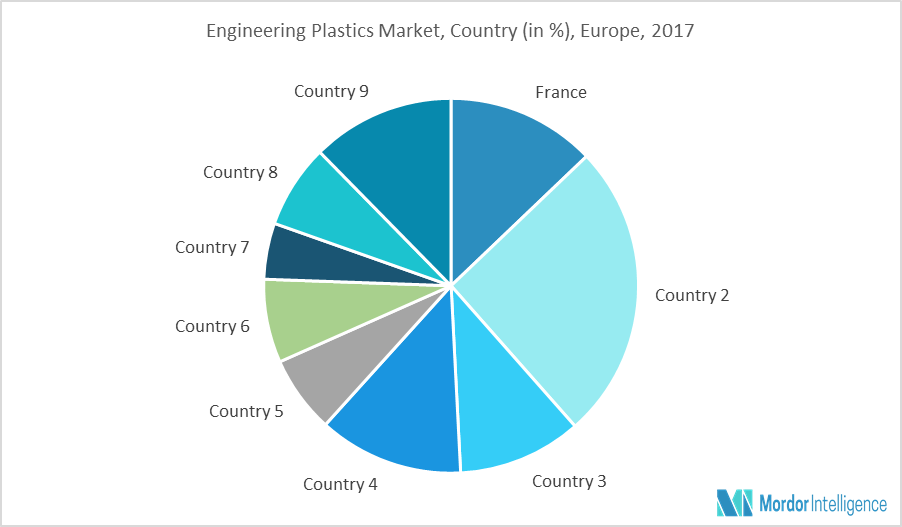 Key Developments in the Market
December 2017: DSM acquired BioCare Copenhagen to expand its gut health ingredients portfolio with probiotics
Major Players: BASF SE, Solvay, DowDuPont, SABIC, and DSM. Other players include A. Schulman Inc., Arkema, Asahi Kasei Corporation, Ashland Corporation, Celanese Corporation, Chemtura Corporation, Chevron Phillips Chemical Company, Covestro, Dyneon LLC, Eastman Chemical Company, Evonik Industries AG, Ineos, Lanxess, Nova Chemicals Corporation, Polyplastics Co. Ltd, Rochling Group, Tinseo, and Teijin Limited, amongst others.
Reasons to Purchase this Report
Market definition, along with the identification of factors that are instrumental in changing the market scenario and prospective opportunities
Various market perspectives, with the help of Porter's five forces analysis
Regions or countries that are expected to witness the fastest growth during the forecast period
Product segment that is going to dominate the market over the forecast period
The latest developments, market shares, and strategies that are employed by the major market players
3 months analyst support, along with the Market Estimation sheet (in excel).
Customization of the Report
This report can be customized to meet your requirements. Please connect with our representative, who will ensure you to get a report that suits your needs.
1. Introduction
1.1 Research Phases
1.2 Study Deliverables
1.3 Scope of the Report
2. Executive Summary
3. Market Insights
3.1 Industry Value-Chain Analysis
3.2 Industry Attractiveness – Porter's Five Forces Analysis
3.2.1 Bargaining Power of Suppliers
3.2.2 Bargaining Power of Consumers
3.2.3 Threat of New Entrants
3.2.4 Threat of Substitute Products and Services
3.2.5 Degree of Competition
3.3 Patent Analysis
3.4 Raw Material Analysis
4. Market Dynamics
4.1 Drivers
4.1.1 Growing Popularity of Bio-based PET
4.1.2 Engineering Plastics Replacing Traditional Materials
4.2 Restraints
4.2.1 Lengthy and Exhaustive Process for Manufacturing of Engineering Plastics
4.2.2 Other Restraints
4.3 Opportunity
4.3.1 Innovative Product Applications
4.3.2 Increasing Usage in Aerospace Industry
4.3.3 Accelerating Usage in Green Vehicles
5. Market Segmentation and Analysis (Market Size, Share, and Forecast)
5.1 By Product Type
5.1.1 Fluoropolymers
5.1.2 Polyacetal/Polyoxymethylene
5.1.3 Polyamides
5.1.4 Polycarbonates
5.1.5 Polymethyl Methacrylate (PMMA)
5.1.6 Polyphenylene Oxide (PPO/PPE Blends)
5.1.7 Polyphenylene Sulfide (PPS)
5.1.8 Styrene Copolymers (ABS & SAN)
5.1.9 Polyethylene Terephthalate (PET)
5.1.10 Polybutylene Terephthalate (PBT)
5.1.11 Polyether Ether Ketone (PEEK)
5.1.12 Polyimides (PI)
5.1.13 Liquid Crystal Polymers (LCP)
5.2 By Application
5.2.1 Automotive & Transportation
5.2.2 Building & Construction
5.2.3 Consumer Goods
5.2.4 Electrical & Electronics
5.2.5 Industrial & Machinery
5.2.6 Packaging
5.2.7 Medical
6. Regional Market Analysis (Market Size, Share, and Forecast)
6.1 Germany
6.2 United Kingdom
6.3 Italy
6.4 France
6.5 Russia
6.6 Nordic Countries
6.7 The Netherlands
6.8 Spain
6.9 Rest of Europe
7. Future of the Market
8. Competitive Landscape
8.1 Mergers & Acquisitions, Joint Ventures, Collaborations, and Agreements
8.2 Market Share Analysis**
8.3 Strategies Adopted by Leading Players
9. Company Profiles (Overview, Financials**, Products & Services, Recent Developments, and Analyst View)
9.1 A. Schulman Inc.
9.2 Arkema
9.3 Asahi Kasei Corporation
9.4 Ashland Corporation
9.5 BASF SE
9.6 Celanese Corporation
9.7 Chemtura Corporation
9.8 Chevron Phillips Chemical Company
9.9 Covestro
9.10 DowDuPont
9.11 Dyneon LLC
9.12 Eastman Chemical Company
9.13 Evonik Industries AG
9.14 Ineos
9.15 Lanxess
9.16 Nova Chemicals Corporation
9.17 Polyplastics Co. Ltd
9.18 Rochling group
9.19 DSM
9.20 SABIC
9.21 SOLVAY
9.22 Tinseo
9.23 Teijin Limited
*List not exhaustive
10. Disclaimer
**Subject to availability on public domain