EDA Tools Market Size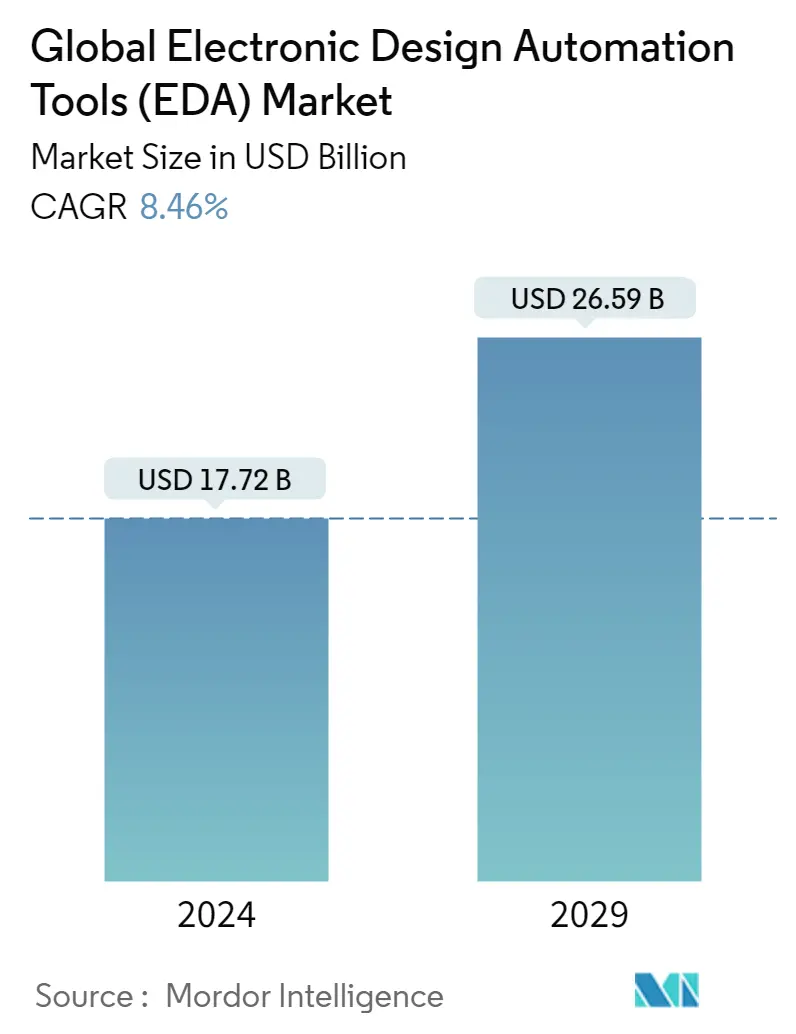 Study Period
2018 - 2028
Market Size (2023)
USD 16.34 Billion
Market Size (2028)
USD 24.52 Billion
CAGR (2023 - 2028)
8.46 %
Fastest Growing Market
Asia-Pacific
Largest Market
Asia-Pacific

Major Players

*Disclaimer: Major Players sorted in no particular order
Need a report that reflects how COVID-19 has impacted this market and its growth?
EDA Tools Market Analysis
The Electronic Desig Automation (EDA) Tools Market size is expected to grow from USD 16.34 billion in 2023 to USD 24.52 billion by 2028, at a CAGR of 8.46% during the forecast period (2023-2028).
The main factors propelling the market's expansion are the growing need for compact electronic devices and the expanding use of SoC technology across various industries, including automotive, IoT, and AI.
The silicon sector has evolved in recent years because of electronic design automation (EDA) techniques. EDA is responsible for creating the design tools necessary for the IC design process at a cost that enables the ecosystem to run profitably.
Some of the benefits of using EDA tools include reducing the amount of time needed to develop complicated ICs, cutting manufacturing costs, eliminating manufacturing defects, improving IC design and ease of use, etc.
According to World Semiconductor Trade Statistics (WSTS), the semiconductor industry is expected to grow by 10.9% in 2021, which is a significant growth compared to the previous year's growth, approximately amounting to USD 488 billion. Owing to this, various semiconductor vendors are expected to increase their R&D budgets. For instance, in April 2021, Taiwan Semiconductor Manufacturing Corporation ( TSMC) announced to spend USD 100 billion over the next three years to expand its chip fabrication capacity and R&D.
Chipmakers are increasingly leaning toward incorporating AI on edge computing, owing to the computational capabilities it brings to the table at the device level, increasing both efficiency and response time. For instance, Intel is focusing on 'edge computing' to enable AI incorporation into IoT devices to smartphones.
EDA has become more popular due to its many benefits, including shorter design times and fewer errors. EDA tools have become more widely used in various industries, including the automotive and aerospace industries. However, one of EDA's shortcomings lies in its inability to obtain insights from previous designs.
Since the inception of semiconductors, Moore's Law-the prediction that the number of transistors in an integrated circuit will increase two-fold every 18-24 months-has held true. However, in recent years, scientists have increasingly come to believe that fundamental physical limits may soon make it hard to economically place additional elements on the same small area, which could ultimately prove that Moore's Law is faulty.
Since the COVID-19 breakout, the semiconductor industry has been severely impacted, significantly impacting its supply chain and production facilities. In February and March 2020, China and Taiwan's production ceased, affecting other OEM production worldwide. However, a significant portion of important vendors stocked up on electronics in anticipation of the Chinese New Year, which reduced the risk. Additionally, with the semiconductor industry's slowing growth, the initial pandemic epidemic saw a minor decline in demand for EDA tools; but, over the course of a year, the market experienced growth.
EDA Tools Market Trends
This section covers the major market trends shaping the Electronic Design Automation Tools (EDA) Market according to our research experts:
IC Physical Design and Verification Segment to Grow Significantly
IC physical design refers to the creation of geometric representations of ICs, using EDA tools. EDA is used to divide the chip into smaller blocks and then plan the specific space required for each block to ensure maximum performance. These blocks are then placed, using before and after clock synthesis.
The recent technological advancements have been helping several chipset manufacturers to make use of ASIC technology, mainly for 5G. The advent of structured ASIC, having elements of both ASICs and field-programmable gate arrays (FPGA), like architecture, has led to the cost of production becoming cheaper compared to full-blown ASIC, which requires the addition of a modifiable on top of the base ASIC layer.
Mixed-signal chips, or integrated circuits (ICs) featuring analog and digital circuitry, are a growing trend. Mixed-signal architectures are becoming progressively and more necessary for SoC and ASIC designers. This demand is influenced by industries including the internet of things, communications, the automobile industry, and industrial control. For instance, in July 2022, the mixed-signal verification software Symphony Pro had a significantly updated version from Siemens EDA (previously Mentor).
Also, in July 2022, Siemens Digital Industries Software announced a variety of expanded early design verification (EDV) functions for electronic design automation (EDA) for its Calibre platform for integrated circuit (IC) physical verification. These new capabilities, which were developed to assist IC design teams and businesses in completing projects more quickly, can assist IC designers in "shifting left" their physical and circuit verification tasks by putting the identification, analysis, and resolution of challenging IC and system-on-chip (SoC) physical verification issues into earlier stages of the design and verification flow.
Furthermore, in February 2022, Veriest Solutions, a prominent international provider of electronics design services, built a design center in the United Kingdom and announced the expansion of its offerings to include physical design services. Customers of the company, both current and new, will now have access to Design for Test (DFT) and Physical Design support due to the new specialist team in the United Kingdom. The inclusion of the new team will also allow electronic system firms to outsource whole ASIC design projects to Veriest, meeting the growing need for high-quality solutions for customized semiconductor designs.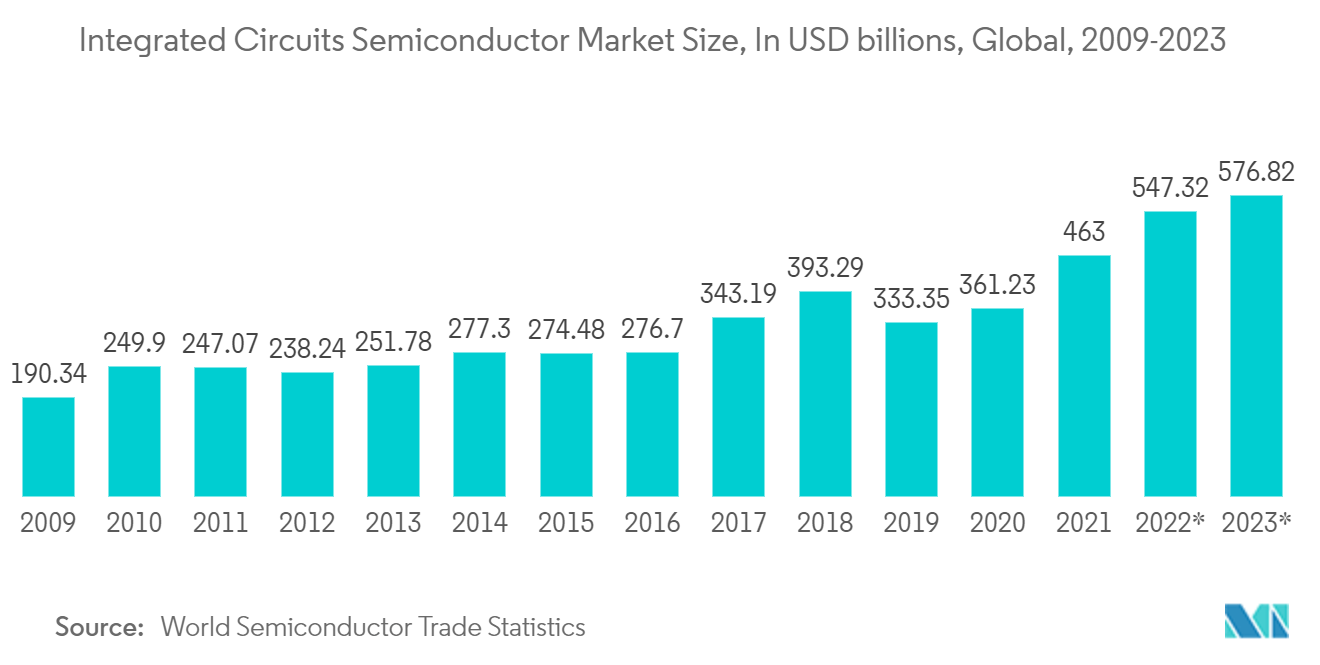 To understand key trends, Download Sample Report
North America is Expected to Hold a Significant Market Share
EDA tools often design circuit boards, processors, and other complex electronics. The adoption of EDA tools in industries such as consumer electronics, and automotive, is set to increase demand for the market in North America. Also, growing developments in the semiconductor industry and circuit manufacturing industry have raised the market's prominence in the region. Also, some of the significant vendors of EDA tools are headquartered in North America, such as Xilinx Inc., Ansys Inc., Keysight Technologies Inc., Cadence Design Systems Inc., and Synopsys Inc.
Some North American suppliers have been investing in improving the company's product lines and broadening the firm reach to meet the demand for EDA tools in the region. For instance, in May 2022, Chipmaker Advanced Micro Devices Inc. announced that the company intends to move some of its electronic design automation workloads for chip design onto Google Cloud to expand the capabilities of the company's data centers. This will allow taking advantage of Google's most recent compute-optimized C2D virtual machine instances, which are powered by 3rd Gen AMD EPYC processors, as well as advanced networking, storage, and artificial intelligence capabilities.
Some of the vendors have continued to see strong demand from their customers, who are looking forward to accelerating their digital transformation as engineering teams adapt to increasing competition and shrinking time to market windows. For instance, in July 2022, Intel Foundry Services (IFS) unveiled a brand-new Cloud Alliance program as a component of its Accelerator program. Cloud Alliance streamlines design efficiency for foundry clients with on-demand computing while securing design environments on the cloud. Ansys, Cadence, Siemens EDA, and Synopsys are a few of the founding members of the Cloud Alliance, along with other prominent companies in electrical design automation (EDA).
In June 2021, Taiwan-based Semiconductor Manufacturing Co. Ltd (TSMC) started construction at a site in Arizona where it plans to spend USD 12 billion to build a computer chip factory, which will begin volume production of chips using the company's 5-nanometer production technology starting in 2024. The company also announced a USD 100 billion investment plan in April 2021 to increase capacity at its factories over the next three years.
The United States is a significant country in the semiconductor industry's manufacturing, design, and research. The region's prominence drives the demand for exporting electronics equipment and growing end-user industries that are significant consumers of semiconductors, such as consumer electronics and the automotive industry. For instance, the US semiconductor company, the Semiconductor Industry Association (SIA), in February 2022, reported that revenues for the worldwide semiconductor industry reached USD 555.9 billion in 2021, the highest yearly total ever and a rise of 26.2% over the USD 440.4 billion total for 2020. In 2021, the semiconductor industry shipped a record 1.15 trillion units as chip companies increased output to meet the strong demand brought on by the worldwide chip shortage.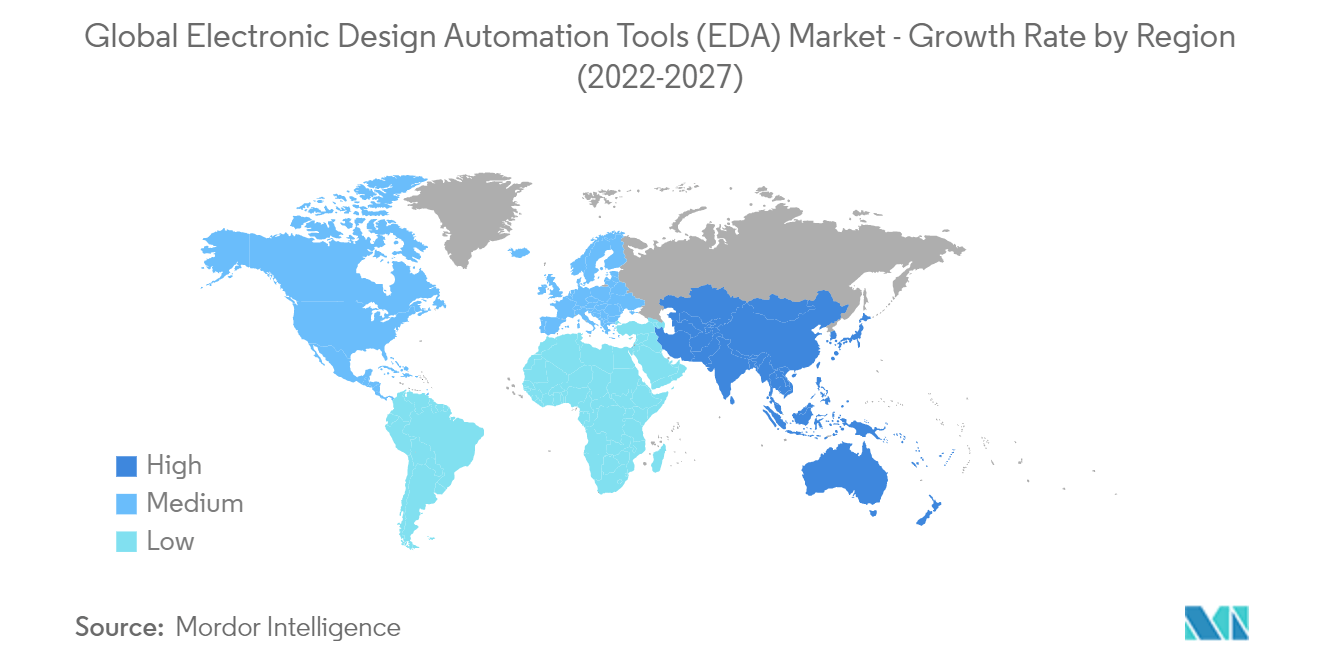 To understand geography trends, Download Sample Report
EDA Tools Industry Overview
The EDA market is highly fragmented. New opportunities in the automotive, IoT, artificial intelligence and virtual/augmented reality sectors have allowed semiconductor companies throughout all phases of the IC production cycle to prosper, with sizable revenue increases. This has occurred despite significant gains in chip performance but at relatively flat unit sales prices. Some of the key players in the industry include ANSYS, Cadence Design Systems, Synopsis, Keysight Technologies, etc. Some of the key developments in the EDA market are as follows:
March 2022 - Synopsys has announced the introduction of a new electronic design automation (EDA) deployment model that is designed for the cloud and provides "unparallel levels of chip and system design flexibility" through a single-source, pay-as-you-go approach. With pre-optimized infrastructure on Microsoft Azure, Synopsys Cloud provides access to the company's cloud-optimized design and verification technologies, which address increased levels of interdependencies in chip development.
June 2021 - Xilinx, Inc. unveiled Vivado ML Editions, an FPGA EDA tool package based on machine learning (ML) optimization techniques and advanced team-based design procedures for considerable design time and cost savings. Comparing the new Vivado ML Editions to the existing Vivado HLx Editions, the former offers a 5x quicker compilation time and revolutionary quality of results (QoR) improvements that average 10% on difficult designs.
June 2021 - Aldec Inc. launched HES-DVM Proto Cloud Edition (CE). It is available through Amazon Web Service (AWS); HES-DVM Proto CE can be used for FPGA-based prototyping of SoC / ASIC designs and focuses on automated design partitioning to greatly reduce bring-up time when up to four FPGAs are needed to accommodate a design.
May 2021- Cadence Design Systems announced low-power IP for the PCI Express 5.0 specification that targets hyper-scale computing, networking, and storage applications that are made on TSMC N5 process technology. In addition, PCIe 5.0 technology consists of a PHY, companion controller, and Verification IP (VIP) targeted at SoC designs for very high bandwidth to suit the applications.
EDA Tools Market Leaders
ANSYS Inc.

Cadence Design Systems Inc.

Keysight Technologies Inc

Synopsys Inc.

Xilinx Inc.
*Disclaimer: Major Players sorted in no particular order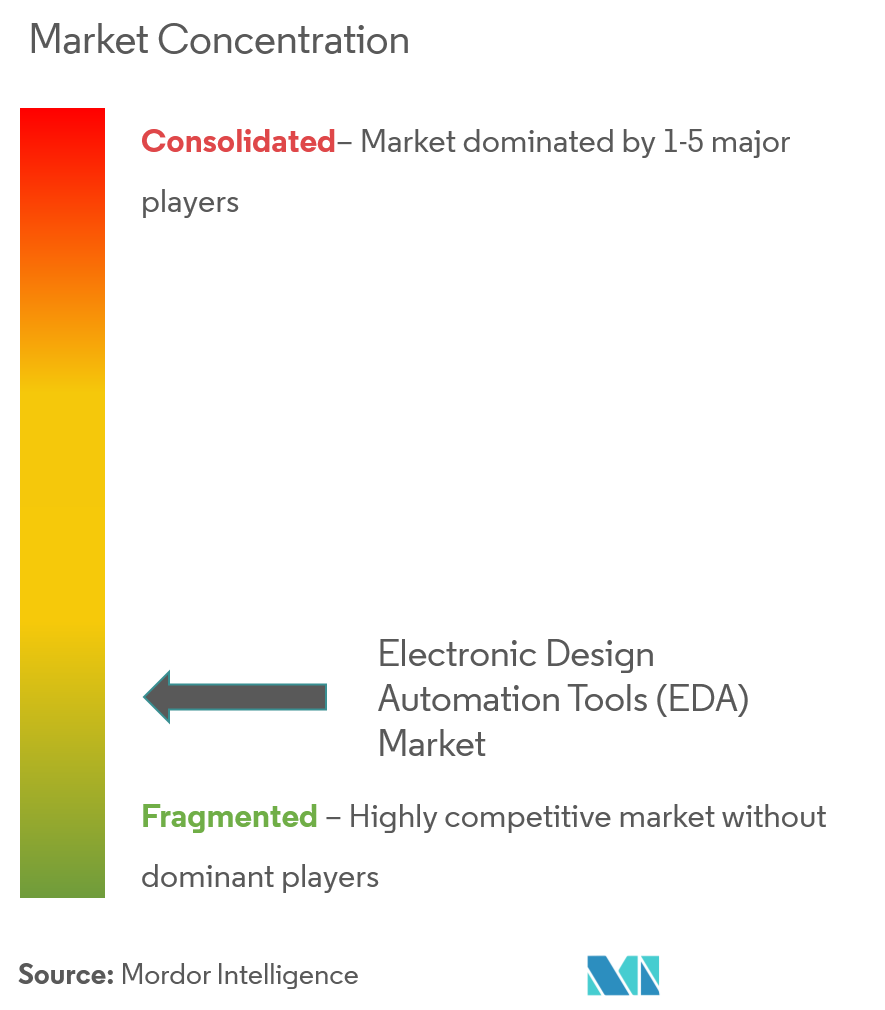 EDA Tools Market News
July 2022 - Future Facilities' acquisition by Cadence Design Systems, Inc. has been finalized, the company announced. The inclusion of Future Facilities technologies and experience bolsters Cadence's approach to intelligent system design and expands its capabilities in computational fluid dynamics (CFD) and multiphysics system analysis. Leading technology companies can make wise business decisions about data center design, operations, and lifecycle management and lessen their carbon footprint thanks to Future Facilities' electronics cooling analysis and energy performance optimization solutions for data center design and operation using physics-based 3D digital twins.
April 2022 - The Silicon Integration Initiative (Si2) Technology Interoperability Trajectory Advisory Council (TITAN), a thought leadership forum dedicated to accelerating ecosystem collaboration with technology interoperability for silicon-to-system success, has welcomed Keysight Technologies, Inc. as a new member. Keysight's vertical market expertise in providing software-centric solutions that target radio frequency and microwave applications offers an essential perspective to TITAN as Si2 expands into systems.
May 2021 - Siemens Digital Industries Software acquired Fractal Technologies, a provider of production signoff-quality IP validation solutions based in the U.S. and the Netherlands. With this acquisition, Siemens' electronic design automation (EDA) customers can more quickly and easily validate internal and external IP, and libraries used in their integrated circuit (IC) designs to improve the overall quality and speed time-to-market. Siemens plans to add Fractal's technology to the Xcelerator portfolio as part of its suite of EDA IC verification offerings.
May 2021- Keysight Technologies Inc. acquired Quantum Benchmark, a leader in error diagnostics, error suppression, and performance validation software for quantum computing. Quantum Benchmark provides software solutions for improving and validating quantum computing hardware capabilities by identifying and overcoming the unique error challenges required for high-impact quantum computing.
EDA Tools Market Report - Table of Contents
1. INTRODUCTION

1.1 Study Assumptions and Market Definition

1.2 Scope of the Study

2. RESEARCH METHODOLOGY

3. EXECUTIVE SUMMARY

4. MARKET INSIGHTS

4.1 Market Overview

4.2 Industry Value Chain Analysis

4.3 Industry Attractiveness: Porter's Five Forces Analysis

4.3.1 Bargaining Power of Suppliers

4.3.2 Bargaining Power of Buyers

4.3.3 Threat of New Entrants

4.3.4 Intensity of Competitive Rivalry

4.3.5 Threat of Substitute Products

4.4 Assessment of the Impact of COVID-19 on the Industry

5. MARKET DYNAMICS

5.1 Market Drivers

5.1.1 Booming Automotive, IoT, and AI Sectors

5.1.2 Upcoming Trend of EDA Toolsets Equipped with Machine Learning Capabilities

5.2 Market Restraints

5.2.1 Moore's Law about to be Proven Faulty

6. MARKET SEGMENTATION

6.1 Type

6.1.1 Computer-aided Engineering (CAE)

6.1.2 IC Physical Design and Verification

6.1.3 Printed Circuit Board and Multi-chip Module (PCB and MCM)

6.1.4 Semiconductor Intellectual Property (SIP)

6.1.5 Services

6.2 Application

6.2.1 Communication

6.2.2 Consumer Electronics

6.2.3 Automotive

6.2.4 Industrial

6.2.5 Other Applications

6.3 Geography

6.3.1 North America

6.3.2 Europe

6.3.3 Asia Pacific

6.3.4 Rest of the World

7. COMPETITIVE LANDSCAPE

7.1 Company Profiles

7.1.1 Altium Limited

7.1.2 Ansys Inc.

7.1.3 Cadence Design Systems Inc.

7.1.4 Keysight Technologies Inc.

7.1.5 Agnisys Inc.

7.1.6 Aldec Inc.

7.1.7 Lauterbach GmbH

7.1.8 Mentor Graphic Corporation (Siemens PLM Software)

7.1.9 Synopsys Inc.

7.1.10 Xilinx Inc.

7.1.11 Zuken Ltd.

*List Not Exhaustive

8. INVESTMENT ANALYSIS

9. FUTURE OF THE MARKET
**Subject to Availability
EDA Tools Industry Segmentation
Electronic design automation (EDA) is a software product that helps in designing electronic systems with the aid of computers; these tools are often used to design circuit boards, processors, and different types of complex electronics. The software tool is also known as electronic computer-aided design, and it has largely replaced manual methods for designing circuit boards and semiconductors.
The Global Electronic Design Automation Tools (EDA) Market is segmented by Type (Computer-aided Engineering (CAE), IC Physical Design and Verification, Printed Circuit Board and Multi-chip Module (PCB and MCM), Semiconductor Intellectual Property (SIP), Services), by Application (Communication, Consumer Electronics, Automotive, Industrial), and by Geography.
Type
Computer-aided Engineering (CAE)
IC Physical Design and Verification
Printed Circuit Board and Multi-chip Module (PCB and MCM)
Semiconductor Intellectual Property (SIP)
Services
Application
Communication
Consumer Electronics
Automotive
Industrial
Other Applications
Geography
North America
Europe
Asia Pacific
Rest of the World
EDA Tools Market Research FAQs
How big is the Global Electronic Design Automation Tools (EDA) Market?
The Global Electronic Design Automation Tools (EDA) Market size is expected to reach USD 16.34 billion in 2023 and grow at a CAGR of 8.46% to reach USD 24.52 billion by 2028.
What is the current Global Electronic Design Automation Tools (EDA) Market size?
In 2023, the Global Electronic Design Automation Tools (EDA) Market size is expected to reach USD 16.34 billion.
Who are the key players in Global Electronic Design Automation Tools (EDA) Market?
ANSYS Inc., Cadence Design Systems Inc., Keysight Technologies Inc, Synopsys Inc. and Xilinx Inc. are the major companies operating in the Global Electronic Design Automation Tools (EDA) Market.
Which is the fastest growing region in Global Electronic Design Automation Tools (EDA) Market?
Asia-Pacific is estimated to grow at the highest CAGR over the forecast period (2023-2028).
Which region has the biggest share in Global Electronic Design Automation Tools (EDA) Market?
In 2023, the Asia-Pacific accounts for the largest market share in Global Electronic Design Automation Tools (EDA) Market.
EDA Tools Industry Report
Statistics for the 2023 EDA Tools market share, size and revenue growth rate, created by Mordor Intelligence™ Industry Reports. EDA Tools analysis includes a market forecast outlook to 2028 and historical overview. Get a sample of this industry analysis as a free report PDF download.
EDA Tools Market Report Snapshots
80%

of our clients seek made-to-order reports. How do you want us to tailor yours?