The global cloud security market in manufacturing is expected to register a CAGR of 19.05% over the forecast period (2018-2023). The evolution of cyber environment and related technologies have paved the way for new threats. Cyber-attacks are now persistent and technologically advanced. As a result, traditional techniques fall short of offering adequate data protection and security to the networks and cloud systems. With costs becoming one of the benchmarks for an enterprise operating model, manufacturing enterprises are adopting cloud services to cut down on costs to increase profitability. In a quest to understand its customers and partners better, manufacturing enterprises are deploying cloud services to store and analyze the continuous stream of data flowing in through various sources. This is also giving rise to increased adoption of cloud security solutions to maintain security of the data. With growing data generation and increasing complexity of technologies, organizations are now depending on cloud services for operations and data management.
Increased IT Spending on Network Security is Augmenting Market Growth
Non-complex or weak network access problems are common network security issues in recent times. Since hackers are motivated by scoring political points and embarrassing companies, they are focusing on stealing unstructured data, such as email and other important documents. Phishing attacks have become frequent and intrusion prevention software can help both targeted users and the organizations. The number of cyber-attacks has grown in the last few years, creating a demand for improved security. This is pushing investments from these industries in cloud security. Thus, the growing need for security and increased IT spending on security solutions are driving the growth of the market.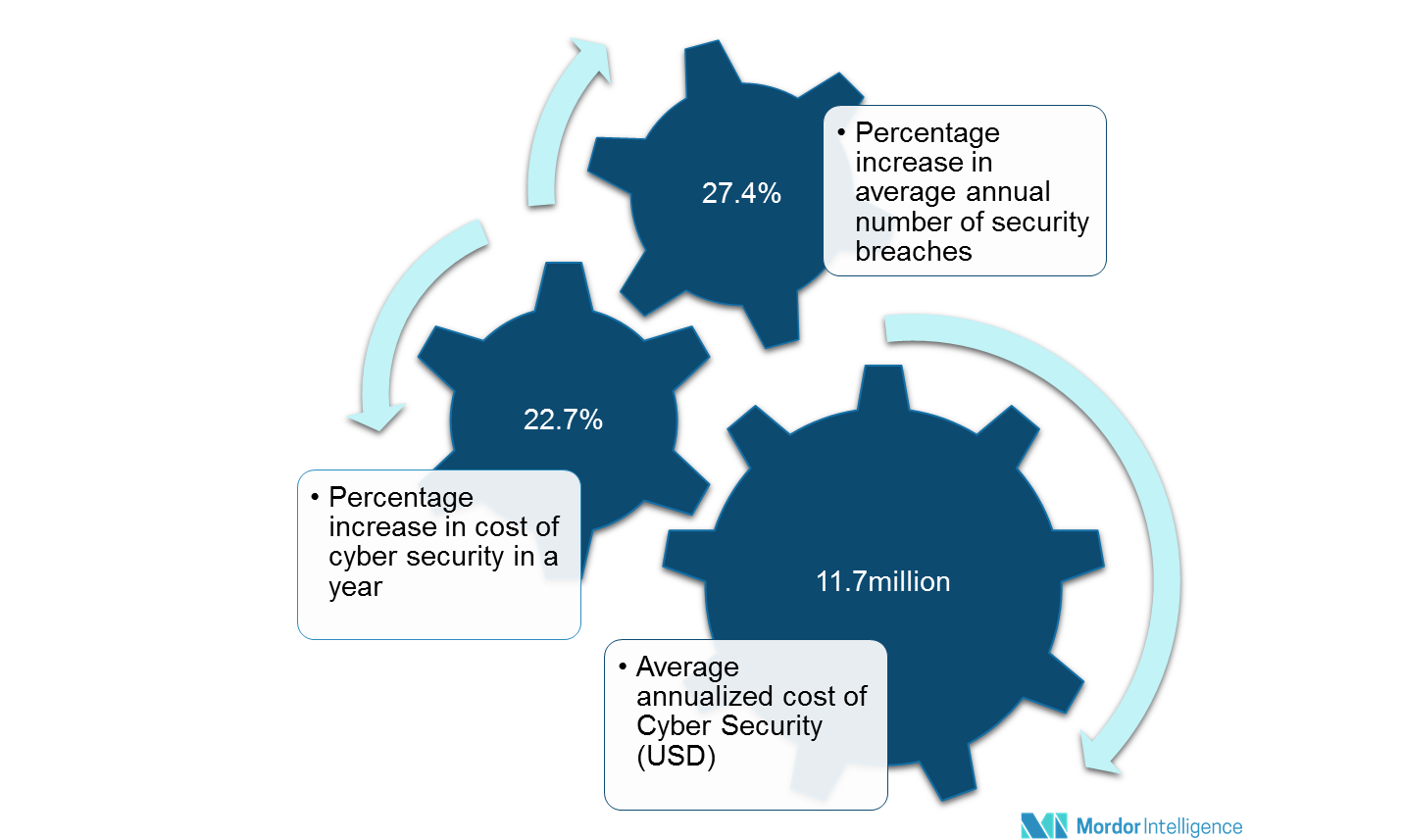 Intrusion Detection & Prevention is the Fastest Growing Segment
Intrusion Detection Software (IDS) and Intrusion Prevention Software (IPS) systems are deployed as the gatekeepers for cloud systems, as they continuously monitor the data flow and operations of the cloud system. The system monitors the network for malicious activity that could be a data breach attempt. The system also scans for data sets that could be in violation of the standards set by the security system. The overall cloud IDS/IPS systems are experiencing growing demand in the market, and are projected to witness healthy growth over the forecast period.
North America holds the Largest Market Share
North America is the largest consumer of cloud security software in the world. This could be attributed to the presence of large enterprises, growing frequency of cyber-attacks, and the increasing number of hosted servers in the region. Many cloud security-providing companies are headquartered in the United States, while most of the companies pilot new services in the country before global launches and deployment. Fast adoption of new technology in this country and growing focus for security are pushing the market forward. The presence of large cloud service providers, such as Microsoft and Amazon, is playing a significant role in the growth of the cloud security software market in the country. North America is expected to maintain its dominance on the market, while Asia-Pacific is expected to grow at a faster pace over the forecast period.
Key Developments in the Market
December 2017 - CA technologies joined the Cloud Native Computing Foundation (CNCF) to sustain and integrate open source technologies like Kubernetes and Prometheus.
November 2017 - IBM announced the successful testing of a fully integrated Wavelength Division Multiplexing (WDM) Si photonics chip for Big Data and cloud services, enabling the download of an entire HD digital movie in two seconds.
Major Players: Trend Micro, Inc., Imperva, Inc., Symantec Corporation, International Business Machines Corporation, Cisco Systems, Inc., Fortinet, Inc., Sophos, PLC, Mcafee LLC, Qualys, Inc., CA Technologies, Check Point Software Technologies Ltd, and Computer Science Corporation (CSC), among others.
Reasons to Purchase the Report
Current and future cloud security market in manufacturing analysis in the developed and emerging markets
Analyzing various perspectives of the market with the help of Porter's five forces analysis
The segment that is expected to dominate the market
Regions that are expected to witness fastest growth during the forecast period
Identify the latest developments, market shares, and strategies employed by the major market players
3 month analyst support, along with the Market Estimate sheet (in Excel)
Customization of the Report
This report can be customized to meet your requirements. Please connect with our representative, who will ensure you get a report that suits your needs.
1. Introduction
1.1 Key Deliverables of the Study
1.2 Study Assumptions
1.3 Market Definition
1.4 Key Findings of the Study
2. Research Approach and Methodology
3. Executive Summary
4. Market Analysis
4.1 Market Overview
4.2 Industry Value Chain Analysis
4.3 Industry Attractiveness – Porter's Five Industry Forces Analysis
4.3.1 Bargaining Power of Suppliers
4.3.2 Bargaining Power of Consumers
4.3.3 Threat of New Entrants
4.3.4 Threat of Substitute Products or Services
4.3.5 Competitive Rivalry among Existing Competitors
5. Market Dynamics
5.1 Factors Driving the Market
5.1.1 Increased IT Spending on Network Security
5.2 Factors Restraining the Market
5.2.1 Stringent Government Rules and Regulations
6. Technology Snapshot
7. Global Cloud Security in Manufacturing Segmentation
7.1 By Solution Type
7.1.1 Identity and Access Management
7.1.2 Data Loss Prevention
7.1.3 IDS/IPS
7.1.4 Security Information and Event Management
7.1.5 Encryption
7.1.6 Others
7.2 By Security Type
7.2.1 Application Security
7.2.2 Database Security
7.2.3 Endpoint Security
7.2.4 Network Security
7.2.5 Web & Email Security
7.3 By Deployment Mode
7.3.1 Private
7.3.2 Hybrid
7.3.3 Public
7.4 By Geography
7.4.1 North America
7.4.2 Europe
7.4.3 Asia-Pacific
7.4.4 Rest of the World
8. Competitive Intelligence – Company Profiles
8.1 Trend Micro, Inc.
8.2 Imperva, Inc.
8.3 Symantec Corporation
8.4 International Business Machines Corporation
8.5 Cisco Systems, Inc.
8.6 Fortinet, Inc.
8.7 Sophos, PLC
8.8 Mcafee LLC
8.9 Qualys, Inc.
8.10 CA Technologies
8.11 Check Point Software Technologies Ltd
8.12 Computer Science Corporation (CSC)
*List is Not Exhaustive
9. Investment Analysis
10. Outlook of the Market