Market Snapshot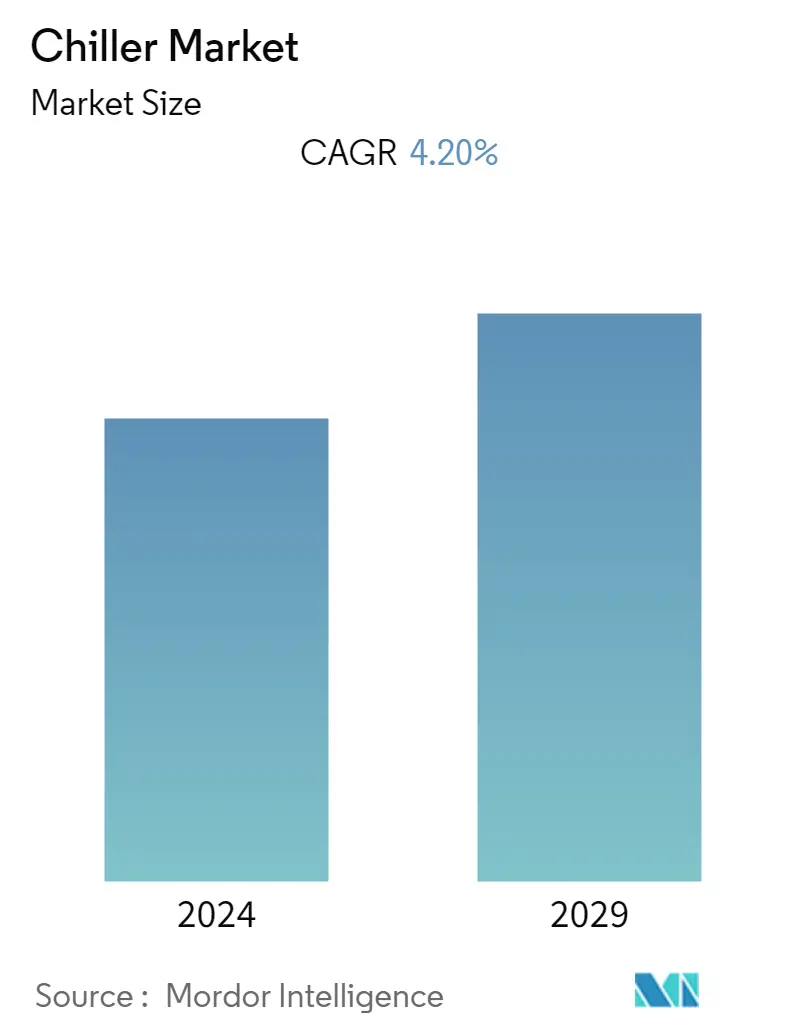 Study Period:
2020-2027
Base Year:
2021
Fastest Growing Market:
North America
Largest Market:
Asia-Pacific
CAGR:
4.2 %
Need a report that reflects how COVID-19 has impacted this market and its growth?
Market Overview
The Global Chiller Market is expected to register a CAGR of 4.2% during the forecast period (2022-2027). The growth in construction of new commercial buildings, urbanization, and modernization of healthcare infrastructure is anticipated to drive the market's growth worldwide. Additionally, an increasing number of chemical plants, one of the biggest consumers of chiller systems, is anticipated to fuel demand for chiller systems during the forecast period.
According Indian Brand Equity Foundation, by 2025, it is anticipated that investments in the Indian chemicals and petrochemicals sector will total INR 8 lakh crore (USD 107.38 billion). In December 2021, in India, the chemical output totaled 903,002 MT, while petrochemical production totaled 1,877,907 MT. The following chemicals were produced at a high level in December 2021: soda ash (257,199 MT), caustic soda (277,638 MT), liquid chlorine (190,492 MT), formaldehyde (22,794 MT), and pesticides and insecticides (22,110 MT).
Additionally, with the approaching HFC (hydrofluorocarbon) phasedown, the demand for environmentally friendly cooling solutions is driving chiller manufacturers to innovate. To cater to this, in February 2022, Washington-based Pro-Refrigeration, Inc., a manufacturer and supplier of chillers for beverage processing and industrial markets, developed the idea of a CO2 chiller. Since CO2 is a natural refrigerant with a global warming potential (GWP) rating of 1, it has zero impact on global warming. It also allows refrigeration systems to recover 100% of the heat rejected from their systems, generating hot water at up to 200°F. Heat recovery capability is an essential product feature for Pro-Refrigeration, as beverage plants, dairy farms, use a high amount of natural gas or propane to heat water for sanitizing and wash-down.
The increasing need for environment friendly and sustainable products is leading various manufacturers to develop sustainable products and solutions. For instance, in March 2021, Rhoss launched MiDIpack-I Eco, a new range of air-cooled water chillers and reversible heat pump products range with inverter scroll compressors and R32 ecological gas. The range was aimed at the companies that opt for eco-sustainability.
On the flip side, environmental concerns regarding global warming and ozone depletion have led over time to the development of evolving global and regional regulations, which have had significant implications for refrigerants across applications. Manufacturers and end-users who purchase, design, install, and service air conditioning and refrigeration equipment should consult their specific country's current regulations, codes, and standards to aid with refrigerant selection for each intended use.​
The United Nations Environment Program - Division of Technology, Industry, and Economics (UNEP DTIE) OzonAction Branch assists countries in complying with their commitments under the Montreal Protocol on Substances that Deplete the Ozone Layer, especially those related to the phase-out of hydrochlorofluorocarbons (HCFCs). The substitutes to HCFCs include the climate and ozone-friendly alternatives such as natural refrigerants - ammonia, hydrocarbons, and carbon dioxide; and lower global warming potential (GWP) HFCs, both saturated HFCs and unsaturated HFCs (HFOs). These factors pose a challenge to the current market ecosystem. However, they also double as significant opportunity providers for several companies to adopt advanced technologies, nurture innovations and promote efficiency.
Scope of the Report
A chiller is a machine that removes heat from a liquid coolant by vapor-compression, absorption refrigeration, or adsorption refrigeration cycles. Compressor, condenser, expansion valve, and evaporator are essential components of a chiller. They work in unison to circulate a refrigerant that removes heat from a process, operation, or space.
The Global Chiller Market is Segmented by Heat Rejection Method (Water Cooled, Air Cooled), Compressor Type (Screw Chillers, Scroll Chillers, Reciprocating Chillers, Centrifugal Chillers, Absorption Chiller), End-User Industry (Chemicals & Petrochemicals, Food & Beverage, Medical, Plastics), and Geography.
By Heat Rejection Method or Type of Cooling
Water Cooled
Air Cooled
By Compressor Type
Screw Chillers
Scroll Chillers
Reciprocating Chillers
Centrifugal Chillers
Absorption Chillers
By End-User Industry
Chemicals & Petrochemicals
Food & Beverage
Medical
Plastics
Others
By Geography

North America
United States
Canada

Europe
United Kingdm
Germany
France
Rest of Europe

Asia Pacific
China
Japan
India
South Korea
Rest of Asia Pacific

Latin America
Brazil
Mexico
Rest of Latin America

Middle East & Africa
Key Market Trends
The Food & Beverage Segment will Significantly Drive the Market's Growth
Water chillers for food processing are among the most utilized chilling systems for food and beverage producers and distributors. Food processing and food packaging applications need reliable indirect cooling equipment to maintain precise and consistent temperature control. Food processing chillers use a heat exchanger to help cool heat-producing process elements. They are used for a variety of food processing applications like cheese, meat, sauce, yogurt, ice cream, chocolate, baked items, etc.
Globally, there has been an increase in the consumption of frozen and processed food due to several factors like convenience, increase in disposable income, busy lifestyles, etc. For instance, according to Deutsches Tiefkühlinstitut, the per capita consumption of deep-frozen food in Germany increased from 44.8 kilograms in 202 to 46.1 kilograms in 2021. Further, the Organization for Economic Co-operation and Development (OECD), estimates that the volume of cheese produced in the European Union (EU 27) would witness an uptrend from 9,938 thousand tonnes n 2018 to 11,543 thousand tonnes in 2030.
To cater to the evolving needs of the increasing consumer base, several companies in the market are innovating advanced and comprehensive products. For instance, in March 2021, Atlas Copco extended its industrial portfolio to include process cooling equipment with the launch of the TCX 4-90A chiller range. The TCX chillers are intended for cooling water for a wide range of industrial processes and cooling applications, including Food & beverage, pharma, medical, printing, and plastics.
Further, in March 2022, Carrier introduced the AquaForce Vision 30KAV with PUREtec refrigerant, a new line of high-performance, compact process cooling chillers with ultra-low global warming potential (GWP) refrigerant R-1234ze. The chiller line is optimized for industrial processing like food manufacturing, plastics, pharmaceuticals, chemicals, metal industries, and applications requiring ultra-reliable cooling up to -12degC.
Additionally, in May 2022, Kaltra announced that its portfolio of high-efficient air-cooled chillers would be extended in Q3 2022, with R290 (propane) models based on the Versa platform initially launched in 2019. The heart of new Lightstream Screw II chillers is propane compressors-based design elements of Bitzer compact screws, with special safety regulations applied to the design, operation, and maintenance of flammable refrigerants like R290. These chillers target medium-low temperature refrigeration, including food & beverage, chemical, pharmaceutical, manufacturing applications, and air conditioning markets.
Glycol chillers are witnessing an upsurge in demand in breweries and wineries. They are employed to remove the heat added during the milling, mashing, lautering, and boiling process. Modular and packed chillers are also growing in popularity in the beverage industry as they are convenient to use and easy to install.
To understand key trends, Download Sample Report
North America to Witness Significant Growth
The US and Canada make up the other subgroups of the North American chiller market. The construction of hospitals, offices, huge retail stores, and theatres has expanded as a result of continued economic growth and growing urbanization. The governments of North American nations support the growth of airport infrastructure and the creation of smart cities. Thus, increased tourism, smart city projects, and construction activities are driving the demand for chillers in the region's residential, commercial, and industrial sectors. The US Department of Energy (DOE) is making significant investments nationwide to raise energy efficiency standards. The goal of the DOE is to address the environmental, energy, and nuclear concerns facing the US by developing game-changing research and technology solutions.
To meet the various demands of the customers and capture a wide market range, the companies are introducing new products in the market. For instance, in March 2022, a new low-charge inline packaged ammonia/NH3 (R717) chiller was introduced for the North American market by Frick Industrial Refrigeration, a division of Johnson Controls in the United States. A "extremely low-charge" chiller, the new Frick North America Inline Packaged Ammonia Chiller (IPAC-S) typically uses 1lb/TR, or 0.13kg/kW, according to Forry. With Frick ammonia screw compressors, the IPAC-S was created. There are 12 sizes available for these, ranging from IPAC-24 to IPAC-222, and they have chiller cooling capacities ranging from 30TR to 390TR (105.5 to 1,371.6kW).
Furthermore, in May 2021, Welbilt, Inc., a producer of commercial foodservice equipment, is the sole distributor of roll-in blast chillers from Nuovair, the Italian company that specializes in high-quality blast chillers in the United States and Canada. Four major issues that operators experience are addressed by Nuovair technology. First off, overcooked food can be saved in a matter of seconds by abruptly stopping the cooking process to preserve flavor and quality due to the industry's greatest air-flow rate (9m3/hr) and an electronic expansion valve, which delivers up to 25% faster cooling than a manual valve.
The data centers produce excessive heat, which presents an economic and environmental challenge. The carbon dioxide emissions from data centers are also at an all-time high which largely impacts the environment. Such heavy emissions, the need for efficient cooling, and the increasing development of data centers have driven the demand for efficient chillers in HVAC systems in data centers and have attributed to the market's growth.
For instance, in April 2022, Meta, the parent company of Facebook, started two new data center projects in Missouri and Texas, bringing its total investment in U.S. data center construction and operations to almost USD16 billion. A USD 800 million facility in Temple, Texas, will total approximately 900,000 square feet, while another USD 800 million facility in Kansas City, Missouri, will total nearly 1 million square feet. The growing increase in the construction of data centers will significantly drive the market.
Residential, commercial, and industrial buildings' excess heat is removed using chillers to provide air conditioning. To remove heat from the condenser and evaporators, these devices use refrigerants. The Joint Center for Housing Studies predicts that during the next ten years, baby boomers will be the main driver of construction and remodeling demand in the United States. The expansion of the country's chillers market is anticipated to be positively impacted by the nation's increasing number of construction projects. For instance, according to the United States Census Bureau, as of May 2021, the private housing authorized by building permits in May was at a seasonally adjusted annual rate of 1,681,000. The value was 34.9% above the May 2020 rate. The increase in residential units creates growth opportunities for the chiller market.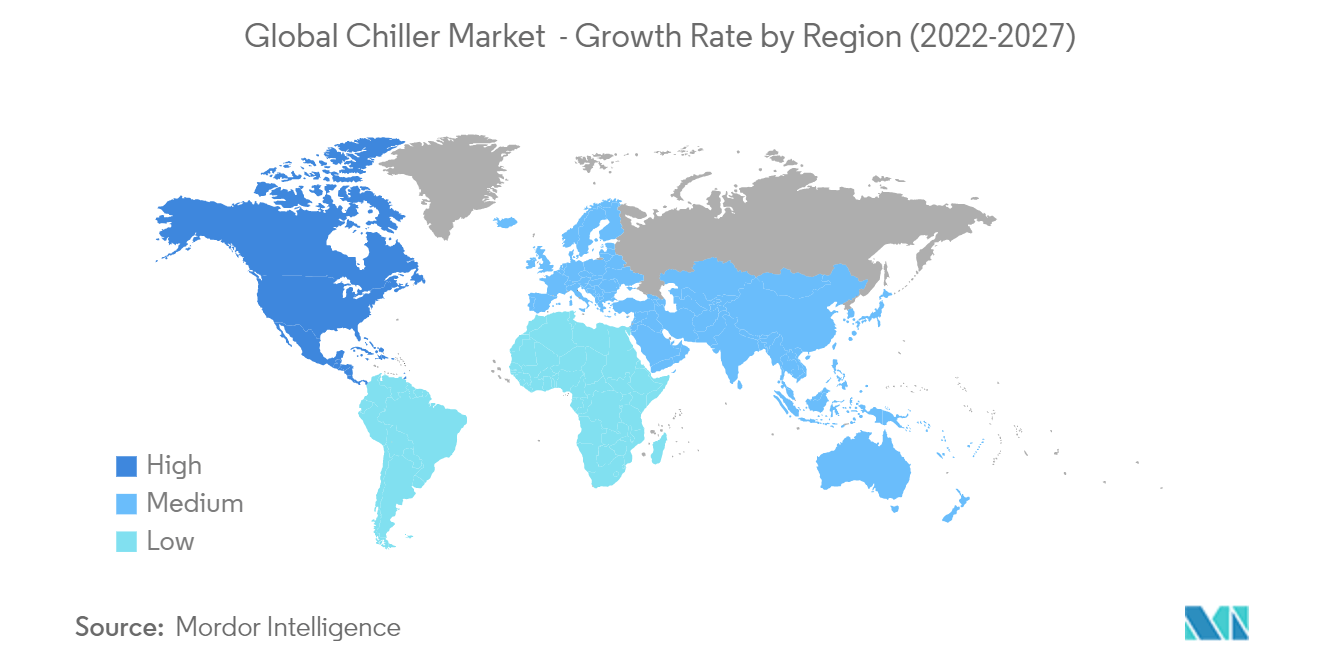 To understand geography trends, Download Sample Report
Competitive Landscape
The global chiller market is competitive with the presence of a few major companies like Carrier Global Corporation, Mitsubishi Electric Corporation, Polyscience Inc., etc. The companies are continuously investing in making strategic partnerships and product developments to gain substantial market share. Some of the recent developments in the market are:
February 2022 - Air-conditioning designer Fujinetsu and chiller manufacturer Meiwa, exhibited a new jointly developed prototype of a propane (R290) chiller for air-conditioning applications at the HVAC&R Japan 2022 trade show. According to the representatives of the companies, the prototype successfully completed cooling-capacity tests. The companies plan to conduct controls testing for one year and field testing for another. Their goal is to launch the product on the market in April of 2024. The unit would be available in 5 types with a cooling capacity ranging from 3.6-5.6kW (12,283.20-19,107.20BTU/h) and a heating capacity ranging from 4.0-6.3kW.
June 2021 - Johnson Controls added the Quantech QWC4 water-cooled screw chiller to its chiller portfolio. It employs R-134a refrigerant, which has no ozone-depletion potential. As per the company, the chiller utilizes variable-speed drive technology to reduce energy costs and carbon emissions compared to traditional chillers. The chiller is intended for use with heat-rejection methods like an open cooling tower, dry cooler, adiabatic cooler, heat recovery, or heat pump.
Recent Development
April 2022 - Mitsubishi Heavy Industries Thermal Systems Ltd announced that it would launch a new series of large-capacity centrifugal chillers using the refrigerant HFO-1234yf. The series would feature models: the constant-speed JHT-Y and the inverter-equipped JHT-YI, with capacities ranging from 300 to 5,400 refrigeration tonnes (RT), with the maximum capacity representing a 400 RT increase over the "GART-ZE/ZEI" series launched in 2017.
March 2022 - Daikin Applied launched Navigator, a screw compressor water-cooled chiller engineered with variable volume ratio technology. Built on Daikin's Applied innovation, VVR technology, and water-cooled technology, the Navigator offers the power of efficiencies that meet ASHRAE 90.1-2016 levels and IPLV as low as 0.36.
Table of Contents
1. INTRODUCTION

1.1 Study Assumption and Market Definition

1.2 Scope of the Study

2. RESEARCH METHODOLOGY

3. EXECUTIVE SUMMARY

4. MARKET INSIGHTS

4.1 Market Overview

4.2 Industry Attractiveness - Porter's Five Forces Analysis

4.2.1 Bargaining Power Of Suppliers

4.2.2 Bargaining Power Of Buyers

4.2.3 Threat Of New Entrants

4.2.4 Threat Of Substitutes

4.2.5 Intensity Of Competitive Rivalry

4.3 Value Chain Analysis

4.4 Assessment of the Impact of Covid-19 on the Market

5. MARKET DYNAMICS

5.1 Market Drivers

5.1.1 Increasing Consumption of Frozen and Processed Food

5.1.2 Industrial Development (Semicounductors, Paper, Cement, etc.)

5.2 Market Restraints

5.2.1 High Initial Costs

5.2.2 Growing Environmental Concerns

6. MARKET SEGMENTATION

6.1 By Heat Rejection Method or Type of Cooling

6.1.1 Water Cooled

6.1.2 Air Cooled

6.2 By Compressor Type

6.2.1 Screw Chillers

6.2.2 Scroll Chillers

6.2.3 Reciprocating Chillers

6.2.4 Centrifugal Chillers

6.2.5 Absorption Chillers

6.3 By End-User Industry

6.3.1 Chemicals & Petrochemicals

6.3.2 Food & Beverage

6.3.3 Medical

6.3.4 Plastics

6.3.5 Others

6.4 By Geography

6.4.1 North America

6.4.1.1 United States

6.4.1.2 Canada

6.4.2 Europe

6.4.2.1 United Kingdm

6.4.2.2 Germany

6.4.2.3 France

6.4.2.4 Rest of Europe

6.4.3 Asia Pacific

6.4.3.1 China

6.4.3.2 Japan

6.4.3.3 India

6.4.3.4 South Korea

6.4.3.5 Rest of Asia Pacific

6.4.4 Latin America

6.4.4.1 Brazil

6.4.4.2 Mexico

6.4.4.3 Rest of Latin America

6.4.5 Middle East & Africa

7. COMPETITIVE LANDSCAPE

7.1 Company Profiles

7.1.1 Carrier Global Corporation

7.1.2 Mitsubishi Electric Corporation

7.1.3 DAIKIN INDUSTRIES LTD

7.1.4 DIMPLEX THERMAL SOLUTIONS

7.1.5 LG Electronics

7.1.6 JOHNSON CONTROLS INTERNATIONAL PLC

7.1.7 Polyscience Inc.

7.1.8 SMARDT CHILLER GROUP INC.

7.1.9 THERMAX LTD.

7.1.10 TRANE Technologies Plc

*List Not Exhaustive

8. INVESTMENT ANALYSIS

9. FUTURE OUTLOOK OF THE MARKET
You can also purchase parts of this report. Do you want to check out a section wise price list?
Frequently Asked Questions
What is the study period of this market?
The Chiller Market market is studied from 2020 - 2027.
What is the growth rate of Chiller Market?
The Chiller Market is growing at a CAGR of 4.2% over the next 5 years.
Which region has highest growth rate in Chiller Market?
North America is growing at the highest CAGR over 2021- 2026.
Which region has largest share in Chiller Market?
Asia-Pacific holds highest share in 2021.
Who are the key players in Chiller Market?
Carrier Global Corporation, DAIKIN INDUSTRIES LTD, Johnson Controls International, Mitsubishi Electric Corporation, Polyscience Inc. are the major companies operating in Chiller Market.
80%

of our clients seek made-to-order reports. How do you want us to tailor yours?