The global central nervous system biomarkers market is expected to register a CAGR of 15.5% during the forecast period. A biomarker is used to measure the biological state, presence of diseases and effects of treatments. With the advent of proteomics and genomics, the demand of central nervous system (CNS) biomarkers has increased.
High Demand Due to Growing Lifestyle-Related Disorders
With growing disorders related to lifestyle habits and chronic diseases, the demand for CNS biomarkers has increased globally, which in turn, is driving this market. Neurological and heart-related disorders have growing multi-fold in the past two decades; diseases, such as cardiovascular disorders, stroke, diabetes, blood pressure, coronary heart diseases, and others. This has led to growing demand for CNS biomarker for early detection and diagnosis of diseases.
Other factors such as increasing development in proteomics, genomics, and imaging system, increasing R&D with the number of clinical trials for CNS biomarkers as well as growing investments from the government and players, with favorable policies of the government are expected to drive the CNS biomarkers market.
Reimbursement Issues
The unclear reimbursement policies in several potential countries, especially in the emerging market region is one of the major hurdles for the growth of this market. The coverage and reimbursement policies in every healthcare system varies across payers, which limits the access to expert guidance to patients by physicians. In most of the Organization for Economic Co-operation and Development (OECD) countries, regulatory and reimbursement procedures are not well adapted for biomarkers-based diagnostic tests as they are unable to reflect the complexities associated with these tests. Therefore, these factors hamper the growth of this market.
Another major factor is the high cost associated with CNS biomarkers tests and diagnosis particularly in developing countries, limiting the number of patients to avail the services. Thus, impeding the growth of this market.
The United States Holds a Major Market Share
With a well-established healthcare infrastructure and healthy healthcare expenditure in North America, particularly in the United States, due to favorable government policies, the CNS biomarkers market is expected to have the largest market share in this region. A growing geriatric population in the United States with lifestyle related disorders plays a vital role in this market. As per the US Census Bureau, nearly 20% of US population is expected to be 65 years and above by 2030. Asia-Pacific is also expected to be the fastest growing market due to improving healthcare infrastructure, diversified large patient pool, and emerging healthcare facilities in the region.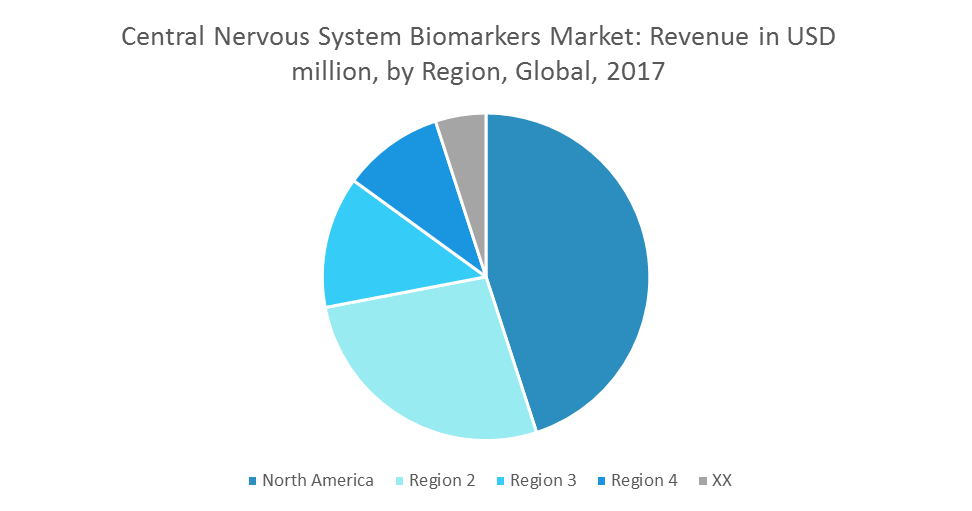 Key Developments in the Market
February 2018: BioMarin Pharmaceutical Inc. reported the interim positive data for phase 1/2 study of BMN 250 for treatment of sanfilippo B syndrome (MPS IIIB) at World Symposium 2018.
February 2018: Anavex Life Sciences Corp. reported an update on the clinical programs, ANAVEX 2-73, for the treatment of Alzheimer's disease, Rett syndrome, and Parkinson's disease.
August 2017: Caprion Biosciences collaborated with Foundation for the National Institutes of Health (FNIH) Biomarkers Consortium to measure protein biomarkers linked to early progression of Alzheimer's disease.
Key players: Acumen Pharmaceuticals Inc., Alseres Pharmaceuticals Inc., Aposense, Avacta Life Sciences Limited, Banyan Biomarkers Inc., DiaGenic ASA, Great Lakes NeuroTechnologies, Innovative Neurotechnologies Inc., Merck & Co. Inc. and Thermo Fisher Scientific Inc., amongst others.
Reasons to Purchase this Report
Current and future for the global central nervous system biomarkers market outlook in the developed and emerging markets

Analyzing various perspectives of the market with the help of Porter's five forces analysis

The segment that is expected to dominate the market

Regions that are expected to witness the fastest growth during the forecast period

Identify the latest developments, market shares and strategies employed by the major market players

Three-month analyst support, along with the Market Estimate sheet (in excel)
Customization of the Report
This report can be customized to meet your requirements. Please connect with our representative, who will ensure you to get a report that suits your needs.
1. Introduction
1.1 Market Definition
2. Research Methodology
3. Executive Summary
4. Key Inferences
5. Market Overview
5.1 Current Market Scenario
5.2 Porter's Five Forces Analysis
5.2.1 Bargaining Power of Suppliers
5.2.2 Bargaining Power of Consumers
5.2.3 Threats of New Entrants
5.2.4 Threat of Substitute Product and Services
5.2.5 Competitive Rivalry within the Industry
6. Drivers, Restraints, Opportunities and Challenges Analysis (DROC)
6.1 Market Drivers
6.1.1 Rise in the Development in Proteomics, Genomics and Imaging System
6.1.2 Rise in the Lifestyle Oriented Disorders
6.1.3 Rising Investments from Government and Private Players
6.1.4 Increasing Research and Development with Successful Clinical Trials of Biomarkers
6.2 Market Restraints
6.2.1 High Cost of CNS Biomarkers Tests and Diagnostics
6.2.2 Reimbursement and Regulatory Issues
6.3 Opportunities
6.4 Key Challenges
7. Market Segmentation
7.1 By Type of CNS Biomarkers
7.1.1 Safety Biomarkers
7.1.2 Efficacy Biomarkers
7.1.2.1 Pharmacodynamic Biomarkers
7.1.2.2 Predictive Biomarkers
7.1.2.3 Prognostic Biomarker
7.1.3 Validation Biomarker
7.2 By Applications
7.2.1 Drug Discovery & Development
7.2.2 Personalized Medicine
7.2.3 Disease Risk Assessment
7.2.4 Others
7.3 By End-user
7.3.1 Diagnostic Labs
7.3.2 Clinics/Hospitals
7.3.3 Research Centers
7.4 By Geography
7.4.1 North America
7.4.1.1 United States
7.4.1.2 Canada
7.4.1.3 Mexico
7.4.2 Europe
7.4.2.1 France
7.4.2.2 Germany
7.4.2.3 United Kingdom
7.4.2.4 Italy
7.4.2.5 Spain
7.4.2.6 Rest of Europe
7.4.3 Asia-Pacific
7.4.3.1 China
7.4.3.2 Japan
7.4.3.3 India
7.4.3.4 Australia
7.4.3.5 South Korea
7.4.3.6 Rest of Asia-Pacific
7.4.4 Middle East & Africa
7.4.4.1 GCC
7.4.4.2 South Africa
7.4.4.3 Rest of the Middle East & Africa
7.4.5 South America
7.4.5.1 Brazil
7.4.5.2 Argentina
7.4.5.3 Rest of South America
8. Competitive Landscape
8.1 Mergers & Acquisition Analysis
8.2 Agreements, Collaborations, and Partnerships
8.3 New Products Launches
9. Key Players
9.1 Acumen Pharmaceuticals Inc.
9.2 Alseres Pharmaceuticals Inc.
9.3 Aposense
9.4 Avacta Life Sciences Limited
9.5 Banyan Biomarkers Inc.
9.6 DiaGenic ASA
9.7 Great Lakes NeuroTechnologies
9.8 Innovative Neurotechnologies Inc.
9.9 Merck & Co. Inc.
9.10 Thermo Fisher Scientific Inc.
9.11 Others
10. Future of the Market