Market Snapshot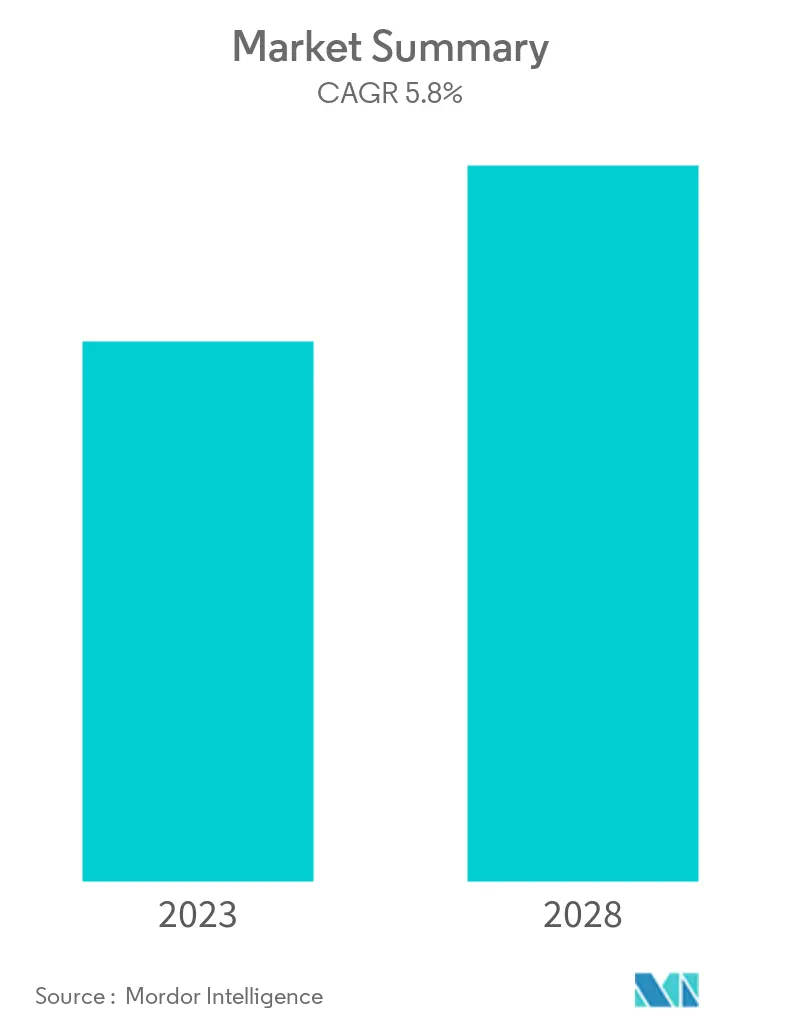 Study Period:
2019-2027
Base Year:
2021
Fastest Growing Market:
Asia-Pacific
Largest Market:
North America
CAGR:
5.8 %
Need a report that reflects how COVID-19 has impacted this market and its growth?
Market Overview
The biopharmaceutical fermentation market is expected to register a CAGR of 5.8% over the forecast period (2022-2027).
COVID-19 pandemic has had a substantial impact on various markets and so on the biopharmaceutical fermentation market faces tremendous disruptions in the initial phase. The strict lockdowns and government regulations intended to slow down the spread of COVID-19. The COVID-19 outbreak affected the biopharmaceutical fermentation market's growth adversely in its preliminary phase; however, this market is expected to gain traction due to the significant urge for the development of a vaccine and other biological products. Also due to COVID-19, many new advancements were made in the pharmaceutical R&D sector. Scientists and researchers are working to identify the diagnostics, therapeutics, and new vaccines to protect individuals across the globe from this virus. Due to these advancements, the biopharmaceutical fermentation market has been driven. For instance, in 2021 the Journal of Industrial Integration and Management accounts that due to the recent development in the R&D sector and the increasingly advanced technologies like biosensor-based technological solutions, these biosensors are used to monitor the real-time activity of bioreactors for the determination of various physiological and pharmacological parameters and for monitor for monitoring chemical parameters in the production process (in bioreactors), these technological advances have driven the biopharmaceutical fermentation market.
Further, the rise in demand for biotechnology-based advanced products, such as monoclonal antibodies and antibody derivatives, and vaccines, and rising research and development activities to produce biological drugs are among the major factors driving the growth of the studied market. For instance, in 2021, in the journal Diagnostics, an article titled, "Mobile Health in Remote Patient Monitoring for Chronic Diseases: Principles, Trends, and Challenges" accounts that the increasing use of these biotech-based advanced products is used in the treatment of chronic diseases such as cancer, rheumatoid arthritis, and diabetes. For another instance 2021, International Agency for Research on Cancer reported 1.97 million cases of cancer globally in 2020 and these cases will increase to 2.58 million by 2040. Due global increase in the incidence of chronic diseases, researchers are searching for better and safer options for patients and are shifting towards biologics due to their safety and efficacy are used as the primary source of treatment. Also many of the chronic diseases, associated with heart and kidney are increasing with the increase in the number of geriatric population. For instance, in 2021 the World Health Organization fact sheet on Ageing and Health reported that the share of the population aged 60 years and over was 1 billion in 2020 and it will increase to 1.4 billion by the year 2030 and 1 in 6 people will be aged 60 years or over worldwide by 2030. Since the older population is at high risk of getting chronic illnesses, it is also causing increase in demand for biologics, which is driving the market. Thus with increasing incidence of chronic diseases, is globally causing an increasing demand for biologics and the production of biologics is gradually increasing. Biologics are biotech-based products that are largely produced in these biopharmaceutical industries and thus increasing the production of biotech-based products is likely to contribute to the studied market growth.
Technological advancements in bioproduction and genetically engineered microbial strains and extensive use of downstream processing in biotechnological products are also driving the biopharmaceutical fermentation market. For instance, in 2021 in the journal Biomedicine, reported that the development of novel biological drugs for the treatment of rare and autoimmune diseases and viral infections, leading to rapid growth in biopharmaceutical R&D. Research-based biopharmaceutical companies are committed to advancing science and developing innovative medicines. Biopharmaceutical companies are more focused on the development of biologics, which is the combination of protein, peptides, sugar, and nucleic acids. The large-scale production of these molecules and drugs is directly driving the biopharmaceutical fermentation market. For instance, in 2021, an article titled, "Toward Optimization of the Baculovirus Expression Vector System - Development of Genetic Tools to Improve Biologics Production" quoted that 7 of the top 10 revenue-generating therapeutics in 2020 were biologics, and thus the demand for biological therapeutics is intensifying. Thus increasing the production of these molecules is contributing to the growth of a significant market.
Above mentioned reasons have contributed to the growth of the biopharmaceutical fermentation market. However, the high cost of biopharmaceutical fermentation and its installation may slow down the growth of this market.
Scope of the Report
As per the scope of the report, biopharmaceutical fermentation systems can be defined as the process of incubating microorganisms within an enclosed tank or a fermenter, under controlled conditions of aeration, agitation, temperature, and pH. Bacteria are used as the basis of fermentation processes. The biopharmaceutical fermentation market is segmented by Product Type (Upstream products (Bioreactors and Fermenters, Bioprocess Analyzers, Process Monitoring Systems, and Other Upstream Products), Downstream Products (Filtration and Separation, Chromatography, Consumables, Accessories, and Other Downstream Products), Applications (Antibiotics, Recombinant Proteins, Probiotics, and Other Applications), End-User (Biopharmaceutical Industries, Contract Research Organizations, Academic Research Institutes, and Other End-Users), and Geography (North America, Europe, Asia-Pacific, Middle East, Africa, and South America). The market report also covers the estimated market sizes and trends for 17 countries across major regions globally. The report offers the value (in USD million) for the above segments.
By Product Type

Upstreams Products
Bioreactors/Fermentors
Bioprocess Analyzers
Process Monitoring System
Other Upstream Products

Downstream Products
Filtration and Seperation
Chromatography
Consumables and Acessories
Other Downstream Products
By Application
Antibiotics
Recombinant Proteins
Other Applications
By End-users
Biopharmaceutical Industries
Contract Research Organization
Acedemic Research Institutes
Other End-users
Geography

North America
United States
Canada
Mexico

Europe
Germany
United Kingdom
France
Italy
Spain
Rest of Europe

Asia-Pacific
China
Japan
India
Australia
South Korea
Rest of Asia-Pacific

Middle East and Africa
GCC
South Africa
Rest of Middle East and Africa

South America
Brazil
Argentina
Rest of South America
Key Market Trends
Chromatography systems is expected witness the highest growth over the forecast period
The most driving feature of the chromatography segment is its high efficiency and its advancement to purify a wide range of molecules. Chromatography is also used for detecting complex molecules in very fewer quantities, and its efficiency to manage a large amount of data is the reason why chromatography is preferred over other analytical instruments. The recent chromatography columns are so specific and efficient that they can be used for protein analysis, and testing biopharmaceutical drugs and can even detect genotoxic impurities. Key market players are also involved in marketing strategies like a merger, acquisitions, etc in the segment tracked to gain a competitive edge. For instance, in 2022 Sartorius acquired Novasep's chromatography division. This acquisition comprises Sartorius's expansion for its chromatography systems that are primarily suited for the smaller biomolecules, such as oligonucleotides, peptides, and insulin, as well as innovative systems for the continuous manufacturing of biologics. The wide use of chromatography for the purification of large molecules in the biopharmaceutical fermentation industry has led this segment to dominate the market.
Biopharmaceutical products for purification are mainly dependent on the chromatography method. Considering the efficiency, cost-effectiveness, and ability to purify most of the products, the chromatography segment is highly preferred. In the last decade's high investment in the R&D, sector leads scientists to the development of a new method of medications by using rare compounds, derived from the precise method of extraction and detection of pathogens. Thus, chromatography provides advancement to overcome all these problems and thus leading to its rapid use. Therefore, due to the rapid growth in the chromatography segment, the market is expected to witness significant growth over the forecast period due to the above-mentioned factors.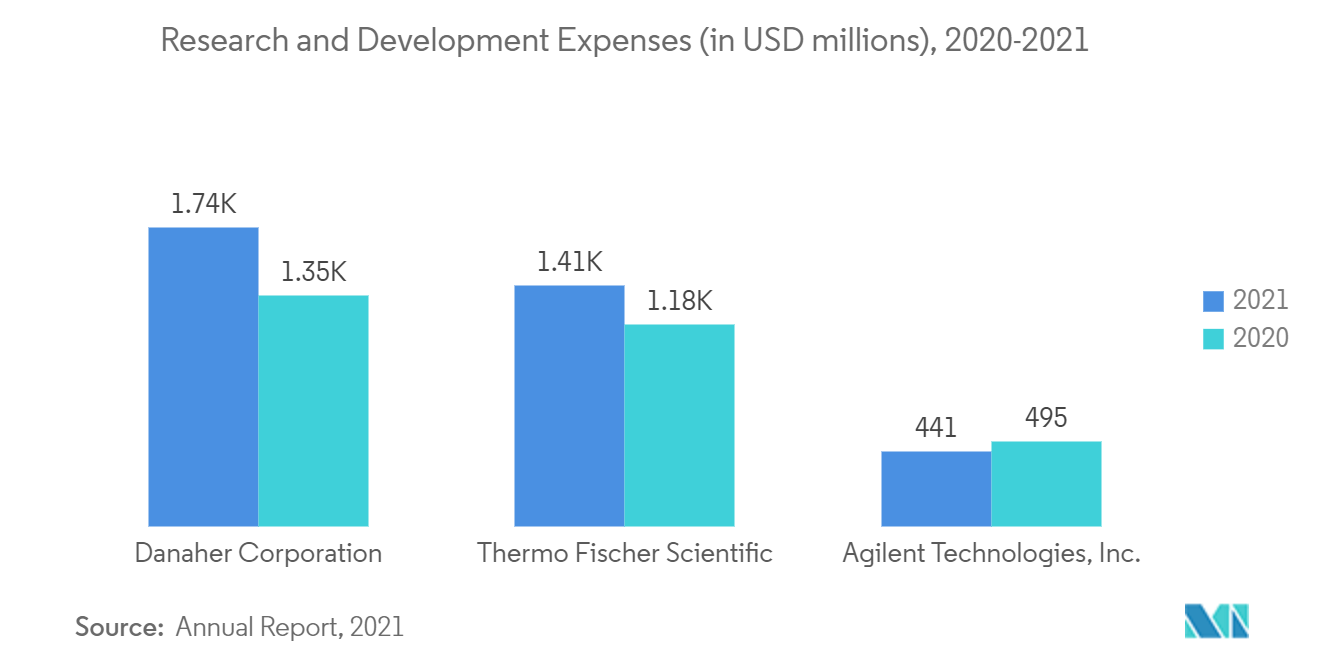 To understand key trends, Download Sample Report
North America is Expected to Dominate the Biopharmaceutical Fermentation Market
North America is projected to hold the largest market share owing to government support for promoting bioprocess technologies, rising medical expenditure, and developed healthcare infrastructure. In addition, the region has witnessed major collaborative activities with healthcare giants that are extensively investing in the R&D of biopharmaceuticals and vaccines. For instance, in May 2022, Agilent Technologies collaborated with App Process Limited, a provider of innovative small molecule and large molecule process design and process development solutions. Both App Process Limited and Agilent Technologies are focused on helping customers in the biopharmaceutical and pharmaceutical industry to improve the human condition and to provide life-changing drugs to market faster and more efficiently. The collaboration between the companies has leveraged their complementary strengths to develop specific workflows, which bridge the gap between the analytical and process solutions.
Apart from that, major biopharmaceutical industry such as Thermo Fischer Scientific, Agilent Technologies, etc. is also driving its growth. These major biopharmaceutical companies are expanding and growing the biopharmaceutical segment in North America. For instance, in December 2020, Thermo Fischer Scientific announced its expansion in North America and other countries for drug manufacturing and commercial manufacturing of some critical medicines, vaccines, and therapies. This expansion led to the addition of 15 (commercial Good Manufacturing Practices) cGMP supporting a wide range of manufacturing capabilities. Additionally, in March 2020, Thermo Fisher Scientific Inc. invested nearly USD 475 million as a biopharma investment in the expansion of biologics, cell and gene therapy, and drug product development and to increase its commercial capabilities globally.
These technologies, expansions, and investments by these global biopharmaceutical companies are driving the biopharmaceutical fermentation market which is driving this market segment to grow significantly in North America.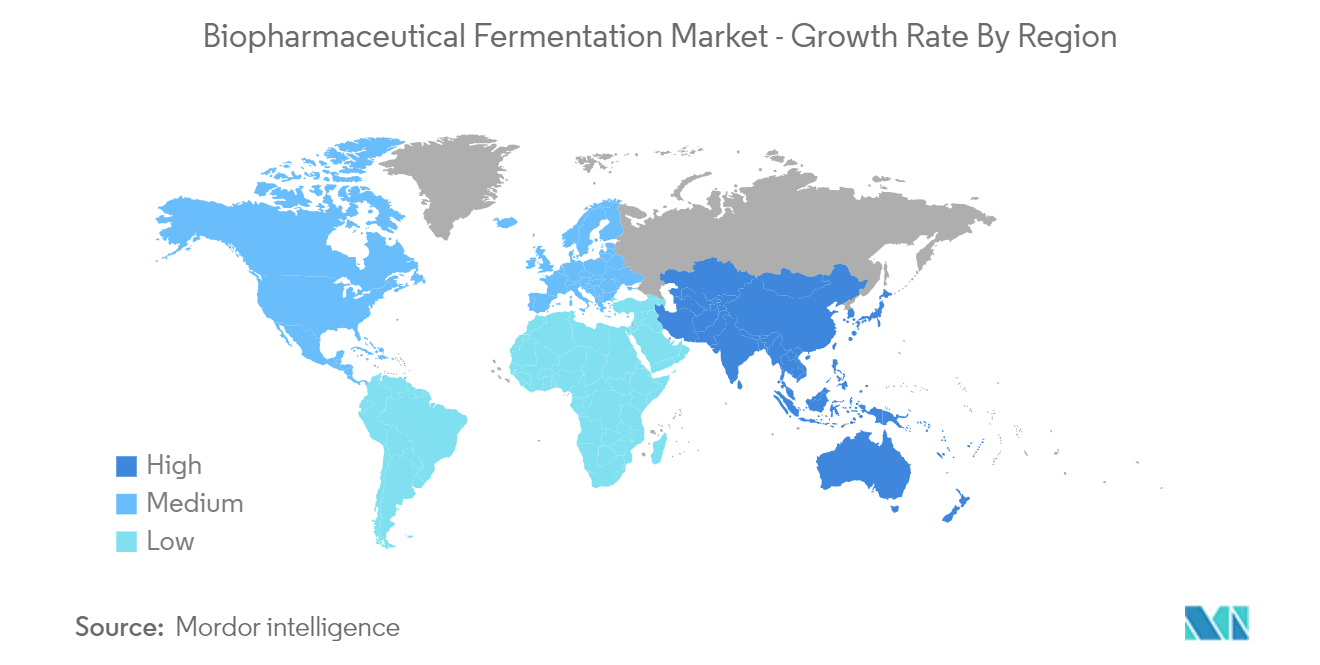 To understand geography trends, Download Sample Report
Competitive Landscape
The biopharmaceutical fermentation market is fragmented in nature due to the presence of several companies operating globally as well as regionally. The competitive landscape includes an analysis of a few international as well as local companies which hold the market shares including GE Healthcare, Thermo Fisher Scientific Inc., Danaher Corporation, Sartorius Stedim Biotech, Merck KGaA, Eppendorf AG, F. Hoffmann-La Roche Ltd., Nova Biomedicals, Lonza, Becton, Dickinson, and Company.
Competitive landscape covers-Business overview, Finanacials, Products and strategies and recent Development.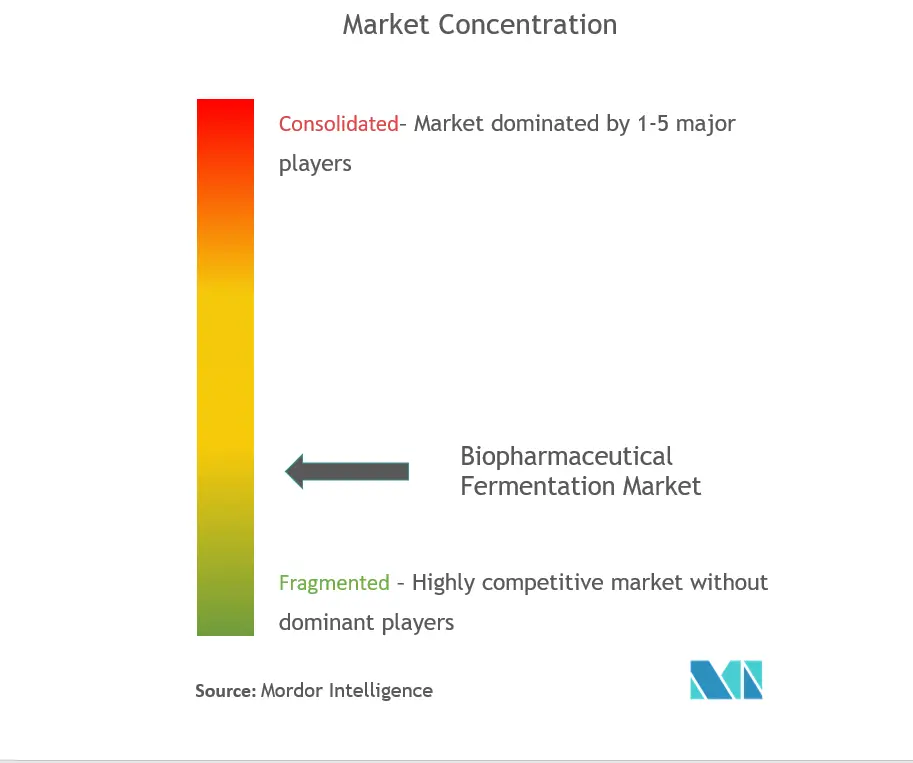 Recent Development
In February 2021, Rentschler Biopharma; Germany-based contract development and manufacturing organization (CDMO) announced to start commercial manufacture, formulation, and downstream processing of CVnCoV COVID-19 candidate vaccine by CureVac. Similarly, Bayer also announced to manufacture 160 million doses of CVnCoV in 2022.
In April 2021, Chr. Hansen has launched (discriminant analysis) "Fresh DA", a food culture selected which is used to enhance the fermentation of products, this will prolong the life of these products by delaying the growth of yeasts and molds, as fermented plant-based products are becoming increasingly popular thus preventing spoilage.
Table of Contents
1. INTRODUCTION

1.1 Study Assumptions and Market Definition

1.2 Scope of the Study

2. RESEARCH METHODOLOGY

3. EXECUTIVE SUMMARY

4. MARKET DYNAMICS

4.1 Market Overview

4.2 Market Drivers

4.2.1 Increasing the demand for biotech based drugs

4.2.2 Rising research and development activities to produce novel biological drugs

4.3 Market Restraints

4.3.1 High Cost of Biopharmaceutical fermentation and its installation

4.4 Porter's Five Force Analysis

4.4.1 Threat of New Entrants

4.4.2 Bargaining Power of Buyers/Consumers

4.4.3 Bargaining Power of Suppliers

4.4.4 Threat of Substitute Products

4.4.5 Intensity of Competitive Rivalry

5. MARKET SEGMENTATION (Market Size by Value - USD million)

5.1 By Product Type

5.1.1 Upstreams Products

5.1.1.1 Bioreactors/Fermentors

5.1.1.2 Bioprocess Analyzers

5.1.1.3 Process Monitoring System

5.1.1.4 Other Upstream Products

5.1.2 Downstream Products

5.1.2.1 Filtration and Seperation

5.1.2.2 Chromatography

5.1.2.3 Consumables and Acessories

5.1.2.4 Other Downstream Products

5.2 By Application

5.2.1 Antibiotics

5.2.2 Recombinant Proteins

5.2.3 Other Applications

5.3 By End-users

5.3.1 Biopharmaceutical Industries

5.3.2 Contract Research Organization

5.3.3 Acedemic Research Institutes

5.3.4 Other End-users

5.4 Geography

5.4.1 North America

5.4.1.1 United States

5.4.1.2 Canada

5.4.1.3 Mexico

5.4.2 Europe

5.4.2.1 Germany

5.4.2.2 United Kingdom

5.4.2.3 France

5.4.2.4 Italy

5.4.2.5 Spain

5.4.2.6 Rest of Europe

5.4.3 Asia-Pacific

5.4.3.1 China

5.4.3.2 Japan

5.4.3.3 India

5.4.3.4 Australia

5.4.3.5 South Korea

5.4.3.6 Rest of Asia-Pacific

5.4.4 Middle East and Africa

5.4.4.1 GCC

5.4.4.2 South Africa

5.4.4.3 Rest of Middle East and Africa

5.4.5 South America

5.4.5.1 Brazil

5.4.5.2 Argentina

5.4.5.3 Rest of South America

6. COMPETITIVE LANDSCAPE

6.1 Company Profiles

6.1.1 Agilent Technologies

6.1.2 Thermo Fisher Scientific Inc.

6.1.3 Lonza Group AG

6.1.4 Sartorius Stedim Biotech

6.1.5 Eppendorf AG

6.1.6 Danaher Corporation

6.1.7 F. Hoffmann-La Roche Ltd.

6.1.8 Nova Biomedicals

6.1.9 Merck KGaA

6.1.10 Becton, Dickinson and Company

*List Not Exhaustive

7. MARKET OPPORTUNITIES AND FUTURE TRENDS
**Subject to Availability
**Competitive landscape covers a Business Overview, Financials, Products and strategies, and recent Development.
You can also purchase parts of this report. Do you want to check out a section wise price list?
Frequently Asked Questions
What is the study period of this market?
The Global Biopharmaceutical Fermentation Market market is studied from 2019 - 2027.
What is the growth rate of Global Biopharmaceutical Fermentation Market?
The Global Biopharmaceutical Fermentation Market is growing at a CAGR of 5.8% over the next 5 years.
Which region has highest growth rate in Global Biopharmaceutical Fermentation Market?
Asia-Pacific is growing at the highest CAGR over 2021- 2026.
Which region has largest share in Global Biopharmaceutical Fermentation Market?
North America holds highest share in 2021.
Who are the key players in Global Biopharmaceutical Fermentation Market?
Thermo Fisher Scientific , Eppendorf, Lonza, Sartorius, Agilent technology are the major companies operating in Global Biopharmaceutical Fermentation Market.
80%

of our clients seek made-to-order reports. How do you want us to tailor yours?