The global big data analytics in banking market was valued at USD 7.19 billion in 2017, and is expected to reach a value of USD 14.83 million by 2023, at a CAGR of 12.97 %, during the forecast period (2018 - 2023). The scope of the report is limited to applications in banking, such as Fraud Detection and Management, Operation Intelligence, Customer Analytics, Social Media Analytics, Feedback Management. While the type of deployments in the scope of the report include on premise, and Cloud.
Big data analytics has gradually emerged to be the most prominent collective phenomena in the early 21st century. The banking analytics tools enable them to translate hordes of consumer data into actionable Insights. Information analytical tools will play a pivotal role in the near future as they have the ability to help companies stay well informed of the banking trends, with the applications, like customer analytics, which can interpret and uncover meaningful data insights. Moreover, Big Data analytics is also enhancing the efficiency of the Customer Relationship Management (CRM) systems, and in addition, it can support strategies for increasing the revenue and customer lifetime value, prospect engagement, conversion rates, and manage many other enterprise-driven metrics.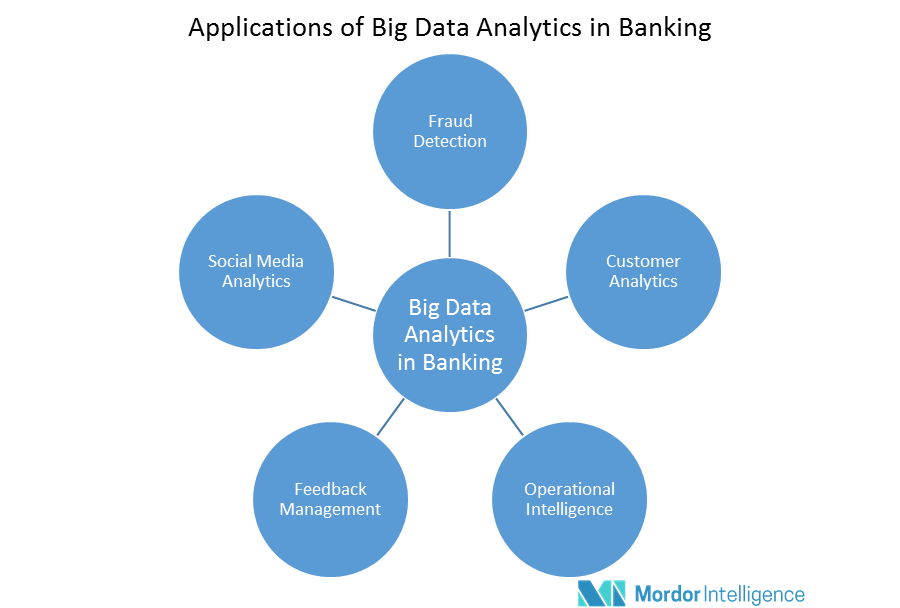 Emphasis on Analytics drives the Growth for Big Data Analytics in the Domain
There has been an unprecedented explosion of data in the BFSI industry, which can be turned into actionable insights if analysed. Additional factors, such as depleting operational efficiency and the increasing operational costs along with the ability to predict the outcome of a particular event have all emphasized on the need for big data analytics. The use of analytics by many banks are already underway such that data driven decisions are further expected to improve the customer relationship and experience in turn contribution to sales for the banks.
Such analytics insights obtained are useful for various applications, such as Fraud detection, application screening, which emphasizes the need for accurate variables in case of predictive analytics. This further helps in optimizing the target selection various activities, such as loan selection and business to invest in etc. one of the most primary function of such analytics tools is fraud detection, as many of the banking industries primary concern is fraud, big data analytics helps in judging the chances of fraud for a particular person.
Customer Analytics is expected to be One of the Prime Software Application
A number of categories, such as defecting customers, loyal customers etc. can be identified through big data analytics and the required reward for each category can be decided. Through such applications, the retention of customers is possible, and the detection of disloyal customers helps the company to reduce the focus on such customers. The buying habits of customers can also be identified, and the sales for each customer can be customized. This customization results in the high response rate for customers and better customer experienced.
Maintaining records of customers who tend to default and those who pay instalments on time can also be done, which helps in easing the process. It has also been reported that the banks adoption of predictive analytics has aided in the growth of customer opportunities by about 10% per year.
APAC is expected to have High Adoption Rate Owing to Large Potential
Rapid technological developments in the information technology sector and increasing business operations mark Asia-Pacific (APAC) as the most important market for Big Data in banking during the forecast period. The biggest contributors to this market are China and India that account for most of the revenue in the APAC region. Many organizations in the APAC region are increasingly depending on digital systems to realize their goals. Several vendors, such as SAP and IBM provide wide -range of Big Data analytics services to banks in the region. Some of the core capabilities of these services include real-time monitoring, big cloud services, and other customized dashboards for easier retrieval of data, to ease the workflows. These tools enable organizations for on-the-resource planning and offer modified plans to aid decision-making.
Key Developments in the Market
November 2017 - IBM, Packet Clearinghouse (PCH), and The Global Cyber Alliance (GCA) launched a free service designed to give consumers, and businesses added privacy and security protection as they access the internet. The new Quad 9 Domain Name System (DNS) service helps protect users from accessing millions of malicious internet sites known to steal personal information, infect users with ransom ware and malware, or conduct fraudulent activity
May 2017 - SAP SE released 'SAP Anywhere', which is a cloud-based, mobile-friendly solution specifically designed for businesses with less than USD10 million in sales. It enables small businesses to sell wholesale or retail, B2B or B2C
Major Players: SAP SE, Oracle Corporation, IBM Corporation, Alteryx, Inc, Aspire systems, ZestFinance, Adobe Systems Incorporated, Microstrategy, Inc., Hexanika and PeerIQ, amongst others.
Reasons to Purchase this Report
Growing emphasis on analytics acts as a driver to the global big data analytics in banking market scenario
Analyzing various perspectives of the market with the help of Porter's five forces analysis
The type of Application that is expected to dominate the market is analyzed in detail
The regions that are expected to witness fastest growth during the forecast period are analyzed and estimated for growth
Identify the latest developments, market shares, and strategies employed by the major market players
3-month analyst support, along with the Market Estimate sheet in excel
Customization of the Report
This report can be customized to meet your requirements. Please connect with our representative, who will ensure you get a report that suits your needs
1. Introduction
1.1 Key Study Deliverables
1.2 Market Definition
1.3 Study Assumptions
2. Research Methodology
3. Executive Summary
4. Market Insights
4.1 Market Overview
4.2 Industry Value Chain Analysis
4.3 Indusrty Attractiveness- Porter'S Five Forces Analysis
4.3.1 Threat of New Entrants
4.3.2 Bargaining Power of Suppliers
4.3.3 Bargaining Power of Consumers
4.3.4 Threat of Substitute Products
4.3.5 Intensity of Competitive Rivalry
4.4 Industry Policies
5. Market Dynamics
5.1 Market Drivers
5.1.1 Increased Emphasis on Predictive Analysis
5.1.2 Convergence of Internet of Things (IoT) and Big Data
5.2 Market Restraints
5.2.1 Lack of General Awareness and Expertise in Emerging Regions
5.2.2 Non-uniformity of Data
6. Technology Snapshot
7. Global Big Data Analytics in Banking Market Segmentation
7.1 By Type of Deployment
7.1.1 On Premise
7.1.2 Cloud
7.2 By Application
7.2.1 Fraud Detection and Management
7.2.2 Operation Intelligence
7.2.3 Customer Analytics
7.2.4 Social Media Analytics
7.2.5 Feedback Management
7.2.6 Others
7.3 By Geography
7.3.1 North America
7.3.2 Europe
7.3.3 Asia Pacific
7.3.4 Latin America
7.3.5 Middle East & Africa
8. Vendor Market Share
9. Key Vendor Profiles
9.1 SAP SE
9.2 Oracle Corporation
9.3 IBM Corporation
9.4 Alteryx, Inc
9.5 Aspire systems
9.6 ZestFinance
9.7 Adobe Systems Incorporated
9.8 Microstrategy, Inc.
9.9 Hexanika
9.10 PeerIQ
*List not Exhasutive
10. Investment Analysis
10.1 Recent Mergers And Acquisitions
10.2 Investment Scenario And Opportunities
11. Future Of Big Data Analaytics in Banking Market