Market Insight
Snack bars are nutritious and can be consumed quickly. This makes them suitable for quick breakfast, lunch, and as snacks between meals. Therefore, due to the increasing popularity of the snack bar market in Asia-Pacific is expected to register a CAGR of 5.8% during the forecast period of 2018-2023.
Snack Bars are Healthy Alternatives
Due to change in life style and increase in disposable income, both of which result in increasing the inclination of customers toward new healthy and quick snacking options, Asia-Pacific is considered to be the fastest growing market for snack bars. Yet, in many regions, it is still considered a niche product. In addition, less awareness of the product decreases its buying capacity. However, with the changing scenario and increasing western influence, share of the snack bar industry in Asia-Pacific is bound to increase by the end of the forecast period. Many popular snack foods, such as chips, candy, and snack mixes are high in calories, fat, and excess sugar. Snack bars are healthy alternatives that are convenient to grab on the go, in addition to being nutrient dense, providing vitamins, minerals, and energy to the body.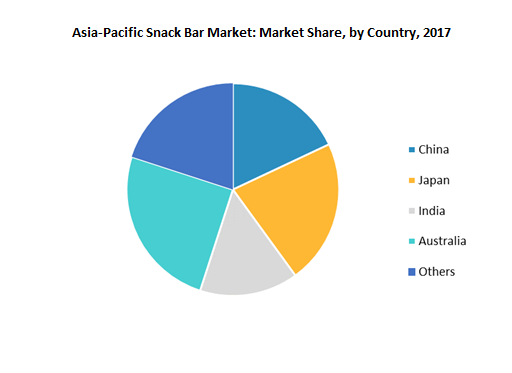 Convenient Snacking is the New Trend
Australia, India, Japan, and China are the major regions of Asia-Pacific in the snack bar market, where snack bars are considered as the most convenient snacking items. In Australia, the snack bar market is witnessing a shift toward more wholesome product offerings, as consumers have become increasingly concerned about the negative health aspects associated with conventional snack bars. There is a significant demand for natural healthy snacks, such as granola/muesli bars, as they are perceived as being a more natural alternative traditional snack bars. In Japan, the convenience of snack bars meets the needs of an increasing number of Japanese consumers who lead busy lifestyles, and are looking for quick solutions for their diets. Snack bars continued to have low sales only in China, mainly due to limited product awareness. However, China is expected to witness exponential growth in the future. The concept of snack bars is still relatively new in India, as consumers do not purchase these for breakfast purposes, but rather as a healthier version of a chocolate bar. As cereal bars contain nutrients like proteins and fiber, the rise in health consciousness among the consumers supports the growth of snack bar market in Asia-Pacific as a whole.
Key Developments
November 15, 2017- China and India key are the targets of BioFoodLab, an all-natural Russian snack bar firm. BioFoodLab, a Russian snack bar firm, unveiled plans to expand in Asia-Pacific, with China and India identified as the two key priorities. BioFoodLab manufactures snack bars that are free of genetically-modified organisms (GMOs), gluten, milk, soy, sugar, preservatives, dyes, flavors, and emulsifiers. All snacks of the company are produced at their own factory in Moscow, Russia. They have developed a novel technology for processing raw fruit and nut ingredients, which allows the company to preserve all the nutrients without adding chemical ingredients.
2017- Calbee extends granola production to capture the growing health-conscious consumers in Asia-Pacific. Calbee, the Japanese cereal giant, increased its granola production capacity by 40%, to capitalize on the growing health-consciousness trend in Asia. The company is investing USD 67 million in another production facility for Frugra fruit granola cereal, in the Kyoto Prefecture on the island of Honshu.
Fragmented Market with the Existence of Various Players
There are various companies in the snack bar market that offer various products. However, the market is fragmented, and different companies capture different regions in Asia-Pacific. Nestlé Australia Ltd was the leading company in snack bars in 2015, due to the dominant position of the iconic Uncle Toby's brand, which, for most Australians, is synonymous with snack bars. VV Group is the dominant player in China for snack bars, and accounted for over 77% retail value share in 2015. Otsuka Holdings continued to lead the snack bar market in Japan in 2015, with a retail value share of 36%, due to the strong presence of the company's brands Calorie Mate and Soy Joy. Naturell India Pvt. Ltd maintained its leading position in the snack bar market in India in 2015, with 68% value share.
The major key players include –Kellogg, General Mills, Natural Valley, Kind, Fiber One, Clif, Nakd Foods and Luna Bar amongst others.
Reasons to Purchase the Report
Analyzing outlook of the market with the recent trends and Porter's five forces analysis
Market dynamics, which essentially consider the factors that are impelling the present market scenario, along with growth opportunities of the market in the years to come
Market segmentation analysis including qualitative and quantitative research incorporating the impact of economic and non-economic aspects
Regional and country-level analysis integrating the demand and supply forces that are influencing the growth of the market
Competitive landscape involving the market shares of major players along with the key strategies adopted for development in the past five years
Comprehensive company profiles covering the product offerings, key financial information, recent developments, SWOT analysis, and strategies employed by the major market players
3 month analyst support, along with the Market Estimates sheet (in excel)
Customization of the Report
This report can be customized to meet your requirements. Please connect with our analyst, who will ensure you get a report that suits your needs.