The Asia-Pacific protective coating market is estimated to be valued at USD 8.01 billion in 2017. China is expected to hold the largest share of the market in terms of revenue due to the expansion activities pertaining to oil and gas. Infrastructure holds the largest share of the market and is also expected to be the fastest growing end-use application
Increasing Infrastructure Activities Set to Propel Growth of the Market in the Region
Infrastructure coatings account for the largest share of the market in the region, accounting for about 45% of the share in terms of revenue in 2017. China accounts for the largest share in the infrastructure coating segment and is closely followed by India and Japan. The infrastructure sector in China grew at 7% during 2016-2017. Moreover, the infrastructure industry of India and Japan also grew at significant rate. All these factors indicate healthy growth for the protective coatings industry in the region.
Epoxy Accounts for the Largest Share of the Resin Type During the Forecast Period
The epoxy resin type market is estimated to be valued at USD 1.7 billion in 2017 and is also expected to be the fastest growing resin type. Epoxy resins majorly find application in the oil and gas sector and infrastructure coating segment. Thus, the growth of the resin type is closely linked with the increasing infrastructure activities and the improving oil and gas sector in the region. Epoxy coatings are generally used in conjunction with powder coatings, thus maintaining the no-VOC emission policy, which can help further boost the growth of the market.
China is Expected to Dominate the Region During the Forecast Period
China's growth in the protective coatings sector is mainly attributed to the growing infrastructure industry and expansion plans for oil and gas sector. In 2017, China solely accounted for roughly 70% of the total market in APAC. Oil and gas coatings will see a boost due to the expansion plans of major companies such as SINOPEC and CNCP. Moreover, China is a global leader in infrastructure investments and has a significant number of projects in the pipeline. These factors will help in the healthy growth of the market in the region.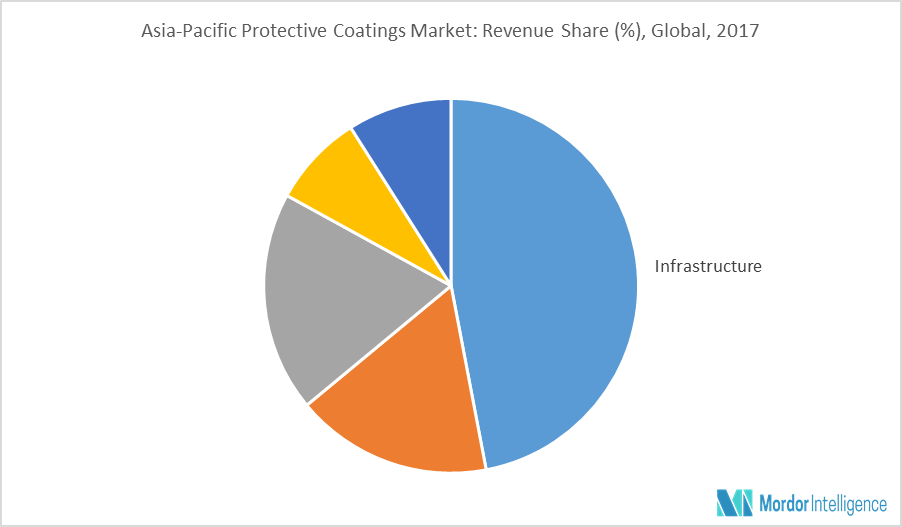 Notable Developments in the Market
February 2017: Major Chinese industrial coating players, including Jotun, have announced price increase for their industrial /protective coating products
Major Players: PPG Industries, Akzo Nobel N.V., and Jotun A/S, among others.
Reasons to Purchase the Report
To understand the impact of increasing stringent regulations on the market
Analyzing various perspectives of the market with the help of Porter's five forces analysis
To understand the dominating technology in the market
Countries expected to witness the fastest growth during the forecast period
Identify the latest developments, market shares, and strategies employed by the major market players
3 month analyst support, along with the Market Estimate sheet (in Excel)
Customization of the Report
This report can be customized to meet your requirements. Please connect with our representative, who will ensure you to get a report that suits your needs.