The Asia-Pacific hospital supplies market is expected to witness a CAGR of 12.5%, during the forecast period. There is swift growth in the China hospital industry due to the stable advancement of the health care reform and due to the constant increase in the demand stimulus.
High Demand for Supplies and Other Healthcare Facilities in Developing Countries
In the Asia Pacific, India has the lowest hospital number of the bed density figures among the major countries. A high, and unmet needs for the hospital supplies, like mobility aids & transportation equipment, sterilization & disinfectant equipment and patient examination devices has a demand, which exists in these developing countries. Hence, the shortage of the hospital supplies is generating a huge demand in the market, which is expected to boost the market globally.
The other factors include growing population with lifestyle diseases, government investment in developing hospital infrastructure and the projected robust healthcare infrastructure growth.
Emergence of Home Care Services acts as a barrier for Hospital Supplies Market
The global home healthcare market was almost USD 215 billion in 2013 and is projected to grow at 8% per annum until 2020. Due to this high growth in the market, many of the healthcare organizations are now partnering with the traditional home healthcare services, or are setting up their own home healthcare services to reduce the procedure and post-procedure costs for the patients. Thus, the increase in the usage of home healthcare services, and availability of reimbursement in the developing countries are acting as a huge barrier for hospital supplies market.
The other factors include the high dependency on imports, stringent regulatory framework and capital-intensive nature of healthcare sector.
China is Expected to Grow in the Coming Future
The Asia-Pacific region is projected to grow in the upcoming future, due to the unprecedented rate of population growth in Asia-Pacific. There is rapid growth observed in China due to the stable advancement of health care reform and due to the constant increase in demand stimulus.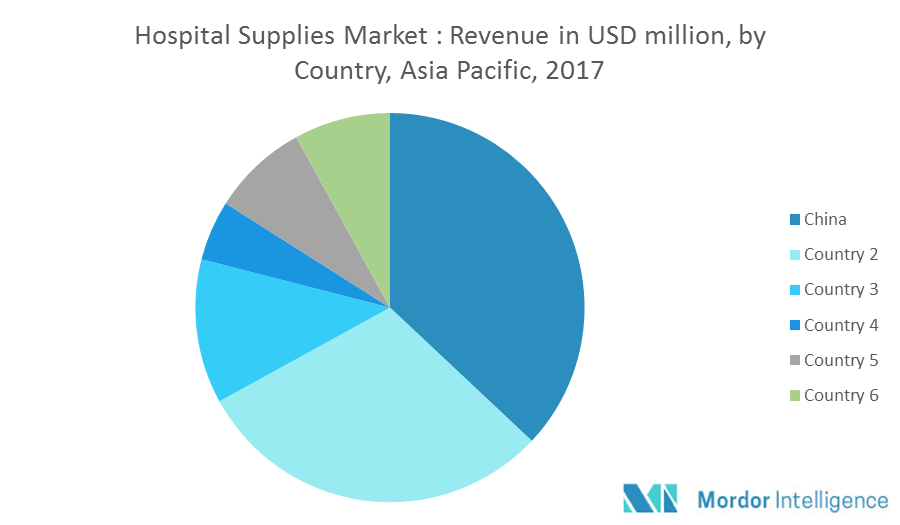 Key Developments in the Market
The major players includes- GE Healthcare, Thermo Fischer and Scientific, Kimberly-Clark Corporation, Advanced Sterilization Products Services, Boston Scientific Group, 3M Healthcare, Becton Dickinson, Johnson & Johnson and Smith & Nephew, among others.
Reasons to Purchase this Report
Current and future Asia-Pacific hospital supplies market outlook in the developed and emerging markets
Analyzing various perspectives of the market with the help of Porter's five forces analysis
The segment that is expected to dominate the market
Regions that are expected to witness fastest growth during the forecast period
Identify the latest developments, market shares, and strategies employed by the major market players
3-month analyst support, along with the Market Estimate sheet (in excel)
Customization of the Report
This report can be customized to meet your requirements. Please connect with our representative, who will ensure you get a report that suits your needs
1. Introduction
1.1 Market Definition
2. Research Methodology
3. Executive Summary
4. Key Inferences
5. Market Overview
5.1 Current Market Scenario
5.2 Porter's Five Forces Analysis
5.2.1 Bargaining Power of Suppliers
5.2.2 Bargaining Power of Consumers
5.2.3 Threat of New Entrants
5.2.4 Threat of Substitute Product and Services
5.2.5 Competitive Rivalry Within the Industry
6. Drivers, Restraints, Opportunities, and Challenges Analysis (DROC)
6.1 Market Drivers
6.1.1 Growing Population with Lifestyle Diseases
6.1.2 Government Investment in Developing Hospital Infrastructure
6.1.3 Projected Robust Healthcare Infrastructure Growth
6.1.4 High Demand for Supplies and Other Healthcare Facilities in Developing Countries
6.2 Market Restraints
6.2.1 Emergence of Home Care Services
6.2.2 High Dependency on Imports
6.2.3 Stringent Regulatory Framework
6.2.4 Capital Intensive Nature of Healthcare Sector
6.3 Opportunities
6.4 Key Challenges
7. Market Segmentation
7.1 By Type
7.1.1 Patient Examination Devices
7.1.2 Operating Room Equipment
7.1.3 Mobility Aids & Transportation Equipment
7.1.4 Sterilization & Disinfectant Equipment
7.1.4.1 Steam Autoclave
7.1.4.2 Dry Sterilizer
7.1.4.3 Others
7.1.5 Disposable Hospital Supplies
7.1.5.1 Medical Gloves
7.1.5.2 Surgical Gowns
7.1.5.3 Others
7.1.6 Syringes & Needles
7.1.7 Reusable Hospital Garments
7.1.7.1 Bedsheets
7.1.7.2 Patient Gowns
7.1.7.3 Stretcher and Trolley Covers
7.1.7.4 Doctors Apron/Lab Coat
7.1.7.5 Others
7.2 By Geography
7.2.1 Asia-Pacific
7.2.1.1 China
7.2.1.2 Japan
7.2.1.3 India
7.2.1.4 Australia & New Zealand
7.2.1.5 South Korea
7.2.1.6 Rest of Asia-Pacific
8. Competitive Landscape
8.1 Mergers & Acquisition Analysis
8.2 Agreements, Collaborations, and Partnerships
8.3 New Products Launches
9. Key Players
9.1 3M Healthcare
9.2 Advanced Sterilization Products Services
9.3 Becton Dickinson
9.4 Boston Scientific Group
9.5 GE Healthcare
9.6 Johnson & Johnson
9.7 Kimberly-Clark Corporation
9.8 Smith & Nephew
9.9 Thermo Fischer and Scientific
* List Not Exhaustive
10. Future of The Market