The Asia-Pacific Guar Market is estimated to register a moderate CAGR during the forecast period. India and Pakistan are the only major producers and exporters of guar in the Asia-Pacific region.
Guar seeds which are also called cluster beans are annual legumes and are the source of guar gum. Guar seed does not have much use other than cattle feed. Guar seeds are dehusked, milled, and screened to obtain the guar gum. Guar gum, because of its chemical properties, is used in several industries. Some of the major uses include hydraulic fracturing for shale oil/gas exploration, textile, cosmetics & pharmaceuticals, paper, explosives, and food industry. The other derivatives of guar seed, like Korma and Churi, are used in the cattle-feed industry because of their rich protein content. India and Pakistan are the only major producers as well as exporters of guar in the Asia-Pacific region.
Health Benefits Related to Guar are Driving the Market
Guar bean is high in proteins and low in calories, it is also rich in vitamin C, vitamin K, vitamin A, manganese, iron, potassium, and other dietary fibers. It has several health benefits and is useful for weight loss and diabetes treatment. They are an important source of guar gum which constitutes 75% dietary fiber. Owing to such high number of health benefits, guar is the most widely used general purpose thickener and texture modifier in the food industry.
India: The Leading Guar Producer
India is the largest producer of guar and contributes approximately 80% of the aggregate guar and guar gum production worldwide. The area harvested for guar in India has not changed much in the past 10 years, however, the production has increased significantly due to a higher productivity. The state of Rajasthan is a significant producer of guar in India. The state delivers over 70% of the aggregate guar seed produced in the nation. Haryana is the second-biggest guar producing state in India, it contributes around 16% of the aggregate guar seed generation. China and Germany are the other major importers of guar gum, apart from India, with more than 32.3 thousand metric ton and 12.1 thousand metric ton, respectively, which accounts for 7.8% and 2.9% of the total guar gum export from India.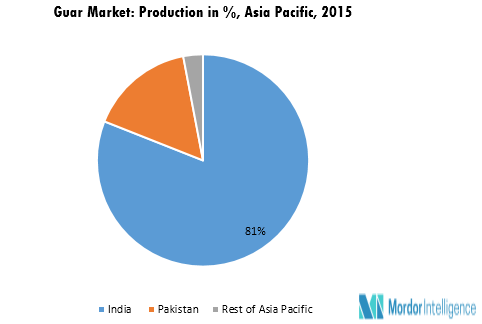 Reasons to Purchase the Report
Identify the dominating and the fastest growing regions in the Asia-Pacific guar market and their growth trends during the forecast period
The report outlines production, consumption, import and export analysis, and price trend for the market
3-month analyst support, along with the Market Estimate sheet (in Excel)
Customization of the Report
This report can be customized to meet your requirements. Please connect with our representative, who will ensure you get a report that suits your needs.
1. Introduction
1.1 Market Definition
1.2 Key Findings of the Study
2. Research Scope and Methodology
2.1 Study Deliverables
2.2 Study Assumptions
2.3 Research Methodology
2.4 Research Phases
3. Market Dynamics
3.1 Drivers
3.1.1 Growing Demand for Guar Derivative - Korma and Churi for Cattle Feed
3.1.2 Growing Demand in industries like Oil & Gas, Pharmaceuticals, and Cosmetics
3.2 Restraints
3.2.1 High Price Fluctuations for the Crop due to Limited Number of Producers
4. Market Segmentation by Geography
4.1 India
4.1.1 Production Analysis
4.1.2 Consumption Analysis, Market Value and Price Trend
4.1.3 Import Market Analysis (Volume and Value)
4.1.4 Export Market Analysis (Volume and Value)
4.2 Pakistan
4.2.1 Production Analysis
4.2.2 Consumption Analysis, Market Value and Price Trend
4.2.3 Import Market Analysis (Volume and Value)
4.2.4 Export Market Analysis (Volume and Value)
4.3 China
4.3.1 Production Analysis
4.3.2 Consumption Analysis, Market Value and Price Trend
4.3.3 Import Market Analysis (Volume and Value)
4.3.4 Export Market Analysis (Volume and Value)
4.4 Japan
4.4.1 Production Analysis
4.4.2 Consumption Analysis, Market Value and Price Trend
4.4.3 Import Market Analysis (Volume and Value)
4.4.4 Export Market Analysis (Volume and Value)
4.5 Australia
4.5.1 Production Analysis
4.5.2 Consumption Analysis, Market Value and Price Trend
4.5.3 Import Market Analysis (Volume and Value)
4.5.4 Export Market Analysis (Volume and Value)
5. Future Outlook of the Market
6. Appendix
7. Disclaimer