The global acetalhyde market is expected to witness a CAGR of approximately 3.5% during the forecast period, majorly driven by the growing demand for pyridlines in the Asia-Pacific region and the increasing demand for pentaerythritol to produce neopolyolesters.
Rising Demand for Pentaerythritol
The demand for pentaerythritol from various end-use applications including pesticide, pharmaceutical, resin, paints & coatings has been increasing continuously. However, the overall demand for acetaldehyde has witnessed a hindrance due to N-Butyraldehyde (used in the production of plasticizer alcohols), which was earlier produced from acetaldehyde, is now being generated from propylene.
Pyridline Dominates the Market
Pyridline accounted for the largest share by raw material in 2017. It is also one of the fastest growing segments, because pyridine and its bases are important raw materials in the production of agricultural chemicals. This has led to a significant rise in demand for pyridline, which in turn has benefitted the market for acetaldehyde. Additionally, with the increasing demand for pesticides, fertilizers, and insecticides, demand for acetaldehyde from agricultural chemicals segment is expected to further rise during the forecast period.
Asia-Pacific is the Largest Consumer
In terms of consumption, in 2017, China dominated the market in both the Asia-Pacific region and globally, accounting for approximately 46% of the market. The demand for and consumption of pyridines and pentaerythritol have increased rapidly over past few years, owing to growing downstream demand for pesticides, pharmaceuticals, and alkyd resin paints and coatings. Additionally, India is the second largest consumer of acetaldehyde globally. The country has been developing and growing rapidly in recent years. The prime reason for the market growth is the accelerating usage of pyridines, making Asia-Pacific the largest consumer in the world.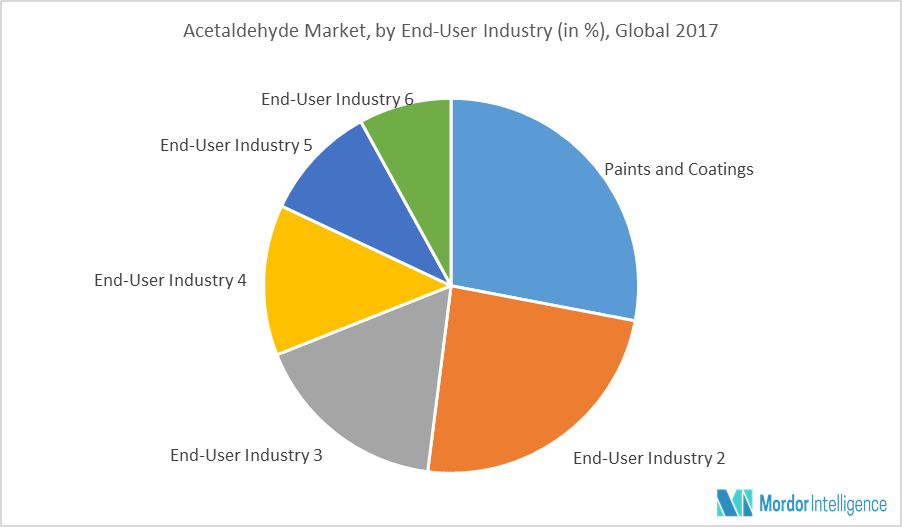 Key Developments in the Market
February 2017: BASF launches new polyol grade to reduce VOCs inside cars.
The major players include – BASF SE, Celanese Corporation, Eastman Chemical Company, Huntsman Corporation, and LCY Group, among others.
Reason to Purchase the Report
Analyzing various perspectives of the market with the help of Porter's five forces analysis
To understand the dominating process type and filler used in the market
Countries expected to witness the fastest growth during the forecast period
Identify the latest developments, market shares, and strategies employed by the major market players
3 month analyst support, along with the Market Estimate sheet (in Excel)
Customization of the Report
This report can be customized to meet your requirements. Please connect with our analyst, who will ensure you get a report that suits your needs.
1. Introduction
1.1 Research Phases
1.2 Study Deliverables
1.3 Scope of the Report
2. Executive Summary
3. Market Insights
3.1 Industry Value Chain Analysis
3.2 Industry Attractiveness – Porter's Five Forces Analysis
3.2.1 Bargaining Power of Suppliers
3.2.2 Bargaining Power of Consumers
3.2.3 Threat of New Entrants
3.2.4 Threat of Substitute Products and Services
3.2.5 Degree of Competition
3.3 Feedstock Analysis
3.3.1 Global Capacity by Key Feedstock
3.3.2 Trends
3.4 Technological Snapshot
3.4.1 Production Process
3.4.2 Technology Licensing
3.5 Patent Analysis
3.6 Trade Analysis
3.7 Price Index
3.8 Supply Scenario
3.8.1 Capacity and Production Analysis
3.9 Upcoming Projects & Capital Expenditure
3.10 Regulatory Policy Analysis
4. Market Dynamics
4.1 Drivers
4.1.1 Growing Demand for Pyridines in Asia-Pacific
4.1.2 Rising Demand for Pentaerythritol to Produce Neopolyol Esters
4.2 Restraints
4.2.1 Replacement of Acetaldehyde by Methanol in the Production of Acetic Acid
4.2.2 Replacement of Acetaldehyde by Propylene in the Production of Butyraldehyde
4.2.3 Carcinogenic and Hazardous Effects of Acetaldehyde
4.3 Opportunity
4.3.1 New-found Usage in Butadiene Production
4.3.2 Others
5. Market Segmentation and Analysis (Market Size, Share, and Forecast)
5.1 By Raw Materials
5.1.1 Pyridine and Pyridine Bases
5.1.2 Pentaerythritol
5.1.3 Acetic Acid
5.1.4 Acetate Esters
5.1.5 Butylene Glycol
5.1.6 Others
5.2 By End-user Applications
5.2.1 Adhesives
5.2.2 Resins
5.2.3 Food and Beverage
5.2.4 Paints & Coatings
5.2.5 Pharmaceuticals
5.2.6 Others
6. Regional Market Analysis (Market Size, Share, and Forecast)
6.1 Asia-Pacific
6.1.1 China
6.1.2 India
6.1.3 Japan
6.1.4 South Korea
6.1.5 ASEAN Countries
6.1.6 Rest of Asia-Pacific
6.2 North America
6.2.1 US
6.2.2 Canada
6.2.3 Mexico
6.2.4 Rest of North America
6.3 Europe
6.3.1 Germany
6.3.2 UK
6.3.3 Italy
6.3.4 France
6.3.5 Russia
6.3.6 Rest of Europe
6.4 South America
6.4.1 Brazil
6.4.2 Argentina
6.4.3 Rest of South America
6.5 Middle East & Africa
6.5.1 Saudi Arabia
6.5.2 South Africa
6.5.3 Rest of Middle East & Africa
7. Future of the Market
8. Competitive Landscape
8.1 Mergers & Acquisitions, Joint Ventures, Collaborations, and Agreements
8.2 Market Share Analysis**
8.3 Strategies Adopted by Leading Players
9. Company Profiles (Overview, Financials**, Products & Services, Recent Developments, and Analyst View)
9.1 Ashok Alco-chem Limited
9.2 BASF SE
9.3 Celanese Corporation
9.4 Eastman Chemical Company
9.5 Huntsman Corporation
9.6 Jubilant Life Sciences
9.7 Laxmi Organic Industries Ltd
9.8 LCY Group
9.9 Naran Lala Pvt. Ltd
9.10 Shandong Kunda Biotechnology
9.11 Shijiazhuang Xinyu Sanyang Industry
9.12 Showa Denko
9.13 Sumitomo Chemical Co. Ltd
*List not exhaustive
10. Disclaimer
**Subject to Availability in Public Domain