3D Virtual Fence Market
The 3D virtual fence market is expected to register a CAGR of 38.47% over the forecast period (2018 – 2023). The scope of the report is limited to services offered by major players, which includes integration & consulting, managed services, maintenance & support, amongst others. While the regions considered in the scope of the report include North America, Europe, and various others. The report studies the increasing risk of terrorism and infiltration across various parts of the world and its resultant interest in these solutions.
3D virtual fences are virtual fences employed in place of regular fences. Unlike traditional fences or barricades, virtual fence detects real-time intrusions through 3D stereo cameras and laser technologies. The system then notifies the intrusions to the network to take necessary action. Novel technologies of border security and remote surveillance, which have emerged as critical infrastructures for reconfigured mobility regimes, depend on the various kinds of labor to produce the effect of bordering. Current trends in refurbishing borders suggest their transformation towards flexible, sophisticated, and mobile devices capable of tracking, filtration, and exclusion. Moreover, the increasing reliance of the military and the private corporate sectors on integrated and intelligent technological forms is driving the 3D virtual fence market. The development of information system databases in developed countries stems from the need to monitor internal mobility as well as radical border elements trying to intervene. Such necessities of border security are expected to lead to an increase in the demand for 3D virtual fences in the coming years. Moreover, unlike other video analytics in the market, a 3D virtual fence is less influenced by lights and shadows, and it is applicable to high traffic areas.
Increasing Risk of Terrorism and Infiltration is driving the 3D Virtual Fence Market
In 2010, there were approximately 4800 terrorism-related incidents recorded, which increased to 13500 in 2016. As the number of terrorism and infiltration attempts has witnessed a surge since the last decade, the demand for 3D virtual fence is expected to increase.
In addition, a 3D virtual fence can work more than a tripwire application, it can build a polygon fence with height and bidirectional detection, and can be set up and applied for territorial safety. Moreover, it allows for the construction of a three-dimensional wall to detect moving objects in depth, reducing false alarms, and making detection more effective during an unauthorized access event or infiltration attempt. Also, the advent of mobile access for these applications is further driving the demand. With compatibility for mobile access, these systems allow users to receive event alerts in seconds and view the live camera video on mobile devices, which further helps in responding with speed to the situation.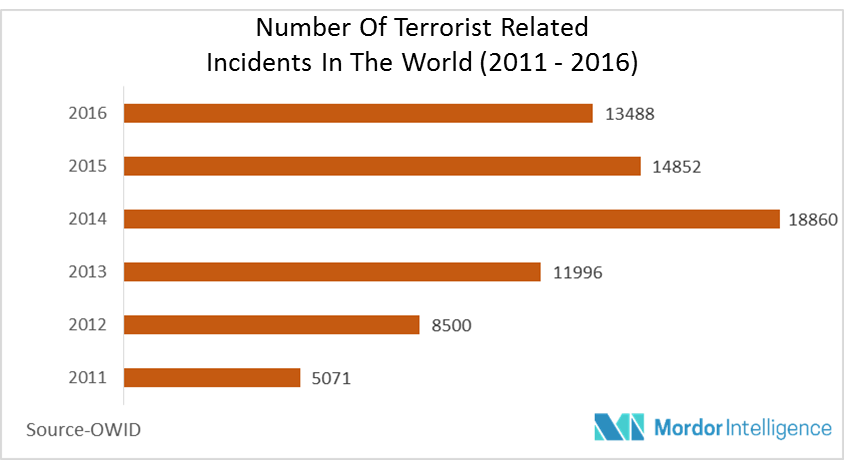 Demand for Border Security Solutions to Augment the Growth
Growth in the global border security system market is accredited to the rise in instabilities in geopolitics, which includes territorial conflicts. The requirement for advanced border security solution technologies is driving the demand for 3D virtual fences during the forecast period. According to recent UN reports, 1.8 million refugees have crossed Western Europe's external borders from 2015 onwards. Moreover, in the wake of the migration crisis and the terror attacks in Paris and Brussels, a major overhaul of the Western European border security and immigration infrastructure, as well as border security technology development and funding is already underway, this is expected to trigger the growth of the 3D virtual fence market during the forecast period.
Asia-Pacific to Show the Highest Growth Rate
The APAC region is expected to display the highest growth rate owing to increasing adoption of these fences in several countries, like India, where an increase in the infiltration attempts across its border areas has been witnessed. Moreover, the Indian government is planning to install a 24x7 seamless virtual fence with sensors along the India-Pakistan border to curb infiltration bid by the neighboring nation. Installation of these systems is a part of a pilot project which would be undertaken in two stretches of 5-6 km each in the Jammu sector. The government added that if found successful, similar projects will be taken up in other states along the 3323 km long Indo-Pakistan border, these factors are expected to drive the demand for 3D virtual fences in the region.
Key Developments in the 3D Virtual Fence Market
October 2017: Maia Technology and Agersens announced to work together to create a system to increase the productivity, profitability, and sustainability of livestock producers. The aim is to create a system combining the power of MaiaGrazing software for planning, gathering, and analyzing farm data to improve decision-making, with Agersens' eShepherd smart livestock system, which offers virtual fencing, herding, and animal monitoring via a smartphone or tablet.
3D Virtual Fence Market Major Players: Controp Precision Technologies Ltd, G&A Surveillance, Huper Laboratories Co. Ltd, AngryMole Technologies Ltd, Senstar Corporation, Schneider Electric, Tyco International, PLC, and Anixter International Inc., among others.
Reasons to Purchase 3D Virtual Fence Market Report
Analyzing the advancements in 3D virtual technology are changing market scenario
Analyzing various perspectives of the market with the help of Porter's five forces analysis
Identifying the type of service and end-user is expected to dominate the market
Identifying the regions that are expected to witness the fastest growth during the forecast period
Identify the latest developments, market shares, and strategies employed by the major market players
3-month analyst support, along with the Market Estimate sheet (in Excel)
Customization of 3D Virtual Fence Market Report
This report can be customized to meet your requirements. Please connect with our representative, who will ensure you get a report that suits your needs.
1. Introduction
1.1 Key Deliverables of the Study
1.2 Study Assumptions
1.3 Market Definition
1.4 Key Findings of the Study
2. 3D Virtual Fence Market Research Approach and Methodology
3. Executive Summary
4. 3D Virtual Fence Market Dynamics
4.1 3D Virtual Fence Market Overview
4.2 Factors Driving the 3D Virtual Fence Market
4.2.1 Increasing Risk of Terrorism and Infiltration
4.2.2 Stringent Government Regulations on Perimeter Security
4.2.3 Advancement in 3D Virtual Technology
4.3 Factors Restraining the 3D Virtual Fence Market
4.3.1 High Maintenance and Restoration Costs for Devices
4.4 Industry Attractiveness – Porter's Five Forces Analysis
4.4.1 Bargaining Power of Suppliers
4.4.2 Bargaining Power of Consumers
4.4.3 Threat of New Entrants
4.4.4 Threat of Substitute Products or Services
4.4.5 Competitive Rivalry among Existing Competitors
5. Global 3D Virtual Fence Market Segmentation
5.1 3D Virtual Fence Market By Service
5.1.1 System Integration & Consulting
5.1.2 Managed Services
5.1.3 Maintenance & Support
5.2 3D Virtual Fence Market By End User
5.2.1 Automation
5.2.2 Infrastructure
5.2.3 Border Security
5.2.4 Agriculture
5.2.5 BFSI
5.2.6 Others
5.3 3D Virtual Fence Market By Region
5.3.1 North America
5.3.2 Europe
5.3.3 Asia-Pacific
5.3.4 Latin America
5.3.5 Middle East & Africa
6. 3D Virtual Fence Market Competitive Intelligence – Company Profiles
6.1 Controp Precision Technologies, Ltd
6.2 G&A Surveillance
6.3 Huper Laboratories Co. Ltd
6.4 AngryMole Technologies Ltd
6.5 Rbtec Perimeter Security Systems
6.6 Senstar Corporation
6.7 Schneider Electric
6.8 Tyco International, PLC
6.9 Anixter International, Inc.
*List not Exhaustive
7. 3D Virtual Fence Market Investment Analysis
8. 3D Virtual Fence Market Future
9. Disclaimer