Instantánea del mercado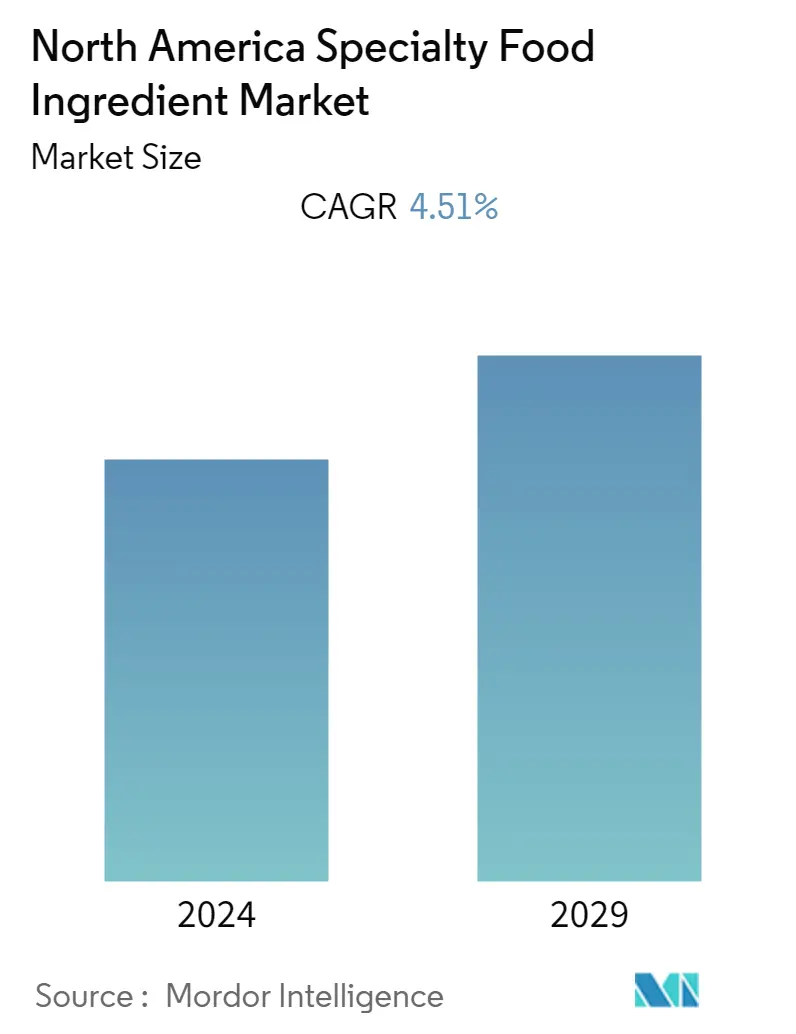 Study Period:
2016 - 2026
Base Year:
2021
CAGR:
4.51 %
Need a report that reflects how COVID-19 has impacted this market and its growth?
Visión general del mercado
Se proyectó que el mercado de ingredientes de alimentos especiales de América del Norte registraría una CAGR de 4.51% durante el período de pronóstico (2020 - 2025).
Los consumidores en los Estados Unidos, Canadá se están inclinando hacia ingredientes alimentarios saludables en sus productos alimenticios debido a la prevalencia de la obesidad y la diabetes en el país, lo que induce a los consumidores a centrarse en un mejor estilo de vida. Por esa razón, los fabricantes están adquiriendo jugadores nativos para atender a los consumidores con ingredientes sanos y abundantes.
En marzo de 2019, Ingredion adquirió el fabricante de fécula de patata Western Polymer para ampliar su base de clientes ofreciendo los ingredientes deseados, junto con una capacidad de fabricación cada vez mayor, mejorar las capacidades de procesamiento y ampliar su negocio de ingredientes especiales de primera calidad.
La creciente demanda de ingredientes alimentarios funcionales, como vitaminas y minerales y prebióticos y probióticos en bebidas funcionales, influye aún más en el crecimiento del mercado en la región de América del Norte.
Scope of the report
The report on the North America specialty food ingredient market offers key insights into the latest developments. Based on type, the North America specialty food ingredient market has been segmented as preservatives, emulsifiers, functional food ingredients, specialty starch and sweeteners, enzymes, specialty oil & fats, flavor and colorants, and others.
By application, the global specialty food ingredient market has been segmented into bakery products, confectionery, beverage, dairy products, sauces, dressings and condiments, and other applications.
On the basis of the region, the market is segmented into following countries such as the United States, Canada, Mexico, and the Rest of North America.
Tendencias clave del mercado
Las ofertas de productos innovadores requieren el uso de ingredientes alimentarios especiales
La preferencia por ciertos tipos de productos alimenticios se ha convertido en el centro de la identidad de algunos consumidores. Existe una fuerte correlación entre el mercado de ingredientes de alimentos especiales y el mercado de alimentos procesados, y el primero otorga beneficios funcionales y agrega valor personalizado según las aplicaciones del usuario final. Los consumidores de hoy en América del Norte son más conscientes de las afirmaciones de las etiquetas y las listas de ingredientes y sus perfiles nutricionales. Por otro lado, los consumidores están tomando una participación proactiva para mejorar la salud y el estado físico en la vida cotidiana. Esta tendencia ha estado impulsando la demanda de ingredientes alimentarios especiales en Canadá y Estados Unidos.
Por ejemplo, en 2017 en los Estados Unidos, el valor de las ventas de productos probióticos, como el yogur y la fórmula para bebés y la bebida nutritiva para niños, registró una participación máxima del 27 %, lo que valida la afirmación de que las personas consumen cada vez más productos alimenticios infundidos con ingredientes especiales.​
Las empresas se dirigen a los consumidores al presentar líneas de productos de valor agregado nuevas e innovadoras, que incluyen productos sin azúcar, bajos en grasa, bajos en sodio y otros beneficios funcionales. Por ejemplo, el uso de extractos de stevia para el contenido de azúcar añadido en los alimentos procesados ​​es un atractivo valor añadido. Además, los consumidores han mostrado mayores preferencias por alimentos con valor agregado; el sólido crecimiento en tales segmentos de alimentos especiales y libres de alimentos ha llevado a los fabricantes a expandir su cartera de ingredientes especiales.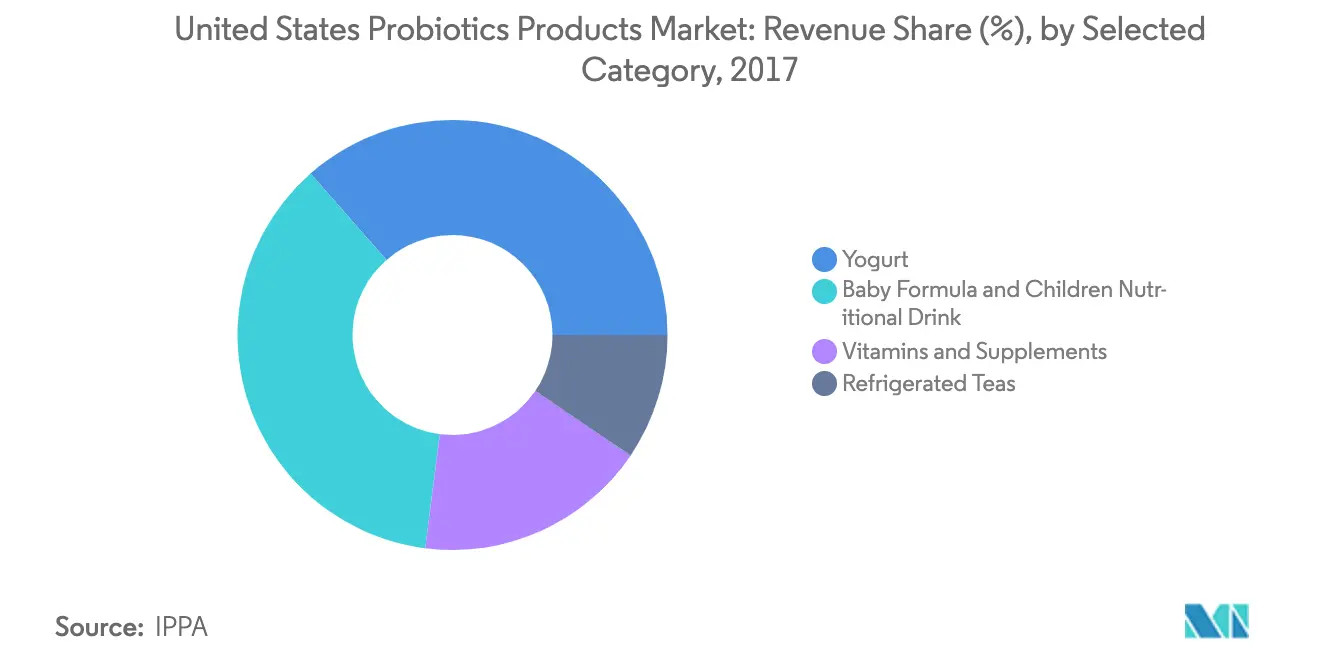 To understand key trends, Download Sample Report
México y Canadá, las crecientes avenidas de ingredientes alimentarios de especialidad
En Canadá, el cambio en las necesidades y deseos de los consumidores está desafiando la capacidad del sector alimentario para medir las condiciones del mercado, la innovación y el desarrollo de nuevos productos. Sin embargo, los consumidores del país confían mucho en los ingredientes especiales canadienses. En mayo de 2019, según la Agencia Canadiense de Inspección de Alimentos, los consumidores usan etiquetas en productos alimenticios que buscan comprar alimentos provenientes de Canadá, incluidos los ingredientes canadienses en un producto y si se fabricó en Canadá. ​Los fabricantes, como Calico Food Ingredients Ltd y DuPont en Canadá, siguen una tendencia de comercialización dirigida a grupos demográficos específicos, como los adultos jóvenes y la población que envejece. ​
Los fabricantes en México están adoptando cada vez más estrategias, como lanzamientos de productos, fusiones y adquisiciones, para mejorar sus posiciones en el mercado de edulcorantes de especialidad. Por ejemplo: Stevia First Corp. colaboró ​​con BioViva Sciences en 2015, para la producción a gran escala de stevia, el edulcorante natural sin calorías, con el fin de transformar el consumo de bebidas azucaradas en México.
En comparación con otros países de América del Norte, México no ha tenido un crecimiento significativo en ingredientes de alimentos funcionales, pero se espera que el crecimiento, la expansión y el reposicionamiento a través de fusiones y adquisiciones entre los principales actores continúen impulsando el crecimiento general del mercado en el país. ​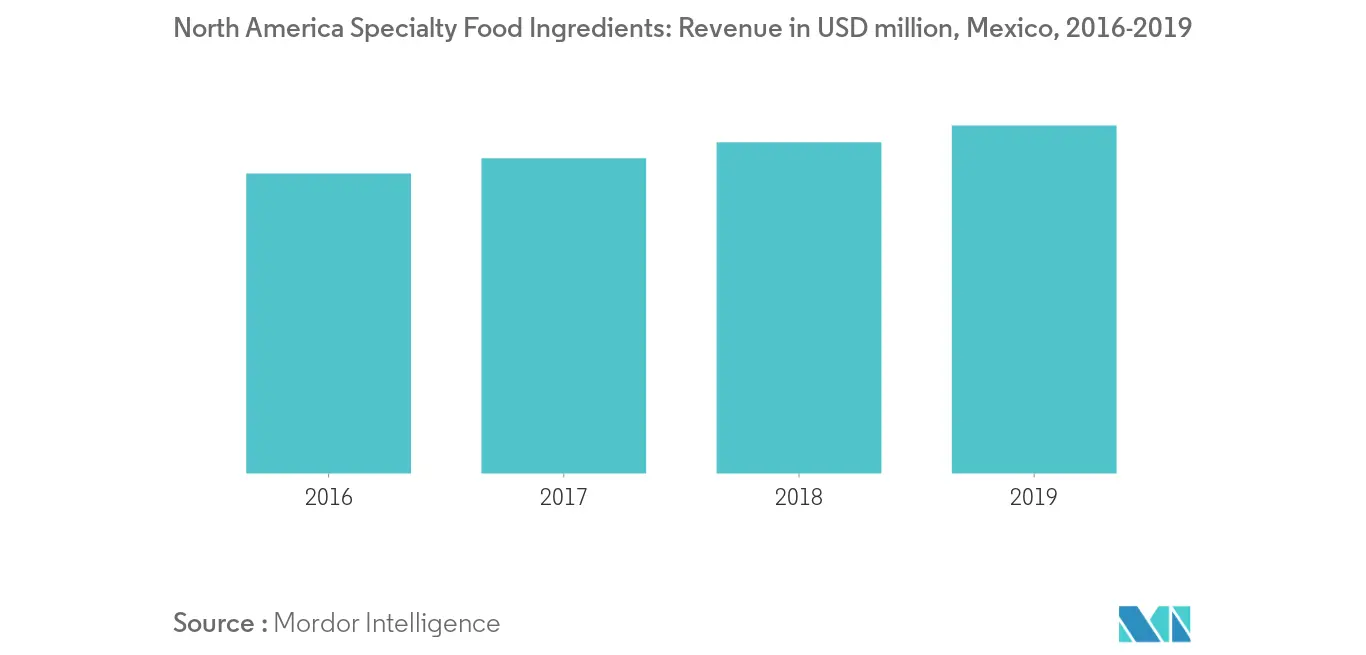 To understand geography trends, Download Sample Report
Panorama competitivo
El mercado de ingredientes alimentarios especializados de América del Norte es un mercado muy competitivo, ya que algunos de los actores destacados que operan en el mercado son Cargill, Incorporated, DuPont, The Archer Daniels Midland Company y Kerry Inc. Cargill Inc., que es uno de los Los líderes registraron el mayor número de desarrollos de productos. La compañía se mantuvo enfocada en presentar necesidades culinarias premium para los fabricantes de panadería, con atributos de formulación excepcionales. Por ejemplo, la empresa lanzó productos como CremoFLEX y PalmAgility en los mercados de Europa y América del Norte para abordar las crecientes necesidades de rendimiento de la panadería.
Table of Contents
1. INTRODUCCIÓN

1.1 Entregables del estudio y supuestos del estudio

1.2 Alcance del estudio

2. METODOLOGÍA DE INVESTIGACIÓN

3. RESUMEN EJECUTIVO

4. DINÁMICA DEL MERCADO

4.1 Indicadores de mercado

4.2 Restricciones del mercado

4.3 Análisis de las cinco fuerzas de Porter

4.3.1 Amenaza de nuevos participantes

4.3.2 Poder de negociación de los compradores/consumidores

4.3.3 El poder de negociacion de los proveedores

4.3.4 Amenaza de productos sustitutos

4.3.5 La intensidad de la rivalidad competitiva

5. SEGMENTACIÓN DE MERCADO

5.1 Por tipo de producto

5.1.1 Ingrediente alimentario funcional

5.1.2 Almidón especial y edulcorante

5.1.3 Sabores y Colorantes

5.1.4 acidulantes

5.1.5 Preservativo

5.1.6 Enzima

5.1.7 Aceites y grasas especiales

5.1.8 Otros

5.2 por aplicación

5.2.1 Productos de panadería

5.2.2 Bebidas

5.2.3 Lácteos Productos Lácteos

5.2.4 Confitería

5.2.5 Salsas, aderezos y condimentos

5.2.6 Otras aplicaciones

5.3 Por Geografía

5.3.1 Estados Unidos

5.3.2 Canadá

5.3.3 México

5.3.4 Resto de América del Norte

6. PANORAMA COMPETITIVO

6.1 Estrategias más adoptadas

6.2 Análisis de posición de mercado

6.3 Perfiles de la empresa

6.3.1 Cargill, Incorporado

6.3.2 DuPont de Nemours, Inc.

6.3.3 La compañía Archer Daniels Midland

6.3.4 Ingredion incorporado

6.3.5 Grupo Kerry plc.

6.3.6 BASF SE

6.3.7 Tate & Lyle PLC

6.3.8 Tecnologías sensibles

7. OPORTUNIDADES DE MERCADO Y TENDENCIAS FUTURAS
**Subject to Availability
You can also purchase parts of this report. Do you want to check out a section wise price list?
Frequently Asked Questions
¿Cuál es el período de estudio de este mercado?
El mercado del mercado de ingredientes alimentarios especiales de América del Norte se estudia desde 2016 hasta 2026.
¿Cuál es la tasa de crecimiento del mercado Ingredientes alimentarios especiales de América del Norte?
El mercado de ingredientes alimentarios especializados de América del Norte está creciendo a una CAGR del 4,51 % en los próximos 5 años.
¿Quiénes son los jugadores clave que operan en el mercado Ingredientes alimentarios de especialidad de America del Norte?
Cargill, Incorporated, The Archer Daniels Midland Company, Ingredion Incorporated, DuPont de Nemours, Inc, Kerry Group plc son las principales empresas que operan en el mercado de ingredientes alimentarios especializados de América del Norte.
80%

of our clients seek made-to-order reports. How do you want us to tailor yours?