Instantánea del mercado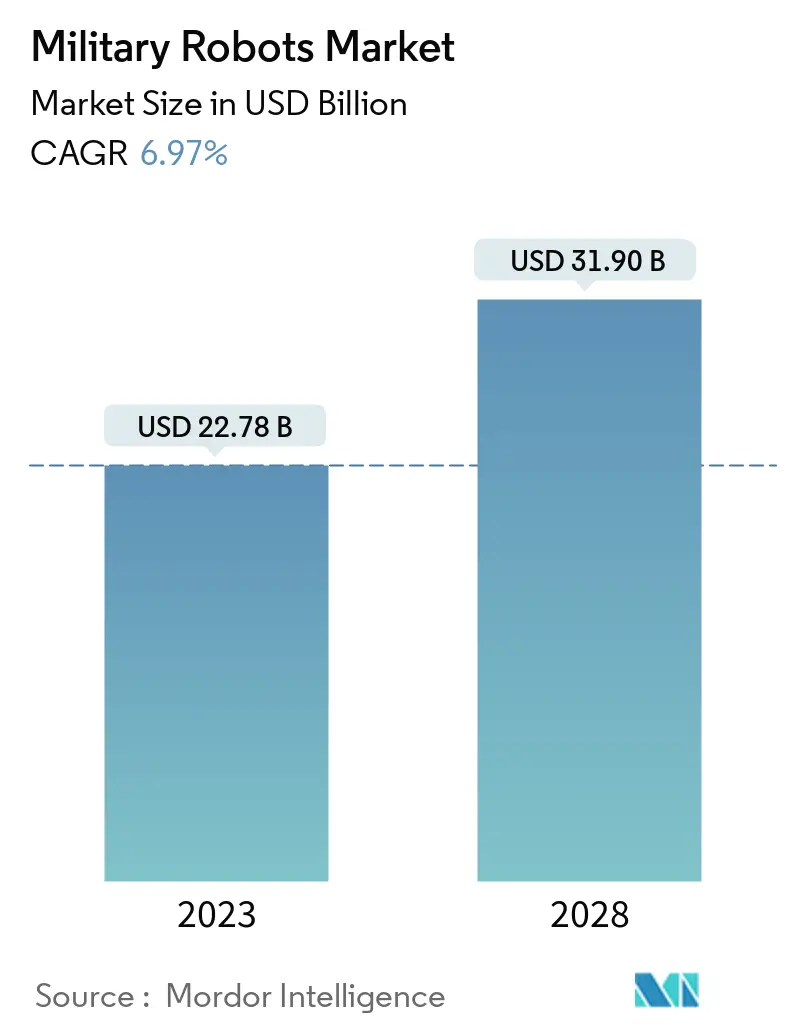 Study Period:
2018-2031
Base Year:
2021
Fastest Growing Market:
Asia-Pacific
Largest Market:
North America
CAGR:

>

7 %
Need a report that reflects how COVID-19 has impacted this market and its growth?
Visión general del mercado
Se proyecta que el mercado de robots militares crezca con una CAGR de más del 7% durante el período de pronóstico (2022 - 2031).
Dado que la demanda de robots militares es un defensor directo de la adquisición y actualización en curso de la armada de plataformas aéreas, terrestres y navales, se ve significativamente afectada por el presupuesto de defensa anual sancionado de las naciones. La pandemia de COVID-19 tuvo un impacto moderado en el mercado debido a la interrupción de las cadenas de suministro de defensa y los resultados de producción en 2020. Sin embargo, el mercado ha mejorado desde entonces, debido a la racionalización de las actividades de la cadena de suministro, lo que a su vez ayudó el crecimiento del mercado de robots militares.
La textura cambiante de la guerra y el precio que se pone en las bajas de la guerra han favorecido el despliegue de robots en las guerras modernas. Las bajas en las guerras pasadas generaron preocupación y dieron como resultado que la mayoría de los gobiernos invirtieran en nuevos sistemas no tripulados para mantener una flota de UAV, UUV y UGV para misiones críticas.
Los países están colaborando en tecnologías avanzadas de robótica para desarrollar nuevos vehículos que puedan superar los desafíos y apoyar a las tropas terrestres para la guerra futura. Además, los principales actores de la industria cuentan con el apoyo de organismos gubernamentales que realizan inversiones sustanciales, lo que les permite gastar más en I + D, lo que permite a las empresas innovar continuamente e introducir tecnologías más eficientes y avanzadas.
Alcance del Informe
Los robots militares son sistemas autónomos o controlados a distancia diseñados para una variedad de aplicaciones militares. Los robots militares contribuyen a la superioridad defensiva de las fuerzas, ya que pueden aumentar las capacidades humanas, proteger a los soldados del peligro o eliminar por completo la necesidad de desplegar soldados y, al mismo tiempo, responder de manera segura a amenazas de todo tipo, incluidos los desastres naturales.
El mercado está segmentado en términos de la plataforma en tierra, mar y aire. El mercado también está segmentado por modo de operación a operado por humanos y autónomo. El informe también cubre los tamaños de mercado y los pronósticos en los principales países de diferentes regiones. El tamaño del mercado y las previsiones se han proporcionado en valor (miles de millones de USD).
Platform
Land
Marine
Airborne
Mode of Operation
Human Operated
Autonomous
Geography

Asia-Pacific

Rest of Asia-Pacific
Platform

Latin America

Rest of Latin America
Platform

Middle-East and Africa

United Arab Emirates
Platform

Rest of Middle-East and Africa
Platform
Tendencias clave del mercado
Se anticipa que el segmento terrestre generará el mayor crecimiento durante el período de pronóstico
Se espera que el segmento terrestre crezca con la CAGR más alta durante el período de pronóstico, ya que las fuerzas terrestres están desplegando robots militares sofisticados en situaciones y áreas que se consideran demasiado peligrosas y que fácilmente pueden provocar la muerte o la restricción de la capacidad de las tropas desplegadas. Varios países están probando la viabilidad actual de la robótica en sus fuerzas armadas terrestres o imaginando implementarlos a gran escala en el futuro. Bajo el Incremento II del Sistema Robótico Transportable por el Hombre (MTRS Inc II), el Ejército de EE. UU. está adquiriendo vehículos terrestres no tripulados para apoyar a ingenieros, soldados químicos, biológicos, radiológicos y nucleares (QBRN) y fuerzas de operaciones especiales. Los nuevos UGV están reemplazando la antigua flota no estándar de robots para localizar, identificar y limpiar minas terrestres, artefactos explosivos sin detonar, y artefactos explosivos improvisados, que pueden mejorar la maniobrabilidad y supervivencia del personal militar. De manera similar, Rusia creó su primera unidad de robots de ataque y tiene planes para integrar una variedad de robots y exoesqueletos. En abril de 2021, el Ministerio de Defensa de Rusia anunció la creación de una unidad separada de robots militares que comprende cinco sistemas robóticos Uran-9. Fabricado por Kalashnikov Concern, el Uran-9 es un vehículo terrestre de combate no tripulado con orugas diseñado para ayudar a las unidades de combate, reconocimiento y antiterrorismo, junto con apoyo de fuego. El robot de 12 toneladas está integrado con armas guiadas Ataka, misiles antitanque, lanzacohetes Shmel-M, cañón automático 2A72 de 30 mm y una ametralladora de 7,62 mm.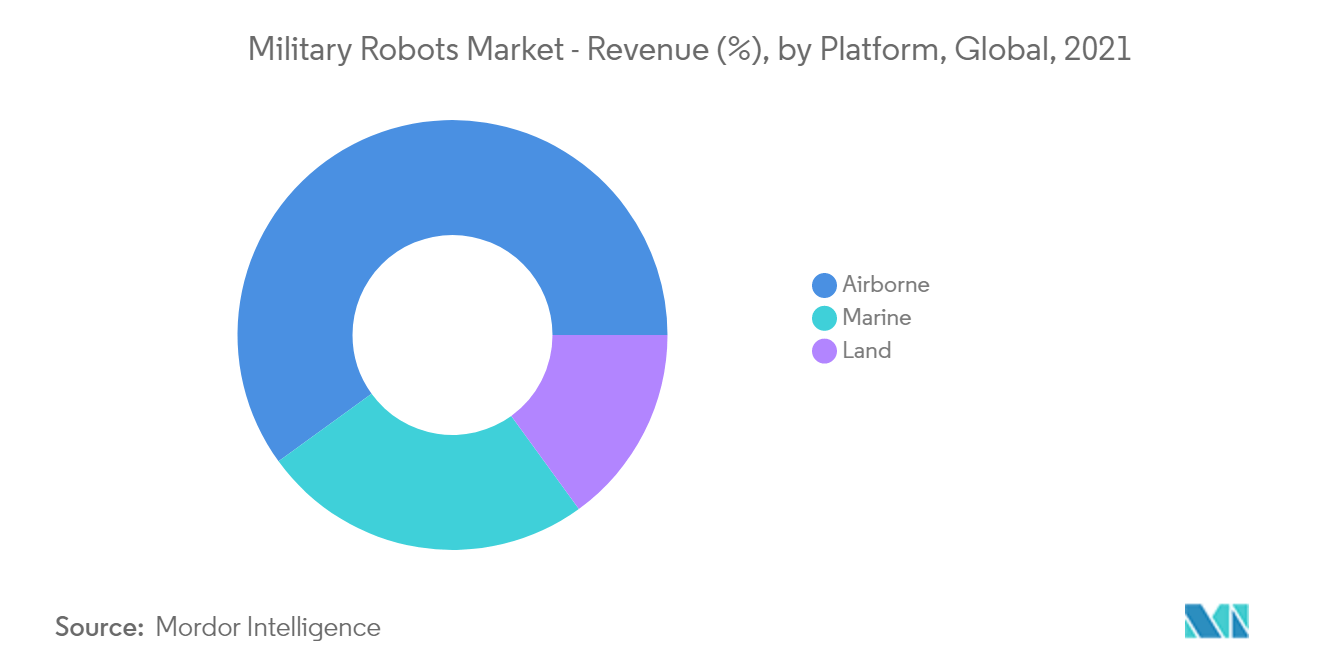 To understand key trends, Download Sample Report
La región de Asia y el Pacífico será testigo del mayor crecimiento durante el período de pronóstico
Los principales países de la región como China, India y Japón, entre otros, han aumentado rápidamente sus gastos de defensa en los últimos años. Del gasto total en defensa, los países han invertido significativamente en el desarrollo y despliegue de sistemas no tripulados en las fuerzas armadas que pueden mejorar sus capacidades de combate y vigilancia. Por ejemplo, la Administración del Programa de Adquisición de Defensa de Corea del Sur (DAPA) anunció la finalización exitosa de la fase de desarrollo exploratorio para el Vehículo de Vigilancia No Tripulado 6×6 en abril de 2021. Con la finalización de la fase de desarrollo exploratorio, se espera que la agencia comience la -Desarrollo a escala de la plataforma con capacidad de huelga en los próximos años. Por otro lado, en 2021, El ejército indio llevó a cabo una demostración de tecnología de enjambre de drones con 75 drones diseñados y desarrollados localmente que zumbaban en los cielos y simulaban una serie de misiones, incluidas operaciones ofensivas. Una tendencia similar de fabricación local se observa en otros países de la región de Asia-Pacífico. En enero de 2022, China introdujo un robot cuadrúpedo para ayudar al ejército en misiones de logística y reconocimiento. El país afirma que es el robot eléctrico más grande del mundo. Según los informes, el robot de cuatro patas puede transportar hasta 352 libras (160 kilogramos) de carga útil y correr a seis millas (10 kilómetros) por hora. Se prevé que la escalada de las tensiones fronterizas entre varios países vecinos de la región de Asia y el Pacífico acelere el crecimiento del mercado de la robótica militar durante el período de pronóstico.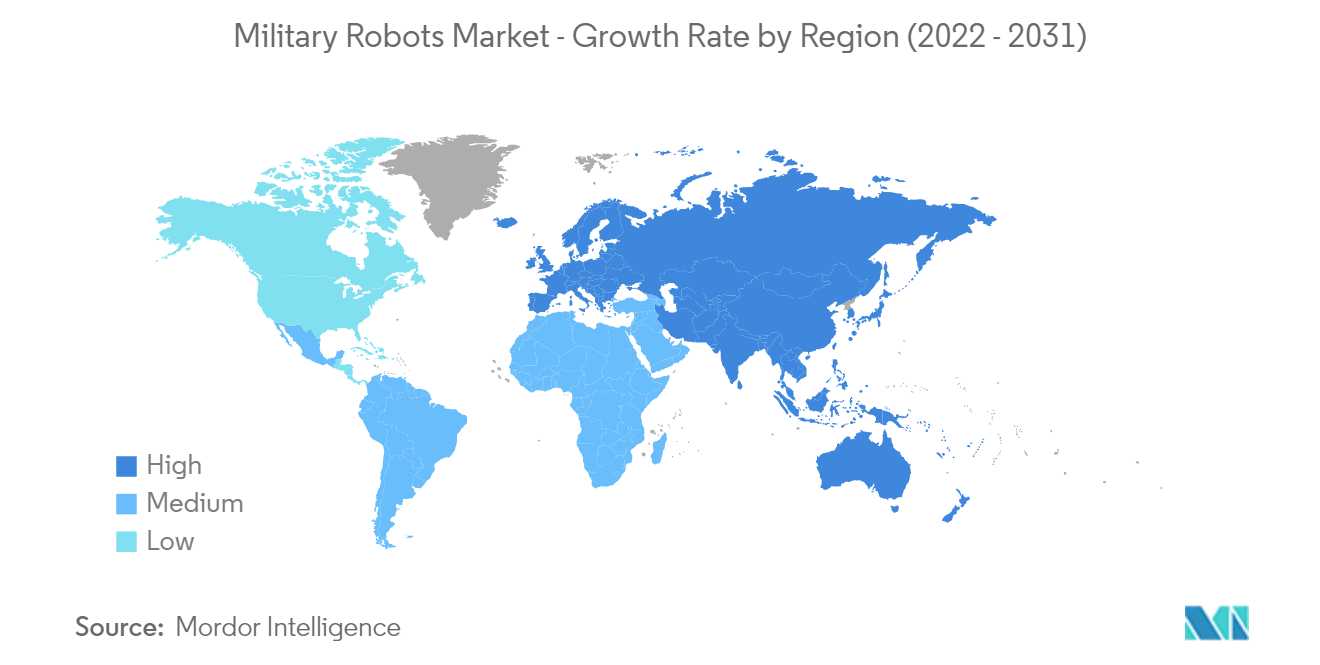 To understand geography trends, Download Sample Report
Panorama competitivo
El mercado de robots militares es un mercado fragmentado, debido a la presencia de múltiples fabricantes de equipos originales (OEM) militares establecidos y empresas de tecnología. Algunos de los jugadores destacados en el mercado de robots militares son Lockheed Martin Corporation, Northrop Grumman Corporation, Thales Group, Elbit Systems Ltd y BAE Systems PLC. Hay muchos jugadores locales en el mercado, como la Organización de Investigación y Desarrollo de Defensa (DRDO), Baykar y Milrem AS, entre otros. Se espera que los pequeños actores financiados por el gobierno desempeñen un papel clave en el desarrollo y la maduración de la tecnología robótica durante la próxima década, mientras que las fuerzas militares prueban y experimentan los desafíos, riesgos y beneficios de la tecnología y establecen las expectativas clave y las necesidades tecnológicas para su equipo.
Recent Developments
In December 2021, General Atomics unveiled a new drone called the Mojave that can carry 16 Hellfire missiles and take off from a dirt road or even an aircraft carrier. The changes to the wings and landing gear allow Mojave to take off from a much shorter runway. The drone is powered by a 450-horsepower turboprop engine.
In September 2021, the Israeli state-owned company Israel Aerospace Industries introduced the REX MKI robot. The remote-controlled armed four-wheel-drive robot can patrol battle zones, track infiltrators and open fire. It is operated by an electronic tablet and can be equipped with two machine guns, cameras, and sensors.
In June 2021, General Dynamics Mission Systems was awarded a contract from the US Navy to retrofit five Block 0 Knifefish SMCM UUV systems, which comprises 10 Knifefish SMCM vehicles. The contract was worth USD 72.8 million. The retrofit requirement are expected to enhance Knifefish operations at larger depths, provide more precise localization and identify complex target environments.
In March 2021, Elbit Systems Ltd received a contract worth about USD 300 million from an undisclosed country in the Asia region to provide Hermes 900 Unmanned Aircraft Systems (UAS). According to the contract, the company will provide Hermes 900 UAS and related equipment and maintenance and support services. The contract is scheduled to be performed over a period of five years.
In March 2021, Israel Aerospace Industries (IAI) and Korea Aerospace Industries (KAI) signed a Memorandum of Understandings (MOU) for collaboration in the development of unmanned Loitering Munitions systems for the Republic of Korea (ROK) military forces.
Table of Contents
1. INTRODUCTION

1.1 Study Assumptions and Market Definition

1.2 Scope of Study

1.3 Currency Conversion Rates for USD

2. RESEARCH METHODOLOGY

3. EXECUTIVE SUMMARY

3.1 Market Size and Forecast, Global, 2018 - 2031

3.2 Market Share by Platform, 2021

3.3 Market Share by Mode of Operation, 2021

3.4 Market Share by Geography, 2021

3.5 Structure of the Market and Key Participants

4. MARKET DYNAMICS

4.1 Market Overview

4.2 Market Drivers

4.3 Market Restraints

4.4 Porter's Five Forces Analysis

4.4.1 Bargaining Power of Buyers/Consumers

4.4.2 Bargaining Power of Suppliers

4.4.3 Threat of New Entrants

4.4.4 Threat of Substitute Products

4.4.5 Intensity of Competitive Rivalry

5. MARKET SEGMENTATION (Market Size and Forecast by Value - USD billion, 2018 - 2031)

5.1 Platform

5.1.1 Land

5.1.2 Marine

5.1.3 Airborne

5.2 Mode of Operation

5.2.1 Human Operated

5.2.2 Autonomous

5.3 Geography

5.3.1 North America

5.3.1.1 United States

5.3.1.1.1 Platform

5.3.1.2 Canada

5.3.1.2.1 Platform

5.3.2 Europe

5.3.2.1 United Kingdom

5.3.2.1.1 Platform

5.3.2.2 France

5.3.2.2.1 Platform

5.3.2.3 Germany

5.3.2.3.1 Platform

5.3.2.4 Russia

5.3.2.4.1 Platform

5.3.2.5 Rest of Europe

5.3.2.5.1 Platform

5.3.3 Asia-Pacific

5.3.3.1 China

5.3.3.1.1 Platform

5.3.3.2 India

5.3.3.2.1 Platform

5.3.3.3 Japan

5.3.3.3.1 Platform

5.3.3.4 South Korea

5.3.3.4.1 Platform

5.3.3.5 Rest of Asia-Pacific

5.3.3.5.1 Platform

5.3.4 Latin America

5.3.4.1 Brazil

5.3.4.1.1 Platform

5.3.4.2 Rest of Latin America

5.3.4.2.1 Platform

5.3.5 Middle-East and Africa

5.3.5.1 Saudi Arabia

5.3.5.1.1 Platform

5.3.5.2 United Arab Emirates

5.3.5.2.1 Platform

5.3.5.3 Israel

5.3.5.3.1 Platform

5.3.5.4 Turkey

5.3.5.4.1 Platform

5.3.5.5 Rest of Middle-East and Africa

5.3.5.5.1 Platform

6. COMPETITIVE LANDSCAPE

6.1 Vendor Market Share

6.2 Company Profiles

6.2.1 Northrop Grumman Corporation

6.2.2 Lockheed Martin Corporation

6.2.3 General Dynamics Corporation

6.2.4 AeroVironment Inc.

6.2.5 Teledyne FLIR LLC

6.2.6 QinetiQ Group PLC

6.2.7 Cobham Ltd

6.2.8 Elbit Systems Ltd

6.2.9 Israel Aerospace Industries (IAI)

6.2.10 Thales Group

6.2.11 BAE Systems PLC

6.2.12 Saab AB

6.2.13 Aeronautics Ltd

6.2.14 BAYKAR

6.2.15 Textron Inc.

7. MARKET OPPORTUNITIES AND FUTURE TRENDS
You can also purchase parts of this report. Do you want to check out a section wise price list?
Frequently Asked Questions
¿Cuál es el período de estudio de este mercado?
El mercado de Robots militares se estudia desde 2018 hasta 2031.
¿Cuál es la tasa de crecimiento del mercado Robots militares?
El mercado de robots militares está creciendo a una CAGR de >7 % en los próximos 5 años.
¿Qué región tiene la tasa de crecimiento más alta en el mercado Robots militares?
Asia-Pacífico está creciendo a la CAGR más alta durante 2021-2026.
¿Que region tiene la mayor participacion en Robots militares Market?
América del Norte tiene la participación más alta en 2021.
¿Quiénes son los jugadores clave que operan en el mercado Robots militares?
Elbit Systems Ltd, BAE Systems plc, Thales Group, Northrop Grumman Corporation, Lockheed Martin Corporation son las principales empresas que operan en el mercado de robots militares.
80%

of our clients seek made-to-order reports. How do you want us to tailor yours?