Instantánea del mercado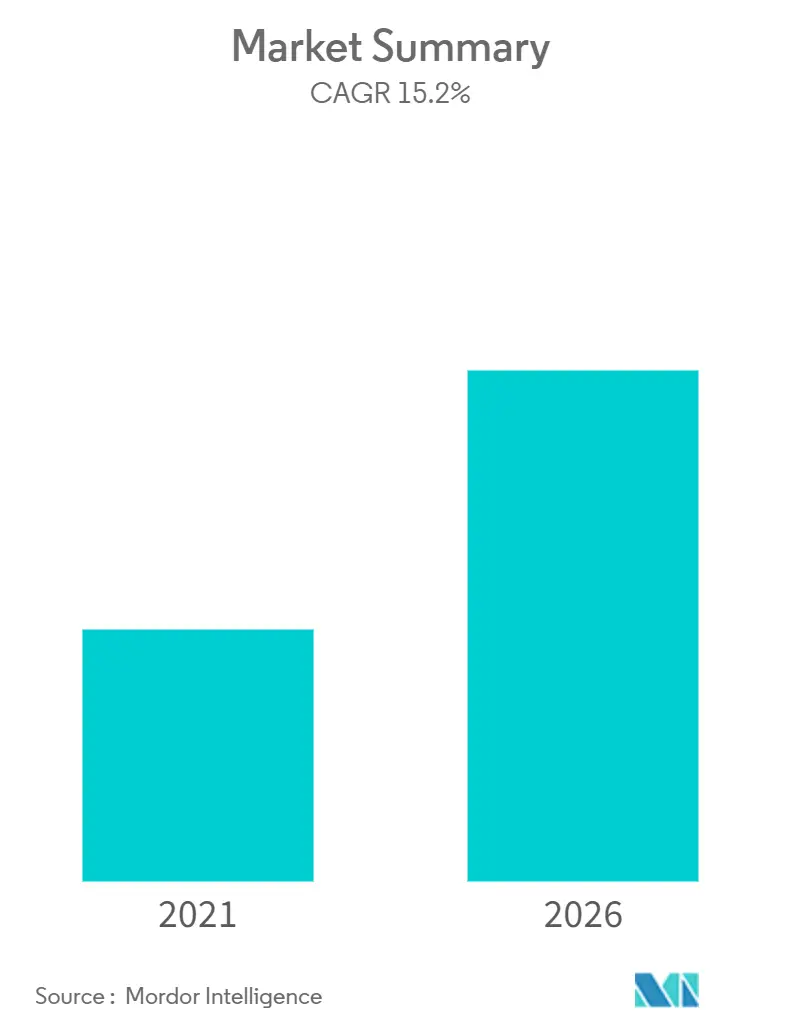 Study Period:
2016 - 2026
Base Year:
2021
CAGR:
15.2 %
Need a report that reflects how COVID-19 has impacted this market and its growth?
Visión general del mercado
Se proyecta que el mercado indio del chocolate crezca a una CAGR del 15,2% durante el período de pronóstico (2021-2026).
El mercado del chocolate se vio afectado por COVID-19 durante su inicio en 2020. Sin embargo, el mercado se volvió más estable después de la relajación de las restricciones en los países importadores y exportadores. El consumo de chocolates en el hogar de los consumidores experimentó un fuerte aumento durante el cierre. Los chocolates se compraron a granel, lo que generó un mayor volumen de ventas a través de supermercados e hipermercados.
El mercado de chocolate de la India está aumentando el apetito por el chocolate premium y la disponibilidad de marcas de chocolate negro como Lindt, Hershey, Toblerone, entre otras, ha llevado a una mayor penetración en el mercado de chocolates oscuros. Además, el bajo contenido de azúcar en los chocolates amargos es otra razón para impulsar la demanda de chocolates amargos, ya que los consumidores se han dado cuenta del alto consumo de azúcar y su vínculo con enfermedades crónicas como la diabetes.
Otro factor importante que impulsa el mercado indio del chocolate es la población joven, que es un consumidor clave de chocolates. Actualmente, alrededor de la mitad de la población total de la India tiene menos de 25 años y dos tercios tienen menos de 35 años. Impulsados ​​por estos factores los chocolates están reemplazando a los dulces tradicionales en el país.
Alcance del Informe
El chocolate, extraído de las semillas de cacao tostadas, se utiliza principalmente en productos de confitería y panadería. El mercado de chocolate de la India está segmentado por tipo en chocolate negro, chocolate con leche y chocolate blanco. El mercado está segmentado por producto en Softlines/Selflines, Countlines, chocolates moldeados y otros tipos de productos. El mercado está segmentado por canales de distribución como Supermercados / Hipermercados, Minoristas especializados, Tiendas de conveniencia, Canal en línea y Otros canales de distribución. Para cada segmento, el tamaño del mercado y las previsiones se han realizado sobre la base del valor (en millones de USD).
Tendencias clave del mercado
Demanda Creciente de Chocolates Premium y Saludables
El mercado del chocolate premium es bastante popular en la India, ya que la gente del país prefiere darse un capricho con chocolates del tamaño de un bocado para limitar su consumo de dulces. El chocolate premium encaja gratamente con la tendencia de 'alimentación limpia' en el país. Dado que se descubrió que el chocolate tiene numerosos beneficios para la salud, los consumidores optan por chocolates premium para tener una experiencia libre de culpa. Los supermercados e hipermercados, como D-Mart y Reliance Mart, están tratando de ganar una mayor tracción en el mercado abasteciéndose de marcas de chocolate premium como Ferrero. Los ingredientes del chocolate premium están muy equilibrados, lo que es bueno para la salud y también reduce el riesgo de presión arterial baja y colesterol.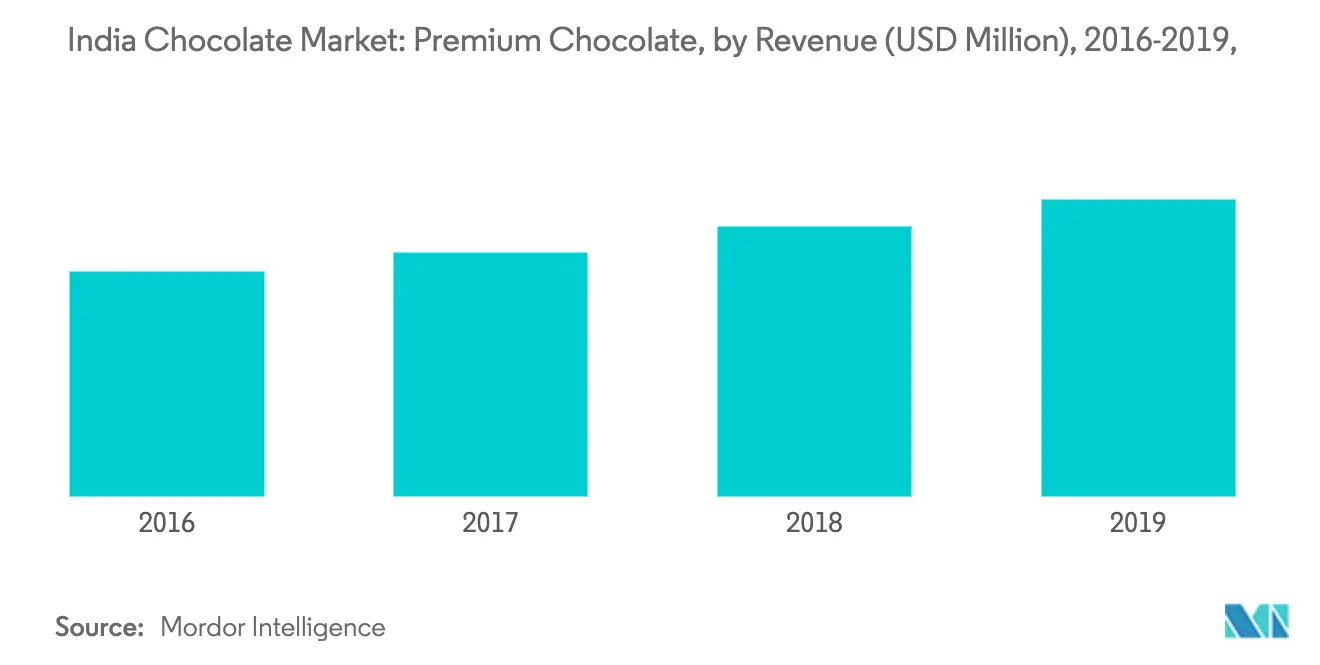 To understand key trends, Download Sample Report
Los hipermercados/supermercados son el principal canal de distribución
El segmento de hipermercados/supermercados representa una parte considerable de las ventas de chocolate, y los chocolates oscuros y el chocolate moldeado se están convirtiendo en una opción popular entre los consumidores. Debido a un enorme espacio comercial que atiende a una amplia variedad de preferencias, los supermercados/hipermercados son canales dominantes para la venta de chocolate en el país. Factores como la expansión del negocio y el creciente número de hipermercados y supermercados se suman a las ventas de estos formatos minoristas y contribuyen significativamente a la mayor penetración del chocolate premium. Comprar en hipermercados/supermercados también se percibe como útil, debido a la amplia selección de marcas que se ofrecen, el considerable espacio en los estantes y las frecuentes promociones de precios.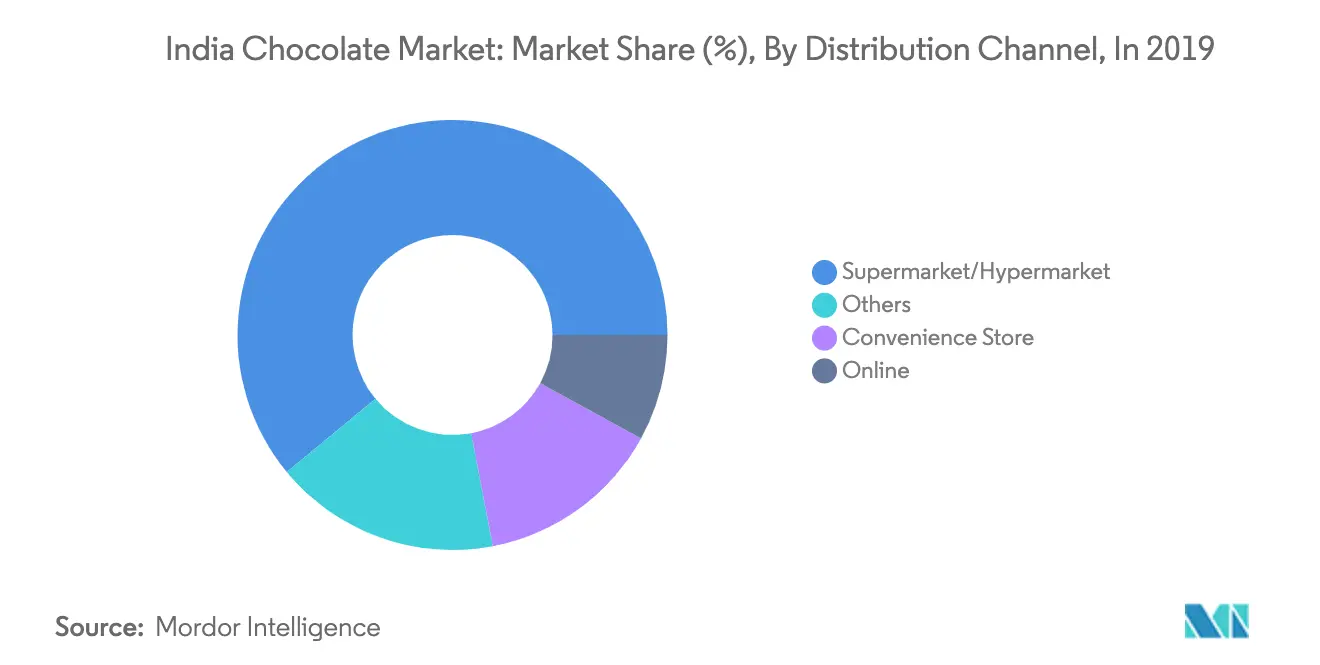 Panorama competitivo
El mercado estudiado es competitivo y está formado por competidores regionales e internacionales. Está dominado por jugadores como Mars, Incorporated, The Hershey Company, Nestlé SA, Ferrero International, Mondelez International, etc. El desarrollo de nuevos productos para mejorar su cartera y capturar mercados sin explotar ha impulsado el crecimiento del mercado del chocolate. Debido a los gustos y preferencias cambiantes de los consumidores, ha habido un desarrollo considerable de productos por parte de varios actores del mercado.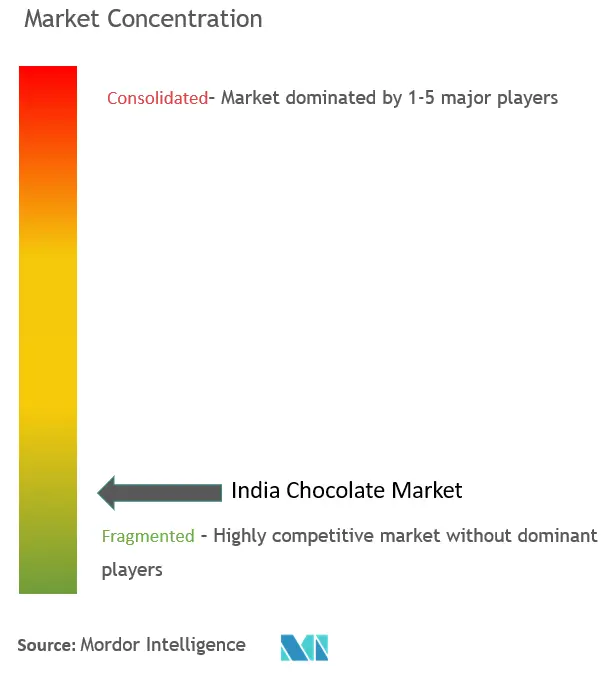 Recent Developments
In March 2021, Mondelez International launched the all-new Cadbury 5Star Oreo which is the combination of the creaminess and crunchiness of OREO and the chocolatey caramel zest of Cadbury 5Star.
In June 2019, Mondelez International launched Cadbury dairy milk in a new bar with 30% less sugar, offering consumers greater choice and a delicious milk taste.
In March 2018, Nestlé MUNCH, one of India's most popular brands in the chocolate and confectionery category set another innovation benchmark in the coated wafer category with the launch of MUNCH CRUNCH-O-NUTS.
Table of Contents
1. INTRODUCCIÓN

1.1 Supuestos de estudio y definición de mercado

1.2 Alcance del estudio

2. METODOLOGÍA DE INVESTIGACIÓN

3. RESUMEN EJECUTIVO

4. DINÁMICA DEL MERCADO

4.1 Indicadores de mercado

4.2 Restricciones del mercado

4.3 Análisis de las cinco fuerzas de Porter

4.3.1 Amenaza de nuevos participantes

4.3.2 Poder de negociación de los compradores/consumidores

4.3.3 El poder de negociacion de los proveedores

4.3.4 Amenaza de productos sustitutos

4.3.5 La intensidad de la rivalidad competitiva

5. SEGMENTACIÓN DE MERCADO

5.1 Por tipo

5.1.1 Chocolate negro

5.1.2 Chocolate con Leche y Blanco

5.2 por producto

5.2.1 Líneas suaves / Líneas propias

5.2.2 Líneas de cuenta

5.2.3 Bombones Moldeados

5.2.4 Otros tipos de productos

5.3 Por Canal de Distribución

5.3.1 Supermercados/Hipermercados

5.3.2 Minoristas especializados

5.3.3 Tiendas de conveniencia

5.3.4 Tiendas minoristas en línea

5.3.5 Otros Canales de Distribución

6. PANORAMA COMPETITIVO

6.1 Empresas más activas

6.2 Estrategias más adoptadas

6.3 Análisis de cuota de mercado

6.4 Perfiles de la empresa

6.4.1 Mondelez Internacional

6.4.2 marte incorporado

6.4.3 Nestlé SA

6.4.4 Ferrero Internacional

6.4.5 La compañía Hershey

6.4.6 Chocoladefabriken Lindt y Sprungli AG

6.4.7 El Campo Ltda.

6.4.8 Buttercup confitería limitada

6.4.9 Compañía de chocolate de loto

6.4.10 GCMMF (Amul)

7. OPORTUNIDADES DE MERCADO Y TENDENCIAS FUTURAS

8. IMPACTO DEL COVID-19 EN EL MERCADO
**Subject to Availability
You can also purchase parts of this report. Do you want to check out a section wise price list?
Frequently Asked Questions
¿Cuál es el período de estudio de este mercado?
El mercado del mercado de chocolate de la India se estudia desde 2016 hasta 2026.
¿Cuál es la tasa de crecimiento del mercado Chocolate de la India?
El mercado del chocolate de la India está creciendo a una CAGR del 15,2 % en los próximos 5 años.
¿Quiénes son los jugadores clave que operan en el mercado India Chocolate?
Mondelez International, Mars Inc., Ferrero International, Nestlé SA, The Hershey Company son las principales empresas que operan en el mercado del chocolate de la India.
80%

of our clients seek made-to-order reports. How do you want us to tailor yours?