Instantánea del mercado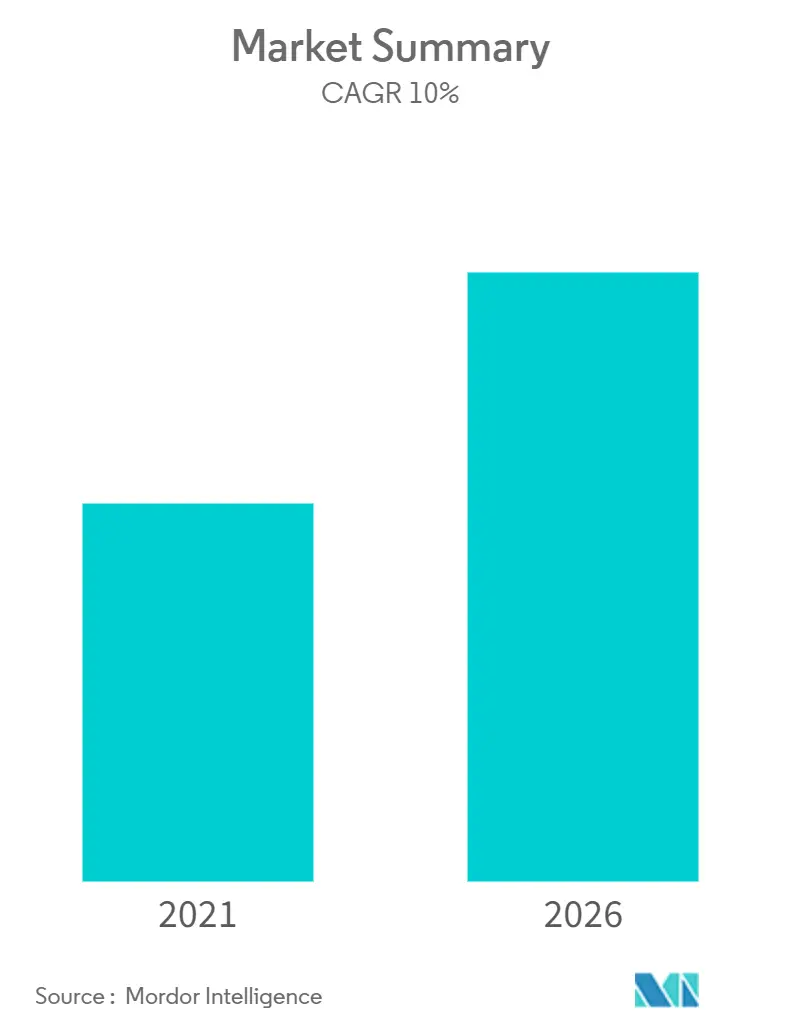 Study Period:
2017-2026
Base Year:
2021
Fastest Growing Market:
Asia Pacific
Largest Market:
North America
CAGR:
10 %
Need a report that reflects how COVID-19 has impacted this market and its growth?
Visión general del mercado
FinTech (Tecnología financiera) es ahora una palabra de moda en el mercado financiero. Se refiere a los programas informáticos y otras tecnologías modernas utilizadas por las empresas que brindan servicios financieros automatizados y mejorados. A lo largo de los años, la industria fintech ha evolucionado de manera significativa liderando la transformación de las empresas hacia un negocio centrado en el cliente. Por lo tanto, encontrar un lugar en una plétora de empresas que van desde nuevas empresas hasta empresas tecnológicas y empresas establecidas en todo el mundo. Ya sea con un enfoque colaborativo o desafiante, las empresas de servicios financieros y las empresas de tecnología se han tomado el camino de las demás y han progresado con propuestas disruptivas e innovadoras en un panorama empresarial en constante evolución.
Varias crisis han actuado como catalizador para el desarrollo del mercado FinTech. Desde la última crisis financiera mundial, las inversiones en Fintech han ido en aumento. La expansión del sector fue en gran medida una respuesta tecnológica a las deficiencias de la industria tradicional de servicios financieros, que se vio sometida a una presión extrema durante y después de la crisis. De manera similar, Covid-19 también ha impactado severamente la economía global e inició la recesión. Esta crisis ha resultado en el desarrollo acelerado de la industria FinTech. En respuesta a Covid, las grandes instituciones financieras se están asociando con las empresas tecnológicas emergentes para acceder al nuevo mercado. Mientras que Fintech busca asociarse con la gran institución financiera para expandir su mercado y servicios. De cualquier manera, el mercado Fintech se está desarrollando.
En los últimos años, han surgido muchas variaciones de fintech que utilizan tecnologías de vanguardia diseñadas para funciones o sectores específicos, como Insurtech, Regtech, servicios de pago, etc. Ahora que la industria fintech es claramente más que una moda, el grado de ejecución logrado en las organizaciones La estrategia cobra importancia. El aspecto tecnológico de la industria Fintech está creciendo rápidamente. Las Fintech utilizan cada vez más tecnologías como Blockchain, Interfaz de programación de aplicaciones (API), Automatización de procesos robóticos, Análisis de datos, etc., que permiten una mayor agilidad, eficiencia y precisión.
Alcance del Informe
El término Fintech (Tecnología financiera) se refiere a los programas informáticos y otras tecnologías modernas utilizadas por las empresas que brindan servicios financieros automatizados y mejorados. El mercado global Fintech se puede segmentar por propuesta de servicio; (Transferencia de dinero y pagos, Ahorros e inversiones, Préstamos digitales y Mercados de préstamos, Seguros en línea y Mercados de seguros (Información sobre los segmentos de vida y no vida cubiertos), Otros (Financiamiento de compras de comercio electrónico, etc.)) y por geografía; (América del Norte, América Latina, Europa, Asia-Pacífico y Medio Oriente y África del Norte). El informe también ofrece un análisis de antecedentes completo del mercado global FinTech, incluido el análisis y el pronóstico del tamaño del mercado, los segmentos del mercado, las tendencias de la industria, los principales actores y los impulsores del crecimiento.
By Service Propositions
Money Transfer and Payments
Savings and Investments
Digital Lending & Lending Marketplaces
Online Insurance & Insurance Marketplaces (Insights into Life & Non life segments covered)
Others (E-Commerce Purchase Financing, etc)
By Geography

Europe
Uk
Germany
France
Spain
Switzerland
Rest Of Europe

Latin America
Brazil
Argentina

Asia-Pacific
China
India
Japan
Indonesia
South Korea
Rest of APAC

MENA
UAE
Saudi Arabia
Lebanon
Rest of MENA
Tendencias clave del mercado
APAC y las Américas dominan la cuota de mercado más alta del mercado global Fintech.
Los mercados Fintech en las regiones APAC y América son actualmente los más grandes, y ambos tienen más del 40% de la participación de mercado global. La región EMEA es significativamente más pequeña, con menos del 20 % de la cuota de mercado total. Se proyecta que el mercado Fintech en la región APAC sea el de más rápido crecimiento. Las aplicaciones financieras están ganando popularidad rápidamente en la región de Asia-Pacífico. Se descubrió que había más de 1230 aplicaciones fintech disponibles en APAC, y los especialistas en marketing gastaron US $ 244 millones para adquirir nuevos usuarios solo en 2020. Dentro de APAC, se produjeron un total de 2700 millones de instalaciones entre el primer trimestre de 2019 y el primer trimestre de 2021.
India e Indonesia, junto con Brasil, representan casi la mitad de las descargas globales de aplicaciones fintech. Esto no es sorprendente, dado que estos megamercados en desarrollo comprenden cantidades masivas de clientes no bancarizados y no bancarizados, especialmente en Indonesia.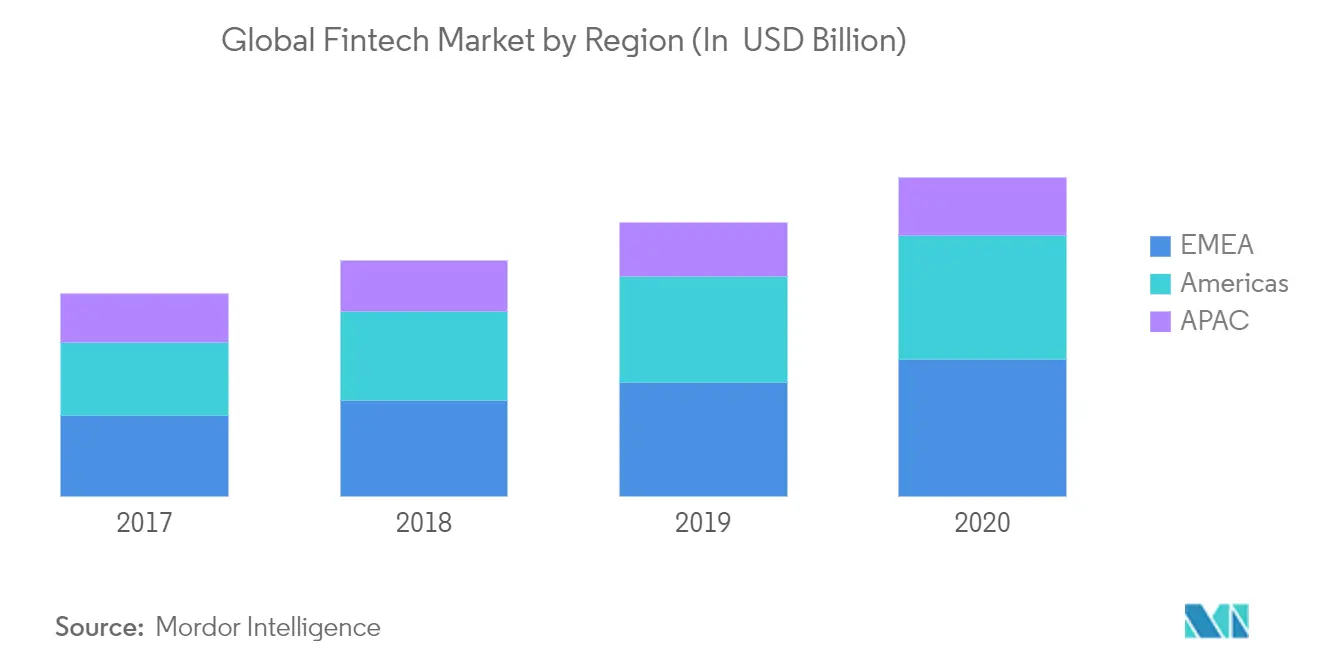 To understand key trends, Download Sample Report
La inversión global total en fintech aumentó para la primera mitad de 2021
Después del inesperadamente fuerte 2021, la inversión en la primera mitad de 2021 ve un repunte masivo. Se espera que la inversión en las tres categorías de Venture Capital, Private Equity y Merger & Acquisition en su conjunto muestre un crecimiento en 2021.
Del mismo modo, la actividad de fusiones y adquisiciones probablemente crecerá considerablemente a medida que las empresas busquen expandir sus capacidades y ofertas y las empresas de tecnología financiera busquen escalar. Es probable que la actividad transfronteriza también sea sólida a medida que FinTech busca convertirse en líderes globales o regionales. Esto también podría impulsar el retorno de importantes mega transacciones de fusiones y adquisiciones.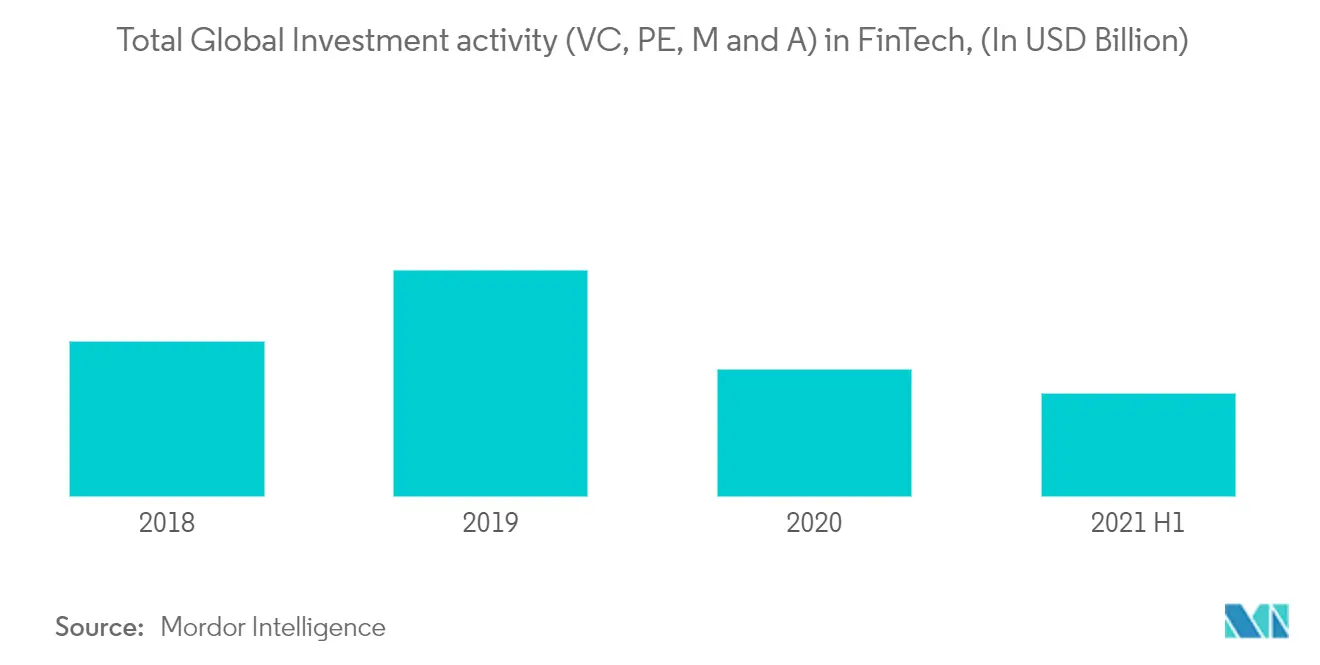 To understand geography trends, Download Sample Report
Panorama competitivo
En el escenario actual, las grandes instituciones financieras con una larga trayectoria en el mercado financiero buscan asociarse con la tecnología emergente para expandir su mercado. Del mismo modo, las nuevas empresas de FinTech se están asociando con instituciones financieras grandes y establecidas para mejorar su crecimiento y mercado. Por lo tanto, los acuerdos de fusiones y adquisiciones están aumentando en el mercado FinTech. Los principales actores del mercado incluyen; Ant Financials, Zhong An, Atom Bank, SoFi, Paypal, Coinbase, Robinhood, Adyen, etc.
Recent Developments
In May 2020, Tencent and Allianz Insight as the lead Venture Capital Investor invested 524 Euro Million in FinTech Company N 26 as the later stage Venture capital investment. N 26 is the operator of the Mobile Banking Platform. This investment represented the second-largest FinTech venture Capital Investment in Europe.
Other notable investment in FinTech Market in 2020 includes; Corporate Venture Capital of Allianz Group Allianz X seeks to invest in digital growth companies that are part of the ecosystems related to insurance, the latest invest of it was on BIMA. Mouro Capital CVC of Santander group seeks to make a minority investment in the seed, early, and later stage company, the latest being Uncapped.
Table of Contents
1. INTRODUCTION

1.1 Study Assumptions And Market Definition

1.2 Scope of the Study

2. RESEARCH METHODOLOGY

3. EXECUTIVE SUMMARY

4. MARKET INSIGHTS AND DYNAMICS

4.1 Market Overview

4.1.1 Companies Active in the Fintech Market, By Region

4.1.2 Country Wise Business Trends in Fintech Market - Collaborative or Collision Type

4.1.3 Funding Statistics

4.1.4 Revenue Statistics

4.2 Insights on Insurtech and Regtech Segments Across the Globe

4.3 Market Drivers

4.3.1 Fintech in Organisation's Strategy - Extent of Execution

4.3.2 Latest Technologies And Their Multiple Use Cases

4.4 Market Restraints

4.4.1 Security and Data Privacy

4.4.2 New Systems Posing Threat to Legacy Systems

4.5 Porters 5 Force Analysis

4.5.1 Threat of New Entrants

4.5.2 Bargaining Power of Buyers/Consumers

4.5.3 Bargaining Power of Suppliers

4.5.4 Threat of Substitute Products

4.5.5 Intensity of Competitive Rivalry

4.6 Regulatory Sandbox

4.6.1 Regulatory Landscape across the Globe

4.6.2 Business Models with Potential Regulatory Roadblocks

4.6.3 Scope for Development in lieu of Evolving Business Landscape

4.7 Fintech for MSMEs

4.7.1 Region Wise Market Potential of MSMEs

4.7.2 Fintech Role in Accelerating the Development of MSMEs

4.7.3 Role of Open Banking to Support Financing for MSMEs

4.8 Impact of Covid-19 on the Market

5. MARKET SEGMENTATION

5.1 By Service Propositions

5.1.1 Money Transfer and Payments

5.1.2 Savings and Investments

5.1.3 Digital Lending & Lending Marketplaces

5.1.4 Online Insurance & Insurance Marketplaces (Insights into Life & Non life segments covered)

5.1.5 Others (E-Commerce Purchase Financing, etc)

5.2 By Geography

5.2.1 Europe

5.2.1.1 Uk

5.2.1.2 Germany

5.2.1.3 France

5.2.1.4 Spain

5.2.1.5 Switzerland

5.2.1.6 Rest Of Europe

5.2.2 North America

5.2.2.1 USA

5.2.2.2 Canada

5.2.3 Latin America

5.2.3.1 Brazil

5.2.3.2 Argentina

5.2.4 Asia-Pacific

5.2.4.1 China

5.2.4.2 India

5.2.4.3 Japan

5.2.4.4 Indonesia

5.2.4.5 South Korea

5.2.4.6 Rest of APAC

5.2.5 MENA

5.2.5.1 UAE

5.2.5.2 Saudi Arabia

5.2.5.3 Lebanon

5.2.5.4 Rest of MENA

6. COMPETITIVE LANDSCAPE

6.1 Market Concentration Overview

6.2 Company Profiles

6.2.1 Ant Financials

6.2.2 Zhong An International

6.2.3 Atom Bank

6.2.4 Paypal

6.2.5 SoFi

6.2.6 CoinBase

6.2.7 Robinhood

6.2.8 Adyen

6.2.9 N 26

6.2.10 Ally Financials

6.2.11 Oscar Health

6.2.12 Klarna

6.2.13 Avant*

*List Not Exhaustive

7. MARKET OPPORTUNITIES AND FUTURE TRENDS
You can also purchase parts of this report. Do you want to check out a section wise price list?
Frequently Asked Questions
¿Cuál es el período de estudio de este mercado?
El mercado global de Fintech Market se estudia desde 2017 hasta 2026.
¿Cuál es la tasa de crecimiento del mercado global Fintech?
El mercado global Fintech está creciendo a una CAGR del 10 % en los próximos 5 años.
¿Qué región tiene la tasa de crecimiento más alta en el mercado global Fintech?
Asia Pacífico está creciendo a la CAGR más alta durante 2021-2026.
¿Qué región tiene la mayor participación en el mercado global Fintech?
América del Norte tiene la participación más alta en 2021.
¿Quiénes son los jugadores clave que operan en el mercado global Fintech?
Ant Financial, Adeyn, Paytm, Coinbase, Robinhood son las principales empresas que operan en el mercado mundial de tecnología financiera.
80%

of our clients seek made-to-order reports. How do you want us to tailor yours?