Instantánea del mercado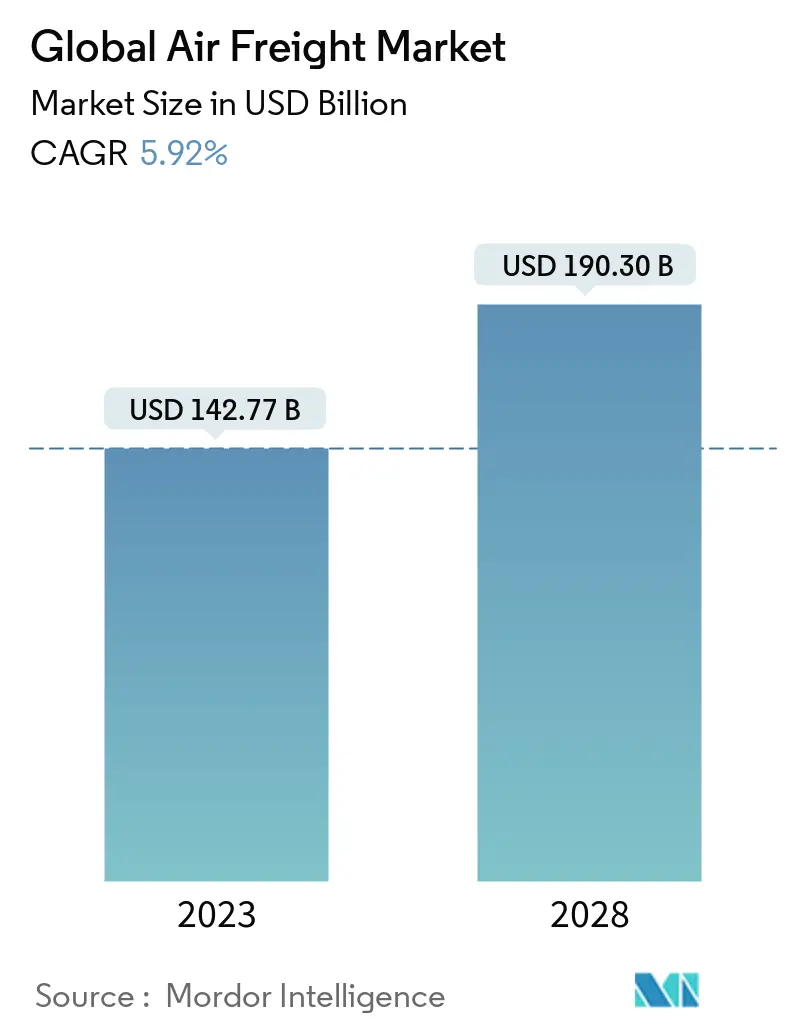 Study Period
2018-2027
Base Year For Estimation
2022
CAGR

>

6.00 %
Fastest Growing Market
Middle-East and Africa
Largest Market
Asia-Pacific
Market Concentration
Low

Major Players

*Disclaimer: Major Players sorted in no particular order
Need a report that reflects how COVID-19 has impacted this market and its growth?
Visión general del mercado
Se espera que el mercado global de carga aérea registre una CAGR de más del 6% durante el período de pronóstico.
A pesar de que el transporte de carga terrestre y marítimo sigue siendo una opción favorable, el transporte de mercancías por vía aérea se considera el modo de transporte más rápido y sin trabas. Con la pandemia de COVID-19, la carga aérea enfrentó desafíos significativos en 2020, como la caída de los volúmenes de comercio mundial, la actividad económica mundial y el debilitamiento de la confianza del consumidor.
Sin embargo, según los datos publicados por la Asociación Internacional de Transporte Aéreo (IATA) en enero de 2021, la demanda de carga aérea volvió a los niveles anteriores a COVID (enero de 2019) por primera vez desde el inicio de la crisis.
El mercado de carga aérea ha ganado un crecimiento en los volúmenes anteriores a la crisis mediante el transporte de equipos médicos, vacunas y EPP que salvan vidas. También entrega de comercio electrónico durante los períodos de bloqueo.
El Sistema de liquidación de cuentas de carga (CASS) de la IATA simplificó la facturación y la liquidación de cuentas entre las aerolíneas y los transitarios. Se realiza a través de CASS link, una solución avanzada de facturación electrónica habilitada para la web. Lo cual generó más de USD 40 mil millones con liquidación a tiempo.
Alcance del Informe
El flete aéreo es el movimiento de mercancías o envíos a través del aire. El mercado global de carga aérea está segmentado por servicio (Expedición, Aerolíneas, Correo y Otros Servicios), por destino (Nacional e Internacional), por tipo de transportista (Belly Cargo y Freighter), por geografía (Asia-Pacífico, América del Norte, Europa , Oriente Medio y África y América Latina). El informe ofrece el tamaño del mercado y las previsiones para el mercado global de carga aérea en valor (miles de millones de dólares) para todos los segmentos anteriores.
By Service
Forwarding
Airlines
Mail
Other Services
By Destination
Domestic
International
By Carrier Type
Belly Cargo
Freighter
By Geography

Asia-Pacific
China
Japan
India
South Korea
Rest of Asia-Pacific

North America
United States
Canada

Europe
United Kingdom
Germany
France
Russia
Rest of Europe

Middle East & Africa
Saudi Arabia
United Arab Emirates
Qatar
South Africa
Rest of Middle East & Africa

Latin America
Brazil
Mexico
Argentina
Colombia
Rest of Latin America
Tendencias clave del mercado
Aumento de la demanda del mercado de carga aérea
Se experimenta una mejora notable de los servicios de carga aérea después de la pandemia, que es de la segunda mitad de 2020 y luego continuó hasta 2021. Las toneladas de carga por kilómetro (CTK) del período de enero de 2021 a julio de 2021 se mantienen más del 7% por encima del mismo período en 2019 .
La carga aérea también realizó el comercio mundial de bienes para satisfacer la creciente demanda de las diferentes dinámicas de la cadena de suministro, como tiempos de entrega de suministros excepcionalmente largos y otros modos de transporte que cuestan tarifas altas.
La mejora de las rutas de carga aérea en diferentes países a diferentes ritmos ayudó al crecimiento del mercado de carga aérea.
Para satisfacer la creciente demanda, el tamaño de la flota mundial de carga aérea se incrementa alrededor de un 12 % desde enero de 2021 hasta julio de 2021.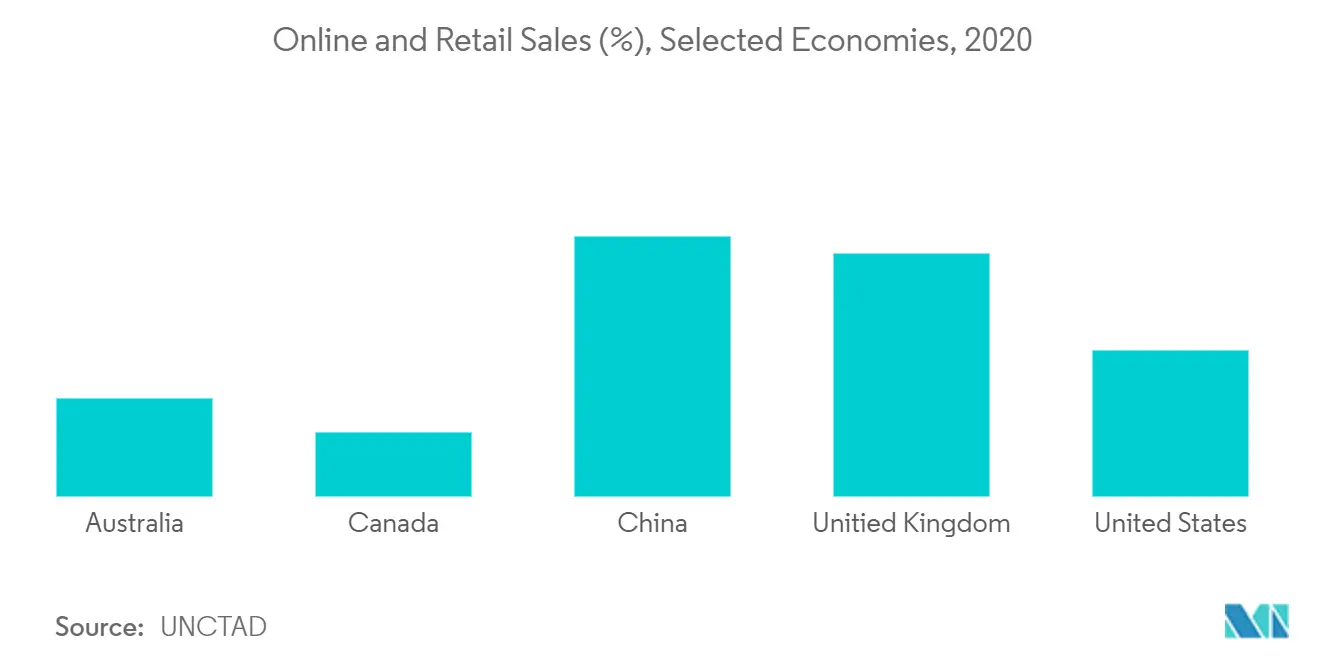 To understand key trends, Download Sample Report
El crecimiento del comercio electrónico crea grandes oportunidades para la industria del transporte aéreo
El comercio electrónico está acelerando la tasa de crecimiento en el mercado mundial de carga aérea, ya que la tasa de crecimiento para el año 2020 es de casi el 20 %.
Usando el comercio electrónico, los volúmenes promedio de transacciones en 2020 aumentaron en casi un 70% en comparación con 2019.
Según el Índice de Economía Digital 2021 de Adobe, el comercio electrónico global alcanzó los 876 mil millones de dólares en el primer trimestre de 2021, casi un 30% más que el año anterior.
Debido a las oportunidades en el mercado de carga aérea debido al comercio electrónico y la digitalización, muchos minoristas digitalizan sus actividades comerciales en un 20 % para mantener la competencia en el mercado.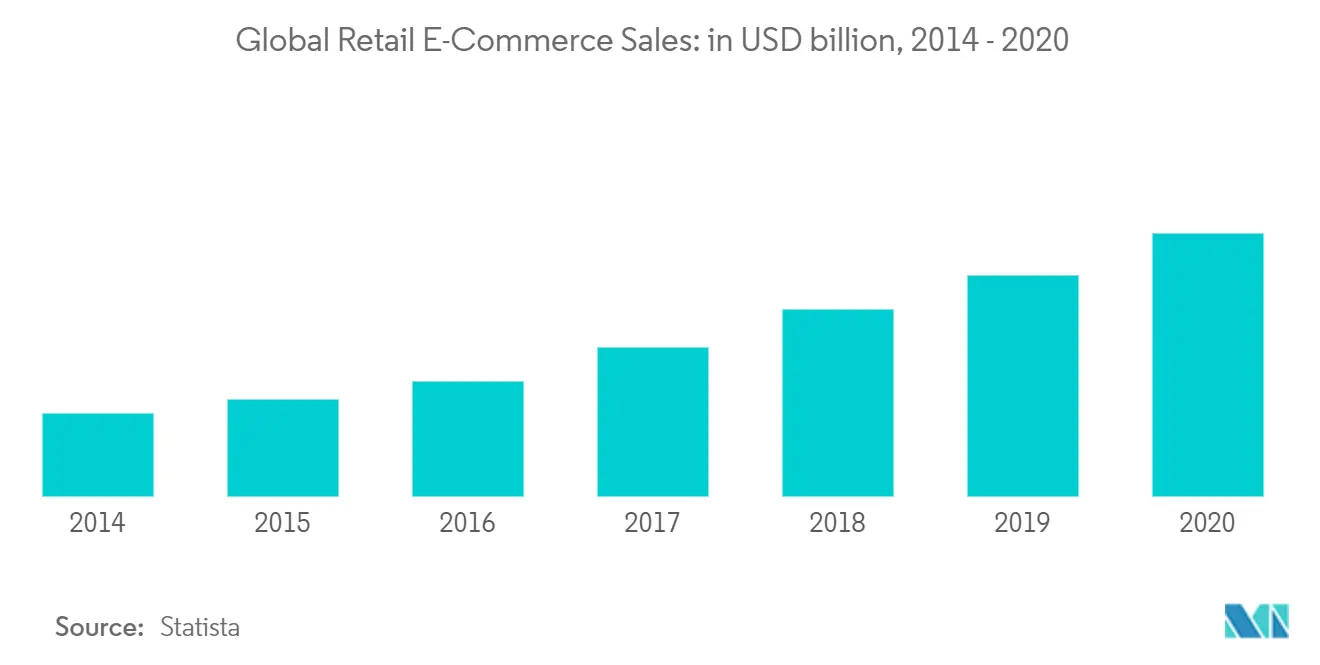 To understand geography trends, Download Sample Report
Panorama competitivo
La industria del flete aéreo está moderadamente fragmentada por naturaleza. La industria está dominada por algunos de los principales actores que operan en múltiples regiones del mundo. La creciente demanda de servicios de transporte de carga aérea ha planteado nuevos desafíos a los proveedores de servicios de carga aérea. Las aerolíneas deben centrarse en implementar soluciones de bajo consumo de combustible y adaptarse a tecnologías innovadoras para proporcionar servicios rentables.
Empresas como Lufthansa Cargo han invertido en capacidades digitales con su propia reserva electrónica y también quieren que sus reservas estén disponibles para otros, de modo que la interfaz de programación de aplicaciones pueda ofrecer la accesibilidad del inventario en los sistemas.
La industria del flete aéreo se ha visto inmensamente perturbada recientemente con las recientes disputas regulatorias (guerra comercial entre EE. UU. y China), las actividades antinacionales y la pandemia de COVID-19 que llevaron a la cancelación de una gran cantidad de vuelos debido a problemas de seguridad y caída en el número de pasajeros. Las zonas económicas especiales (SEZ), las zonas de libre comercio (FTZ) y los depósitos aduaneros están proyectados para satisfacer las necesidades de almacenamiento significativas para la carga que entra y sale del aeropuerto en breve.
Principales actores
Corporación FedEx (Federal Express)

servicio de paquetería unida inc.

El Grupo de los Emiratos

Japan Airlines Co. Ltd.

Todo Nippon Airways Co. Ltd (ANA)
*Disclaimer: Major Players sorted in no particular order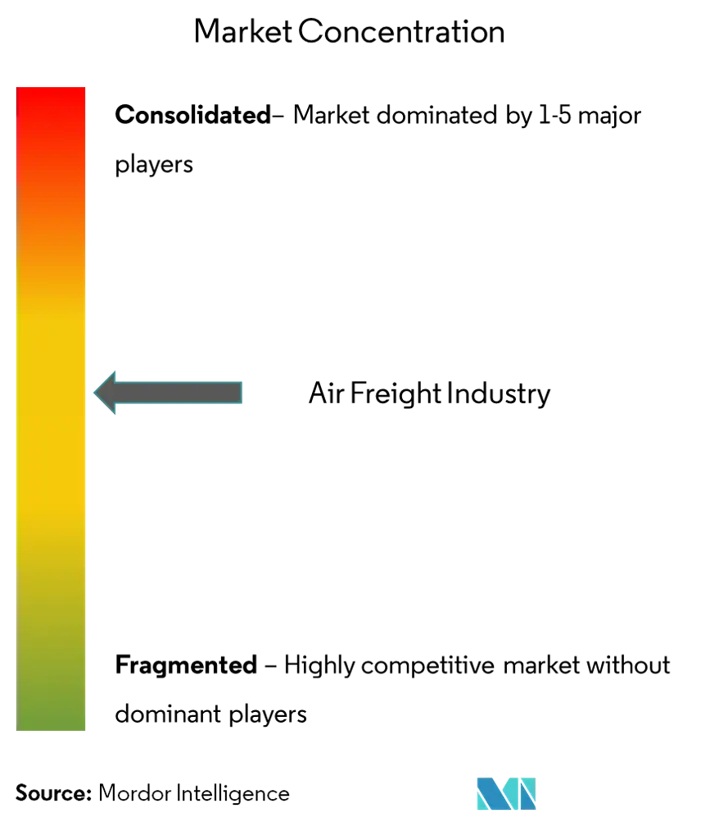 Recent Developments
September 2021: The Emirates SkyCargo is launching new technology solutions with WiseTech Global. Which is "CargoWise" to enable better user experience and improves efficiency of booking process for a cargo shipment to the customer.
March 2021: The International Air Transport Association (IATA) launched Enhanced Partner Identification and Connectivity (EPIC) platform, to digitalize the international cargo supply chain. EPIC provides quick and easy digital connections in supply chain, there by saving time and money in procuring revenues. Currently EPIC is implemented by more than 30 airlines, 900 freight forwarder branches.
January 2021: ANA Group unveiled a New Network Model for the Okinawa International Aerial Logistics Hub. New operations will strengthen aviation network by utilizing passenger flights at Naha Airport. Move will transform Okinawa into the node of a logistics network connecting overseas locations and destinations across Japan
Table of Contents
1. INTRODUCTION

1.1 Study Deliverables

1.2 Scope of the Study

2. RESEARCH METHODOLOGY

3. EXECUTIVE SUMMARY

4. MARKET INSIGHTS AND DYNAMICS

4.1 Market Overview

4.2 Market Dynamics

4.2.1 Drivers

4.2.2 Restraints

4.2.3 Opportunities

4.3 Government Regulations and Initiatives

4.4 Supply Chain/Value Chain Analysis

4.5 Porter's Five Forces Analysis

4.6 Technology Snapshot and Digital Trends

4.7 Spotlight on Key Commodities Transported by Air

4.8 Elaboration on Air Freight Rates

4.9 Spotlight on Heavy Cargo/Project Logistics in the Air Cargo Industry

4.10 Insights into Key Ground Handling Equipment in Airports

4.11 Review and Commentary on Standards and Regulations on the Safe Transport of Dangerous Goods

4.12 Brief on Cold Chain Logistics in the Air Cargo Sector

4.13 Impact of COVID-19 on the Market

5. MARKET SEGMENTATION (Market Size by Value)

5.1 By Service

5.1.1 Forwarding

5.1.2 Airlines

5.1.3 Mail

5.1.4 Other Services

5.2 By Destination

5.2.1 Domestic

5.2.2 International

5.3 By Carrier Type

5.3.1 Belly Cargo

5.3.2 Freighter

5.4 By Geography

5.4.1 Asia-Pacific

5.4.1.1 China

5.4.1.2 Japan

5.4.1.3 India

5.4.1.4 South Korea

5.4.1.5 Rest of Asia-Pacific

5.4.2 North America

5.4.2.1 United States

5.4.2.2 Canada

5.4.3 Europe

5.4.3.1 United Kingdom

5.4.3.2 Germany

5.4.3.3 France

5.4.3.4 Russia

5.4.3.5 Rest of Europe

5.4.4 Middle East & Africa

5.4.4.1 Saudi Arabia

5.4.4.2 United Arab Emirates

5.4.4.3 Qatar

5.4.4.4 South Africa

5.4.4.5 Rest of Middle East & Africa

5.4.5 Latin America

5.4.5.1 Brazil

5.4.5.2 Mexico

5.4.5.3 Argentina

5.4.5.4 Colombia

5.4.5.5 Rest of Latin America

6. COMPETITIVE LANDSCAPE

6.1 Overview (Market Concentration and Major Players)

6.2 Company Profiles

6.2.1 FedEx (Federal Express) Corporation

6.2.2 United Parcel Service Inc.

6.2.3 The Emirates Group

6.2.4 Cathay Pacific Airways Limited

6.2.5 Cargolux Airlines International SA

6.2.6 China Airlines Ltd

6.2.7 Japan Airlines Co. Ltd

6.2.8 Qatar Airways Company QCSC

6.2.9 Deutsche Lufthansa AG

6.2.10 All Nippon Airways Co. Ltd (ANA)

6.2.11 International Consolidated Airlines Group SA

6.2.12 Magma Aviation Limited

6.2.13 Deutsche Post DHL

6.2.14 Kuehne + Nagel International AG

6.2.15 United Airlines

6.2.16 American Airlines

6.2.17 Delta Airlines

6.2.18 Gol Airlines

6.2.19 Azul Airlines

6.2.20 LATAM Airlines

6.2.21 Copa Airlines*

6.2.22 AirBridgeCargo Airlines

6.2.23 Cargojet Inc

6.2.24 Delta Air Lines, Inc

*List Not Exhaustive

6.3 Other Companies in the Market

7. KEY VENDORS AND SUPPLIERS (AIRCRAFT MANUFACTURERS, TECHNOLOGY PROVIDERS, CARGO HANDLING EQUIPMENT MANUFACTURERS, ETC.) IN AIR CARGO INDUSTRY

8. MARKET OPPORTUNITIES AND FUTURE TRENDS

9. APPENDIX
Frequently Asked Questions
¿Cuál es el período de estudio de este mercado?
El mercado global de carga aérea se estudia desde 2019 hasta 2028.
¿Cuál es la tasa de crecimiento del mercado global Transporte aéreo?
El mercado global de carga aérea está creciendo a una CAGR de >6 % en los próximos 5 años.
¿Qué región tiene la tasa de crecimiento más alta en el mercado global Transporte aéreo?
Oriente Medio y África están creciendo a la CAGR más alta entre 2019 y 2028.
¿Qué región tiene la mayor participación en el mercado global Transporte aéreo?
Asia-Pacífico tiene la mayor participación en 2021.
¿Quiénes son los jugadores clave que operan en el mercado Transporte aereo global?
FedEx (Federal Express) Corporation, United Parcel Service Inc., The Emirates Group, Japan Airlines Co. Ltd, All Nippon Airways Co. Ltd (ANA) son las principales empresas que operan en el mercado global de carga aérea.
80%

of our clients seek made-to-order reports. How do you want us to tailor yours?