Chromium Market Snapshot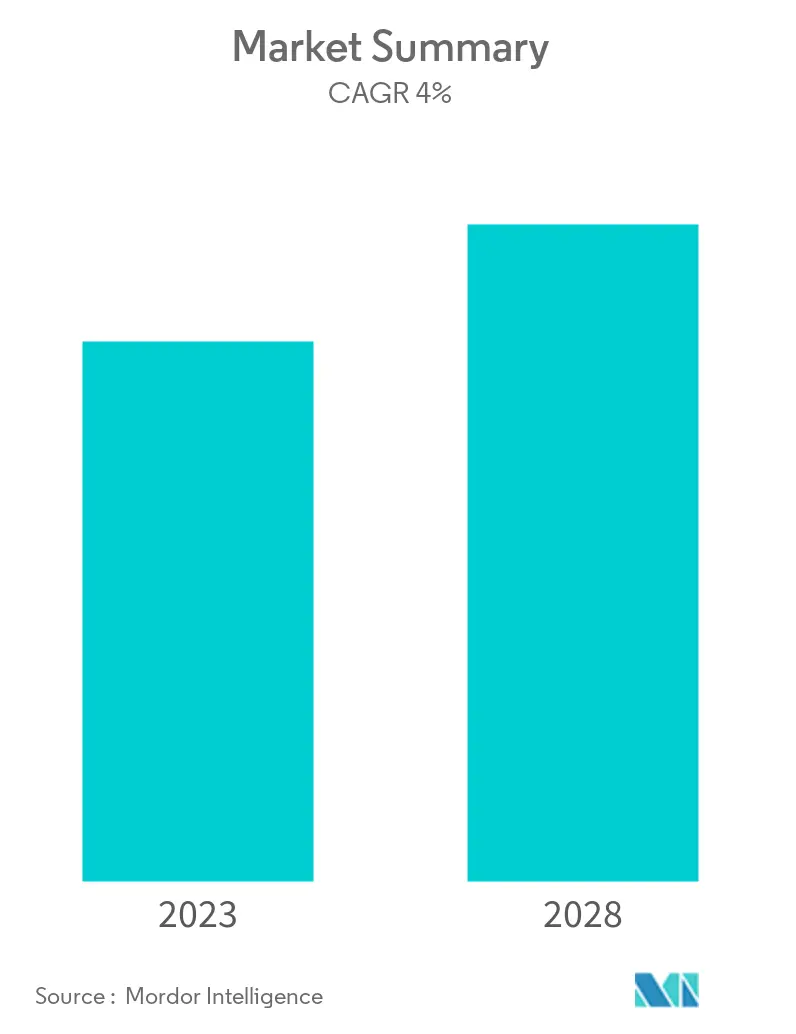 Need a report that reflects how COVID-19 has impacted this market and its growth?
Visión general del mercado
Se espera que el mercado del cromo crezca a una CAGR de aproximadamente 4% a nivel mundial durante el período de pronóstico.
El aumento del uso de aleaciones de cromo con otros metales en automóviles, equipos de construcción, motores de aviones comerciales y militares está impulsando el crecimiento del mercado.
La exposición al cromo puede causar efectos en la salud y el medio ambiente que se espera que obstaculicen el crecimiento del mercado.
Alcance del Informe
El informe de mercado de cromo incluye:
Application
Chemical
Metallurgical
Refractory
Other Applications
Geography

Asia-Pacific
China
India
Japan
South Korea
Rest of Asia-Pacific

North America
United States
Canada
Mexico

Europe
Germany
United Kingdom
France
Italy
Rest of Europe

South America
Brazil
Argentina
Rest of South America

Middle-East and Africa
Saudi Arabia
South Africa
Rest of Middle-East and Africa
Tendencias clave del mercado
Aplicaciones metalúrgicas para presenciar el crecimiento en el futuro
El cromo se ha utilizado cada vez más en los procesos metalúrgicos para aumentar la templabilidad, la resistencia a la fluencia y al impacto, la resistencia a la corrosión y la oxidación a otros metales para aplicaciones automotrices.
En la producción de acero inoxidable, el cromo se usa para endurecer el acero y aumenta su resistencia a la corrosión, lo que incluye soportar altas temperaturas en equipos de construcción, maquinaria pesada y productos metálicos fabricados.
La aleación de cromo en procesos metalúrgicos con otros metales puede ayudar a fabricar productos útiles en motores de aeronaves comerciales y militares, incluidos camiones cisterna de acero inoxidable, ácidos y remolques de tolva a granel para transportar fertilizantes y materiales higroscópicos.
La producción mundial de acero inoxidable depende en gran medida del suministro de cromo. China, un importante productor de acero, produce y suministra una gran cantidad de acero inoxidable y exporta a varios países importando cromo de Sudáfrica.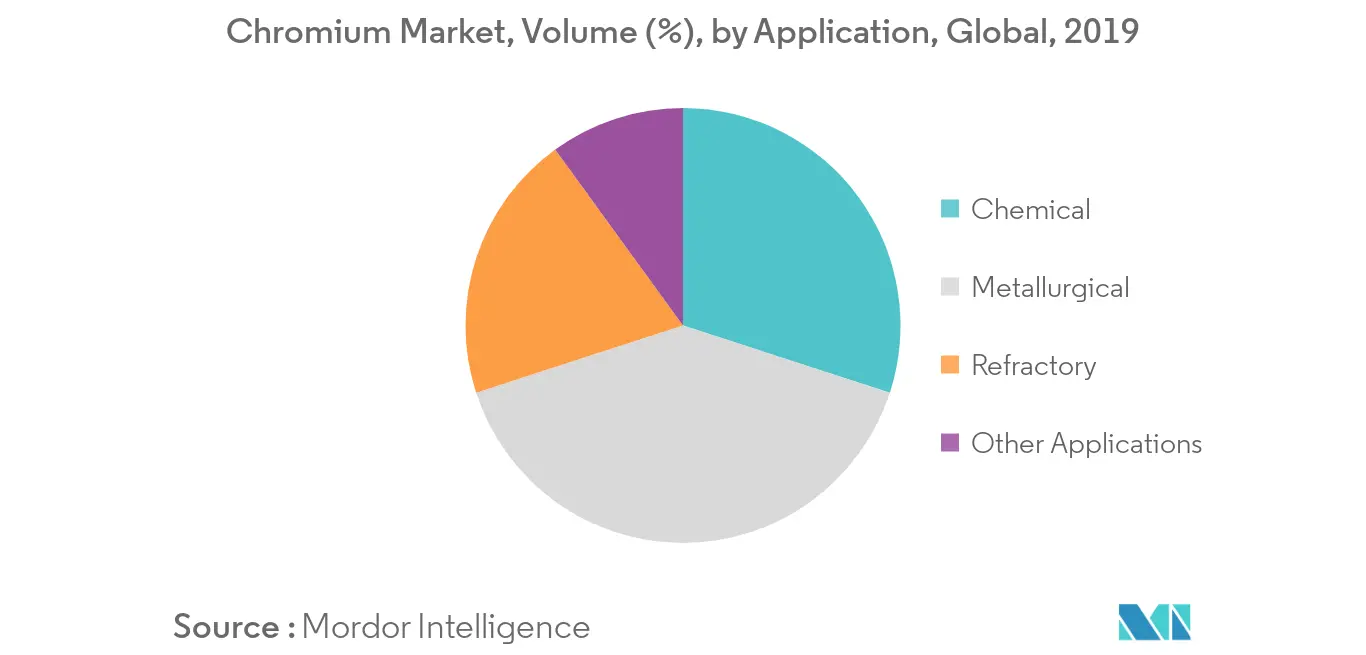 To understand key trends, Download Sample Report
Región de Asia-Pacífico para dominar el mercado
Se espera que Asia-Pacífico domine el mercado global debido a las industrias manufactureras altamente desarrolladas en China, junto con las continuas inversiones realizadas en la región para hacer avanzar el sector químico a lo largo de los años.
Asia-Pacífico produce mayores cantidades de acero inoxidable que otras regiones mediante el uso de cromo y las exportaciones a otras regiones debido a la creciente demanda de acero inoxidable en todo el mundo de todos los sectores de fabricación.
China lidera el mercado del cromo debido a un aumento constante de la demanda, con el aumento de la población y los avances tecnológicos en forma de productos químicos de cromo, principalmente cromato de sodio y dicromato de sodio en curtido de cuero, mordientes textiles y tintes.
La industria química se está expandiendo significativamente en la región de Asia-Pacífico. El cromo se utiliza como catalizador en reacciones de oxidación, polimerización de etileno y catalizadores de oligomerización que se utilizan para la producción industrial de polietileno y 1-hexeno, y se espera que estas propiedades impulsen el mercado del cromo en los próximos años.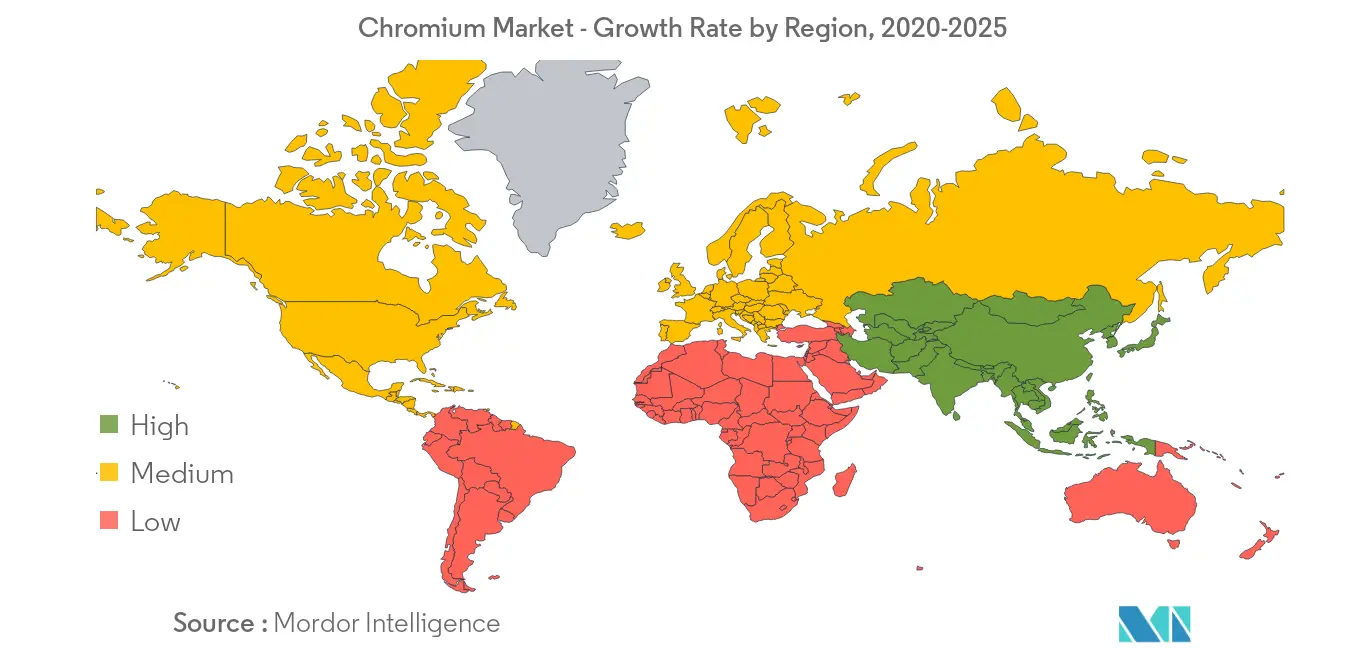 To understand geography trends, Download Sample Report
Panorama competitivo
El mercado mundial del cromo está parcialmente consolidado por naturaleza, con unos pocos jugadores importantes que dominan una parte importante del mercado. Algunas de las principales empresas son Kermas Group Ltd, Assmang Proprietary Limited, CVK Group, Glencore PLC, Odisha Mining Corporation, entre otras.
Table of Contents
1. INTRODUCTION

1.1 Study Assumptions

1.2 Scope of the Study

2. RESEARCH METHODOLOGY

3. EXECUTIVE SUMMARY

4. MARKET DYNAMICS

4.1 Drivers

4.1.1 Growing Demand for Metallurgical Uses

4.1.2 Increasing Applications for Chemical Purposes

4.2 Restraints

4.2.1 Associated Health Effects

4.2.2 Other Restraints

4.3 Industry Value Chain Analysis

4.4 Porter's Five Forces Analysis

4.4.1 Threat of New Entrants

4.4.2 Bargaining Power of Buyers

4.4.3 Bargaining Power of Suppliers

4.4.4 Threat of Substitute Products

4.4.5 Degree of Competition

5. MARKET SEGMENTATION

5.1 Application

5.1.1 Chemical

5.1.2 Metallurgical

5.1.3 Refractory

5.1.4 Other Applications

5.2 Geography

5.2.1 Asia-Pacific

5.2.1.1 China

5.2.1.2 India

5.2.1.3 Japan

5.2.1.4 South Korea

5.2.1.5 Rest of Asia-Pacific

5.2.2 North America

5.2.2.1 United States

5.2.2.2 Canada

5.2.2.3 Mexico

5.2.3 Europe

5.2.3.1 Germany

5.2.3.2 United Kingdom

5.2.3.3 France

5.2.3.4 Italy

5.2.3.5 Rest of Europe

5.2.4 South America

5.2.4.1 Brazil

5.2.4.2 Argentina

5.2.4.3 Rest of South America

5.2.5 Middle-East and Africa

5.2.5.1 Saudi Arabia

5.2.5.2 South Africa

5.2.5.3 Rest of Middle-East and Africa

6. COMPETITIVE LANDSCAPE

6.1 Mergers and Acquisitions, Joint Ventures, Collaborations, and Agreements

6.2 Market Share/Ranking Analysis**

6.3 Strategies Adopted by Leading Players

6.4 Company Profiles

6.4.1 Al Tamman Indsil FerroChrome

6.4.2 Assmang Proprietary Limited

6.4.3 CVK Group

6.4.4 Glencore PLC

6.4.5 Gulf Mining Group LLC

6.4.6 Hernic Ferrochrome (Pty) Ltd

6.4.7 International Ferro Metals

6.4.8 Kermas Group Ltd

6.4.9 MVC Holdings LLC

6.4.10 Odisha Mining Corporation

*List Not Exhaustive

7. MARKET OPPORTUNITIES AND FUTURE TRENDS

7.1 Increasing Usage in Stainless Steel Production

7.2 Other Opportunities
**Subject to Availability
You can also purchase parts of this report. Do you want to check out a section wise price list?
Frequently Asked Questions
¿Cuál es el período de estudio de este mercado?
El mercado de Chromium Market se estudia desde 2016 hasta 2026.
¿Cuál es la tasa de crecimiento del mercado cromo?
El mercado de cromo está creciendo a una CAGR de <4 % en los próximos 5 años.
¿Qué región tiene la tasa de crecimiento más alta en el mercado cromo?
Asia Pacífico está creciendo a la CAGR más alta durante 2021-2026.
¿Qué región tiene la mayor participación en el mercado de cromo?
Asia Pacífico tiene la participación más alta en 2021.
¿Quiénes son los jugadores clave que operan en el mercado Cromo?
Kermas Group Ltd, Assmang Proprietary Limited, CVK Group, Glencore PLC, Odisha Mining Corporation son las principales empresas que operan en Chromium Market.
80%

of our clients seek made-to-order reports. How do you want us to tailor yours?