Markt-Snapshot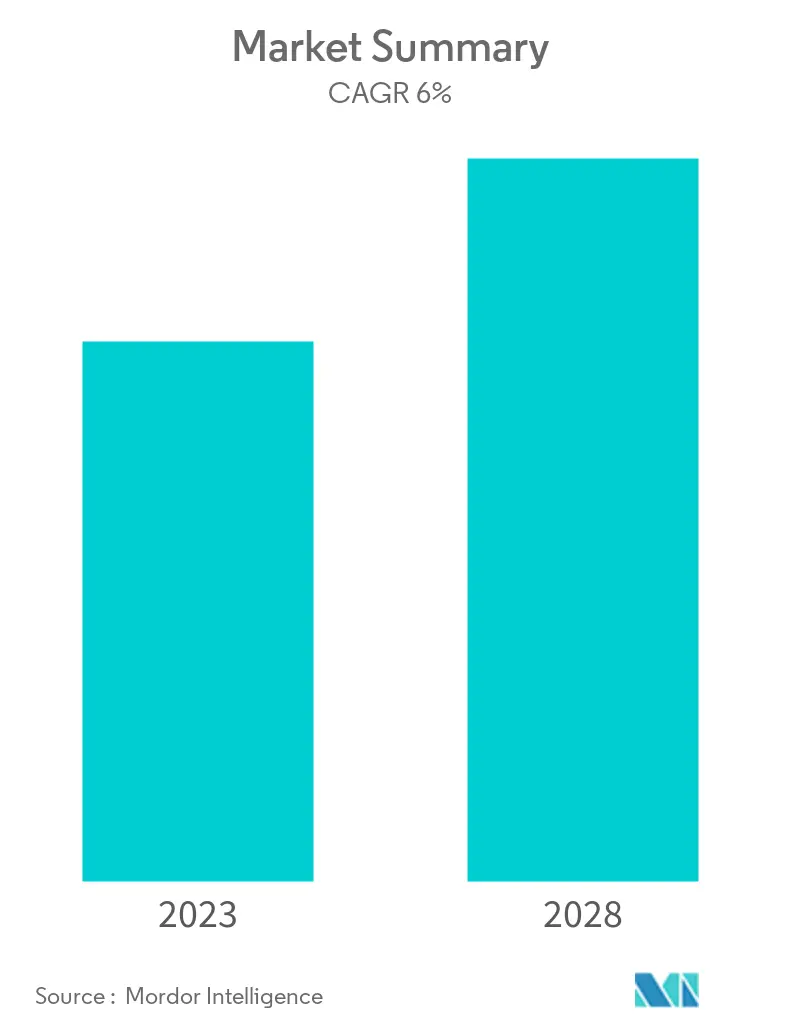 Study Period:
2016 - 2026
Base Year:
2021
Fastest Growing Market:
Asia Pacific
Largest Market:
Asia Pacific
CAGR:

>

6 %
Need a report that reflects how COVID-19 has impacted this market and its growth?
Marktübersicht
Der globale Markt für Gerbstoffe wird im Prognosezeitraum voraussichtlich ein gesundes Wachstum mit einer geschätzten CAGR von über 6 % verzeichnen. Der Hauptfaktor für das Wachstum des untersuchten Marktes ist der rasche Anstieg der Nachfrage nach hochwertigem Leder.
Hohe Betriebskosten und strenge Umweltvorschriften dürften das Wachstum des Marktes behindern.
Höhere Investitionen in Forschung und Entwicklung zur Entwicklung alternativer Bräunungstechnologien werden in den kommenden Jahren wahrscheinlich Chancen für den Markt schaffen.
Die asiatisch-pazifische Region wird voraussichtlich den Markt dominieren und im Prognosezeitraum wahrscheinlich auch die höchste CAGR verzeichnen.
Scope of the report
The global tanning agents market report includes:
Type

Inorganic Materials
Chromium
Zirconium
Others

Aldehyde Tanning Agents
Formaldehyde
Glutaraldehyde
Others

Vegetable Tanning Agents
Other Types
Application
Leather tanning
Sun Tanning and Personal Care Products
Other Applications
Geography

Asia-Pacific
China
India
Japan
South Korea
Rest of Asia-Pacific

North America
United States
Canada
Mexico

Europe
Germany
United Kingdom
Italy
France
Rest of Europe

South America
Brazil
Argentina
Rest of South America

Middle-East and Africa
Saudi Arabia
South Africa
Rest of Middle-East and Africa
Wichtige Markttrends
Ledergerbung - Das am schnellsten wachsende Segment nach Anwendung
Die am schnellsten wachsende Anwendung im Bereich des Gerbstoffmarktes ist die Ledergerbung. Bei der Ledergerbung werden die Häute und Felle von Häuten behandelt, um Leder herzustellen. Das Verfahren erzeugt weiches, haltbares und flexibles Material.
Beim Gerben von Leder werden verschiedene Materialien verwendet, die meisten davon sind Eisen, Aluminium, Titan, Zirkonium und Chrom. Von diesen wird die Chromgerbung aufgrund ihrer hohen Zugfestigkeit und Schrumpfungseigenschaft bei hoher Temperatur weit verbreitet eingesetzt.
Leder ist eines der meist gehandelten Materialien der Welt. Der Verbrauch von luxuriösen Lederprodukten hat mit zunehmender Bevölkerung und veränderten Lebensstiltrends weltweit zugenommen, was die Nachfrage nach Gerbstoffen antreibt. Die für Lederprodukte benötigten Rohstoffe haben zugenommen.
Gegerbte Lederprodukte werden häufig in verschiedenen Endverbraucherbranchen wie der Schuhindustrie und der Verpackungsindustrie verwendet.
Mehr als 65 % des weltweiten Lederbedarfs werden von Entwicklungsländern gedeckt. Es besteht die Notwendigkeit, die ästhetischen und funktionalen Aspekte von Leder zu erhalten und zu verbessern.
Aufgrund all dieser Faktoren dürfte der Markt für Gerbstoffe im Prognosezeitraum weltweit wachsen.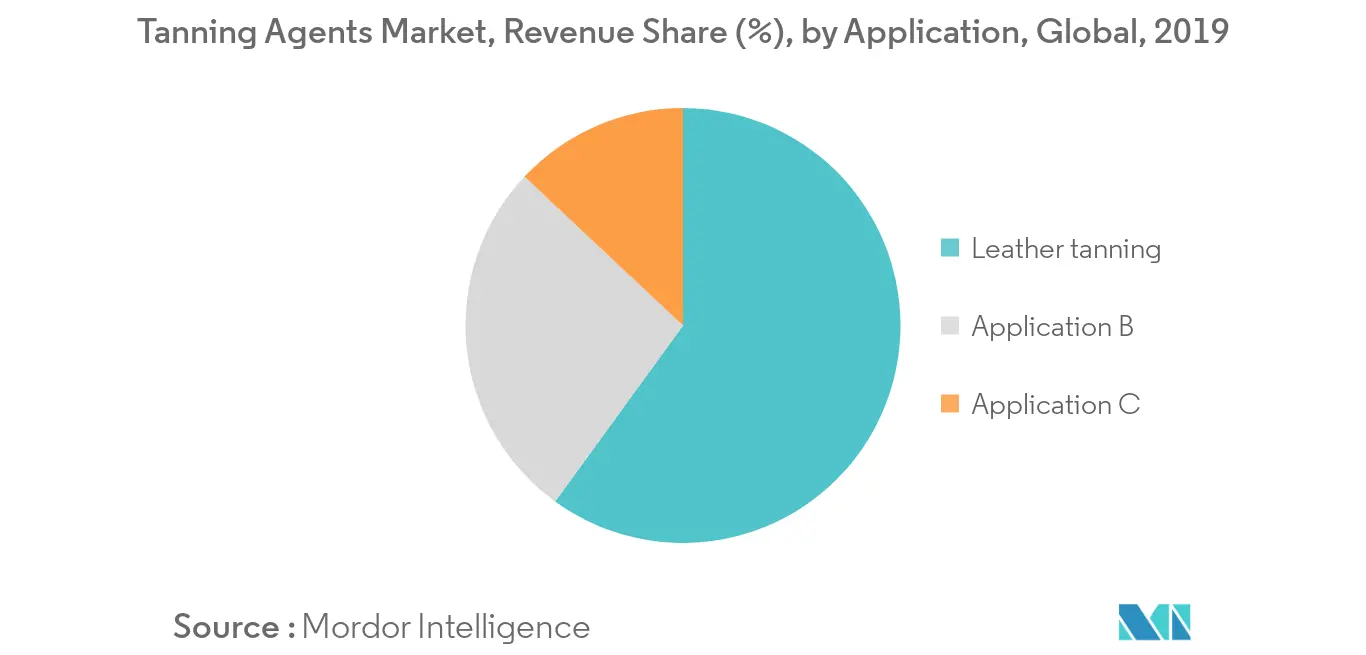 To understand key trends, Download Sample Report
Asien-Pazifik-Region soll den Markt dominieren
Asien-Pazifik dominierte den Weltmarkt mit einem Anteil von mehr als 45 %. Mit der wachsenden Schuh- und Körperpflegeindustrie in Ländern wie China, Indien, Japan und Südkorea steigt der Verbrauch von Gerbstoffen in der Region.
Laut dem Bericht der indischen Schuhindustrie überschreitet die Schuhproduktion jährlich etwa 22 Milliarden Paar, was etwa 9,6 % des Beitrags zur weltweiten Schuhproduktion ausmacht. Indien ist der weltweit drittgrößte Verbraucher von Schuhen, gefolgt von China und den Vereinigten Staaten. Etwa 90 % der in Indien hergestellten Schuhe werden auf dem Inlandsmarkt verbraucht und der Rest wird vom Land exportiert.
Derzeit ist die Durchdringung von Körperpflegeprodukten in Indien im Vergleich zu entwickelten oder sogar anderen Entwicklungsländern vergleichsweise geringer. Es wird jedoch erwartet, dass die Verbesserung des wirtschaftlichen Umfelds und die steigende Kaufkraft der indischen Bevölkerung die Akzeptanz von Körperpflegeprodukten im Land erhöhen werden.
Laut einem vom Ministerium für Wirtschaft und Industrie veröffentlichten Bericht wird erwartet, dass die Schönheits- und Körperpflegeindustrie (BPC) des Landes bis 2021 mehr als 10 Milliarden US-Dollar erreichen wird, bei einer geschätzten Wachstumsrate von 5 % bis 6 % jährlich. Der Körperpflege- und Kosmetiksektor in Indien wird voraussichtlich ein kontinuierliches Wachstum verzeichnen, mit zunehmender Regalfläche in Einzelhandelsgeschäften und Boutiquen in Indien.
Aufgrund all dieser Faktoren wird erwartet, dass der Markt für Gerbstoffe in der Region im Prognosezeitraum stetig wachsen wird.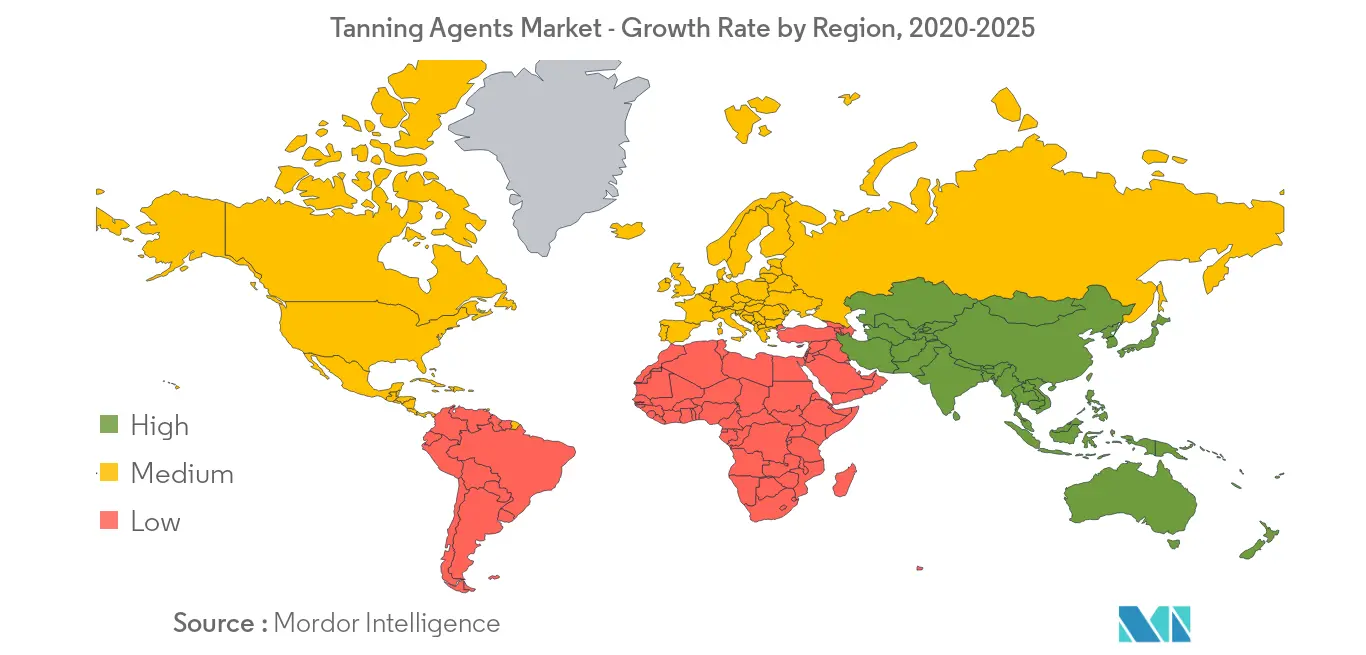 To understand geography trends, Download Sample Report
Wettbewerbslandschaft
Der Gerbstoffmarkt ist teilweise konsolidierter Natur. Zu den wichtigsten Akteuren auf dem Markt gehören unter anderem BASF SE, LANXESS, Merck KGaA, Leather International und Clariant AG.
Table of Contents
1. INTRODUCTION

1.1 Study Assumptions

1.2 Scope of the Study

2. RESEARCH METHODOLOGY

3. EXECUTIVE SUMMARY

4. MARKET DYNAMICS

4.1 Drivers

4.1.1 Rapid Increase in Demand for High Quality Leather

4.1.2 Other Drivers

4.2 Restraints

4.2.1 High Operational costs

4.2.2 Stringent Environment Regulations

4.3 Industry Value-Chain Analysis

4.4 Porters Five Force Analysis

4.4.1 Bargaining Power of Suppliers

4.4.2 Bargaining Power of Consumers

4.4.3 Threat of New Entrants

4.4.4 Threat of Substitute Products and Services

4.4.5 Degree of Competition

5. MARKET SEGMENTATION

5.1 Type

5.1.1 Inorganic Materials

5.1.1.1 Chromium

5.1.1.2 Zirconium

5.1.1.3 Others

5.1.2 Aldehyde Tanning Agents

5.1.2.1 Formaldehyde

5.1.2.2 Glutaraldehyde

5.1.2.3 Others

5.1.3 Vegetable Tanning Agents

5.1.4 Other Types

5.2 Application

5.2.1 Leather tanning

5.2.2 Sun Tanning and Personal Care Products

5.2.3 Other Applications

5.3 Geography

5.3.1 Asia-Pacific

5.3.1.1 China

5.3.1.2 India

5.3.1.3 Japan

5.3.1.4 South Korea

5.3.1.5 Rest of Asia-Pacific

5.3.2 North America

5.3.2.1 United States

5.3.2.2 Canada

5.3.2.3 Mexico

5.3.3 Europe

5.3.3.1 Germany

5.3.3.2 United Kingdom

5.3.3.3 Italy

5.3.3.4 France

5.3.3.5 Rest of Europe

5.3.4 South America

5.3.4.1 Brazil

5.3.4.2 Argentina

5.3.4.3 Rest of South America

5.3.5 Middle-East and Africa

5.3.5.1 Saudi Arabia

5.3.5.2 South Africa

5.3.5.3 Rest of Middle-East and Africa

6. COMPETITIVE LANDSCAPE

6.1 Mergers and Acquisitions, Joint Ventures, Collaborations, and Agreements

6.2 Market Share Analysis**

6.3 Strategies Adopted by Leading Players

6.4 Company Profiles

6.4.1 ANGUS Chemical Company

6.4.2 BASF SE

6.4.3 Chemtan Company, Inc.

6.4.4 Clariant AG

6.4.5 DyStar Singapore Pte Ltd

6.4.6 Ecopell GmbH

6.4.7 LANXESS

6.4.8 Leather International

6.4.9 Merck KGaA

6.4.10 SCHILL+SEILACHER GMBH

6.4.11 Silvateam S.p.A.

6.4.12 Stahl Holdings B.V.

6.4.13 TRUMPLER GmbH & Co. KG

6.4.14 Viswaat Chemicals Limited

6.4.15 VOLPKER SPEZIALPRODUKTE GMBH

6.4.16 Zschimmer & Schwarz & Co KG Chemische Fabriken

*List Not Exhaustive

7. MARKET OPPORTUNITIES AND FUTURE TRENDS

7.1 Increase in Investment of R&D to Develop Alternate Tanning Technologies
**Subject to Availability
You can also purchase parts of this report. Do you want to check out a section wise price list?
Frequently Asked Questions
Was ist der Untersuchungszeitraum dieses Marktes?
Der Markt für Gerbstoffe wird von 2016 bis 2026 untersucht.
Wie hoch ist die Wachstumsrate des Tanning Agents-Marktes?
Der Markt für Gerbstoffe wächst in den nächsten 5 Jahren mit einer CAGR von >6 %.
Welche Region hat die höchste Wachstumsrate auf dem Tanning Agents-Markt?
Der asiatisch-pazifische Raum wächst zwischen 2021 und 2026 mit der höchsten CAGR.
Welche Region hat den größten Anteil am Tanning Agents-Markt?
Asien-Pazifik hält 2021 den höchsten Anteil.
Wer sind die wichtigsten Hersteller auf dem Tanning Agents-Markt?
BASF SE, LANXESS, Merck KGaA, Leather International und Clariant AG sind die wichtigsten Unternehmen, die auf dem Markt für Gerbstoffe tätig sind.
80%

of our clients seek made-to-order reports. How do you want us to tailor yours?