Markt-Snapshot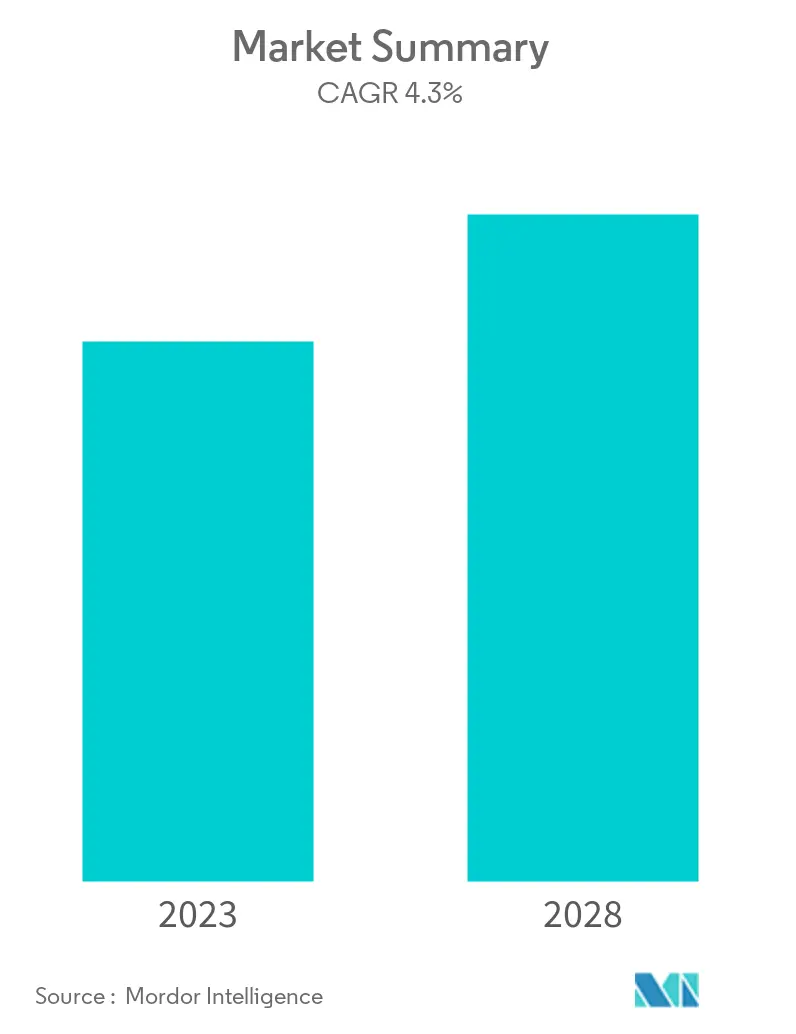 Study Period:
2016 - 2026
CAGR:
4.3 %

Major Players

*Disclaimer: Major Players sorted in no particular order
Marktübersicht
Der europäische Markt für Futtermittelenzyme wird im Prognosezeitraum voraussichtlich eine CAGR von 4,3 % verzeichnen. Die Futterenzyme werden verwendet, um den Tieren bei der leichten Verdauung zu helfen und sicherzustellen, dass die Tiere eine vollständige Ernährung oder Ernährung aus den ihnen gefütterten Futtermitteln erhalten. Die steigende Nachfrage nach tierischem Protein, der steigende Tierbestand und die Vorteile der Enzyme korrelieren mit dem Markt für Futtermittelenzyme, der den Markt in einen positiven Trend treibt. Das Segment Carbohydrase verzeichnet aufgrund der Vorteile der Unterstützung der Verdaulichkeit das am schnellsten wachsende Segment. Dieser positive Trend zieht mehr Spieler an, in den Markt für Futtermittelenzyme einzusteigen. Einige der führenden Spieler auf dem Markt sind Chr. Hansen Holding A/S, DuPont, Bioseutica, Adisseo
Scope of the report
Industrialization of the livestock industry has led to the use of artificial feeds which have a large amount of corn and soy as a major protein ingredient in the feed. This has led to an increased usage of the feed enzymes, attracting many players to the market.
Wichtige Markttrends
Erhöhte Präferenz für Produkte auf tierischer Basis
Das zunehmende Bewusstsein und die Akzeptanz der Verbraucher in Bezug auf die Convenience von Fleischprodukten hat die Nachfrage nach Qualitätsfutter geschaffen und treibt wiederum den Markt an. Futterenzyme gewinnen an Bedeutung für ihre Rolle bei der Verbesserung der Fleischqualität und der Verbesserung des Nährwerts. Laut der Organisation für wirtschaftliche Zusammenarbeit und Entwicklung (OECD) ist der Verzehr von Geflügelfleisch in Russland am höchsten. Im Jahr 2016 betrug der Geflügelfleischverbrauch 29,5 kg und I ist im Jahr 2019 auf 31,7 kg gestiegen. In Anbetracht des zunehmenden Fleischkonsumtrends wird die Notwendigkeit einer steigenden Fleischproduktion eine Nachfrage nach Futterzusatzstoffen schaffen und wiederum den Markt für Futterenzyme antreiben.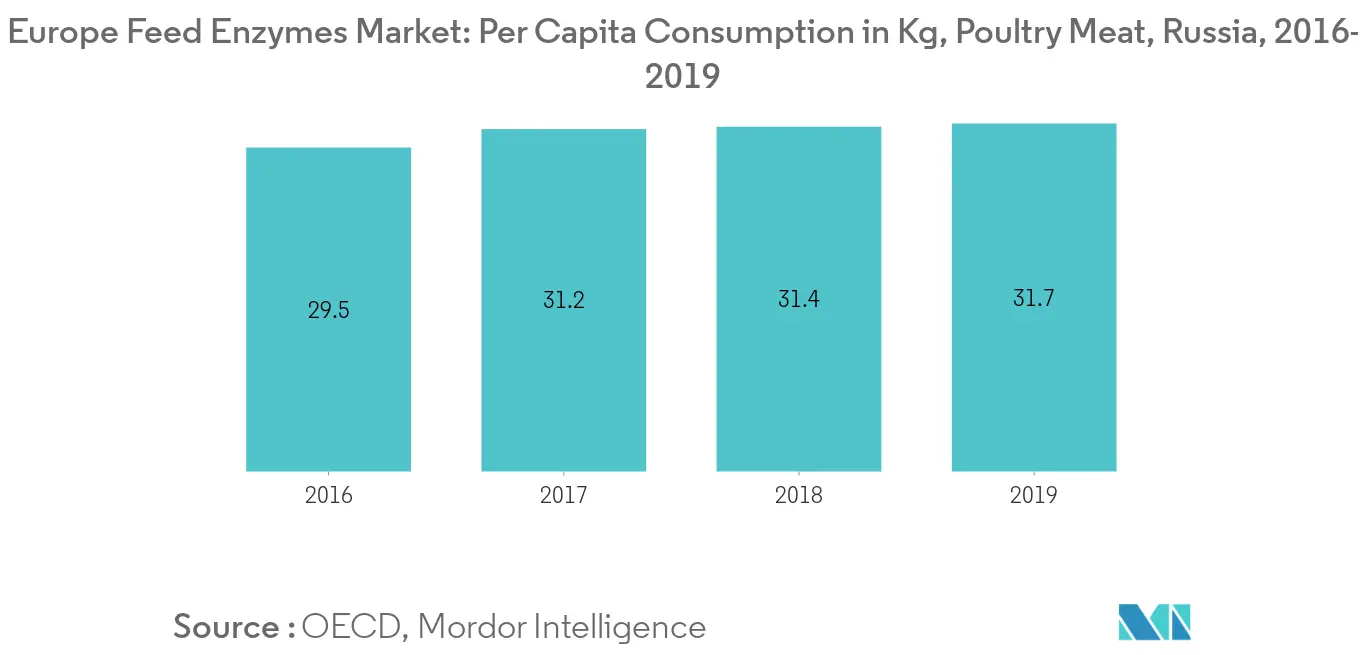 To understand key trends, Download Sample Report
Kohlenhydrate dominieren den Markt
Carbohydrase erhöht die Verdaulichkeit von Tierfutter, was zu einer höheren Futteraufnahme führt. Dies kann somit die Menge an Energie erhöhen, die ein Tier verwenden kann, um Muskeln zu entwickeln und wachsen zu lassen. Bei Getreide besteht die Trockenmasse zu 80 % aus Stärke. Somit verbessert das Carbohydrase-Enzym die Verdaulichkeit der Tiere. Dies treibt das Marktwachstum für Futtermittelenzyme voran. DSM hat 2019 einen neuen Futterbestandteil für Masthähnchen auf den Markt gebracht: Balancius, das die Bakterienzellwand im Darm hydrolysiert und so die Nährstoffverfügbarkeit verbessert. Darüber hinaus verbessert es auch die Futterverwertung um (4-6 Punkte) 3 % und trägt so zu einer nachhaltigen Geflügelproduktion bei.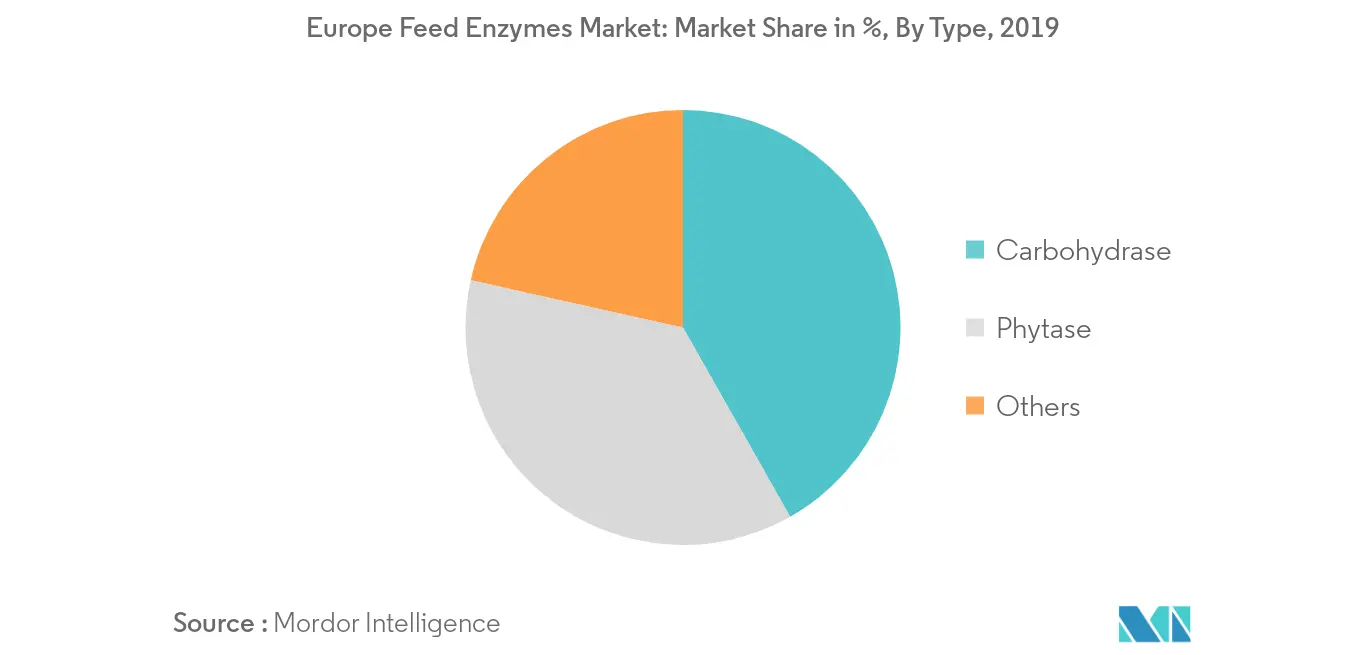 To understand geography trends, Download Sample Report
Wettbewerbslandschaft
Der Markt für Futtermittelenzyme ist ein fragmentierter Markt mit vielen Marktteilnehmern. BASF SE, Chr. Hansen Holding A/S, Bioseutica, DuPont und Adisseo sind nur wenige internationale Akteure auf dem Markt. Die Marktteilnehmer erschließen das Marktpotenzial durch verschiedene Aktivitäten, darunter die Übernahme anderer Unternehmen, Investitionen in ihre F&E-Einrichtungen und mehr.
Hauptakteure
Adisseo

Chr. Hansen Holding A/S.

Dupont

Bioseutica

DSM

Amano Enzyme Inc.
*Disclaimer: Major Players sorted in no particular order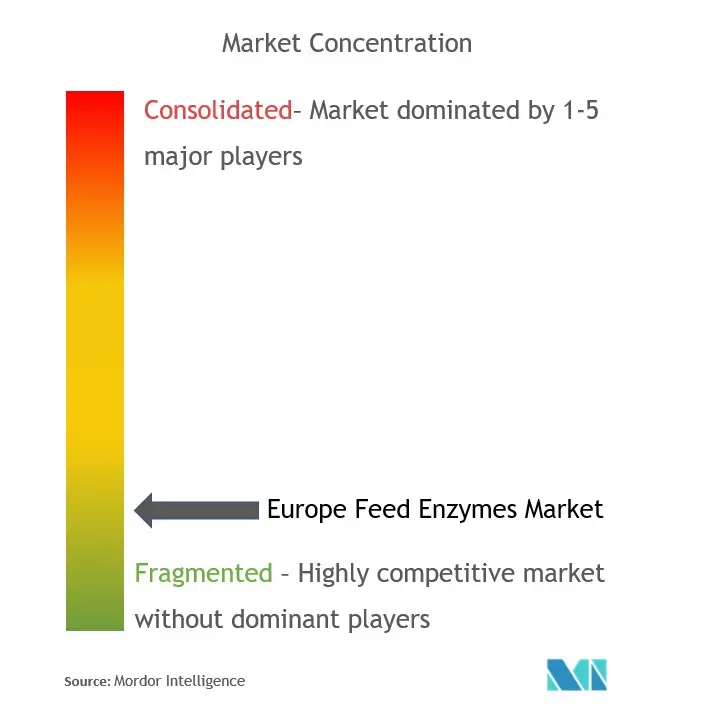 Table of Contents
1. EINLEITUNG

1.1 Studienannahmen und Marktdefinition

1.2 Umfang der Studie

2. FORSCHUNGSMETHODIK

3. ZUSAMMENFASSUNG

4. MARKTDYNAMIK

4.1 Marktübersicht

4.2 Marktführer

4.3 Marktbeschränkungen

4.4 Porters Fünf-Kräfte-Analyse

4.4.1 Verhandlungsmacht der Lieferanten

4.4.2 Verhandlungsmacht von Käufern/Verbrauchern

4.4.3 Bedrohung durch Neueinsteiger

4.4.4 Bedrohung durch Ersatzprodukte

4.4.5 Wettberbsintensität

5. MARKTSEGMENTIERUNG

5.1 Art

5.1.1 Kohlenhydrate

5.1.2 Phytasen

5.1.3 Andere

5.2 Tiertyp

5.2.1 Wiederkäuer

5.2.2 Geflügel

5.2.3 Schwein

5.2.4 Aquakultur

5.2.5 Andere Tierarten

5.3 Erdkunde

5.3.1 Vereinigtes Königreich

5.3.2 Spanien

5.3.3 Italien

5.3.4 Deutschland

5.3.5 Frankreich

5.3.6 Russland

5.3.7 Rest von Europa

6. WETTBEWERBSLANDSCHAFT

6.1 Die am häufigsten angenommenen Wettbewerbsstrategien

6.2 Marktanteilsanalyse

6.3 Unternehmensprofile

6.3.1 Ab Enzymes Gmbh

6.3.2 BASF SE

6.3.3 Adisseo

6.3.4 Lesaffre

6.3.5 Chr. Hansen-Holding

6.3.6 Novozyme

6.3.7 Amano Enzyme Inc.

6.3.8 Bioseutik

6.3.9 DuPont

7. MARKTCHANCEN UND ZUKÜNFTIGE TRENDS

8. AUSWIRKUNGEN VON COVID-19
Market Definition
Vehicle Types

- Passenger Vehicles, Commercial Vehicles and Motorcycles are the vehicle types considered under the automotive lubricants market.

Product Types

- For the purpose of this study, lubricant products such as engine oils, transmission oils, greases and hydraulic fluids are taken into consideration.

Service Refill

- Service refill is the primary factor considered while accounting the lubricant consumption for each of the vehicle segments, under the study.

Factory Fill

- First lubricant fill-ups for newly produced vehicles are considered.
Research Methodology
Mordor Intelligence follows a four-step methodology in all our reports.
Step-1: Identify Key Variables:

The quantifiable key variables (industry and extraneous) pertaining to the specific product segment and country are selected from a group of relevant variables & factors based on desk research & literature review; along with primary expert inputs. These variables are further confirmed through regression modeling (wherever required).

Step-2: Build a Market Model:

In order to build a robust forecasting methodology, the variables and factors identified in Step-1 are tested against available historical market numbers. Through an iterative process, the variables required for market forecast are set and the model is built on the basis of these variables.

Step-3: Validate and Finalize:

In this important step, all market numbers, variables and analyst calls are validated through an extensive network of primary research experts from the market studied. The respondents are selected across levels and functions to generate a holistic picture of the market studied.

Step-4: Research Outputs:

Syndicated Reports, Custom Consulting Assignments, Databases & Subscription Platforms
80%

of our clients seek made-to-order reports. How do you want us to tailor yours?