Market Snapshot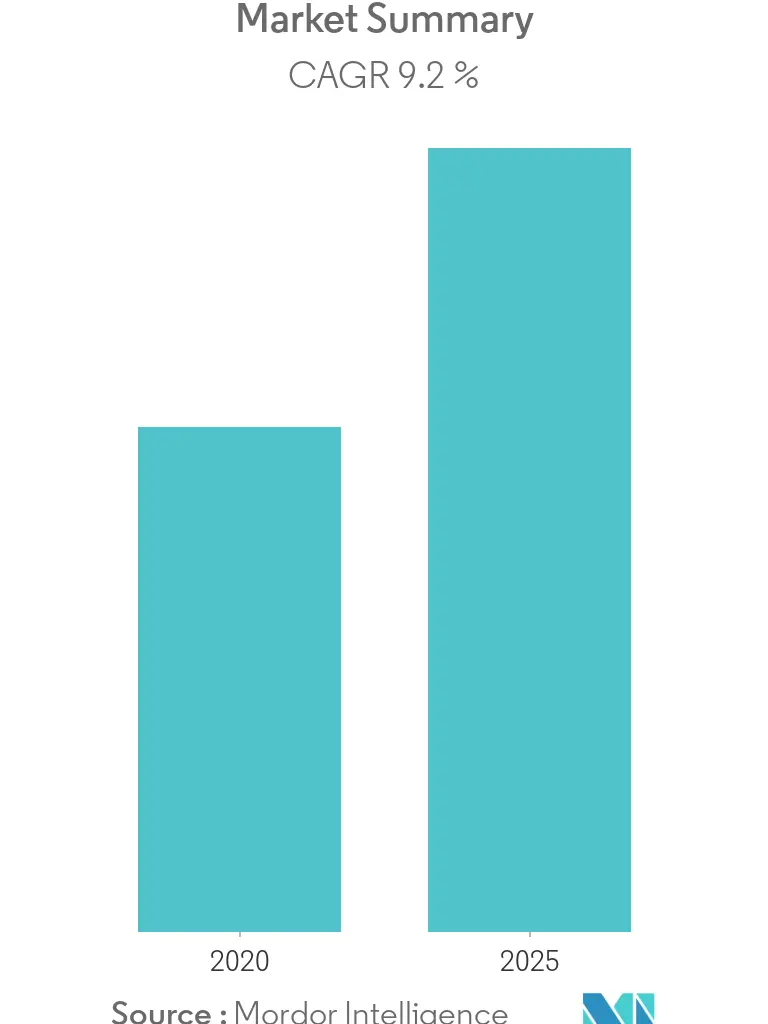 Study Period:
2018 - 2026
Base Year:
2021
CAGR:
9.2 %
Need a report that reflects how COVID-19 has impacted this market and its growth?
Market Overview
The United Kingdom business intelligence market is projected to reach a CAGR of 9.2 % during the forecast period 2021-2026. According to data from the OECD's skills database, the United Kingdom faces significant shortages in advanced analytics and technology skills. The centerpiece of the government's support for the sector is a GBP 1 billion package to support the development of analytics in business, which is anticipated to boost the studied market.
The growing adoption of IoT-enabled technologies is driving the market. IoT analytics enabled a whole new world of business intelligence tools to make life smarter, faster, and easier. In the United Kingdom, one of the railroad companies combines IoT and operational business intelligence by using icCube to monitor train issues such as engine malfunctions, brake failures, and more in order to quickly and effectively act in case of a breakdown. Armed with information collected from sensors inside the engines, employees can take immediate action in the event of a heating, cooling, engine, or electrical issue.
Further, in Feb 2020, Sensemetrics Inc., announced that Geosense, a leading United Kingdom manufacturer of geotechnical and structural monitoring instrumentation company, is the first sensor company in Europe to integrate its portfolio of sensors into sensemetrics' cloud-based IIoT platform. The partnership between sensemetrics and Geosense means improved connectivity and data management when monitoring the safety and performance of infrastructure, mining, and energy assets such as dams, tunnels, pipelines, bridges, and high-rise buildings. These factors significantly cater to the IoT enabled technologies integrated into the BI tools.
Increasing the use of BI tools in the retail sector is driving the market. According to Google's Zero Moment of Truth (ZMOT), in the United Kingdom, 70% of consumers research online before purchasing in-store. This behavioral change means analytics have to change; store and digital research data sets have to be connected to produce the real insight needed to understand how consumers research and respond to offers. In addition, in September 2019, Microsoft announced to expand its Dynamics 365 service with new online commerce and retail store management capabilities, among other features in the United Kingdom. Dynamics 365 gets new analytics tools, including Product Insights, to provide additional services to customers with connected devices, and intelligence for SCM to help adapt production to changes in the supply chain.
Further, the recent COVID-19 outbreak has heightened demand for business intelligence and analytics software that provides benefits for organizations shifting their staff to working from home, with many businesses in the United Kingdom closing offices. However, uncertainties associated with leaving the European Union is expected to weigh on demand as businesses defer software investments until the outcomes of BREXIT are certain.
Many manufacturing companies in the United Kingdom, and those in other industries, too, are in survival mode. If these businesses survive, during a post-COVID-19 era, they will likely undergo a company-wide assessment of which areas of the company were hit the hardest and why. Most likely, one of the areas that will see an increase in investments is single real-time visibility. Real-time analytics provide near-instant actionable insights to make critical decisions in a time of need. Further, players such as Panintelligence are appealing to the United Kingdom government to give a chance to provide their support. The company can embed their business intelligence software and expertise into systems quickly, enabling key decision-makers to dissect live data and help global leaders to come together to terminate this deadly virus. If implemented, the market can show a growth in the COVID-19 precaution.
Scope of the Report
Business Intelligence is a set of tools, technologies, and operations that work together to extract vital data about a company and process it to create valuable outcome information. The United Kingdom business intelligence market is segmented based on the organization size, such as Small & Medium-scale, Large-scale, and also into different end-user types such as BFSI​, IT & Telecom​, Retail & Consumer Goods​, Manufacturing & Logistics, Public Services.
Organization Size​
Small & Medium-scale ​
Large-scale​
End-user
BFSI
IT & Telecom
Retail & Consumer Goods
Manufacturing & Logistics
Public Services
Other End-user verticals
Key Market Trends
Applications in BFSI Sector to Drive the United Kingdom Business Intelligence Market
In the United Kingdom between 2015 and 2019, consumer adoption of fintech companies and financial products grew rapidly. The United Kingdom has a higher adoption rate as of 2019, relative to the 64% global average. Further, vacancies in the United Kingdom banking industry for tech-focused roles rose seven percentage points (from 23% to 30%) between 2017 and 2019
Banks are focused on rising digital channel usage to match fintech's digital offerings. Consumers are majorly interacting with financial services providers via technology, with the United Kingdom's online banking adoption rate reaching 73% in 2019. This is pushing banks to focus on hiring tech talent to improve their digital offerings and also helps to gain profound information about customer behavior.
Further, according to the Bank of England, the United Kingdom's 30 largest banks adopted nearly 2,000 cloud-based applications between them. In contrast, the United Kingdom's 27 largest insurers have adopted fewer than 100 cloud-based applications in total. This significantly raises the market for cloud BI (Business Intelligence) in the United Kingdom.
In addition, according to the survey by Pinsent Masons, in the case of banks, the survey found that banks use cloud outsourcing for file sharing and collaboration in 23% of cases, and for performing other functions such as business management, finance, communications, and fraud detection. Analytics, customer relationship management, and business management have been identified as the three most common of using cloud outsourcing. In December 2019, the Prudential Regulation Authority issued a consultation paper that sets out the expectations on outsourcing, including the use of the cloud. The survey indicates that for banks and insurers, the provision of IT infrastructure in the cloud is already highly concentrated in the United Kingdom.
Furthermore, Oxford University researchers received funding from the Industrial Strategy Challenge Fund of the United Kingdom. Research and Innovation to explore how analytics could help make insurance and finance more efficient and globally competitive.
A small number of research institutes are now focusing on BI in BFSI, including the Alan Turing Institute in London and Cambridge-based Leverhulme Centre for the Future of Intelligence, which brings together three United Kingdom universities; Cambridge, Imperial College, and Oxford, with the Leverhulme Trust and the University of California at Berkeley. However, their number is far smaller than the comparable figure for China, and there is still a major untapped market potential in the United Kingdom.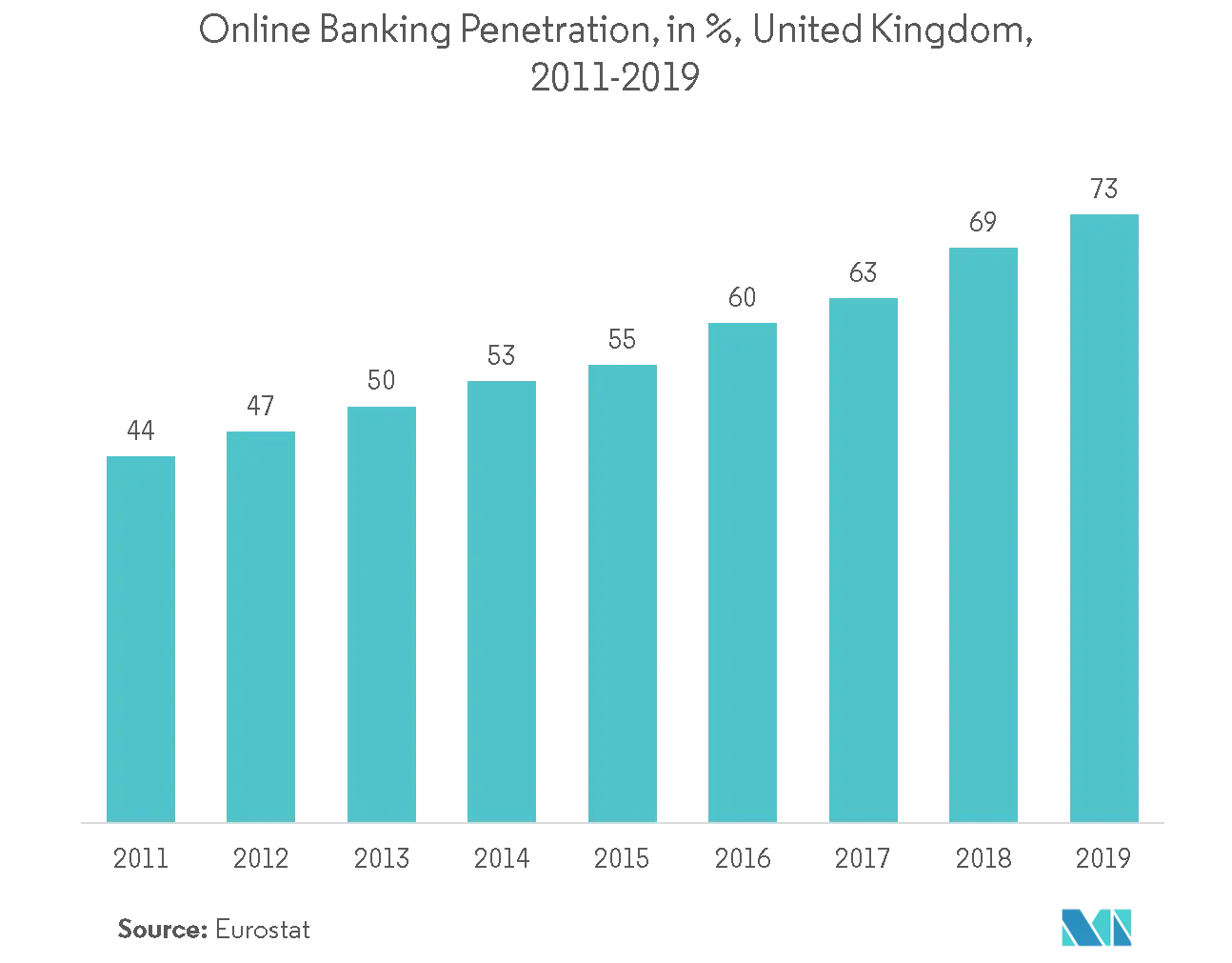 To understand key trends, Download Sample Report
Small and Medium Scale Businesses to Generate Significant Market Growth
The United Kingdom has a large pool of BI talent and has proved successful in attracting people with needed skills from other countries. The country has the second-largest number of professional software developers in Europe, 15 percent of the total. London is the largest tech hub in Europe, with more than 350,000 developers.
Further, in 2019, there were 5.9 million private sector businesses in the United Kingdom, up by 200,000 compared to 2018 (source Department for Business, Energy, and Industrial Strategy). The usual definition of small and medium-sized enterprises (SMEs) is any business with fewer than 250 employees. There were 5.9 million SMEs in the UK in 2019, which was over 99% of all businesses. The increasing trend of increasing SME business is driving the adoption of BI (Business Intelligence) in the region.
Several medium scale companies are opting for Business Intelligence tools to simplify their processes and become cost-efficient. For instance, United Kingdom-based TeamGate provides Business Intelligence to several medium scale companies like Bluebridge, BSH Home appliances, Vita Baltic, AVIS, amongst others.
Further, in June 2020, Reward Gateway launched a platform for small businesses in the United Kingdom, targeting organizations with fewer than 100 employees. Available via desktop and mobile apps, the product combines employee discounts, recognition tools, and well-being features.
Besides, in February 2020, Reward Gateway also launched an analytics engine called SmartInsights. The package, available on the SMB platform, provides employers with intelligence on overall employee engagement, recognition activity, benefit uptake, and social responses.
However, investment in BI is higher than other advanced economies but lower than that of the world's BI leaders. The United Kingdom's investment in BI is relatively small compared with the United States and China, which invest 50 times and eight times more than the United Kingdom, respectively.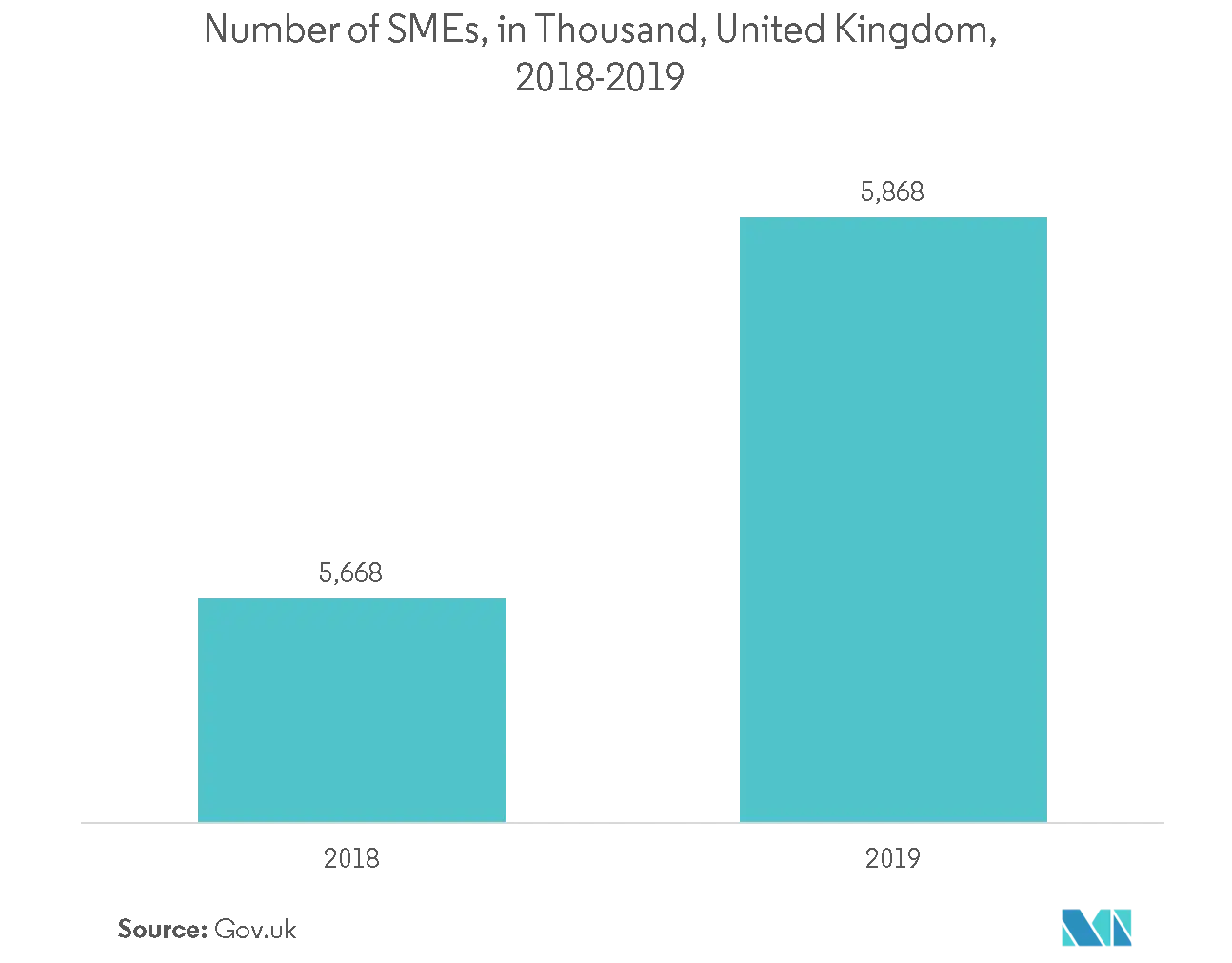 Competitive Landscape
The United Kingdom's business intelligence market concentration is medium due to the presence of many small and medium-sized companies that are competing with each other and also with large enterprises. The large enterprises hold a prominent share in the market and are giving tuff competition to the new entrance players through new innovations among them. Some key players in the market include SAS Institute Inc., Microsoft Corp., etc., Recent developments in the market are -
February 2020 - The United Kingdom based Neobank that services small and medium-sized businesses (SMBs) announced a new expense management tool, which enables users to upload an image of a receipt and automatically have the expense matched to a transaction made through their Tide account in real-time. This machine learning (ML) model matches the receipts and gets more accurate information each time the client uses it. This feature is being rolled out free of charge to all of Tide's 140,000 clients.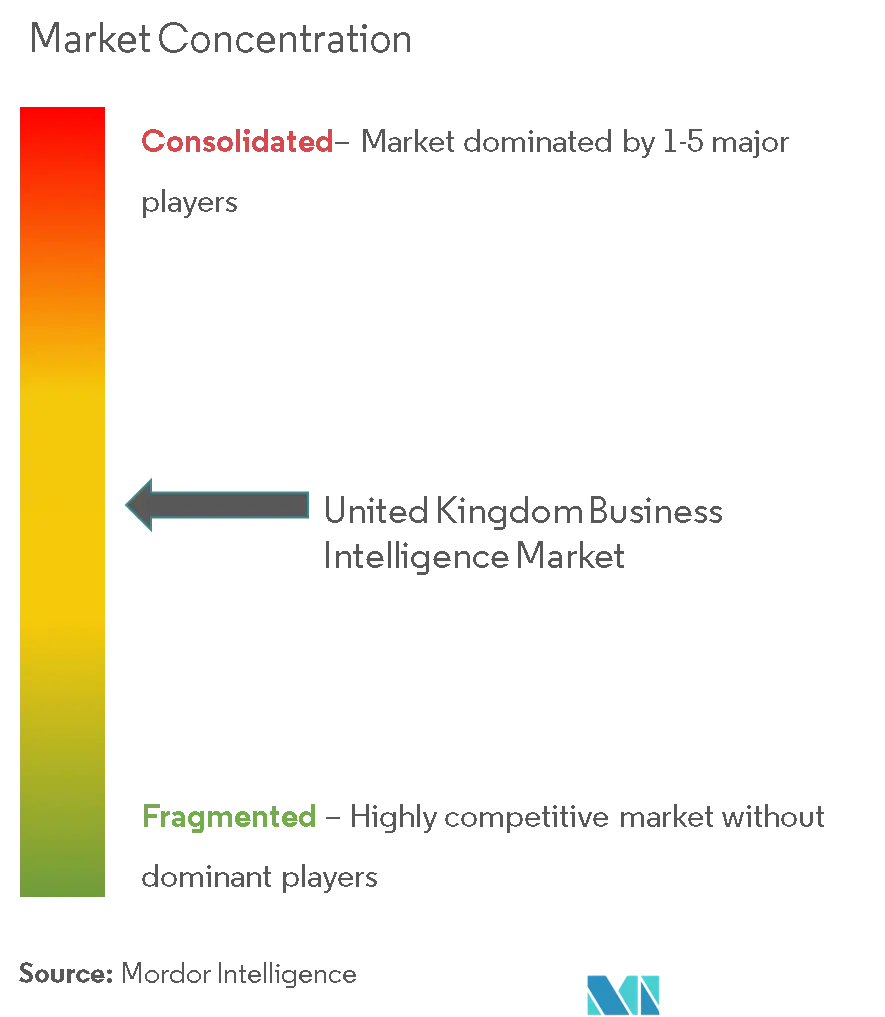 Table of Contents
1. INTRODUCTION

1.1 Study Assumptions​ and Market Definition​

2. RESEARCH METHODOLOGY

3. EXECUTIVE SUMMARY

4. MARKET DYNAMICS

4.1 Market Overview

4.2 Market Drivers

4.2.1 Growing adoption of IoT-enabled technologies and Advanced Analytics tools in the UK​

4.2.2 Migration to the cloud has enabled SME's to leverage data to support their decision-making process​

4.3 Market Challenges

4.3.1 Key initiatives undertaken by the UK government to promote BI adoption (Government Transformation Strategy Roadmap and ongoing digitalization measures)

4.4 Market Opportunities​

4.4.1 Impact of GDPR on the BI Industry in the UK (Trends such as Data Minimization and Privacy to be covered)​

4.4.2 Current BI Ecosystem Analysis Landscape in the UK (Major research institutes, academic programs, and collaborations with public agencies)​

4.5 Analysis of the impact of COVID-19 on the BI Industry ​

4.5.1 Near & Medium-term impact to vary across end-user organizations ​

4.5.2 SME adoption to witness a decline in the near-term ​

4.5.3 Growth in Geo-spatial BI to build on the current models ​

4.5.4 Higher adoption of BI adoption for data dissemination ​

4.5.5 Social BI to witness higher adoption as organizations increasingly focus on sentiment analysis to aid decision making process​

4.6 Current Positioning of the UK in the Europe BI Market ​

5. MARKET SEGMENTATION

5.1 Organization Size​

5.1.1 Small & Medium-scale ​

5.1.2 Large-scale​

5.2 End-user

5.2.1 BFSI

5.2.2 IT & Telecom

5.2.3 Retail & Consumer Goods

5.2.4 Manufacturing & Logistics

5.2.5 Public Services

5.2.6 Other End-user verticals

6. COMPETITIVE LANDSCAPE

6.1 Company Profiles

6.1.1 Microsoft Corporation ​

6.1.2 SAP SE ​

6.1.3 Tableau Software​

6.1.4 IBM Corporation ​

6.1.5 SAS SE​

6.1.6 Oracle Corporation​

6.1.7 Tibco Software

*List Not Exhaustive

7. ANALYSIS OF THE EMERGING BI COMPANIES IN THE UK

8. MARKET OUTLOOK​
You can also purchase parts of this report. Do you want to check out a section wise price list?
Frequently Asked Questions
What is the study period of this market?
The UK Business Intelligence Market market is studied from 2018 - 2026.
What is the growth rate of UK Business Intelligence Market?
The UK Business Intelligence Market is growing at a CAGR of 9.2% over the next 5 years.
Who are the key players in UK Business Intelligence Market?
SAS Institute Inc., SAP SE, Tableau Software, Microsoft Corp., IBM Corp. are the major companies operating in UK Business Intelligence Market.
80%

of our clients seek made-to-order reports. How do you want us to tailor yours?