The increasing demand for a secure power supply in emerging economies, inability of the companies involved in handling peak energy demand and the extremely high emissions (often during hot weather conditions) are the problems faced by the power industry, in general. The hot weather is responsible for an adverse effect on turbine efficiency, and the need arises for uneconomical peaker plants. Power augmentation is an alternative approach and includes the Turbine Inlet Cooling (TIC) technology, which enables the system to produce power at the rated capacity, and sometimes more than the rated capacity. The TIC technology maximizes the value of existing power generation assets and optimizes the output from new assets with immediate effect.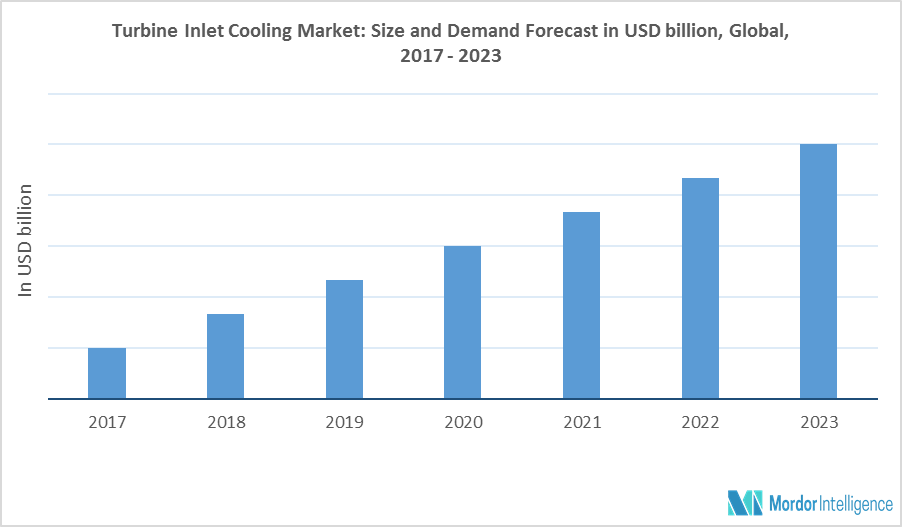 Growing Energy Demand in Hot Regions Driving the Market Growth
The emerging economies in Asia-Pacific and Middle East & Africa face the problem of energy demand supply gap, especially in hot seasons, with increasing demand for energy and the economic nature of TIC technology; owing to these factors, the market is poised to grow. As the energy demand continues to rise, efficient and economic power sources are expected to play a vital role in meeting the rising demand in the coming years. Gas-fired power generation is one such technology that is being widely adopted by many countries across the world for the clean-burning characteristics; the efficiency of these plants can be substantially increased by using turbine inlet cooling technology.
Natural Gas Power Generation Growth Driving the Market in the US
As of 2016, the United States was among the largest markets for turbine inlet cooling technology as the country depends on natural gas power generation for about 31.8% of the national production. It is expected to remain among the largest players for the market over the forecast period, thus, augmenting the turbine inlet cooling market during the forecast period.
Key Developments in the Market
December 2017: Stellar Energy delivered chiller plant equipment to Duke Energy Hines energy complex, which increased the plant's summer output by net 200MW.
Major Players: Araner, Stellar Energy, Johnson Controls, Camfil Power Systems, American Moistening Systems, Kiewit, Caldwell Energy, Mee Industries Inc., TAS Energy Inc., GE Energy, and Güntner, among others.
Reasons to Purchase the report
Current and future turbine inlet cooling market outlook in the developed and emerging markets
Analyzing various perspectives of the market with the help of Porter's five forces analysis
Segment that is expected to dominate the market
Regions that are expected to witness the fastest growth during the forecast period
Identify the latest developments, market shares, and strategies employed by the major market players
3-month analyst support, along with the Market Estimate sheet (in excel)
Customization of the Report
This report can be customized to meet your requirements. Please connect with our representative, who will ensure you get a report that suits your needs.
1. Executive Summary
2. Research Methodology
3. Market Overview
3.1 Introduction
3.2 Market Size and Demand Forecast until 2023
3.3 Recent Trends and Developments
4. Market Dynamics
4.1 Drivers
4.2 Restraints
4.3 Opportunities
5. Supply Chain Analysis
6. Industry Attractiveness - Porter's Five Forces Analysis
6.1 Bargaining Power of Suppliers
6.2 Bargaining Power of Consumers
6.3 Threat of New Entrants
6.4 Threat of Substitutes
6.5 Intensity of Competitive Rivalry
7. Market Segmentation and Analysis (Overview, Market Size, and Demand Forecast until 2023)
7.1 By Technology
7.1.1 Evaporative Systems
7.1.2 Inlet Fogging
7.1.3 Mechanical Chillers
8. Regional Market Analysis (Overview, Market Size, and Demand Forecast until 2023)
8.1 North America
8.1.1 United States
8.1.2 Mexico
8.1.3 Rest of North America
8.2 Europe
8.2.1 Russia
8.2.2 United Kingdom
8.2.3 Italy
8.2.4 Germany
8.2.3 Rest of Europe
8.3 South America
8.3.1 Brazil
8.3.2 Argentina
8.3.3 Rest of South America
8.4 Middle East & Africa
8.4.1 Saudi Arabia
8.4.2 UAE
8.4.3 Iran
8.4.4 South Africa
8.4.5 Rest of Middle East & Africa
8.5 Asia-Pacific
8.5.1 China
8.5.2 India
8.5.3 Japan
8.5.4 Australia
8.5.5 Rest of of Asia-Pacific
9. Key Company Analysis* (Overview, Products & Services, Financials**, Recent Development, and Analyst View)
9.1 Araner
9.2 Stellar Energy
9.3 Johnson Controls
9.4 Camfil Power Systems
9.5 American Moistening Systems
9.6 Kiewit
9.7 Caldwell Energy
9.8 Mee Industries Inc.
9.9 TAS Energy Inc.
9.10 GE Energy
9.11 Güntner
10. Competitive Landscape
10.1 Mergers and Acquisitions
10.2 Joint Ventures, Collaborations, and Agreements
10.3 Strategies Adopted by Leading Players
11. Appendix
11.1 Contact Us
11.2 Disclaimer
*List not Exhaustive
**Subject to availability on public domain