The titanium dioxide nanomaterials market is expected to grow at a CAGR of 8.1% during the forecast period (2018 - 2023). One of the major factors driving the market is the growing demand for personal care products. In addition, the growing demand for the end-user products from the Asia-Pacific economies, like India and ASEAN, is also expected to drive the market.
Rising Demand from Personal Care Products Industry
Nanomaterials are majorly used in the cosmetics industry because they provide enhanced performance and produce aesthetically more pleasing results, such as smooth skin surface and glowing complexion, thereby, increasing the production of nanomaterial production process among the cosmetic manufacturers. Nanoparticles offer potential benefits in the ultrafine form for products, such as moisturizers, sunscreen, etc. Therefore, this intrinsic benefit has increased its usage in other personal products, such as deodorants, perfumes, moisturizers, anti-aging creams, toothpastes, soaps, lip balms & lipsticks, shampoos, etc.
Rutile Segment Type to Dominate the Market
The market is segmented on the basis of type and application. On the basis of type, rutile dominates the market and is expected to show a good growth rate because of its increasing use in sun creams, paints & dyes, anatase modifications, and photocatalysis applications. On the basis of application, the personal care products dominate the market and are expected to grow at a moderate rate, primarily because of regulations on its toxic nature.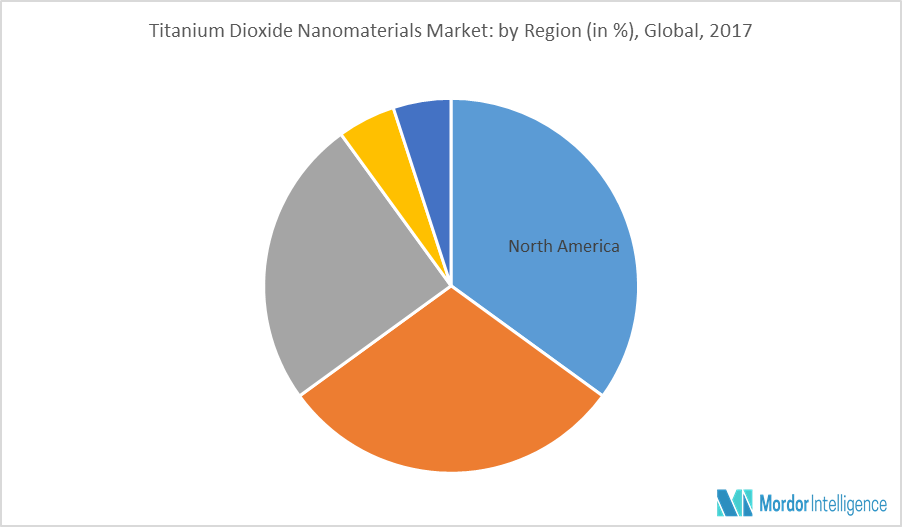 North America is the Dominant Region
North America is the dominant region, it covers a share of approximately 40% of the global market. North America is expected to show a moderate growth rate because of the government restriction on the usage of titanium dioxide nanoparticles. However, the growing applications in wastewater treatment for removing arsenic in the drinking water, combined with the increasing usage in cosmetics, is expected to drive the market. Europe is also expected to show a moderate growth rate because of titanium dioxide regulations in the paints & coatings sector.
Major Players: ACS Material, Altair Nanomaterials, American Elements, Cristal, MkNano, Shanghai Xiaoxiang Chemicals Co., Sigma Aldrich, Tronox, US Research Nanomaterials, and Xuancheng Jinguri New Material, among others.
Reason to Purchase this Report
To understand the impact of end-user industries on the market
Analyzing various perspectives of the market with the help of Porter's five forces analysis
To understand the dominating product type and application in the market
To identify the countries that are expected to witness the fastest growth during the forecast period
Identify the latest developments, market shares, and strategies employed by the major market players
3-months analyst support, along with the Market Estimate sheet (in Excel)
Customization of the Report
This report can be customized to meet your requirements. Please connect with our representative, who will ensure you get a report that suits your needs.
1. Introduction
1.1 Research Phases
1.2 Study Deliverables
1.3 Scope of the Report
2. Executive Summary
3. Market Insights
3.1 Industry Value Chain Analysis
3.2 Industry Attractiveness – Porter's Five Forces Analysis
3.2.1 Bargaining Power of Suppliers
3.2.2 Bargaining Power of Consumers
3.2.3 Threat of New Entrants
3.2.4 Threat of Substitute Products and Services
3.2.5 Degree of Competition
4. Market Dynamics
4.1 Drivers
4.1.1 Increasing Demand from Cosmetics Industry
4.1.2 Growing Demand for End-user Products from Asia-Pacific
4.1.3 Other drivers
4.2 Restraints
4.2.1 Increasing Restrictions on Titanium Dioxide Nanoparticles Regarding Safety Issues
4.2.2 Other restraints
4.3 Opportunities
4.3.1 Increasing Applications of Titanium-Dioxide
4.3.2 Other opportunities
5. Market Segmentation and Analysis (Market Size, Growth, and Forecast)
5.1 By Type
5.1.1 Rutile Nanoparticels
5.1.2 Anatase Nanoparticles
5.1.3 Combination of Rutile and Anatase Nanoparticles
5.1.4 Nanowires & Nanotubes
5.1.5 Others
5.2 By Application
5.2.1 Personal Care Products
5.2.2 Paints & Coatings
5.2.3 Energy Sector
5.2.4 Paper & Ink
5.2.5 Catalysts
5.2.6 Others
6. Regional Market Analysis (Market Size, Growth, and Forecast)
6.1 Asia-Pacific
6.1.1 China
6.1.2 India
6.1.3 Japan
6.1.4 South Korea
6.1.5 Rest of Asia-Pacific
6.2 North America
6.2.1 United States
6.2.2 Canada
6.2.3 Mexico
6.2.4 Rest of North America
6.3 Europe
6.3.1 Germany
6.3.2 United Kingdom
6.3.3 Italy
6.3.4 France
6.3.5 Rest of Europe
6.4 South America
6.4.1 Brazil
6.4.2 Argentina
6.4.3 Rest of South America
6.5 Middle East & Africa
6.5.1 Saudi Arabia
6.5.2 South Africa
6.5.3 Rest of Middle East & Africa
7. Competitive Landscape
7.1 Mergers & Acquisitions, Joint Ventures, Collaborations, and Agreements
7.2 Market Share Analysis
7.3 Strategies Adopted by Leading Players
8. Company Profiles (Overview, Financials**, Products & Services, Recent Developments)
8.1 ACS Material
8.2 Altair Nanomaterials
8.3 American Elements
8.4 Cristal
8.5 MkNano
8.6 Shanghai Xiaoxiang Chemicals Co.
8.7 Sigma Aldrich
8.8 Tronox
8.9 US Research Nanomaterials
8.10 Xuancheng Jinguri New Material
*List not exhaustive
9. Disclaimer
**Subject to availability on public domain