Telecom Analytics Market Size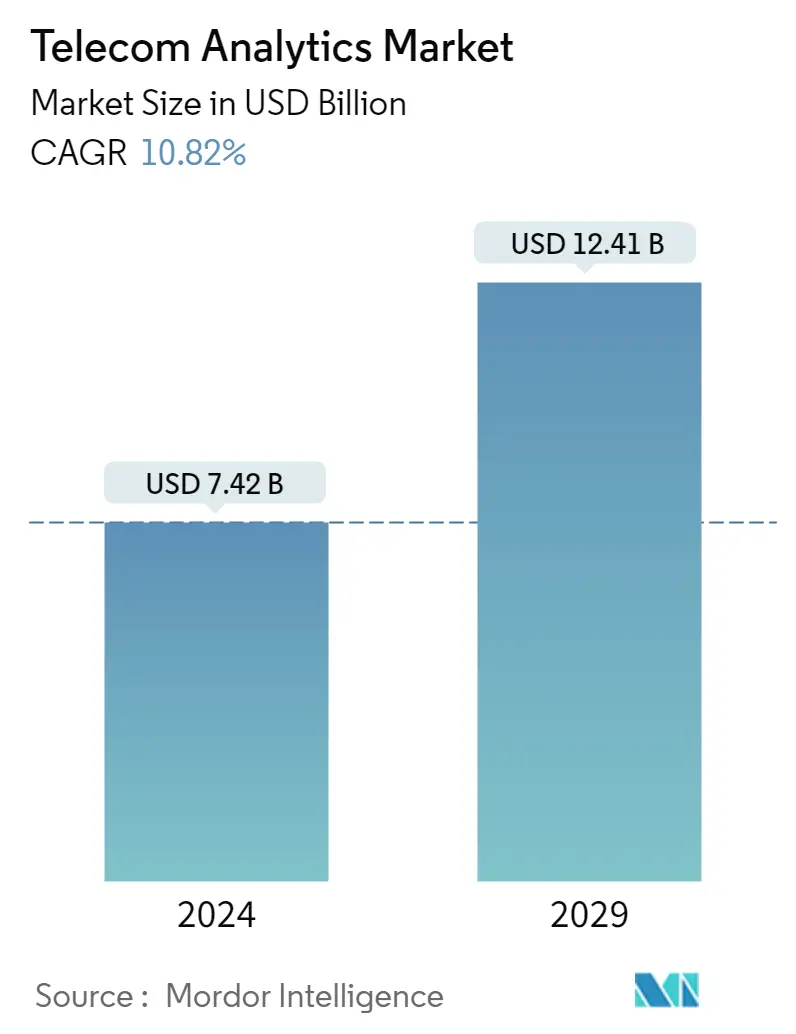 Study Period
2018- 2028
Base Year For Estimation
2022
CAGR
10.82 %
Fastest Growing Market
Asia Pacific
Largest Market
North America
Market Concentration
Low

Major Players

*Disclaimer: Major Players sorted in no particular order
Need a report that reflects how COVID-19 has impacted this market and its growth?
Telecom Analytics Market Analysis
The Telecom Analytics Market is valued at USD 6.1 billion in the previous year is expected to grow at a CAGR of 10.82% during the forecast period to become USD 11.2 billion by the next five years. The need for reducing churn is more important than ever, as the competition is increasing with the incidence of new entrants, who provide lucrative deals that are generally inexpensive than the incumbents. In addition, the increasing amount of unstructured and structured data requires effective analysis to get more profound insights into customer behavior and preferences. Real-time service usage patterns motivate these companies to adopt analytics.
The telecom analytics market combines various sophisticated business intelligence (BI) technologies that satisfy the complex demands of the telecom industry. These include developing sales, reducing churn and deception, enhancing risk management, and decreasing operational costs. Hence, telecom organizations are adopting advanced analytics-driven data solutions for faster and simpler processing of only relevant data, helping them achieve timely and accurate insights using network analytics such as data mining and predictive analytics.​
Moreover, the telecommunications industry is entering a new era and increasing need for a new customer focus – enterprises instead of consumers, new technologies in 5G and the cloud, and fundamentally new ways of working to deliver agile, faster services using analytics and data science. As of January 2023, the GSA reports that there are 243 commercial 5G deployments worldwide, with 112 operators investing in standalone 5G. This commercialization will lead to new B2B and B2B2X applications. In doing so, operators need to ensure that they can serve these customers beyond simply expanding capacity or flexibly changing service levels and resources.
For instance, in February 2023, Oracle Corporation announced to release the second application in our Network Analytics portfolio, the Oracle Network Analytics Data Director which enables operators to flexibly integrate their 5G core into their existing operational tools, even for network functions that are not provided by Oracle. Oracle Communications Network Analytics Data Director basically ingests traffic from various sources such as Oracle 5G network functions such as Service Communication Proxy (SCP) and Network Repository Function (NRF) and distributes it to subscriber applications.Both incoming and outgoing data are encrypted, allowing users to guarantee end-to-end data transfer.
Telecom analytics service is expected to be hosted on the cloud because of the large number of mobile users worldwide. Hence, cloud hosting is also set to expand further due to the continuous rise in the consumer base. Thus, the adoption of this technology by communications service providers (CSPs) is growing significantly.
Telecom analytics has been helping communications service providers (CSPs) to boost productivity, enhance customer satisfaction, and grow revenues. For instance, Nokia Corporation's Nokia AVA analytics and insights helped many leading telecom companies re-engineer their market measurement products. POST Luxembourg, a Tier-1 service provider, used Nokia AVA to proactively identify and solve 97% of network issues before they could affect subscribers. Moreover, Hutchison 3 Indonesia improved the spectral efficiency of its network by 17%. Additionally, Vodafone solves network issues up to 30% faster by using Bell Labs machine learning algorithms that detect anomalies and help automate root cause analysis.
The improvements in data infrastructure have enabled the use of analytics in the telecom industry, owing to which data-rich carriers can yield meaningful intelligence to transform their businesses. Telecom analytics allows pages to merge and analyze customer data related to spending and plans and behaviour data like internet usage or duration of networking activities.
Due to the proliferation of smart devices and the increasing use of IP networks, the telecom industry is experiencing a resurgence of communications fraud. As attacks can come from any source, scam has emerged as the most troublesome problem for the telecom market. Due to this, authorities are initiating regulations for the telecoms sector safety. In India, the Telecom Regulatory Authority of India has issued stringent rules and penalties for failing to meet the voice quality benchmark. It is expected to increase the demand for network analytics solutions in the country.
During the COVID-19 pandemic outbreak, the overall utilization of telecom analytics has expanded. Due to the factors like the increased pressure on broadband caused by the ability to work from home, the rise in online streaming platforms, improved visibility of internal processes, and essential operations by telecom analytics, the demand for telecom analytics has grown during the active lockdown period.
Telecom Analytics Market Trends
The surge in need for churn reduction
In the context of the telecom sector, churn can be defined as the percentage of subscribers who switch service providers within a predetermined time frame. Companies are putting a lot of effort into lowering churn since if the percentage increases year over year, it damages the company's brand. This badly impacts future sales and business for the corporation. According to krtrimaiq, New Jersey and California have the highest churn percentage in the US.
By using telecom analytics, it cut churn by 15%. Telecom service providers demand customer churn analytics solutions to prevent revenue loss, enhance customer service, and save marketing and sales expenses. By implementing telecom analytics solutions, carriers can learn extensively from subscriber usage data to identify subscriber behavior patterns and enhance customer experiences. Additionally, it gives telecom providers the ability to cross-sell and up-sell.
Telecom analytics is very important as it gives telecom companies an overview of their customers and allows them to identify the most profitable, least profitable, etc. At the same time, it also allows tracking the evolution of customer relationships (purchases, renewals, issues) and seeing where each customer is in the customer journey.
Furthermore, one of the benefits of telecom analytics is in customer management all customer data is securely stored in one system and can be accessed at any time. As it's important to have a consistent way to collect details about each consumer for later analysis.
Moreover, mobile phone companies such as Bharti Airtel, Reliance Jio, and Vodafone are using artificial intelligence to enhance customer experience through their customer service touchpoints call centers, and network offerings and try to find ways to improve subscriber stickiness and reduce churn.
Additionally, companies in the market are providing telecom analytics solutions laced with machine learning to understand attitudes, enabling carriers to identify at-risk subscribers or the causes of current and prospective churn. As a result, businesses are developing marketing or customer service initiatives to reduce turnover. Additionally, it can spot subscribers ready for data plan upgrades and prospective customers for new services. In the telecom sector, churn analytics also makes it possible to predict when customers will likely transfer carriers or service providers.
Customers in the telecom sector have a variety of service providers to select from, and they can actively switch between operators. The telecoms sector has an average annual churn rate of 15 to 25 percent in this fiercely competitive market. Customer retention has now surpassed customer acquisition in importance since it is 5–10 times more expensive to gain new customers than to keep existing ones. Retaining highly profitable consumers is the top business objective for many established operators. Telecom businesses must identify the consumers who are most likely to leave to reduce customer turnover.
In the first quarter of Vodafone's financial year 2021/2022, the prepaid churn rate in Germany was 11.3 percent. Vodafone has the highest churn rate among its prepaying customers in the United Kingdom (UK), where the churn rate is 91.9 percent. Since the churn rate is higher in these regions, the need for churn reduction is growing significantly.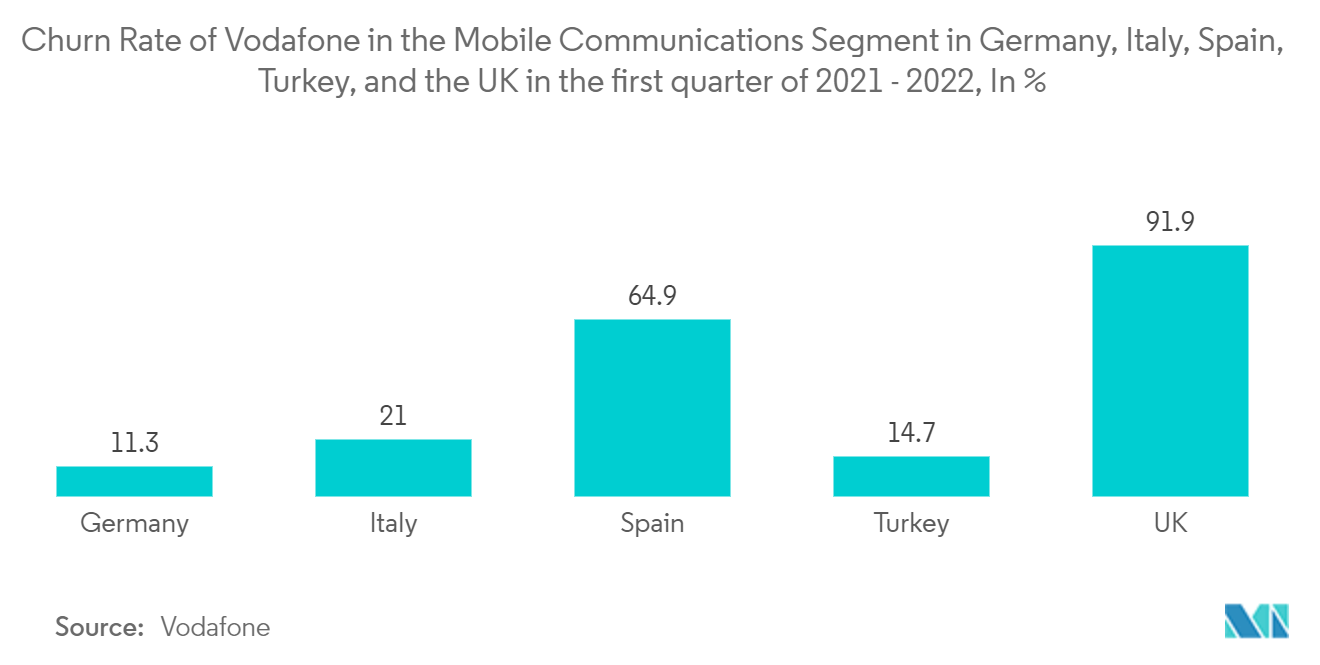 To understand key trends, Download Sample Report
North America to Hold the Largest Market Share
North America is anticipated to occupy a significant market share in the telecom analytics market, primarily owing to the region's high expenditure on business intelligence solutions. Besides, telecommunications in the region is highly developed with intense competition among the communication providers, which is expected further to boost the region's telecom analytics market.
The continuous advancements in IT infrastructure and technology used for customer support, the presence of a large number of market vendors, and the accessibility of proficient technical expertise in managing the modern customer experience and helpdesk software contribute to the telecom analytics market growth in the region. Furthermore, North American companies actively make strategic mergers and acquisitions. For instance, American technology giant IBM acquired Sanovi Technologies to bolster its cloud offerings. Sanovi provides cloud migration, business continuity, and hybrid cloud recovery software for enterprise data centres and cloud infrastructure.
Moreover, the BYOD policy is probably driven by the growing popularity of tablets and smartphones in the US. For instance, the US Census Bureau and Consumer Technology Association predicted in January 2022 that sales of smartphones in the US would rise from USD 73 billion in 2021 to USD 74.7 billion in 2022. This is anticipated to increase further with the quick adoption of IoT across numerous sectors and companies. Hence, with the rise of smartphone users, the probability of fraud or scams is also increasing, which in turn is fueling the growth of this telecom analytics market exponentially.
North America has a few of the world's largest cellular service providers, who rely enormously on consumer feedback. Thus, by opting for telecom analytics, CSPs in the region can offer better quality service at high efficiency. For instance, Verizon, a telecommunications provider in the United States, has deployed various analytic solutions and AI groups around the company. On the other hand, the Data Science and Cognitive Intelligence group focus on implementing analytics and cognitive technology in Verizon's customer interactions. The increased focus of other vendors in order to follow the same would boost the demand for telecom analytics solutions in the region.
Furthermore, the rising government initiative and investment to support the internet penetration in the country will increase the demand for telecom analytics market. For instance, in July 2022, the United States Department of Agriculture (USDA) has announced a USD 401 million investment to bring high-speed Internet access to businesses and 31,000 rural residents in 11 states. This is part of the US government's commitment to investing in affordable high-speed internet and rural infrastructure.
In a research study released by Stormforge in April 2021, 18% of respondents from North America claim that their firm spends between $100,000 and $250,000 per month on cloud computing. In addition, 32% of respondents predict that their organization's cloud spending will expand significantly over the following 12 months, while 44% predict a slight increase in cloud spending over the same period. Additionally, as per the research study by Statista Global Consumer Survey conducted in the United States in 2022, it has been found that 44 percent of respondents use online storage for files and pictures, while 40 percent of respondents use online applications to create office documents. This trend of high spending on cloud services will drive the growth of the telecom analytics market in the region.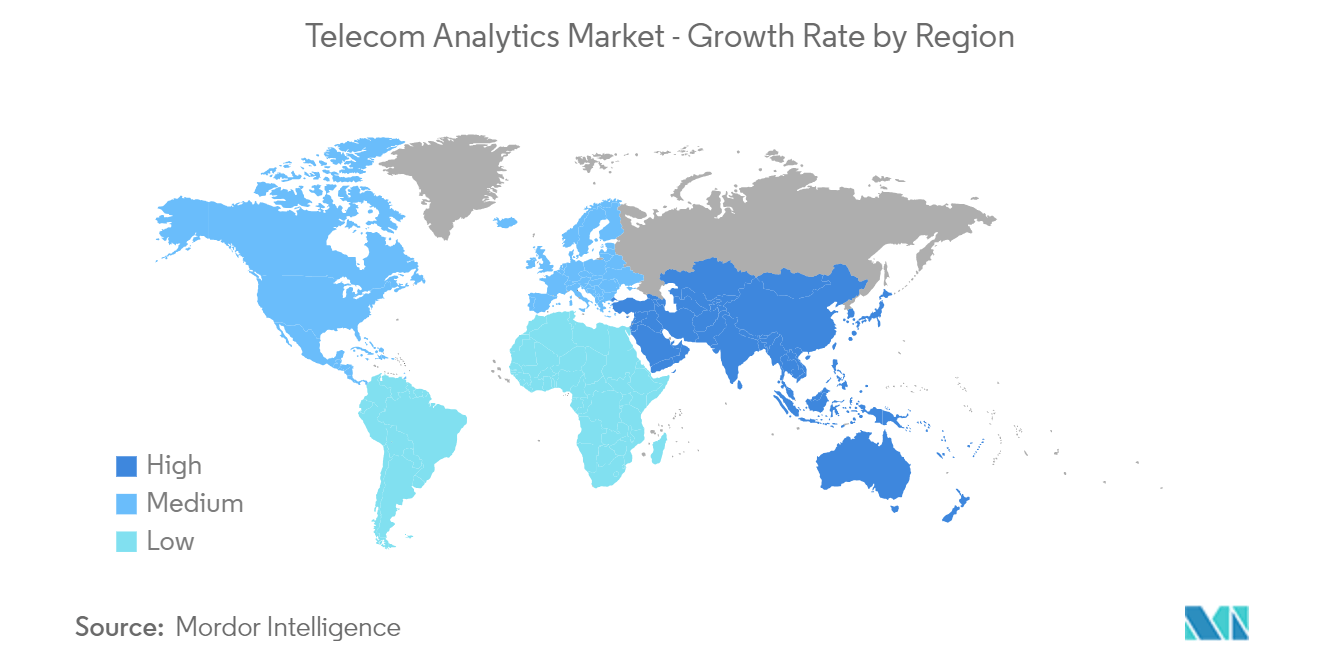 To understand geography trends, Download Sample Report
Telecom Analytics Industry Overview
The Telecom Analytics Market is very competitive and moving towards the fragmented stage as the market currently consists of many players. Several key players in the global telecom analytics market are in constant efforts to bring product advancements. A few prominent companies are entering into collaborations and expanding their footprints in developing regions to consolidate their positions in the market. The major players are Huawei Technologies, SAP SE, and Oracle Corp.
March 2023- IBM Corporation announced to provide intelligent automation software to Telecom Egypt (TE) to implement an umbrella solution for all its operations support systems (OSS) on mobile, fixed, and core networks. Telecom Egypt will adopt IBM Cloud Pak for Watson AIOps deployed on RedHat OpenShift to implement an IBM Robotic Process Automation (RPA) solution. The solution provides TE with a holistic view of its entire IT environment to help them innovate faster, reduce operating costs, and minimize the time to troubleshoot and resolve network-related incidents.
February 2023- Bharti Airtel announced to build an AI-based solution by collaborating with NVIDIA to improve the overall customer experience for all inbound calls to its contact center. The company runs an automated speech recognition algorithm on 84% of its calls coming into its contact centers. This will help the company identify improvement areas for the agent when interacting with the consumers, leading to a better customer experience. The company has leveraged the NVIDIANeMo conversational AI toolkit to develop this specialized speech application and NVIDIA AI enterprise software suite.
Telecom Analytics Market Leaders
Oracle Corporation

IBM Corporation

SAP SE

Microsoft Corporation

Huawei Technologies Co. Ltd
*Disclaimer: Major Players sorted in no particular order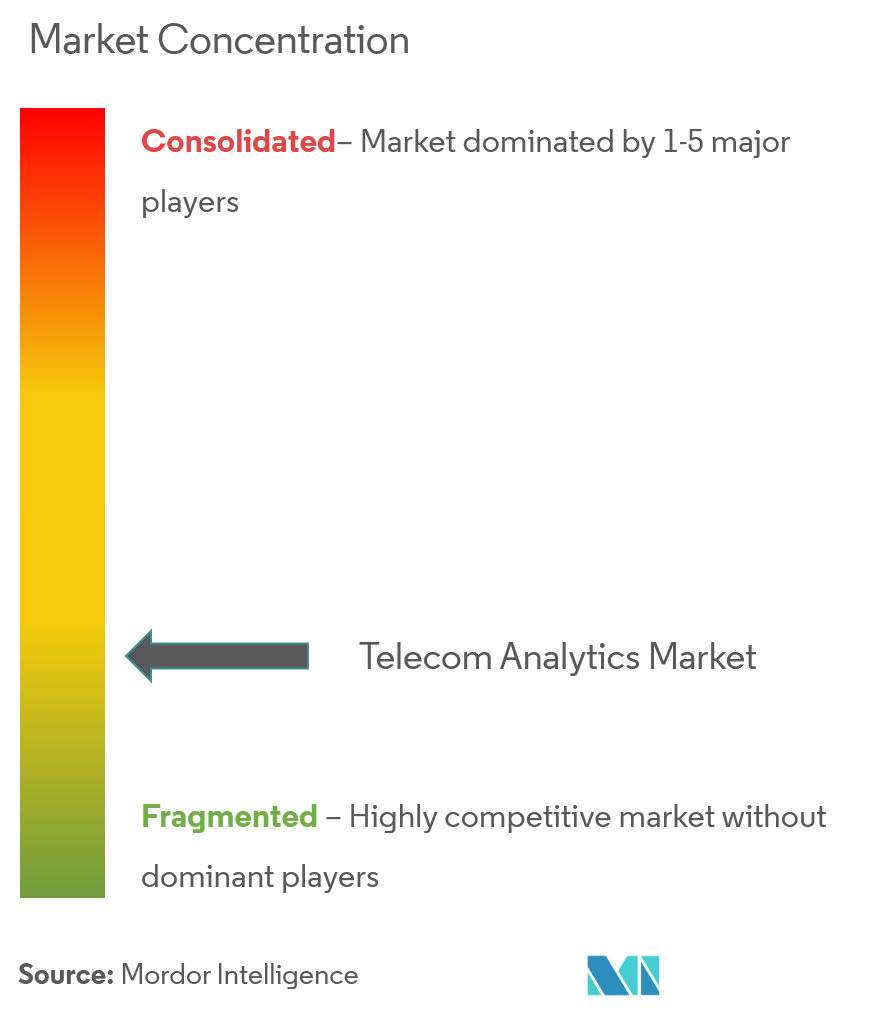 Telecom Analytics Market News
February 2023- Nokia Corporation announces the launch of AVA Customer and Mobile Network Insights, a cloud-native analytics software solution that simplifies 5G network data collection and analysis and delivers powerful, most cost-effective analytics to communications service providers (CSPs). With the help of machine learning and AI tools, the solution help to support automated and intelligent solution decision-making based on correlated reports generated from data across 5G networks.
July 2022 - Oracle introduced Oracle Construction Intelligence Cloud Analytics. It addressed the issue of integrating data from various applications to diagnose problems accurately, anticipate dangers, and guide future activities faced by engineering and construction companies. The owners and contractors may now have a thorough knowledge of performance across all their operations due to the new solution, which combines data from Oracle Smart Construction Platform applications. With this knowledge, businesses can swiftly identify problems, fix them, and focus on strategies to promote continuous improvement throughout project planning, asset building, and asset operation.
Telecom Analytics Market Report - Table of Contents
1. INTRODUCTION

1.1 Study Assumptions and Market Definition

1.2 Scope of the Study

2. RESEARCH METHODOLOGY

3. EXECUTIVE SUMMARY

4. Market Insights

4.1 Market Overview

4.2 Value Chain Analysis

4.3 Industry Attractiveness - Porter's Five Forces Analysis

4.3.1 Threat of New Entrants

4.3.2 Bargaining Power of Buyers

4.3.3 Bargaining Power of Suppliers

4.3.4 Threat of Substitute Products

4.3.5 Intensity of Competitive Rivalry

4.4 Impact of Covid-19 on the Market

4.5 Market Dynamics

4.5.1 The surge in need for churn reduction

4.5.2 Increasing Vulnerability to Fraudulent Activities

4.6 Market Restraints

4.6.1 Lack of Awareness Among Telecom Operators

5. MARKET SEGMENTATION

5.1 By Application

5.1.1 Customer Analytics

5.1.2 Network Analytics

5.1.3 Market Analytics

5.1.4 Price Analytics

5.1.5 Service Analytics

5.1.6 Other Applications

5.2 By Deployment

5.2.1 Cloud

5.2.2 On-premise

5.3 By Geography

5.3.1 North America

5.3.1.1 United States

5.3.1.2 Canada

5.3.2 Europe

5.3.2.1 United Kingdom

5.3.2.2 Germany

5.3.2.3 France

5.3.2.4 Rest of Europe

5.3.3 Asia Pacific

5.3.3.1 China

5.3.3.2 India

5.3.3.3 Japan

5.3.3.4 Rest of Asia Pacific

5.3.4 Rest of the World

5.3.4.1 Latin America

5.3.4.2 Middle East and Africa

6. COMPETITIVE LANDSCAPE

6.1 Company Profiles

6.1.1 Dell Inc.

6.1.2 Oracle Corporation

6.1.3 IBM Corporation

6.1.4 SAP SE

6.1.5 Microsoft Corporation

6.1.6 InfoFaces Inc.

6.1.7 Accenture PLC

6.1.8 Huawei Technologies Co. Ltd

6.1.9 Teradata Corporation

6.1.10 Wipro Limited

6.1.11 Nokia Corporation

*List Not Exhaustive

7. INVESTMENT ANALYSIS

8. MARKET OPPORTUNITIES AND FUTURE TRENDS
**Subject to Availability
Telecom Analytics Industry Segmentation
Telecom analytics is a type of business intelligence specifically applied and packaged to satisfy the complex needs of telecommunication organizations. Telecom analytics is aimed at decreasing operational costs and maximizing profits by increasing sales, reducing fraud, and improving risk management.
The Telecom Analytics Market is segmented by Application (Customer Analytics, Network Analytics, Market Analytics, Price Analytics, Service Analytics), Deployment (Cloud and On-premise), and Geography.
By Application
Customer Analytics
Network Analytics
Market Analytics
Price Analytics
Service Analytics
Other Applications
By Deployment
Cloud
On-premise
By Geography

North America
United States
Canada

Europe
United Kingdom
Germany
France
Rest of Europe

Asia Pacific
China
India
Japan
Rest of Asia Pacific

Rest of the World
Latin America
Middle East and Africa
Telecom Analytics Market Research FAQs
What is the current Telecom Analytics Market size?
The Telecom Analytics Market is projected to register a CAGR of 10.82% during the forecast period (2023-2028).
Who are the key players in Telecom Analytics Market?
Oracle Corporation, IBM Corporation, SAP SE, Microsoft Corporation and Huawei Technologies Co. Ltd are the major companies operating in the Telecom Analytics Market.
Which is the fastest growing region in Telecom Analytics Market?
Asia Pacific is estimated to grow at the highest CAGR over the forecast period (2023-2028).
Which region has the biggest share in Telecom Analytics Market?
In 2023, the North America accounts for the largest market share in the Telecom Analytics Market.
Telecom Analytics Industry Report
Statistics for the 2023 Telecom Analytics market share, size and revenue growth rate, created by Mordor Intelligence™ Industry Reports. Telecom Analytics analysis includes a market forecast outlook to for 2023 to 2028 and historical overview. Get a sample of this industry analysis as a free report PDF download.
Telecom Analytics Market Report Snapshots
80%

of our clients seek made-to-order reports. How do you want us to tailor yours?