Social Listening Market Size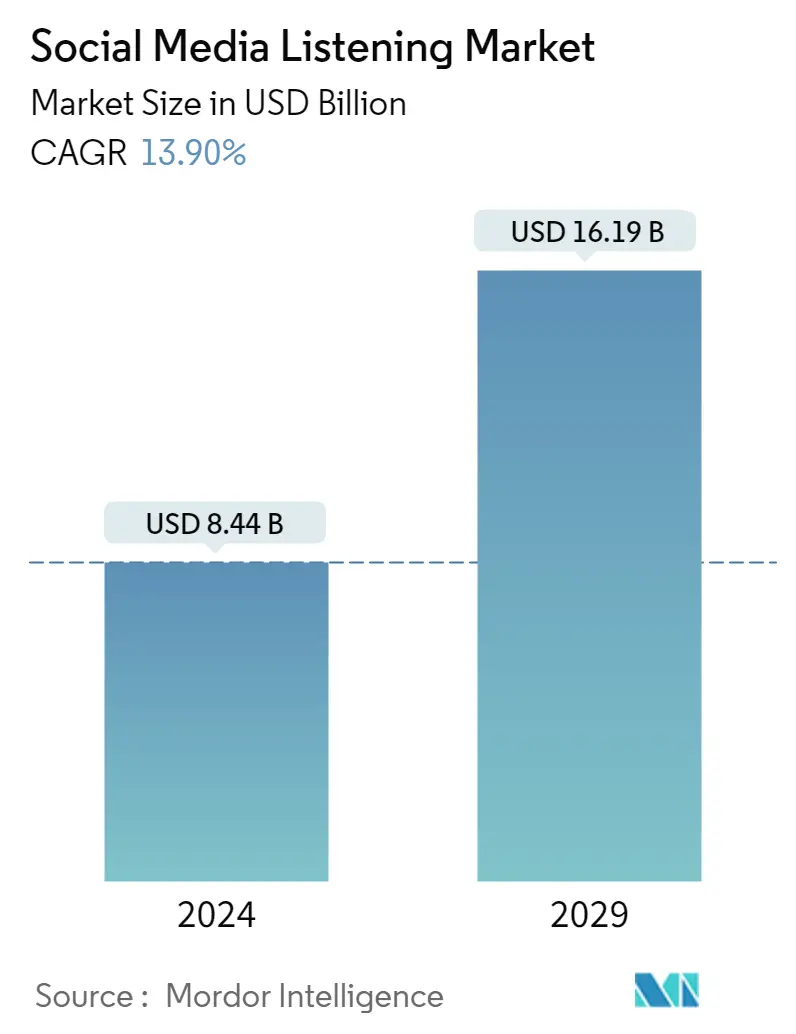 Study Period
2018 - 2028
Market Size (2023)
USD 7.41 Billion
Market Size (2028)
USD 14.21 Billion
CAGR (2023 - 2028)
13.90 %
Fastest Growing Market
Asia-Pacific
Largest Market
North America

Major Players

*Disclaimer: Major Players sorted in no particular order
Need a report that reflects how COVID-19 has impacted this market and its growth?
Social Listening Market Analysis
The Social Media Listening Market size is expected to grow from USD 7.41 billion in 2023 to USD 14.21 billion by 2028, at a CAGR of 13.90% during the forecast period (2023-2028).
Factors such as increased spending by firms on social media listening tools, government bodies' adoption of the tool, various brands incorporating social listening solutions to establish themselves as market players, and a rise in social media usage are some expected elements to propel the studied market. Further, any firm that wants to stay ahead of the competition must first understand its customers-who they are, how they behave, and what inspires them. One method to accomplish this is to immerse themselves in the most recent trends, demonstrating an understanding of what is happening. Social media listening is a technique that will help businesses connect with their target audience. It will assist the industry in listening to the voice of customers to understand how they communicate with one another and with brands.
According to Meltwater's survey report on the state of social listening in the previous years, based on more than 650 survey responses from various industry professionals, the company aimed to better understand how companies approach listening activities, how useful they believe such efforts are, and how they think they could be improved. According to survey results, over 61% of organizations have implemented a social listening system and are monitoring for keyword mentions. Almost 80% of brands aim to track brand mentions, with industry keywords and hashtags as the second most prevalent features. Fewer firms follow relevant thinking leaders in their area or employee mentions; this likely suggests that most businesses do not look to display their thought leaders externally, which would naturally place more attention on this component.
Further, according to the social intelligence lab social listening report of the last year, which polled over 350 social listening professionals worldwide, including those from the United States, the United Kingdom, and countries in Europe, Asia, the Middle East, and Latin America, over 80% of respondents utilized multiple social listening tools. One-third spend more than USD 100,000 on their social listening stack. Most respondents (55%) also stated that they utilize two or three tools. Less than 20% of people exclusively use one tool for their social intelligence needs.
Government bodies are adopting social listening solutions to analyze situations much faster. For instance, in September last year, the World Health Organization (WHO) created a public health taxonomy to aid in infodemic monitoring and the creation of insights from monkeypox dialogues. The technical document outlines how social listening can be applied to monkeypox talks to yield informational insights for public health responses. Taxonomies are used to better organize and structure analytics, particularly when merging data sources of diverse quality and kind.
Further, many well-known brands already use social listening to fuel product creation. L'Oréal, for example, uses social listening to identify market trends and discover what consumers want. Although millions of brands rely on social listening to improve their goods, L'Oréal incorporates social listening into some essential brand choices. When L'Oréal was confronted with deciding which hair product to produce, they turned to social media to find the most promising trend. The organization investigated user-generated content and made its consumers' voices heard on social media.
On the flip side, as each site has different privacy and data collection policies, social listening programs have limited access to data from some. Several prominent social networks also restrict data exchange. As a result, the tools for those platforms can only display a subset of the data they collect. These findings are based on insufficient data. Furthermore, private chat channels such as Discord, Clubhouse, and WhatsApp are inaccessible to social listening technologies. The only way to find out what's going on on these sites is to join as an individual and observe. Further, according to last year's Social Intelligence Lab social listening report, data accuracy and quality tend to be more of an issue for agencies (31% vs. 19% of brands). However, the need for an organizational-wide vision for social listening appears more difficult for brands (29% vs. 18% for agencies).
The application of social listening approaches for humanitarian and health response, risk communication and community engagement (RCCE), and "infodemic" management increased unprecedentedly during the COVID-19 pandemic. While social listening for humanitarian and health objectives were not new, the pandemic drastically boosted its use because of the difficulties involved with in-person community participation when emergency public health and social measures (PHSM) were in effect. This increasing focus resulted in various social listening outputs created by humanitarian and health organizations and communicated through several Risk Communication and Community Engagement (RCCE) national, regional, and global spaces.
Social Listening Market Trends
Rising Number of Social Media Users is Expected to Drive the Market
Social media users worldwide routinely share videos, messages, and links. The increased use of personalized feed-based apps in Europe will likely drive the number of social media users. Furthermore, the growing desire in India for encrypted and self-destructive messaging-based social apps is propelling the social media company's growth. Again, the rising demand for video chat services in Saudi Arabia is boosting business growth. Furthermore, the ease of access to in-app purchase-based social networking apps is increasing their global appeal. Moreover, according to DemandSage, over 4.9 billion social media users will be worldwide in the current year. The typical social media user switches between 6 and 7 platforms every month.
According to Eurostat, many businesses use social media in the EU. Over half of the companies (59%) reported utilizing at least one social media platform in recent years, representing a 22% point increase from 2015 (37%). Social media use was most prevalent in Malta (84%), followed by Sweden, the Netherlands (both 80%), and Finland (79%), while it was least prevalent in Romania (36%), Bulgaria (39%), and Slovakia (45%). Such a rise in social media users in the region would create an opportunity for social media listening solution providers to develop new solutions to capture market share.
Additionally, YouTube has about 44.8 crore users in India, while WhatsApp has over 53 crore users, according to the Ministry of Electronics and Information Technology (MeITY) (India).Facebook has approximately 41 crore, whereas Instagram has approximately 21 crore. Further, according to Omnicom, YouTube was the most popular online medium in India last year, with media consumers spending up to 108 minutes a day on average. TikTok, a short video format app, had the least frequent usage, with users spending just over 20 minutes daily on the platform.
According to Meta Platforms, Facebook is the world's most popular online social network, with around 2.96 billion monthly active members as of the fourth quarter of last year. In the second quarter of 2017, the platform exceeded two billion active users, a feat accomplished in just over 13 years. As of January last year, India had the most extensive audience base on Facebook, with almost 330 million users, followed by the United States, which had approximately 179 million users. The platform is also quite popular in Indonesia and Brazil. Facebook was the platform on which US users spent the most time daily before last year. The average time spent on Facebook was 33 minutes, followed by TikTok at 32 minutes and Twitter at 31 minutes daily. Such a rise in social media users would drive demand for the studied market.
Moreover, Ericsson says the global number of smartphone mobile network subscriptions reached over 6.6 billion in the last year and is expected to hit 7.8 billion by 2028. The countries with the most smartphone mobile network subscriptions are China, India, and the United States. Such a huge rise in mobile subscriptions would raise the number of social media users in the market, which could significantly drive the demand for social media listening solutions.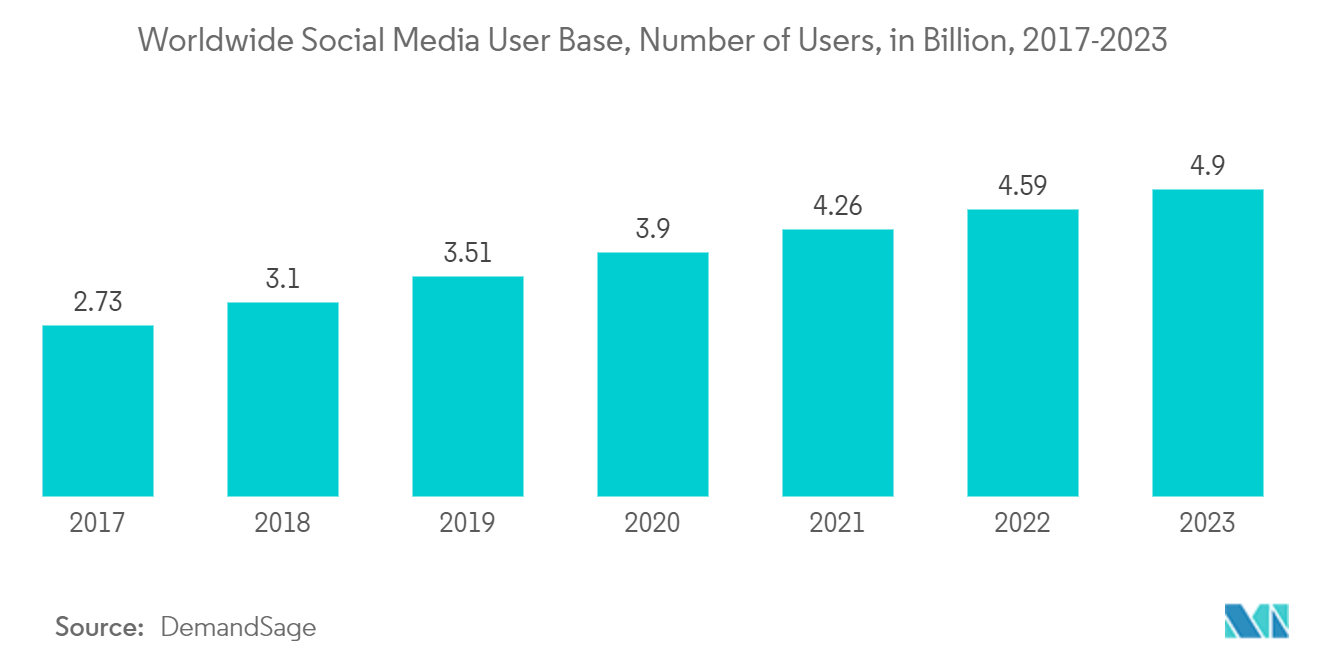 To understand key trends, Download Sample Report
North America is Expected to Hold a Significant Market Share
North America is one of the prominent regions for the growth of the social media listening market; due to the rise in digital advertising budgets, even more significant corporations in the North American region are expected to drive the market. And, in terms of digital outlets, social media will be their best bet. According to specific surveys, many brands increasingly choose social channels to generate engagement over the traditional display networks they have relied on. The availability of improved engagement data and deeper insights into targeted audiences is one of the primary elements driving this shift. Social listening will assist marketers in creating more engaging social ads that convert-or, at the very least, create more relevant and timely ads that will increase engagement by a large percentage.
For example, brands in North America that use social listening inputs might develop ads utilizing tools like Facebook's tailored ad experiences. This tool assists marketers in dynamically reaching out to their target audience by changing formats (carousel, collection) and calls-to-action depending on who is delivered to. The brand's capacity to provide tailored advertisements based on social listening insights also prompted the recent release of Instagram shopping. LinkedIn, too, has adopted dynamic advertisements. Eventually, all social media networks would get on board.
Moreover, various industries are adopting social listing strategies to provide better service to their customers, for instance. Taco Bell is a fast-food chain with an active social media presence. The firm is well known for its social listening strategy. They listen to their clients in real-time, respond in real-time, and communicate with them through social media. Their foremost priority is customer service. They also use social listening to provide the finest service possible. They retweeted everything positive expressed about their brand. They frequently interact with netizens to enhance their social media presence. They not only cherish their consumers' opinions, but they also respond to their problems. Taco Bell, for example, has received complaints from customers on social media regarding the cheese in the quesadilla. They emailed the concerned establishment and reminded them to follow the recipe for ensuring customer satisfaction.
Further, with the rise in demand for social listening solutions, regional firms are providing various solutions that would help capture market share and expand their presence. For example, Awarious' social media APIs and its search bots crawl 13 billion web pages daily to locate all mentions of users' brands on social networks (Twitter, Facebook, Instagram, YouTube, Reddit), blogs, news, reviews, and the rest of the web. Awario goes beyond ordinary searches. Users can use a boolean search to narrow or broaden results by utilizing search parameters when configuring a monitoring alert.
The internet is flooded with examples of brands fostering true innovation through social listening. There are no limitations to the future breakthroughs that brands can make by applying strategies based on social listening data. For example, Avon created a product that it claims is the ultimate flagship product in its category by studying over a million comments on mascara online. Netflix discovered several users fell asleep while viewing shows through persistent social listening. Although it is typical for people to fall asleep while watching television, Netflix recognized an opportunity to demonstrate that they listen and are as innovative as a great brand should be.
To understand geography trends, Download Sample Report
Social Listening Industry Overview
The social media listening market is fragmented, with many prominent players such as Talkwalker, Brandwatch, Meltwater, Digimind, and other corporations continually spending on strategic partnerships and product development to increase market share. The following are some recent market developments:
In March 2023, Digimind introduced the first social listening solution, which combines two robust artificial intelligence engines to provide consumers with complete insight into their online presence. The system combines Digimind AI Sense and OpenAI ChatGPT, providing a streamlined method for gathering, analyzing, and acting on online discussions. DigimindAI Sense is the operation's data scientist, recognizing peaks and supplying consumers with the required information. Meanwhile, ChatGPT summarizes the data findings as the business analyst.
In September 2022, Khoros, a customer engagement software and services firm, and Talkwalker, a consumer intelligence and deep listening startup, announced a collaboration to provide brands with world-class social media management, intelligence, and deep listening. The strategic partnership will provide businesses with the necessary resources to sync with market trends and audience movements, from insights to action. Khoros consumers now have access to in-depth insights due to deep listening. Customers of Talkwalker also have access to a complete social media management system that includes tools for taking action on insights at scale and the capability to engage with and meet customers wherever they are active.
Social Listening Market Leaders
Talkwalker

Brandwatch

Digimind

ListenFirst

Meltwater
*Disclaimer: Major Players sorted in no particular order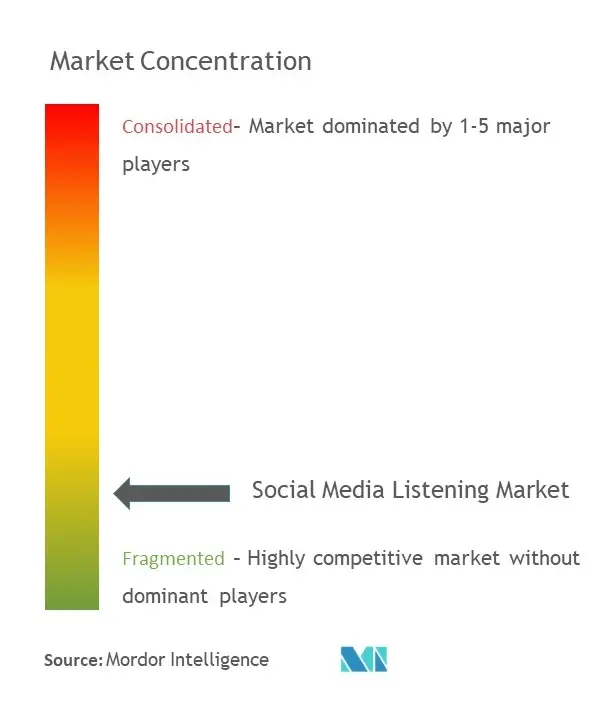 Social Listening Market News
September 2022: Mention made monitoring the business's online reputation easy. One of the most challenging aspects of monitoring goods, services, or brand names across millions of sources is comprehending the worldwide perspective regarding their societal influence. Mention announced a Dashboard, its newest analytics feature, that gives customers a centralized view of all their alerts. The dashboard provides marketers and professionals with KPIs for sentiment, volume, activity, tags, sources, spikes, and quota use for all or selected alerts.
July 2022: Synthesio, a player in social listening and AI-enabled consumer intelligence, has announced the broad availability of an advanced solution: topic modeling. Using the power of machine learning, this artificial intelligence (AI)-powered discovery engine automatically reads, categorizes, and visualizes hundreds of thousands of online discussions in just a few clicks. Topic modeling identifies consumer-defined topics, reveals undiscovered or hidden phenomena, and facilitates trend analysis.
Social Listening Market Report - Table of Contents
1. INTRODUCTION

1.1 Study Assumptions and Market Definition

1.2 Scope of the Study

2. RESEARCH METHODOLOGY

3. EXECUTIVE SUMMARY

4. MARKET INSIGHTS

4.1 Market Overview

4.2 Industry Attractiveness - Porter's Five Forces Analysis

4.2.1 Bargaining Power of Suppliers

4.2.2 Bargaining Power of Consumers

4.2.3 Threat of New Entrants

4.2.4 Threat of Substitute Products

4.2.5 Intensity of Competitive Rivalry

4.3 Technology Snapshot

4.4 Assessment of the Impact of COVID-19 on the Market

5. MARKET DYNAMICS

5.1 Market Drivers

5.1.1 Rising Number of Social Media Users

5.1.2 Rising Need for Social Media Measurement to Enhance the Customer Experience

5.2 Market Challenges

5.2.1 Lack of Standard Measures for Social Media Analytics

5.2.2 Lack of a Single Solution to Manage the Increasing Unstructured Data

6. MARKET SEGMENTATION

6.1 By Industry Vertical

6.1.1 BFSI

6.1.2 Retail & E-commerce

6.1.3 IT & Telecom

6.1.4 Media & Entertainment

6.1.5 Other Industry Verticals (Education, Travel & Hospitality, Healthcare etc.)

6.2 By Geography

6.2.1 North America

6.2.2 Europe

6.2.3 Asia-Pacific

6.2.4 Rest of the World

7. COMPETITIVE LANDSCAPE

7.1 Company Profiles

7.1.1 Talkwalker

7.1.2 Brandwatch

7.1.3 Digimind

7.1.4 ListenFirst

7.1.5 Meltwater

7.1.6 NetBase Quid

7.1.7 Sprinklr

7.1.8 Synthesio

7.1.9 Zignal Labs

7.1.10 Awario

7.1.11 Keyhole

7.1.12 Mention

7.1.13 Agorapulse

7.1.14 Synthesio

7.1.15 Mentionlytics

*List Not Exhaustive

8. VENDOR POSITIONING ANALYSIS

9. FUTURE OF THE MARKET
**Subject to Availability
Social Listening Industry Segmentation
Social listening involves analyzing conversations and trends relevant to the user's brand. These include discussions about the user's firm, competitors, and the industry at large. The information gleaned from these discussions is used to make sound marketing decisions.
The social media listening market is segmented by industry vertical (BFSI, Retail and e-commerce, IT & Telecom, media & entertainment, and other industry verticals) and geography (North America, Europe, Asia Pacific, and the rest of the world). The market sizes and forecasts are provided in terms of value in USD billion for all the above segments.
By Industry Vertical
BFSI
Retail & E-commerce
IT & Telecom
Media & Entertainment
Other Industry Verticals (Education, Travel & Hospitality, Healthcare etc.)
By Geography
North America
Europe
Asia-Pacific
Rest of the World
Social Listening Market Research FAQs
How big is the Social Media Listening Market?
The Social Media Listening Market size is expected to reach USD 7.41 billion in 2023 and grow at a CAGR of 13.90% to reach USD 14.21 billion by 2028.
What is the current Social Media Listening Market size?
In 2023, the Social Media Listening Market size is expected to reach USD 7.41 billion.
Who are the key players in Social Media Listening Market?
Talkwalker, Brandwatch, Digimind, ListenFirst and Meltwater are the major companies operating in the Social Media Listening Market.
Which is the fastest growing region in Social Media Listening Market?
Asia-Pacific is estimated to grow at the highest CAGR over the forecast period (2023-2028).
Which region has the biggest share in Social Media Listening Market?
In 2023, the North America accounts for the largest market share in the Social Media Listening Market.
Social Listening Industry Report
Statistics for the 2023 Social Listening market share, size and revenue growth rate, created by Mordor Intelligence™ Industry Reports. Social Listening analysis includes a market forecast outlook to 2028 and historical overview. Get a sample of this industry analysis as a free report PDF download.
Social Listening Market Report Snapshots
80%

of our clients seek made-to-order reports. How do you want us to tailor yours?