The global returnable transport packaging (RTP) market is expected to register a CAGR of 7.18%, over the forecast period (2018-2023). The scope of the report considers market segmentation based on material covers plastic (containers, drums, crates, pallets, protective dunnage, and trays), metal (containers, drums, pallets, racks, bulk bins, roll cages) and wood (barrels, pallets, stillage) RTP products. The containers segment covers bulk boxes, sleeve packs, totes, foldable large containers, rigid plastic containers, and intermediate bulk containers. The drums & barrels segment covers different sizes of plastic and steel drums and wooden barrels. The pallets segment covers steel, plastic, plywood, and wood pallets. The 'others' segment, by product type, covers stillage, plastic trays, roll cages, and bulk bins. The other applications segment covers the RTP usage in pharmaceutical, chemical, and textile industries.
Packaging materials have contributed immensely to natural resource depletion, global warming, ozone layer depletion, and placing excessive pressure on the environment by the unceasing waste disposal. Also, packaging takes up landfill space, serves as sources of toxic materials with health implications and potential for groundwater contamination. To deal with the negative consequences of packaging, RTP enables firms to reduce their operational cost and to lessen environmental impact in conformity with government's regulation for sustainable supply chains. RTP can be used to achieve logical, marketing, and environmental objectives. For logical objectives, RTP facilitates distribution, protects the product, and preserves the environment, thereby leading to substantial economic and environmental benefits. Furthermore, RTP provides information about the product's condition and location even on transit, which, in turn, brings operational benefits.
Stringent Government Regulations are Driving the Growth of the Market
Governments across the globe have many regulations when it comes to packaging of materials in end-user industries, like automotive, textile, and chemical. Regulations require end users to limit the disposal of bio-degradable packages. Hence, the companies are using RTP instead of disposable packages that are made of paperboard or other packaging materials.
Presence of efficient supply chain systems is in demand. It follows the four R's philosophy of reduce, reuse, returns, and recycle; put forward by the Returnable Packaging Association (RPA). FDA developed a guideline, "Points to Consider for the Use of Recycled Plastics in Food Packaging: Chemistry Considerations," to assist manufacturers of food packaging in evaluating processes for producing packaging from post-consumer recycled plastic. Hence, returnable transport packages are chosen as the better alternatives for the bulk packaging of food products.
Due to the availability of multiple options to choose from, and recyclability of these packages, operation costs are reduced. Also, adoption of sustainable business practices is being promoted by government regulations across the world.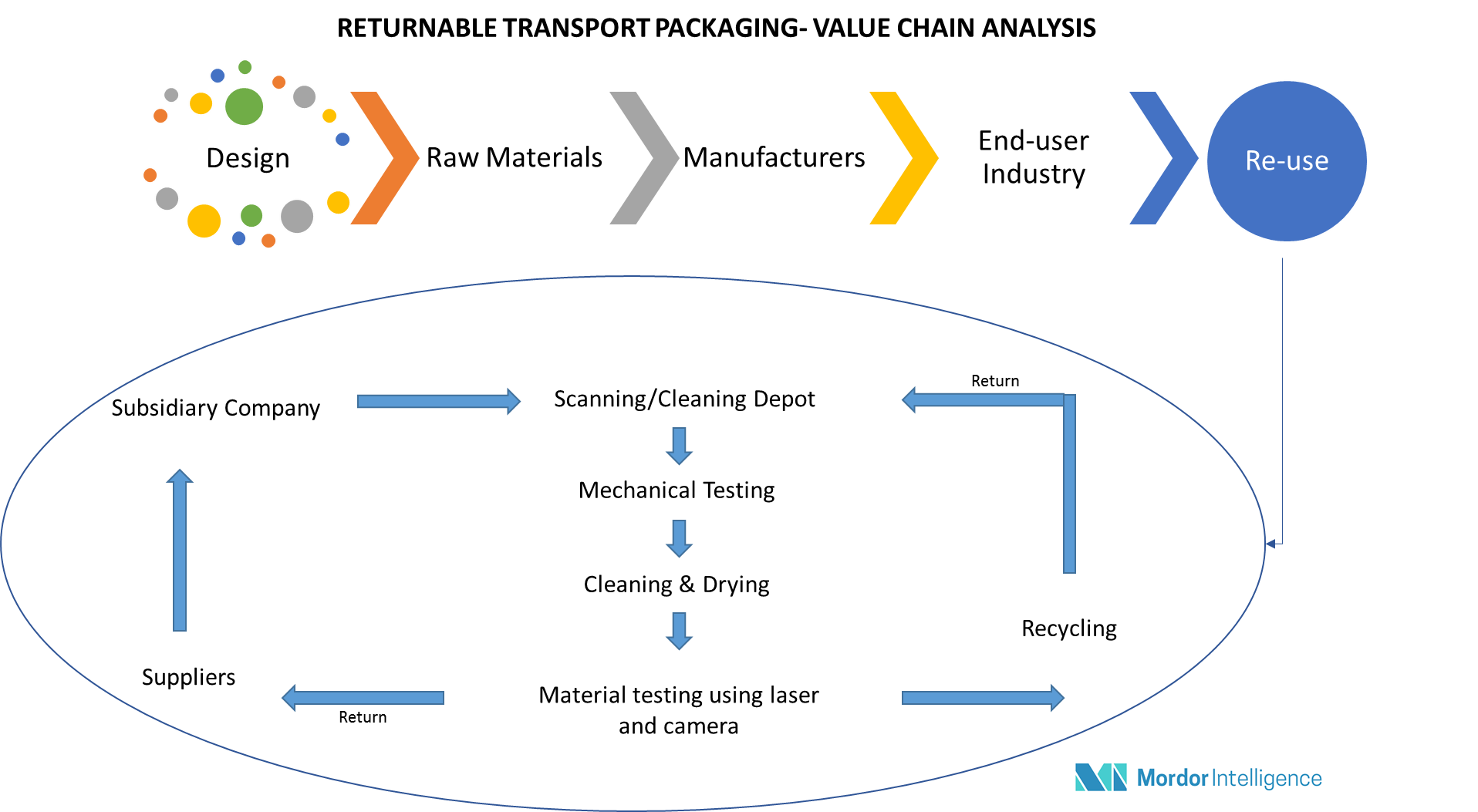 Returnable Wood Transport Packaging to Witness highest Growth
Returnable wood transport packaging is set to witness the highest growth rate due to that sole reason of environmental impact, capital investment needed, and the total cost of the system, including transport/storage/repairs, ergonomics, and safety for workers when compared with other materials used. However, there are stringent regulations that might impact the market growth. For instance, regulations to help reduce the risk of pest introduction and spreading into the country, the governments are establishing new procedures and phytosanitary certification. Some regulations require any wood package or any wood inside the container (even wood for lashing) to be fumigated and stamp certified before entering the country. However, returnable wood crates are being used effectively to transport glass bottles and other sensitive material with low costs and efficiency.
Favorable Conditions in Latin American Market
Latin America has been a promising region for the global packaging companies, which are looking for expanding their market presence in the region. These companies are trying to leverage the abundantly available natural resources, low-cost labor markets, and rapidly expanding consumer markets. The region's growth potential is majorly driven by the emerging middle-class, which forms the major consumer base for consumer goods, prepared foods, electronics, etc. Strong relationships with the local partners have been very important for succeeding in the region for foreign market players.
Companies that are trying to penetrate into the Latin American market need to consider the wide variety of operational issues and tax and regulatory structures of different countries. Food and beverages are the major contributors to RTP revenues in the region. The growth prospects of the retail sector and pharmaceutical in the region are boosting the overall growth of the market. The government initiatives for sustainable development further help the market to grow.
Key Developments in the Market
January 2018 - Brookfield Business Partners had agreed to acquire a majority stake in European packaging maker, Schoeller Allibert Group, for EUR 205 million from JPMorgan Chase & Co.
February 2017 - Nefab Packaging Sweden AB acquired the assets of Foldy Pac Nordic AB, a company that produces wooden packaging for demanding transport by road, sea, and air, to increase their product portfolio and cater to more geographies.
Major Players: IFCO System, Kuehne+Nagel, Schoeller Allibert, SSI Schaefer, Rehrig Pacific, and Amatech, amongst others.
Reasons to Purchase this Report
Analyze how the government regulations enable the adoption of RTP solutions in the market.
Analyze various perspectives of the market with the help of Porter's five forces analysis.
The end-user vertical that is likely to witness highest adoption of these RTP solutions.
The countries that are expected to witness fastest growth during the forecast period.
SWOT analysis for key players and a detailed study of their current strategic interests and key financial performance indicators.
3 months analyst support, along with the Market Estimate sheet (in excel).
Customization of the Report
This report can be customized to meet your requirements. Please connect with our representative, who will ensure you to get a report that suits your needs
1. Introduction
1.1 Key Deliverables of the Study
1.2 Study Assumptions
1.3 Market Definition
1.4 Key Findings of the Study
2. Research Approach and Methodology
3. Executive Summary
4. Market Dynamics
4.1 Market Overview
4.2 Factors Driving the Market
4.2.1 Demand for RTP from F&B, and Textile Industries
4.2.2 Stringent Government Regulations by the Government
4.2.3 Long-term Cost Reduction
4.3 Factors Challenging the Market
4.3.1 High Initial Costs
4.4 Value Chain Analysis
4.5 Industry Attractiveness – Porter's Five Forces Analysis
4.5.1 Bargaining Power of Suppliers
4.5.2 Bargaining Power of Consumers
4.5.3 Threat of New Entrants
4.5.4 Threat of Substitute Products or Services
4.5.5 Competitive Rivalry among Existing Competitors
5. Global Returnable Transport Packaging Market Segmentation
5.1 Material
5.1.1 Plastic
5.1.2 Metal
5.1.3 Wood
5.2 Product
5.2.1 Containers
5.2.2 Drums & Barrels
5.2.3 Pallets
5.2.4 Crates
5.2.5 Protective Dunnage
5.3 Application
5.3.1 Automotive
5.3.2 Food & Beverage
5.3.3 Consumer Goods
5.4 By Geography
5.4.1 North America
5.4.2 Europe
5.4.3 Asia-Pacific
5.4.4 Latin America
5.4.5 Middle East & Africa
6. Competitive Intelligence – Company Profiles
6.1 Nefab AB.
6.2 IFCO Systems.
6.3 Rehrig Pacific Company
6.4 Schoeller Allibert
6.5 SSI Schaefer LTDA
6.6 CSI Sertapak Inc.
6.7 Lamar Packaging Systems
6.8 Polymer Logistics N.V.
6.9 Mugele Group
7. Investment Analysis
8. Future of the Global Returnable Transport Packaging Market