The global patient simulators market is expected to grow at a CAGR of approximately 14% during the forecast period (2018-2023). North America held the largest share in 2017 and is expected to retain its leading position in the forecast period.
Increasing Healthcare Costs
According to research estimates, more resources are expected to be spent on health expenditure, with a projected 9% increase in GDP, across the world, allocated to health-spending, by 2040. But there will be substantial variation in the levels of health investments. Past trends and relationships suggest that low and lower-middle-income countries will spend the least on health, even when estimates include foreign aid from donor countries. High-income countries are expected to spend approximately USD10,000 per person on health in 2040, compared to the projected USD 2,000 for upper-middle income countries, USD 500 in lower-middle income countries, and USD 150 in low-income countries. This disparity in spending, indicates the huge demand for lowering healthcare costs and providing value-based services. Consequently, patient simulators market is expected to grow, as their increased use will directly contribute to lowering of the overall healthcare costs. Patient simulators are used to derive better patient outcomes, by means of simulation, thereby driving lower healthcare costs. Apart from these, factors like innovation in healthcare and technology, and an increasing focus on patient safety is driving the growth of global patient simulators market.
Lack of Funds for Research & Development
Despite the widespread use of patient simulators and medical simulators in general, the overall funding for the same at global scale is low. Medical simulators are extensively employed in medical academic institutions, hospitals, and defense organizations. Despite such extensive usage, there are few organized sources of funding for the development of simulators. The advancements in simulator technology and software is independently brought about by vendors in this space, with little contribution from government agencies. Consequently, the growth of the market is being limited, due to lack of funding for research and development of simulators. Additionally, factors like high cost of simulators, is also limiting the market growth.
Academic Institutions are the Leading End Users
The medical simulators did not gain popularity until the recent past, because of the high costs of medical simulators and a reluctance to adopt to the new training systems. This scenario, however, has changed and simulators have become relatively more reliable and function as aids to train medical personnel and medical students, in turn reducing the medical errors. Consequently, the major end users of the patient simulators market are academic institutions.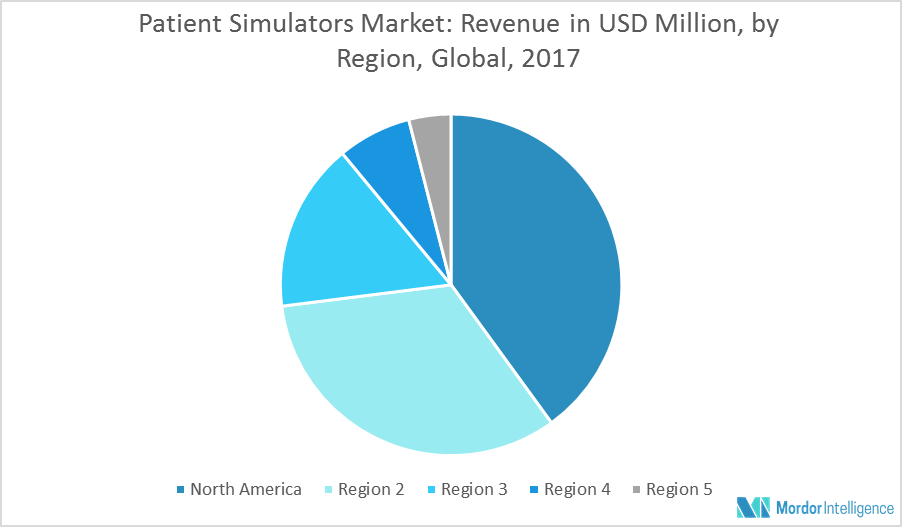 Key Developments in the Market
January, 2018 - CAE Healthcare announced the release of CAE LucinaAR with Microsoft HoloLens, the world's first augmented reality childbirth simulator with integrated mother-baby physiology.
January, 2018 - Laerdal Medical announced that it will launch the new SimNewB® and SimBaby™ simulators at the International Meeting on Simulation in Healthcare (IMSH) conference in Los Angeles, CA.
Major Players - 3D Systems, CAEe Inc., Gaumard Scientific Company, Kyoto Kagaku Co. Ltd, Laerdal Medical AS, Medtice AB, Simulab Corporation, Simulaids Inc., and Surgical Science Sweden
Reasons to Purchase this Report
Current and future market outlook for patient simulators in the developed and emerging markets
Analyze various perspectives on the market, with the help of Porter's five forces analysis
The segment that is expected to dominate the market
Regions that are expected to witness the fastest growth, during the forecast period
Identify the latest developments, market shares, and strategies employed by the major market players.
3-month analyst support, along with the market estimate sheet (in excel)
Customization of the Report
This report can be customized to meet your requirements. Please connect with our representative, who will ensure you get a report that suits your needs.
1. Introduction
1.1 Market Definition
2. Research Methodology
3. Executive Summary
4. Key Inferences
5. Market Overview
5.1 Current Market Scenario
5.2 Porter's Five Forces Analysis
5.2.1 Bargaining Power of Suppliers
5.2.2 Bargaining Power of Consumers
5.2.3 Threat of New Entrants
5.2.4 Threat of Substitute Products And Services
5.2.5 Competitive Rivalry within the Industry
6. Drivers, Restraints, Opportunities, and Challenges Analysis (DROC)
6.1 Market Drivers
6.1.1 Increasing Healthcare Costs
6.1.2 Continous Innovation in Healthcare and Technology
6.1.3 Increasing Focus on Patient Safety
6.2 Market Restraints
6.2.1 Lack of Funds for Research & Development
6.2.2 High Cost of Simulators
6.3 Opportunities
6.4 Key Challenges
7. Market Segmentation
7.1 By Type of Simulation
7.1.1 Mannequin-based Simulation
7.1.1.1 Patient Simulators
7.1.1.2 Surgical Simulators
7.1.1.3 Endovascular Simulators
7.1.1.4 Ultrasound Simulators
7.1.1.5 Dental Simulators
7.1.1.6 Eye Simulators
7.1.1.7 Task Trainers
7.1.2 Web-based Simulation
7.2 By Type of Simulation Software
7.2.1 Performance Recording Software
7.2.2 Virtual Tutors
7.3 By Training Service
7.3.1 Vendor-based Training
7.3.2 Custom Consulting Services
7.3.3 Educational Societies
7.4 By End Users
7.4.1 Academic Institution
7.4.2 Hospitals
7.4.3 Military Organisations
7.5 By Geography
7.5.1 North America
7.5.1.1 US
7.5.1.2 Canada
7.5.1.3 Mexico
7.5.2 Europe
7.5.2.1 UK
7.5.2.2 Germany
7.5.2.3 France
7.5.2.4 Italy
7.5.2.5 Spain
7.5.2.6 Rest of Europe
7.5.3 Asia-Pacific
7.5.3.1 China
7.5.3.2 Japan
7.5.3.3 India
7.5.3.4 Australia
7.5.3.5 South Korea
7.5.3.6 Rest of Asia-Pacific
7.5.4 Middle East & Africa
7.5.4.1 GCC
7.5.4.2 South Africa
7.5.4.3 Rest of Middle East & Africa
7.5.5 South America
7.5.5.1 Brazil
7.5.5.2 Argentina
7.5.5.3 Rest of South America
8. Competitive Landscape
8.1 Mergers and Acquisition Analysis
8.2 Agreements, Collaborations, and Partnerships
8.3 New Product Launches
9. Key Players
9.1 3D Systems
9.2 CAE Inc.
9.3 Gaumard Scientific Company
9.4 Kyoto Kagaku Co. Ltd
9.5 Laerdal Medical AS
9.6 Medtice AB
9.7 Simulab Corporation
9.8 Simulaids Inc.
9.9 Surgical Science Sweden
*List is not Exhaustive
10. Future of the Market