The global non-Hodgkin lymphoma therapeutics market has been estimated to reach USD 7.45 billion by 2023. The market is expected to register a CAGR of 7.4% during the forecast period, 2018 to 2023. North America dominates the market due to increasing technological advancements in the region.
Increase in Public Awareness about NHL and Robust Drug Pipeline for the Treatment of NHL
Increase in public awareness about NHL, robust drug pipeline for the treatment of the disease, improved diagnostic techniques to detect NHL, and increase in the prevalence of non-Hodgkin lymphoma are factors fuelling the NHL therapeutics market across the globe.
High Cost of NHL Drugs and Side-effects associated with Them
High cost of NHL drugs and various complications associated with them are acting as a major restraint for the non-Hodgkin lymphoma therapeutics market. Additionally, increasing rituximab resistance and stringent regulatory guidelines are also limiting the growth of the market.
North America to Dominate the Market
The non-Hodgkin lymphoma therapeutics market is segmented by type of treatment and geography. By geography the market is segmented into North America, Europe, Asia-Pacific, the Middle East & Africa, and South America.
North America dominates the non-Hodgkin lymphoma therapeutics market due to increasing technological advancements and the rising incidences of NHL in the country. Asia-Pacific is also expected to propel the non-Hodgkin lymphoma therapeutics market owing to factors, such as increasing accessibility to healthcare facilities in the region and increasing prevalence of NHL.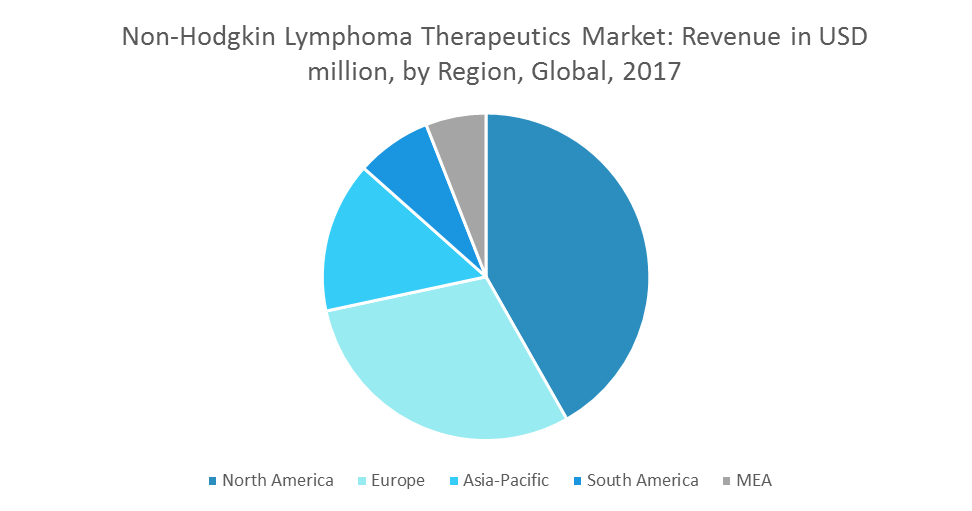 Key Developments in the Market
August 2017: Gilead Sciences, Inc. and Kite Pharma, Inc. announced that the companies have entered into a definitive agreement, pursuant to which Gilead will acquire Kite for USD 11.9 billion. Kite's most advanced therapy candidate, axicabtagene ciloleucel, is a CAR T therapy currently under priority review by the US Food and Drug Administration (FDA). It is expected to be the first to be marketed as a treatment for refractory aggressive non-Hodgkin lymphoma.
November 2017: The US Food and Drug Administration (FDA) approved the molecularly targeted therapeutic acalabrutinib (Calquence) from AstraZeneca for treating adults with an aggressive form of non-Hodgkin lymphoma, called mantle cell lymphoma, that has progressed despite at least one prior treatment.
Major key players: F. Hoffmann-La Roche AG, Johnson & Johnson, Merck, Bristol Myers Squibb CO., Celgene Corp, Eli Lilly and Company., GlaxoSmithKline plc, and Bayer AG, among others..
Reasons to Purchase This Report
Market analysis for the global non-Hodgkin lymphoma therapeutics market, with region-specific assessments and competition analysis on both global and regional scales
Analyzing various perspectives of the company with the help of Porter's five forces analysis
The treatment type that is expected to dominate the market
Regions that are expected to witness fastest growth during the forecast period
Identify the latest developments, market shares and strategies employed by the major market players
3 months analyst support along with the Market Estimate sheet in excel
Customization of the Report
This report can be customized to meet your requirements. Please connect with our analyst, who will ensure you get a report that suits your needs
1. Introduction
1.1 Market Definition
2. Research Methodology
3. Executive Summary
4. Key Inferences
5. Market Overview
5.1 Current Market Scenario
5.2 Porter's Five Forces
5.2.1 Bargaining Power of Suppliers
5.2.2 Bargaining Power of Consumers
5.2.3 Threats of New Entrants
5.2.4 Threat of Substitute Products and Services
5.2.5 Competitive Rivalry within the Industry
6. Drivers, Restraints, Opportunities and Challenges Analysis (DROC)
6.1 Market Drivers
6.1.1 Increasing Focus on Precision Medicine
6.1.2 Increasing Incidence of Brain Cancer
6.2 Market Restraints
6.2.1 Very Few Brain Cancer Specific Drugs
6.2.2 High Cost of Treatment
6.3 Opportunities
6.4 Key Challenges
7. Market Segmentation
7.1 By Cancer Type
7.1.1 Glioma
7.1.1.1 Astrocytoma
7.1.1.2 Oligodendroglioma
7.1.1.3 Ependymoma
7.1.1.4 Choroid Plexus Papilloma
7.1.2 Meningioma
7.1.3 Pituitary Adenoma
7.1.4 Schwannomas
7.1.5 Medulloblastoma
7.2 By Therapeutics
7.2.1 Radiation Therapy
7.2.1.1 X-ray Therapy
7.2.1.2 Gamma-ray Therapy
7.2.2 Chemotherapy
7.2.2.1 Systemic Chemotherapy
7.2.2.2 Local Chemotherapy
7.2.3 Targeted Therapy
7.3 By Geography
7.3.1 North America
7.3.1.1 United States
7.3.1.2 Canada
7.3.1.3 Mexico
7.3.2 Europe
7.3.2.1 France
7.3.2.2 United Kingdom
7.3.2.3 Germany
7.3.2.4 Italy
7.3.2.5 Spain
7.3.2.6 Rest of Europe
7.3.3 Asia-Pacific
7.3.3.1 India
7.3.3.2 China
7.3.3.3 Japan
7.3.3.4 Australia
7.3.3.5 South Korea
7.3.3.6 Rest of APAC
7.3.4 Middle East & Africa
7.3.4.1 GCC
7.3.4.2 South Africa
7.3.4.3 Rest of Middle East & Africa
7.3.5 South America
7.3.5.1 Brazil
7.3.5.2 Argentina
7.3.5.3 Rest of South America
8. Competitive Landscape
8.1 Mergers and Acquisitions
8.2 Agreements, Collaborations, and Partnerships
8.3 New Product Launches
9. Key Players
9.1 F. Hoffman La-Roche Ltd.
9.2 Pfizer
9.3 Merck
9.4 Bristol Myers Squibb Co.
9.5 Novartis
9.6 GlaxoSmithKline plc
9.7 Bayer AG
9.8 Others
10. Future of the Market