The novel drug delivery systems market is expected to witness a CAGR of 2.9%, during the forecast period, 2018-2023. There is a continuous growth in the market of drug delivery systems and is forecasted to continue to grow at an impressive rate in future also.
Requirement of Controlled Release of Drugs
The method by which a drug is being delivered can have significant influence on its efficacy. Many of the drugs have an optimum concentration range and requirement of controlled release of drugs in the body has to be there. The concentrations above or below the concentration range can be toxic or can produce no therapeutic benefits at all. Transdermal patches, implants, nasal systems, microcapsules, etc. are some of the common systems that are considered under the controlled release systems. Hence, the requirement of controlled release of drugs leads to drive the novel drug delivery systems market.
The other factors include advancement in pharmacology promoting increased adoption of novel drug delivery systems (NDDS) and technological advancements promoting development of NDDS.
Stability Issues with the NDDS System
The stability of the delivery system is one of the most important factors, which effects the drug delivery systems market. Liposomes are the most common nanocarriers for drug delivery owing to the several advantages they offer over other delivery systems. Liposomes help in stabilizing therapeutic compounds and improved biodistribution of compounds to target sites in vivo. However, stability of liposome-based drug delivery systems is a major concern, which is restraining the growth of this market.
The other restraining factors also include the stringent regulatory guidelines and product recalls.
North America Dominates the Market
North America has dominated the novel drug delivery systems in cancer therapy market in 2016 with a revenue share of around 37%. North America holds the major share in the market owing to the factors, such as growing R&D in the field of drug delivery systems, the high adoption rate of new technologies, and supportive reimbursement policies. Asia Pacific is also expected to witness growth in the novel drug delivery systems market in the upcoming future.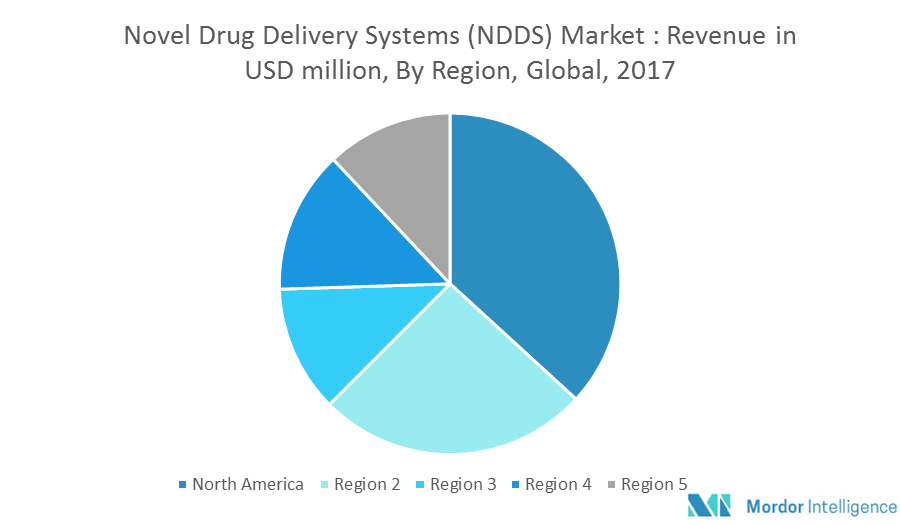 Key Developments in the Market
November 2017: Juluca (dolutegravir and rilpivirine) approved in US as first 2-drug regimen, once-daily, single pill a complete regimen for the maintenance treatment of virologically suppressed HIV-1 infection
The major players include - Abbott Laboratories, AstraZeneca PLC, Bayer Healthcare Pharmaceuticals, GlaxoSmithKline PLC, Johnson & Johnson, Merck & Co., Novartis AG, Pfizer Inc., Roche Holding AG and Sanofi SA, among others.
Reasons to Purchase this Report
Current and future novel drug delivery systems market outlook in the developed and emerging markets
Analyzing various perspectives of the market with the help of Porter's five forces analysis
The segment that is expected to dominate the market
Regions that are expected to witness fastest growth during the forecast period
Identify the latest developments, market shares, and strategies employed by the major market players
3-month analyst support, along with the Market Estimate sheet (in excel)
Customization of the Report
This report can be customized to meet your requirements. Please connect with our analyst, who will ensure you get a report that suits your needs
1. Introduction
1.1 Market Definition
2. Research Methodology
3. Executive Summary
4. Key Inferences
5. Market Overview
5.1 Current Market Scenario
5.2 Porter's Five Forces Analysis
5.2.1 Bargaining Power of Suppliers
5.2.2 Bargaining Power of Consumers
5.2.3 Threat of New Entrants
5.2.4 Threat of Substitute Product and Services
5.2.5 Competitive Rivalry Within the Industry
6. Drivers, Restraints, Opportunities, and Challenges Analysis (DROC)
6.1 Market Drivers
6.1.1 Requirement of Controlled Release of Drugs
6.1.2 Advancement in Pharmacology Promoting Increased Adoption of Novel Drug Delivery Systems (NDDS)
6.1.3 Technological Advancements Promoting Development of NDDS
6.2 Market Restraints
6.2.1 Stringent Regulatory Guidelines
6.2.2 Product Recalls
6.2.3 Stability Issues
6.3 Opportunities
6.4 Key Challenges
7. Market Segmentation
7.1 By Route of Administration
7.1.1 Oral Drug Delivery Systems
7.1.2 Injectable Drug Delivery Systems
7.1.3 Pulmonary Drug Delivery Systems
7.1.4 Transdermal Drug Delivery Systems
7.1.5 Others
7.2 By Mode of NDDS
7.2.1 Targeted Drug Delivery Systems
7.2.2 Controlled Drug Delivery Systems
7.2.3 Modulated Drug Delivery Systems
7.3 By Geography
7.3.1 North America
7.3.1.1 United States
7.3.1.2 Canada
7.3.1.3 Mexico
7.3.2 Europe
7.3.2.1 France
7.3.2.2 Germany
7.3.2.3 United Kingdom
7.3.2.4 Italy
7.3.2.5 Spain
7.3.2.6 Rest of Europe
7.3.3 Asia-Pacific
7.3.3.1 China
7.3.3.2 Japan
7.3.3.3 India
7.3.3.4 Australia & New Zealand
7.3.3.5 South Korea
7.3.3.6 Rest of Asia-Pacific
7.3.4 Middle East & Africa
7.3.4.1 GCC
7.3.4.2 South Africa
7.3.4.3 Rest of the Middle East & Africa
7.3.5 South America
7.3.5.1 Brazil
7.3.5.2 Argentina
7.3.5.3 Rest of South America
8. Competitive Landscape
8.1 Mergers & Acquisition Analysis
8.2 Agreements, Collaborations, and Partnerships
8.3 New Products Launches
9. Key Players
9.1 Abbott Laboratories
9.2 AstraZeneca PLC
9.3 Bayer Healthcare Pharmaceuticals
9.4 GlaxoSmithKline PLC
9.5 Johnson & Johnson
9.6 Merck & Co.
9.7 Novartis AG
9.8 Pfizer Inc.
9.9 Roche Holding AG
9.10 Sanofi SA
List Not Exhaustive
10. Future of The Market